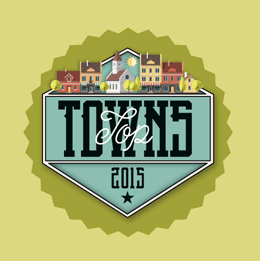 Top Towns 2015
From the manicured lawns and beautiful backyards to expansive entertaining areas and eye-catching décor, we put a lot of effort into transforming our houses into little sanctuaries. But what about the places we truly call home? The many neighborhoods and communities that make up the fabric of South Jersey are why so many of us decided to plant our flag in the ground in the first place.
Once again for our annual Top Towns rankings, we've collected data from the state police, the state department of local government services and the state department of education. We then devised a formula that combined average property value and taxes, crime incidents reported per 1,000 people, and high school performance (which took into consideration SAT scores, the number of AP classes offered and graduation rates). Towns were split into two categories: more than 10,000 population (big towns) and under 10,000 population (small towns).
Towns like Haddonfield, Moorestown and Medford are consistently high in our rankings with places like Marlton, Harrison Township and Voorhees not far behind.
And it's easy to see why with stellar school systems, low crime and favorable property values serving as anchors for these dynamic communities.
But, that's not to say the other towns in South Jersey pale in comparison. Take Haddon Township, for instance. A high-performing scholastic program and flourishing real estate market helped this town make the biggest jump from last year, moving up seven spots. Over on the small town side, tight-knit communities like Medford Lakes and Swedesboro continue to shine while making strides toward even brighter futures.
In addition to the rankings and data, you'll hear from several folks eager to share their civic pride and learn about some of the more interesting and unique aspects to the area, including historical ties and quirky facts and figures.
There's never been a better time to call South Jersey home.
Top 25 Big Towns
Haddonfield
Medford
Moorestown
Evesham
Voorhees
Harrison Township
Woolwich
Mount Laurel
Cherry Hill
Cinnaminson
Washington Township
Haddon Township
Mantua
Southampton
Delran
Burlington Township
Waterford
Bordentown Township
West Deptford
Lumberton
Monroe
Franklin Township
Collingswood
Florence
Bellmawr
Big Towns
Municipality: Avg. Residential Value/Avg. Residential Taxes/ Crime Rate % per 1,000 Residents
(in alphabetical order)
Burlington County
Bordentown Twp.: $240,756 /$6,892/14.7
Burlington Twp. : $228,866/$6,318/17.7
Cinnaminson: $231,767/$6,893/23.1
Delran: $209,719/$6,954/14.2
Evesham: $270,215/$6,823/12.5
Florence: $224,411/$4,977/8.5
Lumberton: $306,187/$6,607/33.4
Maple Shade: $157,824/$4,973/23.5
Medford : $329,530/$9,729/11.7
Moorestow: $445,338/$10,412/21.8
Mount Holly: $174,547/$4,444/34.1
Mount Laurel: $237,230/$6,032/18.3
Pemberton: $113,771/$3,129/27.5
Southampton: $191,900/$4,932/12.5
Willingboro: $158,346/$5,464/25.3
Camden County
Bellmawr: $169,868/$5,868/22.8
Cherry Hill: $223,836/$7,913/32.6
Collingswood: $230,291/$7,253/29.2
Gloucester City: $72,608/$3,809/28.8
Gloucester Twp. : $192,314/$6,353/24.7
Haddon Twp. : $223,984/$7,478/24.1
Haddonfield: $486,316/$13,511/15.7
Lindenwold: $96,941/$4,163/36.8
Pennsauken: $90,493/$4,796/34.6
Pine Hill: $153,219/$5,847/30.3
Voorhees: $255,547/$9,003/19.8
Waterford: $115,899/$6,401/11.1
Winslow: $174,837/$5,547/18.2
Gloucester County
Deptford : $178,858/$4,907/51.1
Franklin Twp. : $185,034/$5,479/21.3
Glassboro: $187,705/$6,218/29.5
Harrison Twp. : $313,814/$8,485/11.9
Mantua : $205,767/$6,260/18.7
Monroe: $200,454/$6,610 /23.9
Washington Twp. : $210,358/$6,828/23.4
West Deptford: $203,422/$5,641/20.6
Woodbury: $140,255/$6,141/54.7
Woolwich: $286,017/$9,644/5
Top 10 by County
Burlington County
Medford
Moorestown
Evesham
Mount Laurel
Cinnaminson
Southampton
Delran
Burlington Twp.
Waterford
Bordentown Twp.
Camden County
Haddonfield
Voorhees
Cherry Hill
Haddon Twp.
Collingswood
Bellmawr
Gloucester Twp.
Winslow
Gloucester City
Pine Hill
Gloucester County
Harrison Twp.
Woolwich
Washington Twp.
Mantua
West Deptford
Monroe
Franklin Twp.
Glassboro
Woodbury
Deptford
Top 10 Small Towns
1. Medford Lakes
2. Shamong
3. Chesterfield
4. Tabernacle
5. East Greenwich
6. Mansfield
7. Berlin
8. North Hanover
9. Swedesboro
10. Wenonah
Small Towns
Municipality: Avg. Residential Value/Avg. Residential Taxes/ Crime Rate % per 1,000 Residents
(in alphabetical order)
Burlington County
Bordentown City: $204,672/$6,444/10.5
Burlington City: $140,483/$4,579/32
Chesterfield: $392,304/$9,484/4.4
Delanco: $188,585/$5,393/22.6
Eastampton: $220,011/$6,437/16.9
Edgewater Park Twp. : $194,934/$4,803/25.7
Hainesport: $277,350/$5,896/19.2
Mansfield: $239,992/$7,098/12.3
Medford Lakes: $285,996/$8,373/2.9
New Hanover Twp. : $177,791/$3,709/1.4
North Hanover Twp. : $317,568/$6,198/8
Palmyra: $148,095/$5,164/31
Riverside: $152,857/$4,842/18
Riverton: $246,429/$7,864/21.8
Shamong: $307,899/$7,723/6.2
Tabernacle: $264,109/$6,802/9.7
Westampton: $239,320/$5,204/26.8
Camden County
Audubon: $206,937/$6,643/46.1
Barrington: $219,556/$7,630/11
Berlin: $235,586/$6,883/21.7
Berlin Twp. : $106,539/$5,919/39.5
Clementon: $137,927/$4,982/49.2
Haddon Heights: $284,943/$8,342/21.3
Magnolia: $147,002/$5,624/26.2
Merchantville: $185,603/$6,863/22.8
Mount Ephraim: $91,782/$6,188/38.7
Oaklyn: $163,697/$6,660/25.6
Runnemede : $147,086/$5,515/28
Somerdale: $136,103/$5,324/66.4
Stratford: $156,860/$6,162/18.7
Gloucester County
Clayton: $153,495/$5,362/23.9
East Greenwich Twp. : $266,985/$7,719/9.2
Elk Twp. : $201,989/$6,307/20.3
Greenwich Twp. : $161,498/$4,596/29.4
Logan Twp. : $187,831/$3,969/23.8
National Park: $137,321/$5,507/22.6
Paulsboro: $113,387/$3,819/35.4
Pitman: $168,354/$6,540/13
Swedesboro: $183,914/$6,741/12
Wenonah: $300,546/$10,067/12.4
Westville: $136,566/$4,875/46.6
Woodbury Heights: $177,872/$6,885/31.4
Did you Know?
Interesting facts and figures from around South Jersey
Medford Lakes:
-22, No. of lakes in the small borough
Shamong:
-Shamong is an Indian name meaning "place of the horn"
Chesterfield Township:
-Was one of New Jersey's 104 original townships
Mansfield:
-The early pioneers of Mansfield were mostly Friends (Quakers) who were land owners and men of wealth and standing in England
Tabernacle:
-The location where pioneer pilot Emilio Carranza's plane crashed during a thunderstorm on a flight to Mexico City from New York City
East Greenwich Township:
-The crime rate is 70.61% lower than the national average
Berlin:
-One of the oldest settlements in Camden County, it used to be known as "Long-A-Coming"
North Hanover Township:
-24, No. of preserved properties totaling over 3,000 acres of farmland that will never be developed
Wenonah:
-The Wenonah House opened in 1872 as a 40-room hotel with water and gas in every room. It was elegantly furnished to attract rich Philadelphians
Haddonfield:
- Haddonfield's Haddon Fire Company No. 1 is the second oldest volunteer fire company in continuous service in the country, formed in 1764 at Friends Meeting House.
Moorestown:
- In 2011, Moorestown was part of US Airways Flight 1549—the plane that made an emergency landing in the Hudson River in 2009 after engines failed—route to its permanent home at the Carolinas Aviation Museum in Charlotte, North Carolina. It took a team 1.5 hours to make a right hand turn on the corners of Main St. and Chester Ave.
Medford:
-In 1767, Medford was known as "Upper Evesham"
Harrison Township:
-The median house value in the Township is $347,400
Voorhees:
-800, No. of volunteers who built the playground on Main Street
Evesham:
-Mayor Randy Brown is also a kicking coach for the Baltimore Ravens
Woolwich Township:
-Woolwich was formed by Royal charter on March 7, 1767
Cherry Hill:
- Colestown Cemetery in Cherry Hill is all that remains of the former village of Colestown, which was first formed in 1685.
Mount Laurel:
- British Revolutionary War general Sir Henry Clinton used a tavern in Mount Laurel as his headquarters and as a military hospital while his troops stayed down the road at the Evesham Friends Meeting House. The tavern is now a private home, while the Meeting House is still in operation.
Washington Township:
-21, No. of Indian sites and burial grounds in town that are registered in the State archives in Trenton
Haddon Township:
- Haddon Township's Saddlertown is a five acre plot of land and present-day community that was purchased in 1842 by former slave Joshua Saddler. The land was originally intended as a community for African American slaves and also served as a stop on the Underground Railroad.
Cinnaminson:
-The Lenni-Lenape named their hunting grounds "Cinnaminson," which meant Sweetwater.
Mantua:
- Town's name is derived from Mantua Creek, which forms its northeastern boundary
Southampton:
- The Vincent Fire Company received its first piece of equipment, a hand pump, on February 17, 1851, which it still owns to this day
West Deptford:
- 1871: year the township was incorporated
Lumberton:
-One home in Lumberton was actually a site for the Underground Railroad, complete with a fake well used as a chute for escaped slaves to slide down while hiding from their slave masters en route to Canada
Delran:
-European settlement in the area can be traced back to the township's earliest known period, called the 'London Tenth', which lasted from 1682-1692
Burlington Township:
-First settlers came in 1666 and built a tavern, the first in this part of the country and one which was visited by travelers journeying from Manhattan to Virginia
Monroe:
-First settlement of the area was called 'Squankum', an Indian name meaning "Place of Evil Ghosts," most likely because of large mosquito population
Waterford Township:
-Birthplace of John Wesley Wescott, Attorney General of New Jersey from 1914-1919
Bordentown Township:
-Home to the New Jersey Manual Training and Industrial School for Colored Youth, one of the most important secondary schools for African Americans in the northern U.S., nicknamed the "Tuskegee of the North"
Collingswood:
-Town was officially formed after the 'Blizzard of '88' (1888) when residents decided they should break off from the western section of Haddon Township
Bellmawr:
--Bellmawr's post office, one of the largest in the state, handles more than four million pieces of mail daily
Florence Township:
-Holds Roebling Township, an unincorporated community, inside of the township, which is home to the Roebling Steel Mill that provided steel for the Brooklyn Bridge and Golden Gate Bridge, as well as elevator cables for the Empire State Building, the Chicago Board of Trade Building, and the Washington Monument
Glassboro:
-Site of Glassboro Summit Conference between former President Lyndon B. Johnson and Soviet Premier Alexei Kosygin, which was held at the Whitney Mansion (also known as Hollybush House) June 23-25, 1967
TownTalk
We asked area mayors and residents to tell us what makes their communities so wonderful.
"Harrison Township is kind of the perfect marriage of past and present. It has the foundation of a wonderful farming community anchored by a historic Main Street along with beautiful new homes and neighborhoods, a great park system and one of the best public school systems in the entire state."
—Lou Manzo, Harrison Township mayor
"[Mount Laurel] is a great family town. The schools are great and there isn't a bad neighborhood. I like that we have Laurel Acres right around the corner, which is perfect for just a day at the park or events like the Fall Festival. My husband and I both grew up here and when it was time to decide where we wanted to raise our own kids, we knew we wanted to stay in Mount Laurel."
—Darcy Roth, Mount Laurel resident
"What I like about Haddonfield most is its strong sense of family, community, and charity. ... Fourth of July, New Year's Eve, Halloween parades, the Chicken Runs at Midnight, Charlie's Fight, and more. Not only is there a strong sense of kinship among neighbors, but also with countless others throughout the town."
—Richard Rothstein, Haddonfield resident
"The saying 'home is where the heart is' is by far the biggest understated quote when it comes to how I feel about my life in Woolwich Township. The people of Woolwich look after one another and foster the notion that it really does take a village to create an upbringing that values compassion, respect and family togetherness."
—Stacey Maugeri, Woolwich resident
"My wife and I both grew up in Philadelphia and moved to Voorhees to have our children attend Eastern High School. We have stayed here because it's a wonderful place to raise your children. It's a very comfortable community with tremendous people, great restaurants and a wonderful youth athletic association."
—Joe Adams, Voorhees resident
"I would describe [Medford] as a nature-wonderland. It's like living in the mountains or some other remote place, but with all the conveniences of the big city right next door! The greenery, trees and wild-life make it such a tranquil lifestyle—nothing like what television depicts of New Jersey, (ie. Jersey Shore!)."
—Aaron Bailey, Medford resident
"The things I love most about Washington Township are its people and the sense of caring for one another that resides here. I have never seen a community that does more for one another in our time of need. Folks in this community go above and beyond to look out for one another, and that caring spirit filters down to our children who continue that focus as they grow into adults as well. I am always personally proud to tell people I meet that I am from Washington Township and I am even happier that I made this place my home 27 years ago and raised all four of my children here.
—Joseph Bollendorf, principal, Washington Township High School
"Haddon Township is a wonderful, safe community of quiet tree-lined streets surrounded by beautiful parks, dynamic downtown areas loaded with specialty shops and great restaurants, excellent schools enveloped in picturesque neighborhoods, and year-round activities for everyone to enjoy. Our residents enjoy the perfect balance in which to live, work and play. Haddon Township is truly a place 'Where community thrives.'"
— Randall Teague, Haddon Township mayor
"It's easy to see why Cherry Hill is such a great place to live, work and play. First and foremost, our close proximity to jobs, transportation, retail and dining, plentiful recreational and entertainment opportunities, and an elite public school system make Cherry Hill a convenient place for young professionals and families to move. But our vibrant neighborhoods and vast amenities make our community one where people want to spend time, raise families, and continue to live long after those children are grown. Cherry Hill truly is an ideal place for people of all ages, and I'm proud to see it included in the list of Top Towns once again."
-Chuck Cahn, Cherry Hill mayor
Published (and copyrighted) in South Jersey Magazine, Volume 12, Issue 2 (May, 2015).
For more info on South Jersey Magazine, click here.
To subscribe to South Jersey Magazine, click here.
To advertise in South Jersey Magazine, click here.