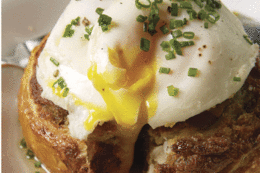 Morning Glory
32 reasons why nothing beats a good breakfast
Breakfast was once considered the most important meal of the day, but in today's world of rushing the kids off to school and early morning meetings, it's sadly become an afterthought for many. So we set out to find the truly amazing breakfast dishes in South Jersey: meals that go beyond bacon and eggs and invoke gourmet sensibilities. From red velvet waffles to scrapple rolled in pizza dough and baked in an oven, these are plates you'll gladly wake up early for and be thinking about for the rest of the day. We even included some stellar brunch offerings that you'll want to make a weekend reservation for immediately; and polled our readers on their favorite ways to enjoy a good breakfast. Go ahead and grab a cup of coffee and settle in.
DUO SKILLET
at Catelli Duo in Voorhees
This eponymous dish is listed as one of Catelli Duo's favorites on their brunch menu; and we have to say it's one of ours, too. Start with short rib hash, add fontina cheese and your choice of eggs and you have one hearty way to start your day.
BACON, EGG and CHEESE QUESADILLA
at Blueplate in Mullica Hill
This hometown favorite is always packed come breakfast time thanks to a menu full of solid regulars and a rotating list of mouthwatering specials. Because there's so much to like here, it would be easy to overlook this simple, yet satisfying, quesadilla. But then you would be missing out big time.
CORNED BEEF, PASTRAMI AND SALAMI OMELETTE
at The Kibitz Room in Cherry Hill
The Kibitz Room takes their legendary pastrami and corned beef and piles it onto an omelet, then adds an extra, spicy bite with sliced salami. It's a perfect combination of salty meat and soft eggs that's guaranteed to please any fan of this authentic Jewish deli.
RED VELVET WAFFLE
at Jake's on Broadway in Pitman
Red velvet cake has catapulted to the top of every sweet lover's list, so what's not to like about this fluffy waffle? Especially when it's topped with homemade cream cheese syrup and whipped cream? You'll never look at a waffle the same again.
CREOLE EGGS
at Farm and Fisherman Tavern in Cherry Hill
We love the creative spins this place puts on some of our favorite comfort foods, like this tasty number from their brunch menu. Here they take the Southern staple of shrimp and grits, add a little bayou flavor thanks to andouille sausage and finish with a poached egg. If that's not a reason to rise and shine, we don't know what is.
GREEK BENEDICT
at The Kettle and Grille in Marlton
Here they add a little bit of grease, er, we mean Greece, into the traditional eggs Benedict. Two English muffins are layered with slices of shaved lamb, two poached eggs and a silky hollandaise for one of our favorite morning meals.
SCANDINAVIAN OMELET
at Café Flora in Cherry Hill
There are many good omelets out there, but few challenge your taste buds like this tantalizing number. The brininess of lox is evened out by a smooth cream cheese while lettuce, tomato and onion add some texture to a truly eye-opening plate.
CRÈME BRÛLÉE FRENCH TOAST
at Arugula in Washington Township
New to the Sunday brunch game, Arugula has made their presence felt with this dish. Crème brûlée batter is the foundation for this memorable meal that also features berry compote and warm vanilla maple syrup.
FRIED CHICKEN and WAFFLES
at Grand Lux Café in Cherry Hill
Once considered a novelty, chicken and waffles has become as synonymous with breakfast as cereal and milk. Here, they top warm, doughy waffles with crispy chicken and a pecan-honey butter sauce. It's sinful, sweet and seriously out of this world.
BISON HUEVOS RANCHEROS
at Silver Diner in Cherry Hill
Crispy multigrain tortillas anchor a hash consisting of Mexican sausage and farm-raised bison, along with over easy eggs, peppers, salsa, goat cheese and mashed avocado. It's a classic breakfast dish that has been given a contemporary feel that any gourmet can appreciate.
CHESAPEAKE BENEDICT
at Woodbury Station Café in Woodbury
Get your day started on the right track with the unique experience of dining in a former train station built in 1883 and restored in 2000. Creative menu items include this always popular choice—two crab cakes on bialys topped with poached eggs and hollandaise sauce.
BACON BETTYS
at The Pop Shop in Collingswood and Medford
This menu is crammed with so many tasty pancake options, it's hard to choose. A good place to start is with these colossal, made-from-scratch pancakes filled with crispy bacon and topped with powdered sugar.
THE WHITMAN OMELETTE
at The Whitman in Washington Township
The Whitman's namesake omelet, made with four eggs and filled with baby shrimp, asparagus, tomato and hollandaise is both delicate and delicious.
CHOCOLATE CHIP WAFFLES
at Hollywood Café in Woodbury Heights
Like any good Jersey diner, Hollywood has breakfast staples like hot cakes and a wide variety of omelets. But there is also more exciting fare like their chocolate chip waffles, which come smothered in whipped cream and your choice of bananas, blueberries, cherries, apples or strawberries.
STUFFED FRENCH TOAST SPECIALS
at Barbara Anne's Downtown Café in Clayton
This cozy breakfast and lunch eatery is constantly rotating their inventive takes on stuffed French toast. Some of our favorites include pumpkin pie, Key lime pie, and the Easter Sunday special that was a perfect choice for that holiday: chocolate cheesecake with cinnamon whipped cream and a candy surprise.
HAWAIIAN WHEAT FRENCH TOAST
at Turning Point in Marlton/Cherry Hill
Say aloha to a new spin on a breakfast standby. Multigrain French toast is given the tropical island treatment when topped with pineapples, strawberries, bananas, toasted coconut and a vanilla bean drizzle. But what really puts it over the top is the side of brown sugar rum sauce. Pair it with Kona coffee and you may as well consider yourself on vacation.
HOGS HAVEN
at The Bistro at Haddonfield in Haddonfield
Forget everything you thought you knew about the standard breakfast sandwich, because this dish brings a new player into the mix. An amalgamation of crisp pork belly, eggs over easy, spicy aioli, lettuce, tomato and onion, served on a toasted artesian roll, Hogs Haven left us in hog heaven.
ROASTED TURKEY SWEET POTATO HASH & EGGS
at Brio Tuscan Grille in Cherry Hill/Marlton
This dish is a taste of Thanksgiving all year long. Take a hash with roasted turkey, zucchini, peppers, onions, sweet potatoes and basil, then add two over-easy, cage-free eggs, slices of crispy brioche toast and spicy Sriracha mayo and you've got yourself a meal to be thankful for. It's up to you if you want any relatives to join you for this one.
APPLE CRÊPES
at Blue Monkey Tavern in Merchantville
Weekend brunch here is worth waking up for. We can't resist the apple crêpes, which come topped with a warm raspberry cream sauce and homemade whipped cream. It's a truly indulgent breakfast fit for someone with a serious sweet tooth.
SEAFOOD THERMIDOR OMELETTE
at Crux Café in Audubon
There's a lot to like about brunch here. At the top of our list is this omelet, stuffed with sautéed shrimp, crab, mushrooms, peppers and Parmesan cheese. Topped with a traditional creamy Mornay sauce, you'll wonder why every breakfast doesn't taste this good.
LUMP CRAB AND ASPARAGUS OMELETTE
at Zinc Café in Medford
Fresh and clean flavors combine in this egg dish (served during Sunday brunch), which combines crab meat with cooked asparagus inside one perfectly seasoned package. The omelet is then topped with Zinc Café's homemade hollandaise sauce, which adds just the right amount of decadence and a hint of fresh lemon flavor.
MASALA EGG OMELET
at IndeBlue in Collingswood
IndeBlue's Sunday brunch menu is the ultimate escape, and still manages to combine the flavors of their cuisine in each bite. This omelet uses masala spice for a bit of heat, and serves it along a mini helping of buttered naan, Indian-style home fries and maple soaked bacon. Pair it with a virgin masala bloody Mary to really spice things up.
BREAKFAST BRUSCHETTA
at Kitchen 519 in Glendora
We've never had anything like this for breakfast. Kitchen 519 starts with grilled slices of bread, and adds melted goat and Parmesan cheeses along with diced tomatoes and ribbons of fresh basil. Then everything gets the finishing touch with a few fried eggs for good measure.
PRAIRIE DOG OMELETTE
at Amy's Omelette House in Burlington and Cherry Hill
Amy's has earned a reputation for their mammoth, "country-style" omelets, which start with four eggs and then pile thin sliced home fries right in with the egg. It was tough to pick one omelet from the diner's 220 varieties, but this country-style option with sausage, onions, bacon and house-made sausage gravy has become an easy go-to option. Good luck getting halfway through it.
CRAB MEAT, ASPARAGUS AND SWISS FRITTATA
at The Station House Restaurant in Haddon Heights
True locals know that The Station House's success lies in its breakfast menu, which really shines thanks to some unusual dishes you can't find in most area eateries, like this light and fluffy frittata, which is loaded with jumbo lump crab meat and freshly cut asparagus spears, then smothered in nutty, melted Swiss cheese.
SCRAPPLE ROTOLO
at Osteria in Moorestown
Don't worry, the name had us doing a double-take too, but Osteria pays homage to the Delaware Valley's beloved mystery meat so well that we can't help but love this dish. Pizza dough gets flattened, then layered with fresh scrapple before being rolled up, sort-of like a savory cinnamon roll. The whole dish is baked, then drizzled with maple syrup and topped with a poached egg. (pictured)
EGGS BENEDICT
at District Riverton Bistro in Riverton
This isn't your mama's eggs Benedict. Instead of the classic Canadian bacon option, District layers paper-thin prosciutto on their English muffin. A poached egg and hollandaise sauce follow, but if you're really feeling like royalty we suggest adding their optional poached lobster and basking in the lap of luxury.
CROQUE MADAME CRÊPE
at Le Café Creperie in Marlton
Usually known as a traditional French sandwich, the ham, Swiss cheese and fried egg of the Croque Madame get piled into a light and thin crêpe, cooked on site for every order. The chef then tops the entire thing with your choice of béchamel or hollandaise sauce to further enhance the taste of the dish.
FULL ENGLISH BREAKFAST
at The British Chip Shop in Haddonfield
This plate stacks on fried eggs, white toast, Heinz baked beans, a fried tomato, and sautéed mushrooms. It then gets even more international with the help of bangers—or English sausage links—rashers—or thick cut bacon—and a helping of black pudding. This may be a pretty unusual combo here in the States, but it's one of the most common comfort foods that you can find in Great Britain.
PANNE TOSTATO AI ITALIANO
at Al Dente Italiana in Moorestown
Al Dente's Italian twist on French toast features brioche that's been drenched in egg batter that's been infused with Italian liqueur, grilled and topped with fresh fruit, rich cannoli cream and finished with cinnamon powdered sugar.
CORNED BEEF HASH
at Robin's Nest in Mount Holly
This isn't the corned beef hash that you're used to seeing; it gets a fresh perspective with sliced corned beef brisket that gets sautéed with onions, peppers and diced potatoes. The hash then gets treated to two poached eggs and a homemade hollandaise sauce, and served with sourdough toast.
BREAKFAST FLATBREAD
at Redstone American Grill in Marlton
Redstone knows that pizza is perfectly acceptable at any time of day, which is why they take their oven fired flatbread and top it with scrambled eggs, cheddar cheese, oven-dried tomato and applewood smoked bacon.
How our readers rise and shine:
What's your favorite side?
Bacon-- 25 percent
Sausage-- 12 percent
Pork Roll-- 38 percent
Scrapple-- 25 percent
What are you typically ordering at your favorite breakfast/brunch spot?
Something sweet-- 50 percent
Something savory-- 50 percent
How do you order your eggs?
Easy over-- 56 percent
Scrambled-- 33 percent
Poached-- 11 percent
What kind of toast do you order?
White-- 11 percent
Wheat-- 11 percent
Rye-- 78 percent
How do you prepare your toast when out for breakfast?
Butter-- 86 percent
Jelly/Jam-- 14 percent
Published (and copyrighted) in South Jersey Magazine, Volume 12, Issue 2 (May, 2015).
For more info on South Jersey Magazine, click here.
To subscribe to South Jersey Magazine, click here.
To advertise in South Jersey Magazine, click here.