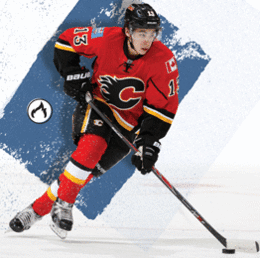 Here's Johnny
Meet Johnny Gaudreau: The 21-year-old South Jersey phenom that just so happens to be the biggest name in the NHL.
Before he was "Johnny Hockey"—rookie phenom with the NHL's Calgary Flames and winner of college hockey's version of the Heisman Trophy—Johnny Gaudreau was just a kid from South Jersey facing an uphill battle to athletic stardom.
First off, the Garden State is not exactly known as a pipeline to professional hockey, although that seems to be slowly changing. Gaudreau joins Cherry Hill's Bobby Ryan and Middletown's James van Riemsdyk as current NHL stars, and Anthony DeAngelo of Washington Township, a first-round draft pick of the Tampa Bay Lightning last year, should be joining them soon.
But Gaudreau also had the disadvantage of size—or lack thereof—going against him. Sure, he always displayed natural speed and stick-handling ability growing up at the rink at Hollydell Ice Arena in Washington Township, where his father still works. But since he maxed out at 5-foot-8 and 155 pounds, a pro career just didn't seem likely for the Carneys Point native.
Even his parents, Guy and Jane, had their doubts.
"We were surprised when he did well in juniors, we were surprised when he did well in college and we're surprised now," says Guy Gaudreau, the long-time hockey coach at Gloucester Catholic High School, where his son played. "I didn't think he'd make the jump this quick; I thought for sure he'd play in the American Hockey League for a year or two because of his size. But Calgary was a pretty good fit for him and they gave him a chance, and it's all worked out pretty well for him."
Not only did the 21-year-old Gaudreau earn a roster spot with the Flames this year; he's been a fixture on their No. 1 line and one of the top rookie scorers in the league all season. He played in the NHL All-Star Game in January, recording two assists, and is a major reason why Calgary is in contention for its first playoff berth since 2009.
The only problem with his rookie season is that his family—including older sister Kristen, younger brother Matt and younger sister Katie—has had to watch most of it on TV, with Calgary being more than 2,000 miles away. As his father says, "We're not rich people, so we can't just jump on a plane and go see him play whenever we want."
With her son living in Canada, Jane Gaudreau doesn't worry so much about him off the ice. He first left home at 17 to play junior hockey in Dubuque, Iowa, followed by three standout seasons at Boston College, so he's been on his own before.
"I actually worry more when he's on the ice," she says. "We have the [Comcast] Center Ice package and we watch all of his games. Some of them are really late and we have to get up early in the morning, but I can't go to sleep until I know he's off the ice safe. He'll usually call after the game and say good night."
Gaudreau got to say good night to his parents in person for about two weeks in late February and early March, with the Flames coming through on an East Coast swing. The highlight of the trip was a game on March 3 against the Philadelphia Flyers at the Wells Fargo Center, the team Gaudreau grew up rooting for.
Gloucester Catholic honored Gaudreau the day before that game, retiring the No. 3 he wore for the Rams during a ceremony at the school. A busload of students and faculty also attended the game, along with thousands of family members, friends and acquaintances from South Jersey.
We spoke to Gaudreau ahead of his return to the area, and he was most excited about the chance to see his family, which was about to add one more member. His sister Kristen was due with her first baby around the same time.
"It's our first grandchild, a little girl," Jane Gaudreau says. "It's funny, because John wanted the baby to come early, so he could see her. [Kristen was] the opposite. She wanted to deliver after the Flyers game, because she wanted to go to the game.
"All four siblings are very close. John's best friend is his brother Matthew, and whenever he comes home he spends a lot of time with his older sister and his younger sister. It's really nice to have a close family. It was really hard for him to leave, but we're adjusting."
Gaudreau spoke to us about his own adjustment—to a rigorous NHL season and living in a foreign city—and told us how he feels about his famous nickname.
SOUTH JERSEY MAGAZINE: Even after your college success, did you expect to have this much of an impact as a rookie, playing on the top line and being one of the team's top scorers?
JOHNNY GAUDREAU: It's been crazy. Coming into the season [I was just] hoping to make the team right out of the gate and play in as many games as I could possibly play in. The success I've had so far has been amazing, so I'm pretty excited about it.
SJM: What's something about the NHL season that's been the biggest change from college and the toughest adjustment?
JG: It's definitely a grind. It's a long season, 82 games, and I'm only 55-60 games into it. I'm used to playing only 40 games in college, so I'm way over the point I'm usually at. You just have to manage your rest and your time off. I don't think I've hit the wall or anything like that, but it's a long season and your rest is really, really important in the pro game.
SJM: Has your size been a factor? Or is that something that's always been a motivator for you and something you can use to your advantage?
JG: It's definitely something I think about day in and day out. As a smaller guy, I have to make sure I'm quicker and faster than a lot of guys I'm playing against. I have to shy away from those big hits that can potentially end up hurting me if I don't keep my head up. It's something I've been practicing all my life, trying to shy away from checks and being quicker and faster than the other guys.
SJM: How have you adjusted off the ice and what's it like living in Calgary?
JG: It's been pretty cool. I got to move into my own place here; I moved in with a teammate, Josh Jooris. The city is great. They love hockey out here, which is really cool. When you go out to eat or you go to the grocery store, people are always recognizing you. It's pretty cool to be a part of that.
SJM: What are some things that you miss about South Jersey?
JG: I miss my family, obviously. We have a really close family back home in New Jersey, and my brother is playing at Boston College this season. It's tough when your family is so far away from you, but they come out and visit as much as they can. I try to watch my brother's games online as much as I can. Nowadays, you have FaceTime and iPhones and stuff like that, so you can see your family. But that's been the biggest adjustment.
SJM: You played for your dad at Gloucester Catholic. Do you credit him with developing your love for hockey?
JG: Oh yeah. He's still coaching at Gloucester Catholic, but I'm not sure how they're doing this year. A lot of players have coaches who helped them along the way, and he's probably the guy who's done the most for me on the ice. I played for him for 12 or 13 years and he was pretty hard on me. He taught me a lot of things that I still use today. He's a great coach and I'm happy he did so much for me when I was growing up.
SJM: I know Gloucester Catholic was planning on sending a big group to watch you play against the Flyers. Are you more nervous or excited leading up to that game?
JG: I'm more excited. I have a ton of family and friends heading to the game. I have no idea how many people are coming, but I hear it's a lot. I got to play for Gloucester Catholic and I got to play for the Little Flyers in Philly, so I have a lot of support from friends and family over there. It's exciting to head back to Philly and get a chance to play there.
SJM: What's it like playing against some of the guys you watched as a kid?
JG: I don't know how old I was when Danny Briere was playing for the Flyers, but I watched him for a few seasons. It was so exciting to watch him, because he's such a small guy and he's so skilled with the puck. He played really well for the Flyers. Growing up, he was the kind of guy I looked up to and I tried to emulate my game after him. It was pretty cool getting a chance to play him a few times out here in Calgary, and I [also] got a chance to play him in Colorado. He's definitely a role model for me.
SJM: It seems like New Jersey is getting more of a presence in the league now. Do you know any of the other Jersey guys, like Bobby Ryan or James van Riemsdyk?
JG: I talked to Bobby Ryan at the All-Star Game. My dad coached him when he was younger. I don't really remember, but he said he remembers me skating around with his team. I know JVR a little bit too; I've met him a few times. We were at [an event] in Atlantic City last summer and I got to talk to him there. I know a few guys from Jersey and it's great for the state to see a lot of talent coming in to the NHL.
SJM: Will you be back in South Jersey during the offseason?
JG: I stay in Boston for the first half of the summer and then I head back to New Jersey for the second half. I still have to finish my degree, so I take summer classes in Boston. But my parents are still in Carneys Point and my little sister goes to Gloucester Catholic now.
SJM: What are your memories about growing up around Hollydell, where your dad works?
JG: I have great memories from there. My dad ran the rink there, so whenever there was free ice [time] during the summertime or during the year, I got to go out there. I could invite my buddies who are playing college hockey now. It was me and my brother and some of my best friends. We were really fortunate to have that growing up.
SJM: You're known for a great nickname, "Johnny Hockey." How did that come about and how do you feel about that name?
JG: I embrace it, definitely. I've been fortunate enough to have people recognize me like that. At Boston College, the fan support was incredible. I think the name came from BC when I was up for the Hobey Baker [Award] my sophomore year. That was the year Johnny Manziel won the Heisman [and became known as "Johnny Football"]. I didn't win that year, but I had a chance to win last year. I had a lot of support from Boston College and the fans there.
SJM: I know you won a gold medal with Team USA in the World Junior Championships. If NHL players are still allowed to compete in the next Olympics, have you given thought to representing your country again?
JG: That would be awesome. I got a chance to represent my country a few times and won a gold medal in the World Juniors. I think it's really cool to play for your country and [the Olympics] would be a dream come true. Obviously, I'm playing in the NHL right now and that's a dream come true. That would be special to me to get a chance to do that.
SJM: The Flames will be battling for a playoff spot from here on out. Do you feel like you just have to get in, and then every team has a chance to go on a long playoff run, unlike other sports?
JG: Yeah. Like you said, we're fighting for a playoff spot right now, and all the guys are really excited because the Flames haven't been to the playoffs in I don't even know how long, maybe three, four, five years now. The guys are really excited in the locker room and the city is pretty excited too. It's not like other sports, where the top teams usually go all the way. You can be the eighth seed and end up in the Stanley Cup Finals. We're really excited for the next month here.
SJM: Were you a Flyers fan growing up?
JG: Yeah, I was a big Flyers fan growing up. I was a big John LeClair and Keith Primeau and Danny Briere fan. It was a lot of fun.
SJM: Does the Hobey Baker Award mean anything at the NHL level? Do you think guys in the league respect that?
JG: They think it's pretty cool, some of the guys. Some guys give me a hard time about it in the locker room, just joking around. They think it's kind of funny. So there's two different sides to it, but I try to take it all in and I see it as a blessing.
Published (and copyrighted) in South Jersey Magazine, Volume 11, Issue 12 (March, 2015).
For more info on South Jersey Magazine, click here.
To subscribe to South Jersey Magazine, click here.
To advertise in South Jersey Magazine, click here.