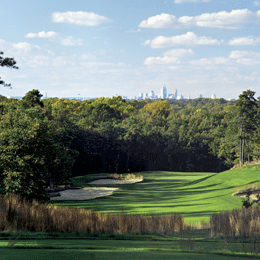 Fine Fairways
A closer look at South Jersey's best golf courses
As the spring season approaches and folks across South Jersey dig out their clubs for a round of golf, we once again take a look at the finest private and public courses in our area. This year we surveyed our readers and course professionals to get their take on what makes hitting the links at these courses so special. We also provide rankings on the courses for slope, rating and yardage from the blue tees—useful information, no matter your handicap. You'll also find out what's new and notable around the area. Now it's up to you to keep the ball out of the rough.
Private
Burlington Country Club
What readers say: "Burlington Country Club has a great layout, is challenging and well kept."
Fun fact: Burlington was founded by a group of South Jersey men in mid-1929, just a few months before the Great Stock Market Crash that led to the Depression.
Laurel Creek Country Club
What readers say: "Laurel Creek Country Club has tournament-like conditions almost all year."
Fun fact: There have been eight holes-in-one recorded at Laurel Creek since 2012, and half of them have come on the par-3 seventh hole.
Little Mill Country Club
What readers say: "Little Mill Country Club is an A+ course that is incredibly maintained."
What's new: The women's locker room underwent a complete renovation this winter with new lockers, flooring and HVAC system. The men's locker room will get similar treatment this spring. Little Mill also has several new membership deals, including a Snow Bird membership for those 65 years old and over who live elsewhere during the winter; and a new member trial that offers a reduced rate for the first 12 months of membership.
Medford Lakes Country Club
What readers say: "The new staff at Medford Lakes has turned this course around. The greens and fairways are excellent."
What's new: Billy Bondaruk is the new head professional, replacing Brad Hare. Bondaruk has been a PGA member since 1999 and has experience at clubs throughout California. He has instructed players from the PGA and LPGA Tours, including Scott McCarron and Lorena Ochoa.
Medford Village Country Club
What readers say: "Medford Village Country Club—great layout, great conditions, many amenities and good food."
What's new: The club's tee areas have been expanded for more playability, and the drainage throughout the course has been improved.
Merchantville Country Club
What readers say: "Merchant¬ville's fairways and greens are in great shape."
What's new: Ethan Pauxtis takes over as the new head pro, arriving from Cavaliers Country Club in Delaware. The club is also adding new bunkers on five holes and taking out trees throughout the course to go back to its original design. Merchantville is running a special on membership dues, where you can get $1,000 off for the first two years or pay two years and get the third year free.
Moorestown Field Club
What readers say: "Moorestown Field Club is the most challenging private course because it has impossible greens and hidden bunkers."
Fun fact: The Field Club is a nine-hole course and is the home of the Moorestown High School girls golf team, one of only two all-female teams in South Jersey.
Old York Country Club
What readers say: "The 19th hole at Old York is very comfortable and 'feels' private."
Fun fact: This scenic Chesterfield course is one of only two in New Jersey designed by nine-time major champion Gary Player.
The Riverton Country Club
What readers say: "Riverton has much to offer families like kids tennis, golf and swimming lessons, movie nights, and a special place just for kids inside the country club."
Fun fact: The club has a number of fun activities for the whole family, including a four-lane bowling alley built in 1905 that is listed on the National and State Register of Historic Places.
Tavistock Country Club
What readers say: "The food and service is always fantastic! And an updated clubhouse adds to the experience."
Fun fact: Tavistock will hold a special season-opening event on April 25 that includes a golf tournament, food and drinks and entertainment by Motown tribute band AllSOULed Out.
Trump National Golf Club (pictured)
What readers say: "Simply a spectacular and challenging layout that never gets boring."
What's new: Trump National is currently in the process of a $1.5 million irrigation upgrade to the course; nine holes are already completed and the entire course should be finished by the end of 2015. They also opened a new pool complex last year.
Public
Deerwood Country Club
What readers say: "Deerwood is a good course with nice greens and fairways, and has a large bar with good food and service."
Fun fact: Deerwood's clubhouse contains two formal dining rooms and a pub and grill, and draws rave reviews for its venison.
Golden Pheasant Golf Club
What readers say: "Golden Pheasant is the best public course for families—[it has an] easier layout for family golf and inexpensive rates."
What's new: Golden Pheasant recently remodeled their pro shop and created a Tuesday golf league. They also lowered new membership rates and adjusted their senior rate.
Indian Spring Country Club
What readers say: "Indian Spring has water hazards, woods, elevated tees—a real challenge!"
What's new: The club is part of the PGA Junior League this year, which gives boys and girls ages 13 and under a chance to participate in a golf league similar to Little League baseball. Children who sign up get to practice with a coach and play in five to six competitions.
Pennsauken Country Club
What readers say: "Pennsauken Country Club is well maintained for the amount of play the course sees."
Fun fact: Head professional Quentin Griffith III is also the golf coach at nearby Camden Catholic High School.
Pitman Golf Course
What readers say: "It takes forever because it's always packed … but, for Gloucester County it's one of my favorites. They keep it in good shape and it's affordable."
What's new: Pitman will debut a new tee box on the 14th hole this spring and more course improvements are planned for the near future. They also have a new tee time reservation tool on their website that will feature special prices throughout the season based on days of the week, player demand, weather, etc. This special pricing will only be available online.
Ramblewood Country Club
What readers say: "Ramblewood is always in good shape and offers a variety of challenges."
Fun fact: The club has two women's leagues that meet on Tuesday mornings—one for 18 holes of golf and one for nine—and the season-opening breakfast will be held on the last Tuesday of March.
Rancocas Golf Club
What readers say: "Rancocas has lots of character with very difficult greens."
Fun fact: The signature hole at Rancocas is the 568-yard, par-5 13th, which features a double dogleg uphill to a green surrounded by bunkers.
RiverWinds Golf Club
What readers say: "RiverWinds has an open layout with lots of wind, and some very challenging and longer holes."
What's new: Chris Fischer is entering his first full year as the director of golf at RiverWinds.
Scotland Run Golf Club
What readers say: "Scotland Run GC offers a great layout, good conditions, good value and a great lunch/dining facility."
What's new: The club is undertaking a major project by renovating every greenside and fairway bunker on the course, but will remain open during the makeover.
Valleybrook Country Club
What readers say: "Valleybrook has a great atmosphere and is very welcoming. It's a great course to learn the game of golf."
Fun fact: Valleybrook is one of four courses in South Jersey owned by former Eagles quarterback Ron Jaworski, and his weekly radio show on 97.5 The Fanatic is broadcast live from Riley's Pub at Valleybrook every Wednesday.
Wedgwood Country Club
What readers say: "It's one of my favorites; it plays in four hours, which is great. You do have to be more skilled because it's pretty narrow."
Fun fact: Located in the heart of Washington Township, Wedgwood is celebrating its 50th anniversary this year.
White Oaks Country Club
What readers say: "White Oaks Country Club; it's off the beaten path but a really nice course. It's always in great shape and offers a great challenge. The staff is great and the course doesn't get too crowded."
Fun fact: The Oak Room, under the leadership of executive chef Tom Baglivo, has specials throughout the season that include "Taco Tuesdays" and "All You Can Eat Wings" on Thursdays.
Woodcrest Country Club
What readers say: "Woodcrest Country Club has an attractive bar area and patio. It's always fun to watch the players coming into the 18th green."
What's new: Woodcrest has undergone bunker renovations as well as tree restoration and removal, although the basic layout of the course stayed the same.
Private Courses by the numbers
SLOPE
Trump National Golf Club 147
Laurel Creek Country Club 142
Medford Village Country Club 139
Merchantville Country Club 135
Old York Country Club 135
Little Mill Country Club 133*
Medford Lakes Country Club 130
Moorestown Field Club 127
The Riverton Country Club 126
Burlington Country Club 125
Tavistock Country Club 124
RATING
Medford Village Country Club 72.8
Laurel Creek Country Club 72.5
Trump National Golf Club 72.3
Burlington Country Club 71.4
Little Mill Country Club 71.4*
Merchantville Country Club 71.2
Old York Country Club 71.1
The Riverton Country Club 71.1
Medford Lakes Country Club 69.7
Moorestown Field Club 69.2
Tavistock Country Club 69
YARDAGE
Old York Country Club 6,770
Little Mill Country Club 6,709*
Medford Village Country Club 6,705
Laurel Creek Country Club 6,564
Trump National Golf Club 6,530
The Riverton Country Club 6,490
Burlington Country Club 6,436
Merchantville Country Club 6,204
Medford Lakes Country Club 6,141
Moorestown Field Club 6,089
Tavistock Country Club 5,888
*27 holes
Public Courses by the numbers
SLOPE
Woodcrest Country Club 138
Scotland Run Golf Club 133
RiverWinds Golf Club 132
Rancocas Golf Club 131
Wedgwood Country Club 131
Ramblewood Country Club 130*
Pennsauken Country Club 128
Indian Spring Country Club 127
Golden Pheasant Golf Club 125
Deerwood Country Club 123
White Oaks Country Club 122
Valleybrook Country Club 121
Pitman Golf Course 118
RATING
Wedgwood Country Club 72.6
RiverWinds Golf Club 72.3
Ramblewood Country Club 72*
Woodcrest Country Club 71.9
Scotland Run Golf Club 71.8
Rancocas Golf Club 71.5
Pennsauken Country Club 70.8
Indian Spring Country Club 70.6
White Oaks Country Club 70.4
Deerwood Country Club 70
Pitman Golf Course 69.4
Golden Pheasant Golf Club 69.2
Valleybrook Country Club 67.7
YARDAGE
Deerwood Country Club 6,400
Golden Pheasant Golf Club 6,273
Indian Spring Country Club 6,328
Pennsauken Country Club 6,250
Pitman Golf Course 6,125
Ramblewood Country Club 6,743*
Rancocas Golf Club 6,602
RiverWinds Golf Club 6,843
Scotland Run Golf Club 6,516
Wedgwood Country Club 6,728
Valleybrook Country Club 6,008
White Oaks Country Club 6,240
Woodcrest Country Club 6,528
*27 holes
Published (and copyrighted) in South Jersey Magazine, Volume 11, Issue 12 (March, 2015).
For more info on South Jersey Magazine, click here.
To subscribe to South Jersey Magazine, click here.
To advertise in South Jersey Magazine, click here.