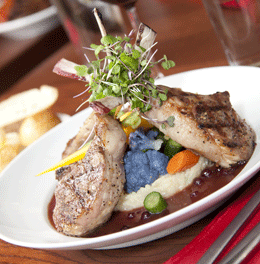 Redz
…A Dining Review from the pages of South Jersey Magazine…
Hotel Rewards : Redz
515 Fellowship Road
Mount Laurel
(856) 222-0335
3 and half forks
As a Mount Laurel lifer, I never really saw the draw to the hotel scene in the area—after all, I never needed them. But when I heard about the newly designed Redz restaurant, built into the DoubleTree by Hilton, I decided it was about time for a little staycation.
Redz may share an entrance with the hotel, but that's about where the relation for an outside diner ends. The restaurant is an escape, dimly lit with a sprawling front bar, two separate dining rooms and a partially open kitchen. The entire space is dotted with red accents, in homage to the restaurant's name, inspired by the many red-headed women in owner Mitchell Davis' life.
Opened in 2014, Redz quickly grabbed up local Mirko Loeffler as executive chef. Loeffler was the owner and operator of Voorhees' Mirko's Taste of Europe for years before helping open Magnolia's former Royal Cracovia, which has since rebranded to increase its catering and banquet business. Loeffler's experience can be seen in his menu, which pairs American and steakhouse fare with innovative plating and seasonal additions.
The menu itself is constantly rotating, and changing with the weather, but the creativity remains. Take a recent starter of bacon-wrapped shrimp, which would be considered a pretty standard pairing if not for the addition of a tangy Texas barbecue sauce and freshly chopped guacamole, complete with baked yucca chips for scooping. The shrimp themselves were a bit chewy, but the flavors combined to create a smoky and spicy Southwestern feel that was mellowed out nicely by the creamy guacamole.
A second appetizer of Kobe beef meatballs—the Americanized version of the highly sought-after Wagyu beef—came atop a bed of smoky, house-made tomato sauce and topped with Romano cheese. The meatballs were delicate, practically falling apart on the spoon, while the accompanying sauce's smokiness was a surprising contribution that transformed the traditional Italian plate from underwhelming to unique.
While the appetizers, were conversation starters, the menu's entreés were what really stood out. At first glance, the options seem standard: steaks, lobster ravioli, even the Colorado rack of lamb has become a staple on most fine dining menus. But Redz takes their rack of lamb to the next level, as the perfectly cooked cut was drizzled with a sweet lingonberry sauce—an Eastern European favorite—and served on a pile of pear honey polenta with a side of vegetables. The sauce was combined with fresh mint, so each bite had that familiar, classic lamb flavor, but it was transformed with the naturally sweet honey and bright, citrusy lingonberry. It was quite the innovative plate, and one you won't see anywhere else.
A 12-ounce strip steak was much more traditional, but cooked so well that it did not go unnoticed. It was a thick cut with just enough fat, and a beautiful sear from their grill that created a crackling, crispy exterior. The meat inside was tender and juicy, and the accompanying demi glace was smooth and addicting.
Unfortunately, the steak's accompanying side of blue cheese mashed potatoes was the low point of the evening. They were dry and crumbly and arrived cold, and the blue cheese that came blended into the potato was too pungent, revealing only the ripe, bitter blue cheese flavors that can be very off-putting. The side remained in the center of the table, relatively untouched by a group of hungry diners, until it was cleared away.
Jersey sea scallops were cut thin, flash-cooked and served over creamy asparagus risotto, which was topped with shaved, crispy root vegetables. While the thin-cut scallops could have used a bit more of a crispy exterior, the entire plate was so eclectic. The crispy vegetables were a mix of sweet and starchy, and the risotto was fine-tuned with just the right amount of cheese and asparagus. The dish was rustic and warm, a nice break from the usual flavors you find paired with scallops.
Dessert arrived on a massive bamboo cart, a slightly silly attempt at the old school dessert carts of days past that had the waiter stooping down below table level to reach a variety of plates on the bottom shelf. Their white chocolate and peach layered torte—with a raspberry sauce and fresh strawberries—was light and creamy, but the peach flavor was lost in the raspberry and chocolate flavors.
Having a heavy concentration of hotels in Mount Laurel always meant that restaurant developers stuck to what was familiar to national commuters. That meant a lot of chains, some of them good, but most being predictable and boring. Redz provides a much-needed breath of fresh air—and ingredients—to the Mount Laurel dining scene. With truly stellar meat cuts that are hard to forget and totally unique preparations for familiar plates, this is one place that will certainly pique your interest and leave you wanting more.
Published (and copyrighted) in South Jersey Magazine, Volume 11, Issue 12 (March, 2015).
For more info on South Jersey Magazine, click here.
To subscribe to South Jersey Magazine, click here.
To advertise in South Jersey Magazine, click here.