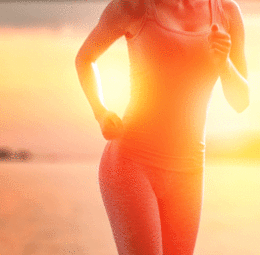 Warm Feelings
…From the pages of South Jersey Magazine…
Getting your mind and body in shape for summer starts now.
Although the still frigid temperatures may make it hard to imagine, summer truly is just around the corner. And now is the time to start getting your mind and body "summer-ready" so that you can feel good and get the most out of the long-anticipated warmer months.
Summer bodies are built now
The winter and spring are indeed the times to build a summer body. Jayne Miller Morgan, assistant wellness director and group exercise coordinator at Katz JCC in Cherry Hill, says that the two "trouble areas" women talk about most during swimsuit season are their abs and their thighs. For men it's often the chest, arms, and abs.
"At the Katz JCC there are many group exercise classes that target all of these muscle groups to tone and strengthen problem areas," Miller Morgan says. "The 30-minute weighted UGI ball classes focus on individual body parts each minute such as triceps extensions, bicep curls, squats, push-ups, and various planks while also increasing cardiovascular endurance. Body Pump is another barbell-based group exercise class to sculpt and tone the entire body. This class takes you through a series of weight-bearing exercises for biceps, triceps, back, chest, legs and more."
As summer begins to creep up, it's also beneficial to consider some back and neck stretching exercises from the standpoint of improving mobility and flexibility, adds Dr. Michael J. O'Keefe of O'Keefe Chiropractic Center, P.A., in Medford.
"The summertime tends to be a more active time where you're doing a lot more things outside, so it would be beneficial to make sure your joints are more mobile and flexible in order to reduce the likelihood of injury," O'Keefe advises. "This is especially true if you were sedentary this winter, but it can be helpful to anyone. We all do more in the summer whether it's just mowing the lawn or washing the car. But many are also participating in activities and sports that they didn't do over the winter."
While stretching and improving mobility is going to reduce the possibility of injury, it also has the added benefit of improving posture—which is a plus when it comes to wearing summer clothing, O'Keefe adds. "You're going to feel a lot more confident if you have good posture while wearing a bathing suit as opposed to slouching over because you're in pain," he says.
Considering the options
These days there is a wide variety of procedures available that can help people feel even more confident in their summer clothing. Dr. Karen S. Harkaway, of The Harkaway Center for Skin Refinement, says there are several modalities available to treat body fat and cellulite at her practice.
"The most effective are ThermiTight and Vanquish," Harkaway explains. "They both utilize radio frequency to kill fat cells and smooth out the skin. Vanquish is a series of four external treatments. The machine does not even touch the body—it hovers above—and it is completely painless. ThermiTight is a single minimally invasive treatment which uses a probe under the skin to yield even more impressive results for both cellulite and fat reduction."
Dr. Birgit K. Toome, of Appearance Dermatology Laser & Cosmetic Surgery Center, with offices in Marlton, Vineland, and Egg Harbor Township, says that the most concerning topics for summer tend to be in the areas of hair removal and body contouring.
"Our offices are equipped with state-of -the-art laser hair removal systems as well as non-surgical body contouring options," Toome says. "Another common request to get ready for summer is spider vein removal for the legs, which is achieved through sclerotherapy and laser. Most importantly, we urge our patients to apply their sunscreen frequently as they head outdoors."
Body contouring procedures are definitely very popular when it comes to getting summer ready, adds Dr. Steven L. Davis, of Davis Cosmetic Plastic Surgery in Cherry Hill. "One of our nonsurgical options, Coolsculpting, has become very popular for patients interested in non-invasive body contouring. You basically take the trouble area and freeze the fat away. Patients particularly like it for stubborn areas such as fat around the hips, bra area, inner legs and more. It results in a natural-looking reduction in fat bulges."
Along with spot reducing areas using Coolsculpting, Dr. Danielle Brenza, of Ageless Skin and Laser Center in Sewell, is also seeing increased interest in body-tightening treatments. The Accent Your Body skin tightening process is a dual-layer thermotherapy that utilizes advanced radio frequency technology to treat wrinkles non-invasively. Wrinkles in general are a hot topic when it comes to showing off more skin. She says now is also the time to consider anti-aging treatments.
"Skin treatments that get rid of brown spots or anti-aging treatments that take care of wrinkles are best performed when the patient isn't tan," Brenza says.
In addition to wrinkles, Davis adds that people are often self-conscious about areas of the body that look puckered or dimpled—which most people call "cellulite." "One of the hottest things right now is the BodyFX, which specifically addresses the puckering of fat and skin in areas that are difficult to treat like the buttocks.
Oftentimes people don't want to lose fat there, they just want to try to smooth out that look of puckering or dimpling."
Get started
No matter what procedure or workout plan you might be considering, experts all agree on one thing: Now is definitely the time to get started.
"If you truly want to get the full benefit out of your efforts, don't wait to start," Brenza says. "Oftentimes we need more than one session to be as effective as possible, so this is the perfect time to come in."
Published (and copyrighted) in South Jersey Magazine, Volume 11, Issue 12 (March, 2015).
For more info on South Jersey Magazine, click here.
To subscribe to South Jersey Magazine, click here.
To advertise in South Jersey Magazine, click here.