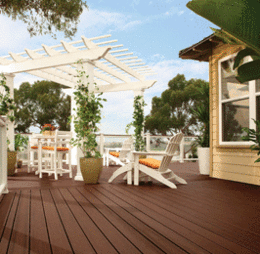 Get Outside!
Spending time outdoors has become a major trend and many homeowners are taking advantage of it, right in their own backyards.
Outdoor living spaces have remained one of the hottest and most desirable trends across the country, a 2014 survey by the American Society of Landscape Architects (ASLA) found. In fact, 92 percent of respondents showed interest in outdoor living spaces in their own backyards. There's no doubt that people want to spend more time outdoors these days, and they're looking for more and more ways to get use out of their own property. That has come in the form of constructing outdoor living areas as well as fixing up existing spaces such as dilapidated decks and old patios. Homeowners are investing in their properties and they're getting much more out of it than ever before.
"Homeowners know that designed landscapes add value to their lives as well as their property values," says Nancy C. Somerville, the executive vice president and CEO of the ASLA. "They're interested in livable, open spaces that are both stylish and earth friendly."
Creating new spaces
Those livable spaces have essentially become outdoor living rooms. The trend of creating outdoor living spaces is nothing new. But not only has it not gone away—the trend is getting stronger, says Mark DelPrato, landscape designer with Young's Landscape Management, Inc., in Lumberton.
"The thing holding that trend together and keeping it rolling is the fact that people want to utilize their backyards," DelPrato says. "There was a time when homeowners had a nice patio, but never really used it. But things have really changed from then. Now they want true entertaining. They want spaces that can truly be utilized."
Part of that transition has come with the influx of amenities being added to these outdoor living spaces. Everything from water features to fire features and complete outdoor kitchens make these spaces fully usable. The project size and complexity is also evolving. Homeowners are pushing their outdoor living spaces to the limit. They want all the bells and whistles. Refrigeration, ice-makers, running water, countertops, and built-in grills are just some of the amenities that complete a fully operational outdoor kitchen. But homeowners aren't stopping there. They want audio-visual capabilities like outdoor speakers and outdoor televisions to truly complete the entertainment component.
"Outdoor living areas have evolved to a larger scale," DelPrato says. "People are calling with ideas that are bigger and better than what we might have seen five years ago."
So much of it goes hand-in-hand with entertaining, he continues. "Five or 10 years ago homeowners might have wanted to build a patio big enough to fit a four-chair table for their family," he adds. "Now they're asking that the space fit a 10-chair table because they're entertaining. And the kitchen isn't just a grill. It's a full kitchen—similar to what you'd see inside. The grill is bigger and better, too. It might even include a rotisserie. Basically homeowners just keep stepping it up."
Of course a space like this can become costly—particularly if you plan to add a swimming pool. If homeowners have a long-term vision of what they want but can't afford it all at once, DelPrato says it can be done in phases. It's just important that it's designed properly from the get-go.
"If it's designed properly and there is a master plan, the project can definitely be done in phases," he says. "If you want a multi-room type of space, we can do one space at a time and price it out that way. But more often than not, homeowners tend to want it all done at once so they can enjoy the entire thing."
Renovating existing spaces
Since many homeowners do have an existing patio or deck on their property, creating an amazing outdoor living area might be more of a renovation project than starting from scratch. Everett Abrams, founder and president of Deck Restoration Plus in Shamong, says that many homeowners are looking to upgrade their builder-grade deck and add a number of amenities. Many of these cookie-cutter decks are built to be a basic space with no add-on features. But Abrams says that homeowners today are often looking to maximize that space and that means new features.
"There are so many entertaining opportunities for the deck from barbecues to parties or even just family dinners," Abrams says. "People want to get outside these days and they're taking their party to the deck. But the key is to have the space and the amenities to do it."
In addition to renovating decks in disrepair, Abrams is also known for adding features that enhance the space. He has noticed a trend of homeowners adding stamped concrete to their decks. "That can be done as a separate space that adjoins the deck as a nice little addition," Abrams says. "I'm also doing a lot of outdoor kitchens now, too. These outdoor entertaining areas are getting very elaborate."
With all the add-ons, homeowners and their guests never even have to go back inside the house. Abrams says you can bring the party outside—and keep it there. And he's seeing a lot of homeowners getting creative with the type of entertaining they're doing.
"We're seeing a lot of theme parties—often beach themes," Abrams says. "Some homeowners even have little tiki bars on their deck where they can serve drinks, gather and socialize."
Since so much extra time is being spent outdoors, he also notes there's a lot of benefit to adding a covered structure. He's seen a lot of homeowners add an awning or a pergola to their deck to take away some of that direct sunlight.
"It doesn't have to be a structure that covers the whole deck—just part of it," Abrams says. "By doing that, you add some shade and also some aesthetic interest to the space."
Keeping it home
Since the outdoor living trend has come into the picture in the last decade, the amenities and the size of the space has largely evolved. And it's likely that will only continue to happen. While the features may change, DelPrato says the goal behind these spaces is almost always the same. Homeowners want to entertain—and they want to do so in their own space. That's often even truer when they have kids. "I hear it again and again—homeowners that have kids want to keep the kids at home," he says. "They want their kids' friends to come to them."
But make no mistake. DelPrato says the adults are fully enjoying these spaces, too. "With multi-room outdoor living areas there is truly something for everyone," he says. "And I don't see that trend going away."
Published (and copyrighted) in South Jersey Magazine, Volume 11, Issue 12 (March, 2015).
For more info on South Jersey Magazine, click here.
To subscribe to South Jersey Magazine, click here.
To advertise in South Jersey Magazine, click here.