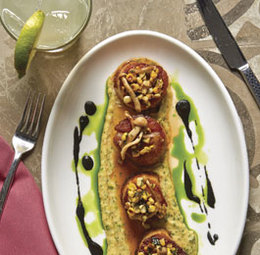 2015 Golden Fork Awards: Pure Gold
Where did you savor your last truly unforgettable meal in South Jersey? Was it a favorite from your weekly go-to spot, or a dish from a newcomer that made a lasting first impression? Inevitably when someone asks us where to find a great bite to eat in the area—and trust us, we get asked often—we're always glad to offer a substantial list of options.
So, for our annual Golden Fork Awards we decided to share our selections for the best restaurants in South Jersey. We've rounded up 32 of our favorite plates—from delectable appetizers and small plates to hearty steaks and perfectly cooked pasta. These dishes are both memorable and mouthwatering and satisfy so much more than just our appetite. We also tapped local chefs and our readers to get their feedback on the area's dining scene. We hope you're hungry.
Best Color Palette
Veneras (pictured)
Distrito in Moorestown
Dainty scallops sit on a smear of smoked corn puree, then get drizzled with a vibrant green cilantro oil that adds an instant hit of fresh herb flavor. Combine that with a drizzling of huitlacoche jus—a black corn puree with black truffles added into the mix—and you have a beautiful, colorful plate that would make Jackson Pollock proud.
extra bite: This is now owner and Iron Chef Jose Garces' only New Jersey location, and it's earned some celebrity for a happy hour menu featuring unforgettable tacos and margaritas that pack a punch.
Best Rice-Free Sushi
Naruto Roll
Megu in Cherry Hill and Moorestown
Layers of yellowtail, salmon, tuna and a crabstick are rolled into a thinly sliced cucumber, along with creamy avocado and fish roe, and complemented with Megu's house-made ponzu sauce. It's a beautiful blend of fresh and fatty flavors that could be considered too pretty to eat.
extra bite: Megu has taken their sushi closer to the source with a location in Ventnor, so you can get your sushi fix even when you're down the Shore.
Best Underwater Escape
Octopus
Estia Greek Taverna in Marlton
Tender tentacles are grilled up on hot charcoal and served over a fava bean puree with fresh cut lemon, both of which add an extra hit of freshness to the salty and meaty octopus.
extra bite: When renovating the former Pietro's Coal Oven Pizzeria this year, owners Pete and Nick Pashalis and partner John Lois purchased a special tenderizing machine just for octopus.
Best Try the Veal
Veal Il Villaggio
Il Villaggio in Cherry Hill
A tender veal filet gets treated to a trip in the pan alongside meaty porcini mushrooms and salty, crispy pancetta, then topped with melted mozzarella and a brandy demi glace. It's a great balance between earthy, sweet and salty, and only gets better with the mozzarella.
extra bite: This restaurant's lunch menu is just as extensive as their dinner menu, but customized to fit a smaller serving so you don't fall into a food coma on the way back to the office.
Best Meat and Potatoes
Gorgonzola Crusted Bistecca
Speranza in Westville
A 12 ounce center-cut New York strip is grilled to perfection and plated with a crispy potato hash and onion fritti—or fried onions. The potato hash is outfitted with caramelized onions, spinach and Applewood-smoked bacon.
extra bite: Head chef Dave Strano has years of experience in the area, including a stint as executive chef of Tropicana's Red Square in Atlantic City.
Best Simple But Complex Plate
Gramigne Carozza
Café BellaVita in Merchantville
Gramigne —think a long, thin macaroni—is tossed with a hefty mix of garlic, olive oil, cauliflower and anchovies until the tiny fish melt into a briny butter. The truly one-of-a-kind plate gets topped with toasted bread crumbs for a bit of texture.
extra bite: Café BellaVita—which was once just a pizza joint—recently renovated their entire dining room to complement their upscale and intricate menu.
Best Excuse to Learn Italian
Medagliono di Vitello alla Bolognese
Nunzio Ristorante Rustico in Collingswood
Tender veal medallions are cooked in a succulent garlic and white wine sauce. The veal then gets topped with grilled, sliced Portobello mushrooms and fontina cheese for an extra earthy—and delightfully decadent—dish.
extra bite: Chef/owner Nunzio Patruno offers up-close-and-personal cooking classes for South Jersey home cooks looking to heat up their own kitchens.
Catch of the day
Mediterranean Branzino
Catelli Duo in Voorhees
Branzino has become a particularly popular fish in Italian restaurants across South Jersey, but Catelli Duo turns up the flavor by preparing it filleted in a sweet-but-briny tomato caper sauce and serving it alongside an attention-grabbing asparagus and leek risotto.
extra bite: Look to the seafood ravioli as a second option; a house-made pasta that gets packed with shrimp and crab before being tossed in lobster cream sauce.
Best Way to Get Stuffed
Gnocchi alla' Agentiera
Zeppoli in Collingswood
The standard potato-and-flour gnocchi is re-imagined as fluffy pillows of spinach and ricotta cheese. They're light but still hearty, sautéed in a brown butter sauce with sage and topped with Sicilian caciocavallo cheese that adds a nice salty bite.
extra bite: Chef and owner Joey Baldino was nominated for a 2014 James Beard Award in the Best Chef: Mid-Atlantic category for his 4-year-old eatery.
Dish to Write Home About
Robiola Francobolli
Osteria in Moorestown
Also known as "postage stamp ravioli," these translucent beauties are delicately filled with robiola cheese, served in a creamy sauce with royal trumpet mushrooms and a sprig of vibrant thyme. It's hard to ignore the craftsmanship in this dish, and even harder to stop eating it.
extra bite: While owner Marc Vetri's name carries some serious star power, please don't overlook chef de cuisine Mike Deganis, who cut his teeth in Vetri restaurants across the bridge for years before taking the reins.
Seafood Dish to Go Nuts For
Pistachio Crusted Halibut
The ChopHouse in Gibbsboro
Picking any of this steakhouse's cuts of beef would be a no-brainer, but look beyond the red meat and you'll find gems like this white fish variety. Crushed pistachios add plenty of richness to the otherwise light halibut, while the accompanying citrus butter brightens everything up.
extra bite: Check out ChopHouse's daily happy hour menu, which goes beyond typical bar bites with plates like tuna tartare and salmon nachos.
Best Trip South of the Border
Chiles rellenos de queso
La Esperanza in Lindenwold
Whole-roasted poblano peppers—a smokier variety that packs more sweetness than heat—are stuffed with cheese, battered and deep fried, then served with a house-made chile relleno sauce. It's a greasy, messy and cheesy dish that we must order each time we visit.
extra bite: Don't leave this hot spot without ordering a bowl of their guacamole. You'll find it served at almost every table in the restaurant, and with good reason.
Best Upscale Comfort Food
Prime Boneless Pork Rib Chop
Café Madison in Riverside
Café Madison takes some of our favorite comfort foods to the next level with a boneless pork rib chop, grilled and served with creamy, warm grits and braised Brussels sprouts. It's a simple, hearty plate that's done just right.
extra bite: Executive chef Jack Connor has been manning the Café Madison kitchen since 2006 and continues to flex his culinary muscles with a constantly rotating menu that always piques our interest.
Best Reason to Cook with Coffee
Kona coffee and cinnamon crusted rack of lamb
Caffe Aldo Lamberti in Cherry Hill
We thought that a well-prepared rack of lamb needed no additions—until we tasted this variety, which gets dusted with superbly strong Kona coffee and ground cinnamon before hitting the grill, creating a spiced and rich exterior. It pairs nicely with garlicky broccoli rabe, sautéed alongside a pile of crispy, roasted potatoes.
extra bite: Caffe Aldo Lamberti was honored with Wine Spectator magazine's Best of Award of Excellence for 2014, a prestigious international recognition in the wine world.
Best Food Coloring
Black & White Fettuccine
Zinc Café in Medford
Fettuccine (including strands of the squid ink variety) is sautéed in a sauce of crispy garlic, basil and plum tomatoes, then served with fresh seared scallops. The squid ink pasta definitely makes for a conversation starter, but also lends itself to an extra bit of seafood flavor.
extra bite: Zinc Café's Sunday brunch consistently delivers good crowds and even better plates, with dishes ranging from bananas foster French toast to an Asian calamari salad.
Best Main Lobster
Lobster
Tavro 13 in Swedesboro
Chef Terence Feury really shines in the seafood department, and this terrific entrée is no exception. Whole pieces of buttery lobster sit atop a bed of cannellini beans and sautéed kale, all coated in a generous handful of Parmesan, to create a Tuscan-inspired dish that you'll savor till the last bite.
extra bite: This upscale, yet approachable eatery—which is one of the select few restaurants to earn a South Jersey Magazine 5 Fork review—has undergone some big changes in the last year, with an all new menu and dining room.
Best Taste of Japan
Pork Katsu Don Buri
Yokohama in Maple Shade
Simple steamed white rice is elevated when topped with a fried egg and sautéed vegetables, but it's the breaded and fried pork cutlet that finishes this bowl off that really steals the show.
extra bite: Yokohama's sushi and sashimi selection is quality personified, especially their a la carte selection, which features hard-to-find cuts like sea urchin and giant clam.
Best Mediterranean Getaway
Frutta di Mare
Da Soli in Haddonfield
Marinated shrimp are grilled alongside calamari and flaky cherry snapper and plated atop Arborio rice risotto and sautéed vegetables. It's finished off with with a yellow pepper puree that adds a hit of natural sweetness.
extra bite: Da Soli chef and owner Mark Berenato has expanded his culinary reach, with the recent opening of Allora in Marlton.
Best Steak Out:Grilled
Certified Angus Beef Ribeye
The Riverwinds Restaurant in West Deptford
If you're going to splurge on steakhouse fare, RiverWinds' selection of Angus beef should be on the top of your list. This bone-in ribeye comes with a port demi glace, along with mashed potatoes, asparagus and crispy onion rings.
extra bite: This is RiverWinds' fourth consecutive year on the Golden Forks list, and for good reason.
Best Familiar Favorite
Chicken Marsala
Illiano Cucina Mediterranea in Medford
Chicken cutlets are fried, then sautéed in Marsala wine, sundried tomatoes and mushrooms and served along with a healthy helping of pasta. It's an unforgettable favorite that never fails to satisfy.
extra bite: Illiano's Mediterranean-inspired seafood options are equally as hard to resist, like their scallops verde or mussels.
Best Seasonal Selection
Lemon-Rosemary Chicken
The Farm and Fisherman Tavern and Market in Cherry Hill
Roasted chicken gets treated simply, with just a bit of lemon to brighten things up and some rosemary for a bit of fresh seasoning. It comes with a sweet yam gratin and fresh broccoli, grown right around the corner at Cherry Hill's Springdale Farms.
extra bite: Owner Josh Lawler's chicken is hard to resist, but only available for a limited time. Like the rest of his menu, the entreés are all seasonal, and change to fit whatever's growing.
Best Reason to Fall in Love with Salmon All Over Again
Skuna Bay Salmon
Arugula in Sewell
Chefs at Arugula take fresh salmon, give it a Parmesan crust, then serve it with sautéed—what else?—arugula, tomatoes and Italian sausage. It is finished with accompanying Prosecco cream sauce and a sweet balsamic fig reduction.
extra bite: Farm-raised Skuna Bay salmon has become so well-known for their quality and care that they're sought after internationally.
Best Opening Act
Pork Belly with Sweet Garlic Chili Oil Sauce
Han Dynasty in Cherry Hill
Salty pork belly gets shaved super-thin, tossed in a house-made sauce of red chilis and garlic and served as a cold appetizer. This is one of Han Dynasty's milder dishes, which means it still has plenty of zing.
extra bite: This menu pulls zero punches, and packs more heat than we know what to do with. If you can brave a hearty dose of chili, the world is your oyster.
Best Guilt-Free Pleasure
Navaratan Korma
Cross Culture in Haddonfield
Nine varieties of vegetables are chopped and simmered in spicy coconut cream sauce, then blended with diced nuts and served with basmati rice. It's a creamy, warm and savory bowl that's still healthy enough to keep your diet on track.
extra bite: Vegetarians rejoice: The above dish is one of dozens of meat-free options on Cross Culture's menu.
Best Shellfish Act
Seafood Risotto
Fischer's Pelican Restaurant in Sewell
Shrimp, clams, mussels, calamari and day-boat scallops provide seafood lovers with more than enough selection to dive into in this risotto, which gets a burst of flavor from garlic and tomatoes, sautéed in white wine and served over risotto.
extra bite: Head chef and owner Bill Fischer uses his Cape May roots and commercial fishing past as the inspiration for his menu.
Best Reason to Bubble Over with Excitement
Giumarello's Jumbo Lump Crab Cakes
Giumarello's in Haddon Township
You haven't really experienced crab cakes until you get them with a healthy dose of Giumarello's champagne lobster cream sauce, a sweet-and-salty number that pairs just perfectly with some of the meatiest crab cakes we've ever had.
extra bite: Giumarello's extensive bar menu pairs smaller plates with cocktails created by mixologist and owner Gian Giumarello.
Most Creative Use of Parmesan
Capesante Parmigiana
Al Dente Italiana in Moorestown
Pan-seared dry-pack scallops are heightened with a salty Parmesan crust, and plated alongside sautéed spinach in garlic and smooth and creamy polenta. Who would have thought that scallops could get any more decadent?
extra bite: Al Dente has joined the likes of several South Jersey BYO's in offering wine pairings for their dishes by partnering with Franklinville's Coda Rossa winery.
Best Slow Cooking
Braised Short Ribs
Terra Nova in Sewell
The success behind these short ribs lies in the preparation; the cuts are slow braised in a pool of tomato sauce for hours, so that when they land on the plate they are fall-off-the-bone tender. Serve that with wild mushroom risotto and you've got a dish that warms you from the inside out.
extra bite: This Italian spot has also earned accolades for a pretty impressive selection of sushi, with unexpectedly creative rolls that go in a whole new direction.
Best Eponymous Dish
Sausage alla Botto
Botto's Italian Line in Swedesboro
This appetizer starts with Botto's sweet Italian sausages, sliced and sautéed in olive oil for an extra, crispy bite. The sausage coins get tossed with garlic and white wine and finished with a dose of pepperoncini peppers and sliced mushrooms and served piping hot.
extra bite: These are the same sausages that you can find in the meat section of your local grocery store. They're the Botto family's specialty, and have been a South Jersey favorite since 1965.
Best Dish to Flock To
Crispy Duck
CHUlicious in Mount Laurel
Peking duck comes chopped with its crackling skin on a bed of Chinese broccoli that's been cooked in sweet hoison sauce. Pile the two together on the accompanying steamed buns—that just might be good enough on their own—and you've got a classic dish that we could eat all day.
extra bite: Co-owners and father-daughter duo Chun and Sheri Chu got their start in their family's Philadelphia restaurant.
Best Way to Pile on the Beef
Carne Asada
Los Amigos Restaurant in West Berlin
Grilled, tender skirt steak gets cut thin and served with a cheese enchilada smothered in Chihuahua cheese—a mild, white Mexican cheese comparable to white cheddar. From there you can pile the steak on fresh tortillas with your pick of Mexican rice, refried beans and guacamole.
extra bite: This delicious dish is also gluten-free, as are a handful of other Los Amigos dishes, all of which are marked for easy spotting on their menu.
Most Innovative Cheesecake
Warm Crab Cheesecake
Toscana in Cherry Hill
Cheesecake for an appetizer? Just hear us out. This is a Toscana speciality, blending cheese with huge pieces of jumbo lump crab meat and chopped shrimp and they pan fry the cake before placing it on a roasted pepper coulis and serving it alongside a sliced cucumber fresco. The salty cheese, sweet peppers and fresh seafood are a combo that surprises in all the best ways possible.
extra bite: Once spring rolls around, check out Toscana's outdoor dining section. It's a quiet and enchanting space that feels secluded despite being feet from Route 70.
How our readers are eating
Question 1: When you go out to eat, what are you ordering for an entree?
Chicken-- 5 percent
Beef-- 28 percent
Pork -- 17 percent
Fish/Shellfish-- 50 percent
Question 2: Do you use sites like UrbanSpoon, OpenTable and Yelp to help decide your next meal?
Yes-- 78 percent
No-- 11 percent
I use them and also write reviews-- 11 percent
Question 3: What is your favorite food trend of 2014?
Brussels Sprouts-- 57 percent
Kale-- 14 percent
Bacon-- 29 percent
Question 4: What trend do you want to see disappear in 2015?
Brussels Sprouts-- 23 percent
Kale-- 23 percent
Gluten-Free Food-- 16 percent
Bacon-- 38 percent
Question 5: Do you take advantage of Restaurant Week every year, or would you rather pick from a full menu?
Restaurant Week-- 88 percent
Full Menu -- 12 percent
In the Kitchen
Some of South Jersey's best chefs answer our questions about what they love—and hate—in local cuisine.
What do you think people look for in a dining experience in 2015?
"It is 2015 and there are more 'foodies' than ever. Customers want their chefs to step out of the traditional box and push the limits to culinary innovations. They want to sit down in a vibrant, yet casual atmosphere and open a modern menu designed with locally grown ingredients."
— Nick Italiano, Arugula Restaurant, Washington Township
What do you see as the biggest dining trend currently?
"The main trend is that people are more health conscious and going out to eat has become less of a luxury. They eat out more; it's less of a special occasion and they're more conscious of what they're eating and where it comes from."
— Josh Lawler, Farm and Fisherman Tavern and Market, Cherry Hill
Fill in the blank: The South Jersey dining scene needs ____
"I would love to see more food trucks. There's definitely a market and I'd love to see that market transpire. People love that atmosphere and the concept. The [Monmouth Park] horse track and wineries have different events and they're really great. If something like that could pick up I think it would be really great for South Jersey."
— Markese Beverly, The ChopHouse, Gibbsboro
What do you think of online review sites?
"I find sites likes Yelp and UrbanSpoon to be a great avenue for business owners. It's like a Facebook for foodies. It has the capability of me responding publicly or privately to my customers so I can address anything and try to correct anything that happens and get those customers back in here."
—Mark Berenato, Da Soli, Haddonfield; Allora, Marlton
What is the best thing about being a chef in South Jersey?
"It's a pleasure because we are surrounded by many local farms with seasonal items that we are able use in our everyday menus and specials. That separates us from many large chain restaurants, by using local, fresh sourced ingredients. Our community and surrounding areas make up the bulk of our business. They are looking for that establishment that utilizes the local suppliers and supports the community. By using these ingredients, it enables us to produce a high quality meal, and one they keep coming back for.
— Enrico Botto, Botto's Italian Line Restaurant, Swedesboro
Published (and copyrighted) in South Jersey Magazine, Volume 11, Issue 111 (February, 2015).
For more info on South Jersey Magazine, click here.
To subscribe to South Jersey Magazine, click here.
To advertise in South Jersey Magazine, click here.