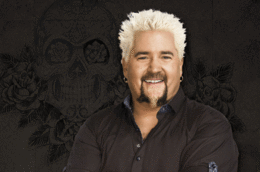 What a Guy
Celebrity chef Guy Fieri extends his culinary reach into South Jersey.
Guy Fieri may be the face of Food Network, but it's his signature blonde spikes that make him so easily identifiable. In this day and age of celebrity chefs with large résumés and even bigger egos, Fieri comes across as a genuinely fun-loving person who doesn't take himself too seriously. His colorful hair and tattoos make him look more rock star than restaurateur and his love of fist bumping and trips to "Flavortown" where everything tastes "money" are just some of the reasons why the public can't get enough of him. Not that he's starving for the attention.
Fieri became a household name when he debuted as a contestant on the second season of The Next Food Network Star in 2006. Nine years later he dominates the channel, hosting several shows, including the hit Diners, Drive-Ins and Dives where he travels the country seeking out greasy spoons and homespun eateries that serve up a mix of down-home cooking and high-end comfort food. He's filmed several episodes down the Shore and across the bridge in Philadelphia.
Fieri is much more than just a cook for the camera too. He owns a dozen restaurants across the country, including the recently opened Guy Fieri's Chophouse at Bally's in Atlantic City. Supermarket shelves are lined with his products, from barbecue sauce to sausages. He's also a best-selling author and even had a split-second cameo in the controversial The Interview.
Somehow Fieri found time for this interview despite a grueling eight-week production schedule where he's shooting 12 hours every day. He told us about his new A.C. spot, being away from his family for long stretches and his favorite food to cook when the camera's not rolling.
SOUTH JERSEY MAGAZINE: What made you decide to open up a restaurant in A.C., especially given the rocky times the city is going through?
GUY FIERI: It was a perfect time to shine the light on what a great place Atlantic City is. There's so much to do and it's filled with great people and great food. As you know, we recently shot Diners, Drive-Ins and Dives there and I really dug the area. Plus, when the team from Caesars asks me to get involved, I get involved!
SJM: What's your favorite thing on the menu at the A.C. restaurant?
GF: That's difficult—that's like asking what your favorite song is, or if you have a favorite kid. I would have to say my favorite thing is how much of the menu is made from scratch and how outside of the box from the average steakhouse it is. SJM: You've got a restaurant in A.C. and have been to the South Jersey area several times for Diners, Drive-Ins and Dives. What is your overall impression of the culinary scene here and how it may or may not differ from other regions of the country?
GF: Anytime you show me an area with time and tenure, I can usually find family-run restaurants that are local favorites, offering local specialties—places like Ernest & Son [in Brigantine], which we just shot at. And the greater Atlantic City area is no different. It's a great community—a lot of folks that work in hospitality live in that area and they are always looking for killer food for themselves. One of my all-time favorites has got to be The White House. One of the best sandwich shops in the country.
SJM: You must travel a lot with both TV and businesses to run, how much time do you get to spend at home during the year?
GF: Way more than I used to—we now shoot 52 episodes of Guy's Grocery Games in my hometown of Northern California. It's really important to me to be home for dinner and to say good night and good morning to the kids.
SJM: How much does family support play a factor when you're on the road so much?
GF: It's enormous. I've been able to adapt my crew so that three of my buddies who all have different positions on the crew travel with me. Skype and FaceTime keep me really connected with the kids and my wife during the week.
SJM: Does the rest of your family know their way around the kitchen?
GF: For the most part, everyone has their strong skill. But when I'm home, the kitchen is all mine!
SJM: What's your favorite meal to make in your home kitchen?
GF: Any meal that my kids are helping me with. A lot of times it has to do with cooking pizza in the wood fired pizza oven in the backyard. Everybody in the family loves pizza. So much to the point, they've become very particular.
SJM: What's the one thing—gadget, ingredient or otherwise—that you couldn't live without in the kitchen?
GF: My Turkish coffee pepper grinder.
SJM: Since you are sort of an expert in the area, what is your favorite guilty pleasure food?
GF: Soft pretzels and beef jerky.
SJM: You're a chef, TV personality, author and businessman; is there anything you'd like to accomplish that you haven't yet?
GF: Acting!
Published (and copyrighted) in South Jersey Magazine, Volume 11, Issue 11 (February, 2015).
For more info on South Jersey Magazine, click here.
To subscribe to South Jersey Magazine, click here.
To advertise in South Jersey Magazine, click here.