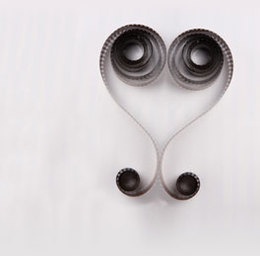 A Different Kind of Love Story
Independent film from two Marlton natives spins a unique romantic tale
The birth of a child is a life-changing experience that can bring on many emotions, added responsibilities and plenty of sleepless nights. And for three buddies it apparently can also bring great fodder for a movie.
No, we are not talking about a remake of Three Men and a Baby.
Meet My Valentine, the newest film from Marlton natives Brian Herzlinger and Jay Black, was inspired by actress Tiffani Thiessen—perhaps more well-known as teenage icon Kelly Kapowski from Saved by the Bell.
"About four years ago, a buddy of mine, Brady Smith and his wife, Tiffani Thiessen, were pregnant with their first child, Harper," Herzlinger says. "And Brady had a nightmare after they found out [Thiessen] was pregnant about what would Tiff and Harper do if he died."
Thus, the idea behind Meet My Valentine was born. (Pun intended.) In Meet My Valentine, Tom (Scott Wolf) learns he has just months to live, and sets out to take care of his wife Valentine (Courtney Ford), and 8-year-old daughter, by finding a replacement for himself after he's gone. He sets up an online dating profile for Valentine, and in the process, realizes he doesn't know her at all, so begins "dating"—and falling in love with her— all over again.
"[After hearing Smith's idea], we ran off and wrote the script. And normally we don't do that without getting paid," Herzlinger says. "The idea was something that we hadn't seen before, and if we get it right, it could be really effective and emotional."
Four years later, after several rewrites and seeking distribution for the film, Meet My Valentine is now a reality for the longtime collaborators who first met back in fourth grade. Meet My Valentine will be their fourth joint project. Others included 2013's How Sweet It Is, Paulie, and Busdriver—a thriller starring Robert Forster, now in post-production. Herzlinger also directed and starred in 2004's My Date with Drew, and directed 2009's Baby on Board; while Black, a high school English teacher- turned standup comic and screenplay writer, tours the country performing his standup act, including a recent run at the Laugh Factory at the Tropicana Las Vegas.
Working with a close friend has its benefits, they note. "I think why we're so successful on the writing front is that we respect each other and if one of us is saying something or suggesting something or disagreeing with something, it's not because of ego," Herzlinger says. "It's because there is some valid reason. I respect the hell out of him and I could not do this process with anyone else. Honestly on the writing side, Jay carries the weight of it."
Black agrees. "I think we both care about the work more than we care about our individual contributions to it, which I think you need to have that brotherhood to get to that point. ... You don't have to do that thing [when collaborating with someone] where you have to do the dance of, 'I love what you did here, I think you're great, I love everything—but here's what I don't like.' We just jump to the part where we're like, 'Here's what I don't like' and we assume that the other person still loves us."
Another coup for the movie-making pair? Getting Scott Wolf to sign onto the project.
"As always, the script comes first," Wolf says of why he signed on. "The story was incredibly compelling and the script was really well written. Great characters and relationships, and a really cool blend of dramatic heartfelt stuff and humor. I immediately connected to Tom's journey and was excited to have the chance to play the character."
Wolf, who achieved mega-stardom—and official heartthrob status— playing Bailey Salinger on '90s cult classic Party of Five—also sounded off on whether it was difficult to move past that role, or if he viewed it as a stepping stone. "It really was both. It obviously gave me a career, which was incredibly valuable. I was able to experience and learn things as an actor and a person that have continued to guide the way I live and work, so it can't be overstated how much I appreciated that experience," he says. "And then for a while after it ended, it was hard to shake off.
Both in terms of the perception it created of my work, and my own identity within the work. It took a while for people to see me outside of that character, and it took me some time to break away from that identity as well."
But Wolf, currently shooting the second season of NBC's The Night Shift, still cites his Party of Five role as one of his best roles to date, along with his role in Meet My Valentine, that is.
"I have been lucky to play so many roles that I love. This role of Tom in Meet My Valentine is also one of my favorites. He felt strong in interesting ways, and deeply flawed in others. That made him feel really authentic and interesting to me as an actor."
Meet My Valentine is also following the trend of movies skipping over the big screen—and all the hoopla and funding that entails—in favor of digital releases. Think Netflix, Amazon Instant Video and Video on Demand (VOD).
"You've got to have enough money to support a publicity campaign, so you need to see TV commercials for the movie; you need to see trailers for the movie; you need to see the actors on talk shows. That's a very, very expensive campaign and unless you have a lot of money to support that campaign, it's just not going to work," Herzlinger explains. "So it makes a lot more financial sense if you don't want to put the money into it or can't put the money into a huge publicity campaign to go right to VOD, get the money right to you. And that's what a lot of movies are doing. You'll see movies on VOD with Colin Firth and Reese Witherspoon and Bruce Willis and John Cusack that never went to theaters."
Black echoes those sentiments. "[W]hat's really happening is that mid-tier, $20 million, $30 million movie has migrated to Netflix, to Video on Demand, to iTunes, where it's not a movie so much anymore as it's House of Cards—13 episodes on Netflix, all released at once," he says. "But that sort of old school movie that you would have gone and seen in the theater 20 years ago is now something you're going to see maybe as 13 episodes on Netflix, maybe as a movie on Amazon.com. But it's going to be a digital distribution."
Wolf agrees, saying that whether a movie goes to the theater or straight to TV doesn't really matter to himself as an actor.
"The primary goal is to commit fully to the process and hopefully make something worthwhile. Then the hope is that if you are lucky enough to make something you're proud of, that people get to see it," he says. "[It] doesn't really matter how they get to see it or where, as long as they do. And for smaller films like this one, VOD gives the biggest opportunity for a lot of people to find it."
Meet My Valentine, produced by MarVista Entertainment, directed by Brian Herzlinger and co-written by Herzlinger and Jay Black, will premiere on ION Television at 9 p.m. Feb. 6, and will also air at 8 p.m. Feb. 14.
Published (and copyrighted) in South Jersey Magazine, Volume 11, Issue 11 (February, 2015).
For more info on South Jersey Magazine, click here.
To subscribe to South Jersey Magazine, click here.
To advertise in South Jersey Magazine, click here.