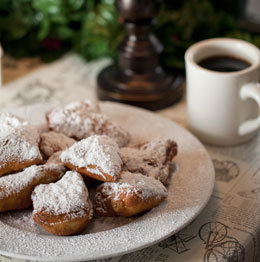 Side Dish
Quick Bite: Beignets (pictured)
Woodbury Station Café
Woodbury
It's hard to go wrong with crispy fried dough and powdered sugar, but Woodbury Station Café has become quite famous for their beignet variety. These piping hot pillows are particularly light and fluffy, and are well worth the inevitable dusting of powdered sugar on your sweater.
Key Ingredient: Kale
Looking for an ally in the fight against the cold and flu season?
Try kale. Often called a superfood, kale is high in iron, calcium and vitamins A, C, and K, which help you stay on track through the winter. Try these healthy takes on kale and keep your immune system in fighting form. -Samantha Berenberg
The Migraine Reliever with Kale
Healthy Garden Café, Moorestown
Chopped Salmon and Kale
Red Stone Grill, Marlton
Healthy Kale and Quinoa
Apron, Haddonfield
Lunch Under $15: Main Street in Maple Shade Maple Shade's main drag offers plenty of quick and easy options for a lunch break that's fast and still filling. From a hot sandwich to a loaded salad, check out our options for your next midday meal.
1. Crispy Buffalo Melt
Maritsa's douses fried chicken strips in spicy Buffalo sauce, with your choice of cheese, between two pieces of grilled rye and serves it hot and toasty. $7.50 at Maritsa's Cuisine, 106 E. Main St.
2. Fontana Special Pie
If toppings are your thing, try this personal pizza covered in mushrooms, olives, sausage, pepperoni, green peppers, onions, and extra cheese. $9.95 at Café Fontana, 30 E. Main St.
3. Stuffed Shells
This traditional pasta plate, served with a roll and your choice of homemade soup or salad, is the perfect Italian option to satisfy your hunger during your lunch break. $12.45 at Montegrillo, 123 W. Main St.
4. Taco Salad
Skip the tortilla but not the flavor with this salad, which tops a pile of lettuce with tomatoes, diced black olives, jalapeños peppers, cheddar cheese and salsa, with your choice of ground beef or chicken. $8.25 at Gaetano's, 7 W. Main St.
5. Tacconelli's Old Favorite
Technically Tacconelli's doesn't open till 4 p.m., but it's the perfect spot for a late lunch. This sandwich is as simple as can be, taking an open faced roll and covering it in pizza sauce before baking it in their special ovens with American cheese and sliced pepperoni. $4.50 at Tacconelli's Pizzeria, 27 W. Main St. –Emily Bierman
Fast Food
Organic pizza chain Jules Thin Crust Pizza will open its first New Jersey location in Cherry Hill. Mark Berenato, owner of Haddonfield's Da Soli, has opened his second restaurant. Italian eatery Allora has taken over the space of the former La Posata in Marlton.
Construction has begun on the former Crystal Lake Diner. The Haddon Township diner was closed following a basement fire in June.
The Collingswood zoning board has approved plans to open up McFarlan's Market in the former National Market. The marketplace already has a location in Merchantville.
Haddonfield's Kings Highway has announced plans to open a new Mediterranean eatery, Zaffron, in place of the original Animo Juice location.
Haddonfield's Hollingsworth Cookies and Fine Desserts has closed their retail space on Haddon Avenue, citing problems with the landlord and HVAC system.
Executive chef David Wiederholt has opened his Woolwich-based David & Sons Meat Shop & More, a gourmet butchery and specialty foods shop.
Classic Cake has closed their Washington Township location, with plans to move the spot to somewhere in the area in the near future. The Cherry Hill location remains open for business.
Extra Plate: Joe's Peking Duck House
Joe's has been a Marlton hot spot for more than 25 years, serving up the same traditional Chinese food since their inception. The décor may not be anything to write home about—though the giant fish that greet guests in the front are bound to grab your attention—but we keep coming back again and again. It's a cash-only BYOB that keeps things delightfully simple, with menu items that have stood the test of time and have earned a reputation for flavor.
When it comes to fan favorites, the name says it all. You have the option of selecting a Peking duck plate which comes with crispy duck and all of its accompanying sauces and greens, along with fried rice, soups and various sides depending on the size of the group. Or you can pick from a sprawling menu of entrées, appetizers and chef's selections. But don't leave until you've tried the earthy and meaty walnut shrimp, fried in a crispy batter, glazed in a honey sauce and covered in whole walnuts on a bed of steamed broccoli. Then there's the hand-formed dumplings, beautifully crafted bites packed with your choice of pork or vegetables.
Weekend dim sum channels the flavors and customs of Chinatown without the pain of crossing the bridge, and runs the gamut from familiar—like steamed spare ribs and pork dumplings—to the traditional, like chicken feet and fish balls. And their lunch menu provides many of the same entrées we've come to love with a more midday friendly price and portion size. Our biggest challenge is limiting our visits to once a day.
Published (and copyrighted) in South Jersey Magazine, Volume 11, Issue 111 (February, 2015).
For more info on South Jersey Magazine, click here.
To subscribe to South Jersey Magazine, click here.
To advertise in South Jersey Magazine, click here.