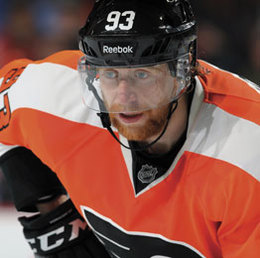 Cool as Ice
Despite being one of the Flyers best players at just 25 years old, Jake Voracek keeps a level head.
June 23, 2011, was an important date in Philadelphia Flyers history, as star forwards Mike Richards and Jeff Carter were sent packing to the Los Angeles Kings and Columbus Blue Jackets, respectively, in separate trades that signified a major shakeup in the organization. Richards and Carter have since been reunited in L.A. and won two Stanley Cups with the Kings—much to the chagrin of Philly fans. But it's not like the Flyers were left empty handed.
One of the players acquired in the Carter deal was right winger Jakub "Jake" Voracek, a native of the Czech Republic who has become a mainstay on the team's No. 1 line. Voracek has had a big impact wearing the orange and black, as he led the Flyers in goals during the lockout-shortened 2012-13 season and was second on the squad with 62 points last year. This year, the 25-year-old is playing the best hockey of his career and was leading the NHL in points through his first 19 games.
South Jersey Magazine recently sat down with the emerging star to talk about a number of topics on and off the ice, including his scorching start to the season; his charitable work in the area; how living in the Delaware Valley compares to living in Europe; and how he's become a huge fan of one of New Jersey's favorite native sons.
SOUTH JERSEY MAGAZINE: You've had several solid seasons with the Flyers, but this year you're off to a terrific start and really seem to be playing at another level. What do you think the reason is for that?
JAKE VORACEK: It's just experience, for the most part. It's my seventh year in the league. I wouldn't say I changed much. I dropped a couple pounds in the offseason, that's about it. But my preseason workouts were the same. I've done everything the same as I've done the last five years. I think it's just experience on the ice and off the ice, and I think I'm more patient with the puck on my stick during games, which is really important.
SJM: And you're also coming into your prime at age 25. Did you always think you had it in you to become an elite player in the league?
JV: Yeah, but not too many guys break out right away. You have to be really good to break into the league and start putting up 70, 80, 90, 100 points right away. [Tampa Bay's Steven] Stamkos had a pretty solid 50-point season in his first year, then he just took off. But he was still young, which is impressive. Then you have [Washington's Alex] Ovechkin and [Pittsburgh's Sidney] Crosby, those kinds of guys. Obviously, there aren't too many players like that vying for MVP starting at 18 years old. A lot of players need time, picking up experience along the way. I would say when you turn 24 or 25 years old and have five or six years in the league, that's when you play good hockey.
SJM: You've always seemed to have great chemistry with Claude Giroux on the ice and I know you're good friends off the ice as well. How important is it to have a close relationship with your linemates?
JV: It's important. We are good friends and we hang out together a lot. We have the same personality; we both hate losing and we get pretty rattled if we do. Sometimes it's pretty funny to watch us when we're losing a game. Obviously, it's good to be close off the ice and it helps with the chemistry on the ice.
SJM: To switch gears a little bit, I know you live in Philadelphia. How do you like living in the city and what kind of things do you like to do off the ice?
JV: I love it. I live in Old City and there's a lot of [things to do]. During the season, there's not much time to run around. Whenever I get a day off, I just like to relax and get my rest. But I like having everything close and walking around the city. It's a good-looking city and I really like it here.
SJM: With your practice facility being in South Jersey, do you get out around here at all? Are you a Jersey Shore guy?
JV: To be honest, not that much. The only time I hang out in Voorhees is when we have practice. But sometimes I go golfing when it's nice outside. I've golfed at Trump [National] a couple times and Woodcrest. It's good to get out and enjoy the area.
SJM: How does this area in general—South Jersey and Philadelphia—compare to the area of the Czech Republic that you hail from?
JV: Obviously, it's a different lifestyle. It's completely different from the Czech Republic. I come from Kladno, which is about 20 minutes from Prague. Prague is a very old city, a very beautiful city. The same as Philadelphia; I guess Philadelphia is pretty old too. It reminds me of Prague a little bit, but the culture is completely different. Different people, different mentality. I love to live in Philadelphia, but I also love to go back home and spend some time there.
SJM: Do you get back home every offseason?
JV: Yes, I go back after every season for a month or a month and a half. It makes me very happy to see my family and friends, and then come back here and get ready for the season.
SJM: Does your family get the chance to come visit and see you play here?
JV: Oh yeah, they usually come twice a year when they can, when the schedule allows. They watch a couple games and it's good to see them, because it doesn't happen very often. I'm basically gone 10 months out of 12, so when my parents, my sister, my brother-in-law and the kids come down, it's always good to see them.
SJM: You mentioned you're from Kladno, which is the same hometown as longtime NHL star Jaromir Jagr. Did you idolize him growing up?
JV: There's a bunch of us [NHL players] from Kladno. I think everybody my age, when we were born in the mid-'80s until the '90s, he was the guy to follow. … He was in the spotlight, and when he broke into the NHL in the early '90s, he was outstanding. When you win the Art Ross Trophy [for most points in the NHL] five times in five years, that says something. So everybody idolizes him and it's good to see him still playing.
SJM: You got to be teammates with Jagr a couple times, right?
JV: Yeah, the first time was with the national team in 2010, we won the World Championship. Then with the Flyers two years later, and at the Olympics earlier this year. It was pretty cool.
SJM: What's it like during an Olympic year, since a lot of your teammates on the Flyers play for different countries? Is there a lot of trash talk going on?
JV: No, I wouldn't say there's trash talking. Everybody enjoys it, because it doesn't happen very often when you can become an Olympian and represent your own country. Everybody gets very excited about it and it's something we'll never forget.
SJM: What would you rather have: a gold medal for the Czech Republic or a Stanley Cup with the Flyers?
JV: I'm going to pass on that question. [Laughs]. Obviously, Olympic gold is something that happens every four years and not everybody can say they won an Olympic medal. But the Stanley Cup is the hardest trophy to win in sports. So they're both very high [on my list].
SJM: Do you think they will continue to allow NHL players to compete in the Olympics?
JV: I hope so. I think it's good for the sport, if you look at the last couple of Olympics and how much hockey grew in the different countries. For me personally, I don't think the NHL gets hurt that much if once every four years they take a 10-day break. But that's just my opinion. I don't think I'm the only one who thinks every four years we should be able to represent our country in the Olympics. On the other hand, you have to understand how the general managers and the owners feel if somebody gets hurt in the Olympics, because it's their money. But from the players' standpoint, it's an incredible feeling.
SJM: Earlier this season, you hosted a group of pediatric cancer patients from St. Christopher's Hospital in a private box during one of your games. How did that come about?
JV: I have to give credit to my girlfriend Nicole—she came up with that idea and she kind of handled everything. She's been very supportive of me in my charity work around Philadelphia. She's been great and we're going to keep it going.
SJM: What was it like to interact with those kids?
JV: You could tell how excited they were. It was great to see the joy in their eyes, because they're going through the toughest battles of their lives. I think the little things we can do as a hockey player, like inviting them to a game, can make them happy.
SJM: You had your own scare with your car accident. [Voracek totaled his Ferrari in a 2013 car accident in the Czech Republic, but was not injured.] Did that change you?
JV: Yeah, of course. You look at life a little different. Every time I get behind the wheel, it kind of pops in front of my eyes. Obviously, it's something I would like to forget, but I probably never will. But it's a good thing that I'm still here and it was a good lesson. Things like that happen in life, and I'm very thankful that nobody else was hurt and I wasn't hurt. It was just a car.
SJM: Did you get another Ferrari?
JV: I didn't get one, but sometimes when I see them on the street or something, it's [tempting]. Maybe in the future I might get one more, but I don't want to press my luck too much.
SJM: You said earlier that you don't get out in Jersey much, but I understand that you're a big Bruce Springsteen fan. Is that right?
JV: Huge. That guy is amazing. He's 63 or 64, I can't remember, but the effort he puts into a live concert is something I'll never forget. If you go to see him, you just want more and more. He's been giving it to the fans for the last 40 years.
SJM: Did you catch his show in Philly?
JV: I saw him in Philly twice, when he was at Citizens Bank Park in 2012. I went both days. It was crazy.
SJM: Back to hockey, Eric Lindros and John LeClair were just honored by the team. How much do you know about Flyers history, whether it's those guys, the great teams from the '80s or even the Broad Street Bullies from the '70s?
JV: I know a little bit but I don't know every single player who played for the Flyers. Obviously, I know about when they won the Cups and when they went to the finals. I know the Stanley Cup hasn't been in Philly for 40 years, so that's something we want to do for the fans. If you look at Lindros and LeClair, those guys were great hockey players. So it was great to see them get honored like that. It was well deserved.
SJM: Speaking of bringing a Cup to Philadelphia—the team has had its ups and downs this year, but do you feel like everyone who makes the playoffs in hockey has a chance to win it all? It's not necessarily like that in every sport.
JV: Exactly. You can just ride momentum. Look at the Flyers team from 2010 that snuck into the playoffs on a shootout goal and rode that momentum all the way to the Stanley Cup Finals. The same thing with the Los Angeles Kings two years ago. They were battling [to make] the playoffs in the last 10 games, then they rolled over everyone in the playoffs. That's the good thing about it—anyone can beat anyone.
SJM: You're a big sports fan in general. I see you tweeting about tennis and baseball. Do you follow other sports closely, too?
JV: Oh yeah, I follow everything. I follow baseball, basketball, football, soccer, tennis. I follow it pretty closely. It keeps me in the picture. I wouldn't say I know everything about those sports, but I know some things. I've always been a sport fan.
Published (and copyrighted) in South Jersey Magazine, Volume 11, Issue 9 (December, 2014).
For more info on South Jersey Magazine, click here.
To subscribe to South Jersey Magazine, click here.
To advertise in South Jersey Magazine, click here.