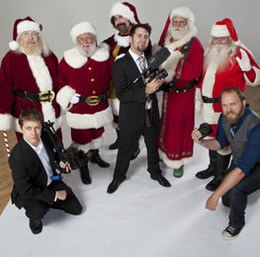 Behind the Beard
One local filmmaker's new documentary unveils the truth behind Christmas' man in charge.
For most families, the topic of Santa Claus comes with a dozen questions: Naughty or nice? Real beard or fake? Does he even exist? But for native Haddon Heights filmmaker Tommy Avallone, there was another question he was dying to ask the man in red.
"Me and my wife were walking around the Deptford Mall and we saw Santa Claus," he says. "And I asked, 'I wonder what this guy does all year long?'"
Avallone grew up visiting Santa at the Cherry Hill Mall with his mom, but never had the same goals as the other kids waiting it out for a talk with Saint Nick. "I liked going, but I was never really a Christmas nut. I'm a Halloween guy," he says. "I just find the people who dress as Santa interesting. This guy is in your family photo every year, but do you ever wonder, 'Who and what is he going home to?'"
That single question was the spark that started the 31-year-old Avallone's three-year journey to create his newly-released documentary, I Am Santa Claus.
Early years
Avallone may still be young, but he's been making films in the South Jersey area for decades.
"I had a video camera at 11 years old," he says. "I just loved videotaping my friends and me goofing around. We went from that to trying to make skits and movies and more scripted parts. It snowballed from there."
His film career got a surprising kick start while studying at Camden County College, when a then 20-year-old Avallone decided to run for mayor of Haddon Heights. "I thought it was fun," he laughs. "I was always a big fan of comedian Andy Kaufman and his stunts. I was putting videos up on my website and I made a song about running for mayor that would play on the radio and I would do press conferences and give the people that showed up milk and cookies."
At the time of his unsuccessful mayoral campaign, Avallone was already in the process of making his third film. "My friends and I would make movies during the year—while I was running for mayor—and play them during Christmas break for our friends to see, and they were selling out at the Cinemark [in Somerdale]."
Finding Santa Claus
Avallone eventually found himself directing and producing films year-round. Avallone's first documentary, I Am Santa Claus, guides viewers through four professional Santa Claus' holiday journeys, and follows the men through their personal lives post-Christmas.
Avallone got his start like many modern amateur filmmakers, with a Kickstarter campaign to raise money for funding. From there he travelled with his staff around 19 states, interviewing more than 30 Santas along the way—meeting real estate agents, construction workers and more in their travels.
He also nabbed Academy Award nominee Morgan Spurlock to join the project as producer. The acclaimed documentarian, most known for his film Super Size Me, was immediately drawn to the unique storyline.
"[Spurlock] said if he likes a project he'll put his name on it," explains Avallone. "And when he heard my idea, he was behind it. He's such a huge name in the documentary world, and has made so many amazing movies. Once he saw it, he gave us some notes and changes to make, and it definitely made it a better movie in the end."
The film also recruits a "Rookie Santa" in Mick Foley, known to most as former WWE wrestling star Mankind. Outside of the ring, Foley (who also signed on as a producer) was a lifelong Christmas fanatic, with a room in his family home decorated for the holiday all year long. So for Avallone—who tries to include a pro wrestler in every film he's worked on—this rookie was a perfect fit.
"I was on the road for so many days a year, close to 300 during my time in the WWE, and anticipating Christmas was the biggest event for me and my family," says Foley. "But it was something I never considered. It was a big leap, but once I had that first vision with a child seeing me as Santa, with that magic of Christmas reflected in his eyes, I was on board."
"He's not the typical pro wrestler as far as I can see," says Bob Gerardi, another of Avallone's Santa subjects in the film and a 12-year Saint Nick veteran. "Getting to meet and know him, he really personifies what most of us represent for Christmas."
Naughty or nice?
Avallone and Foley took the film on the road with a month-long tour in private theaters and film festivals that wrapped at the start of December. The film also hit Netflix at the end of November and has been available for purchase on IAmSantaClausMovie.com and iTunes. Since its release, there has been a range of reactions, via social media and in the film community, including rave reviews from filmmaker and fellow Jersey native Kevin Smith.
But what did the Santas think?
"There was some uproar in the Santa community. We've been told the movie is the Armageddon of the Santa world and we've been put on the naughty list," Avallone laughs. "In the Santa world, some don't agree with an openly gay Santa or a Santa openly drinking, and we're still dealing with the backlash. But it's not a movie about Santa Claus, it's about the people that portray Santa."
"The guys in the Santa community that have approached it with an open mind are really enjoying it," says Foley. "The movie really dispels the idea that Santa is something you end up doing, and replaces it with the notion that you aspire to do [it]. It's really a passion. For the guys who wear the beard [all] year long, they attract a lot of attention, and feel the responsibility to live up to the tradition."
"It's not for kids, that's for sure," says Gerardi, who also mentions that other Santas he knows in the community have had a positive reaction. "Hopefully it has some entertainment value, maybe it will open some eyes as to what Santas do during the rest of the year."
And with Christmas just around the corner, Avallone hopes that viewers will get a glimpse into the lives of the Santas who become such an important part of our lives.
"I think it's the best thing I've ever made, and I'm very, very happy with it," says Avallone. "I think people will respect and appreciate Santas in a way they might never have before. We came across some really interesting characters and I think we portrayed them in a great light."
Published (and copyrighted) in South Jersey Magazine, Volume 11, Issue 9 (December, 2014).
For more info on South Jersey Magazine, click here.
To subscribe to South Jersey Magazine, click here.
To advertise in South Jersey Magazine, click here.