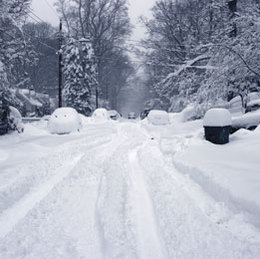 In the Forecast
Our local meteorologists give us their predictions for what lies ahead this winter.
KATHY ORR
CBS3 Meteorologist
Making a forecast for winter is filled with excitement and anxiety. Excitement, because of the challenges and many climate "players" that compete for winter's attention. Anxiety, always to get it right!
In order to make the best winter forecast, you must study the past. I begin by looking at past weather trends. This helps me find "analog" years, when climate features were similar to our current situation. Then I analyze the type of storms, temperatures and precipitation in those years.
Back in the '90s, the El Niño- Southern Oscillation (ENSO) was the MVP. The warming of the Pacific off the coast of South America was linked to changes in our winter weather.
Now we know there are many more variables to look at, like the Quasi-Biennial Oscillation (QBO), the Arctic Oscillation (AO), associated with the "Polar Vortex," the Pacific Decadal Oscillation (PDO) and the popular North Atlantic Oscillation (NAO). All have different phases which indicate mild and dry, or cold and snowy conditions.
After carefully reviewing the data, here are my thoughts for the winter of 2014-2015:
We will start the winter with average temperatures (mid 40s) in December, with a 30 percent chance of a White Christmas. I think the real cold and snowy weather is more likely to ramp up in January.
Historically, the storms with snow accumulations of 6 inches or more occur most often in February, but this season I think at least one plowable snow will occur in January.
I expect temperatures to average below normal, and snowfall to be above normal. (Philadelphia average: 22.4")
CECILY TYNAN
6ABC Meteorologist
So, everyone's wondering: Could this winter be nearly as brutal as last year? To investigate, the first thing I look for is the building supply of cold air to the north. A big factor in that is the speed and amount of snow cover development through the fall.
Looking at this year's snow cover there are two alarming signs. North America had the highest snow cover on record during September. By the end of October, Siberia had its second highest snow cover on record. So, there's a vast supply of cold air. The question: Where does it go? That depends on the jet stream.
Sea temperatures over the next three months are forecasted to be above normal in the eastern Gulf of Alaska, similar to last year. But, they're also forecasted above normal in the central Pacific; that means we are likely heading into a weak El Niño winter. This combination typically creates a big ridge in the West.
But what goes up must come down, resulting in a trough here in the East.
This big dip in the jet stream will open the door for a cross polar flow that allows arctic air to stream from Siberia across the North Pole and south into our region. Last winter this setup gave us days with highs only in the teens.
If the northern branch of the jet stream links up with moisture from the southern jet, strong nor'easters develop. Add to that an increased threat of blocking and these storms can be slow-moving, long duration storms.
Breaking down the upcoming winter, I expect to see several nor'easters, with mixed precipitation that means an increased threat of icing, and, yes, more visits from the Polar Vortex leading to temps averaging 1 to 2 degrees below normal.
In terms of snowfall, I'm predicting around 150 percent of normal in Philadelphia and along the I-95 corridor, giving us 30 to 36 inches. And at the Shore, with mixing cutting down on snowfall, 140 percent of normal, 18 to 24 inches.
GLENN "HURRICANE" SCHWARTZ
NBC 10 Chief Meterologist
It's been "feast or famine" in the snow department around here. These are the official snow totals for Philadelphia during the past five winters:
2009-10: 78.7"
2010-11: 44.1"
2011-12: 4.0"
2012-13: 8.3"
2013-14: 68.0"
The long-term average snowfall is about 22 inches. Yet no recent year has even been close to average. Going back to the 1880s, when official records began, there are no examples of any stretch of "all-or-nothing" snow seasons.
So, what would I expect this year? It looks like another extreme winter is in store—on the high side for snow again.
The 2009-10 and 2013-14 winters were the two snowiest on record here. While I won't go that far out on a limb and predict anything close to those numbers, I do expect another winter of 40-plus inches. That's way above average. Again. And this winter could end up even colder than last winter, which wasn't as cold as you might think. The Midwest and Upper Plains got the brunt of the cold. We got the snow—over and over again.
Our winter weather is determined by things that happen thousands of miles away from the U.S. The most direct correlation, believe it or not, is October snow cover in Siberia and other areas in Eurasia. That reached a record high this year. That suggests a very snowy winter. October snow in North America was unusually high, too. That's another snowy sign for us.
The Pacific Ocean has also been a major factor. The extreme pattern last winter was directly related to our snowy winter, and it's not much different now.
There just don't seem to be any indications of a mild winter with little snow. Things can and do change in the atmosphere and oceans, so this isn't set in stone, but it's about the odds. And, as of now, the odds favor a snowy and cold winter.
SUE SERIO
FOX 29 Weather Anchor
I am a knitter. So, the forecast for this winter for me is not only a matter of meteorology, it's a question of how many warm scarves and hats I will be producing. After last winter, the second snowiest on record, I want to make sure my loved ones are ready.
Forecasting several months ahead is always a challenge. We're still waiting on the formation of El Niño, the phenomenon that happens when water in the tropical Pacific becomes unusually warm, creating an air mass that influences weather around the world. There are signs that we may have a weak El Niño year, which could mean more cold and snow for us in the Northeast U.S. But I'm thinking that the worst of it may wait until after the beginning of 2015. More knitting time for me.
Basically, I'm seeing a half-and-half kind of winter: The first half being rather uneventful and the second half becoming colder and snowier.
Speaking of cold, if I never hear the words "Polar Vortex" again, it would be too soon. I'm thinking if those words are uttered at all this winter, it probably won't be until February or March.
We had the busiest winter I can remember last year, which means a limited number of trips across the bridge to New Jersey. Luckily, we have many loyal viewers there who use Twitter and Facebook to let us know how things look in the Garden State. Winter snowstorms for me mean hunkering down at our offices at 4th and Market streets in Philly. I usually joke that when a winter storm hits, I go in early so I can tell everyone else to stay home. And I wouldn't have it any other way.
There's always time to get my knitting needles going after the storm has passed. Stay warm!
Published (and copyrighted) in South Jersey Magazine, Volume 11, Issue 9 (December, 2014).
For more info on South Jersey Magazine, click here.
To subscribe to South Jersey Magazine, click here.
To advertise in South Jersey Magazine, click here.