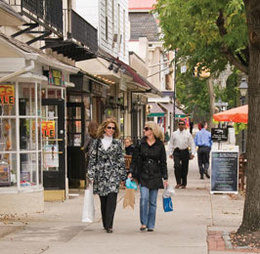 In the Neighborhood: Haddonfield
Full of Charm: Haddonfield embraces its historic past with an eye toward the future
A picturesque town in the heart of South Jersey, Haddonfield is known for its bucolic downtown shopping area, top-notch school systems, and prime location just 10 minutes from the Ben Franklin and Walt Whitman bridges, with easy access to the PATCO Speedline and New Jersey Transit. Another claim to fame? The town was the site of the first intact dinosaur skeleton ever found and put on public display, Haddonfield's Hadrosaurus foulkii. Not bad for a town of 4,634 households and 11,507 residents.
The charming Southern New Jersey enclave also has a laundry list of awards to its name—from being voted as one of the "Great Places in New Jersey for 2014" by The New Jersey Chapter of the American Planning Association, to the coveted title of "Best of South Jersey—Kings Highway" for shopping by USA Today Magazine—Philadelphia Edition in 2012.
"That's why people move to Haddonfield," says Neal Rochford, Commissioner of Public Affairs and Public Safety for Haddonfield, of the town's family-friendly feel. "We have tree-lined streets, a business district, [several] churches; there are activities for every different age group. While even young families are attracted [to Haddonfield,] we have a larger base of empty-nesters that stay in town because they like the family feel."
Downtown Haddonfield also boasts more than 200 shops and galleries—a number that is only growing, as there are more than a dozen new shops and restaurants popping up along Kings Highway, including Girlfriends Boutique, Gorshin Trading Post & Supplies, Ivivva, Joeys Unique Boutique, Juniper, Lotus Reflections, Painting With A Twist, RE/MAX Connection Realtors, Sanctuary, Sew Pretty Studio, Sprig Wreath & Trim, TwoFifteen Photography, YoFresh Yogurt Café and Zaffron Mediterranean Cuisine.
"We have a business district in Haddonfield along King's Highway; it's mostly retail with professionals as well. That is basically stable, because it's kind of built out already," Rochford says. "Our vacancy rate is what we consider very low for the area—about 5 percent. And our stores don't stay vacant for long. … We also have a professional base. We have many lawyers, doctors and dentists and other professionals throughout the business district as well, because of the close proximity to the Haddonfield [PATCO] line."
Haddonfield doesn't really cater to big box type stores, Rochford says. "Our footprint really doesn't allow for that. Our stores are mostly independently-owned," he notes.
"They don't have the square footage [to accommodate] a big box store, we don't have a Route 70, or Route 38 [like other towns]."
A primary economic driver is the town's excellent school system, he notes.
"A lot of professionals move to town because of the school system—[Haddonfield] High School is ranked No. 2 in the state," he says. "The school district does attract people to Haddonfield. We also have really good sports teams for a small district."
Haddonfield also hosts several events throughout the year, including First Thursdays, the Haddonfield Fine Art and Crafts Festival; For the Love of Chocolate Valentine's Day Celebration; Mom's the Word Mothers' Day celebration; Girls Night Out, Small Business Weekend and Candlelight Shopping in November, and the upcoming First Night Haddonfield on Dec. 31, a unique way to ring in the New Year.
First Night Haddonfield is a family-friendly, alcohol-free New Year's Eve celebration held from 6 p.m. to midnight and features live entertainment such as magic, comedy and children's entertainment, food, dancing, even a fireworks display.
But it's not always easy for this charming town, which has its own set of unique challenges. Rochford cites infrastructure as one of Haddonfield's top issues.
"Our roads in some cases are not in the best of conditions. We are trying to get caught up with repairing our roadways," he says, noting that the town recently made the decision to sell its water and sewer utilities to the Voorhees-based New Jersey American Water for $28.5 million. "It means that we can pay off our debt on water utilities, which is $16 million. We can also pay down our municipal debt. That frees up cash flow that we are looking [to use] for road improvements."
Haddonfield's road improvement plan has included recent repairs to Pomona, Euclid and Washington avenues, as well as Grove and Tanner streets, he says. "They rip roads up, go underneath them and replace pipes, water mains. … [These roads] are all 100 years old, so it doesn't make sense to just put a new road down over 100 year-old pipes."
Maintaining these aging roads is no small task. "We invest $1.2 to $1.5 million into the roads program [annually,] depending on how much state aid we get," Rochford says.
The town is also dealing with the recent exodus of one of its long-term residents, the Bancroft School.
"Bancroft is a private school that is moving out of Haddonfield and moving to Burlington County. It's been here for 127 years and they have the property up for sale [19 acres, on Kings Highway.] They want more modern facilities," Rochford says. The town is currently debating what to do with the nearly 20 acres the school sits on, and is exploring several options, including open space or a housing development. "It's all up in the air right now. We haven't made any set decision," he continues. "Probably when the water utility sale is completed, we will start looking at that."
But when it comes down to it, Haddonfield is simply a place people want to stay—or return to.
"People move into Haddonfield and some of us grew up in Haddonfield and we moved back there. There is just a sense of community that you don't get in some other areas," Rochford says. "People believe in giving back to the community, which is nice. They want to make it a better place for the next generation."
By the numbers
2.82 square miles
11,507 residents
FIVE public schools
4,634 households
Published (and copyrighted) in South Jersey Magazine, Volume 11, Issue 9 (December, 2014).
For more info on South Jersey Magazine, click here.
To subscribe to South Jersey Magazine, click here.
To advertise in South Jersey Magazine, click here.