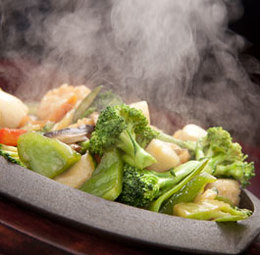 CHUlicious
…A Dining Review from the pages of South Jersey Magazine…
A Trip to Chinatown: CHUlicious
1200 S. Church St.
Mount Laurel
(856) 780-5240
3 and half forks
Sometimes a restaurant will catch your eye on the commute home, sometimes through a friend's suggestion. Then there's a place that is almost impossible to avoid amidst a sea of rave reviews all over the Internet from seriously happy diners.
CHUlicious was one of the latter, a young restaurant really picking up steam amongst foodies online. Opened this past April by the daughter of one of the many homespun restaurateurs in Philadelphia's Chinatown, the Taiwanese-Szechuan eatery has been steadily filling tables for months and doesn't appear to be slowing down.
Such was the case on the evening I stopped by. The location—which has become somewhat notorious in recent years for the site of several new restaurants that have quickly gone under—was packed to the brim, with guests waiting outside on this particularly windy evening. After a half hour wait, we were seated at one of only a handful of small tables for regular guests, as opposed to several round, dim sum tables at the front. The room is more like a long hall with tables lining the sides, painted a deep, warm red with minimal decor.
The modern look balanced out a menu that was classically Chinese. With the exception of the CHUlicious burger, a fan favorite, most the menu consisted of traditional dumplings, stir fry dishes and noodle bowls. Traditional, sure, but not boring. Like the crystal wontons: hand-formed dumplings stuffed with pork and sautéed in a hearty chili sauce with diced scallions. The wontons were freshly formed and juicy, and the chili sauce was more savory than spicy. Meanwhile, the scallions provided a fresh bite of garlic flavor that paired nicely with the pork.
An appetizer of pork belly in garlic sauce arrived next. A bowl full of thinly-sliced pork belly sat in a savory brown sauce with tons of chopped garlic and raw cilantro. The pork was just fatty enough, with a nice bit of salt that was mellowed out by the brown fish sauce, and the cilantro livened the plate up.
But the wait outside the restaurant wasn't the only service issue on this night. On a weekend evening, there was only one waitress on hand, and the kitchen was focusing largely on take-out and rarely putting entrées out. When they did, the plates would arrive cold. And I wasn't alone in my observation: I could see diners all around me straining their necks in search of their meal.
Of course, young restaurants come with some road bumps, but after seven months, these service issues should be ironed out.
The first entrée to arrive was a plate of Wu-Shi ribs, falling off the bone on a bed of baby bok choy. Despite the slow service, the menu translates well to family-style, so it was easy to split up entrees while waiting for other plates to arrive. These ribs were hard to share, however, but they were meaty and soft, and the marinade combined the best of sweet and salty flavors in each bite. They disappeared quickly.
A sizzling seafood hot plate came next, though not sizzling by the time it reached the table. The bowl of broth came with steamed vegetables and a combination of shrimp and scallops. It needed more flavor overall, possibly from more varieties of seafood—lacking overall in this dish—or from extra seasoning in the broth itself.
The night ended with a plate of crispy Peking-style duck, served with steamed buns atop Chinese broccoli in hoisin sauce. The sweetness from the hoisin stood out right away, combined with the meaty and gamey duck that was juicy and tender. And the Chinese broccoli added a nice bit of garlic, all piled on top of a pillowy soft bun that I could have eaten on its own.
There were no desserts offered, but I found myself scanning the menu again for more entrée options to consider. Despite the lag in service, the plates that came out were truly memorable, and kept me wanting more. It's an enticing list of options that kept me wondering, and left me trying to devise my next excuse for ordering take-out.
Published (and copyrighted) in South Jersey Magazine, Volume 11, Issue 9 (December, 2014).
For more info on South Jersey Magazine, click here.
To subscribe to South Jersey Magazine, click here.
To advertise in South Jersey Magazine, click here.