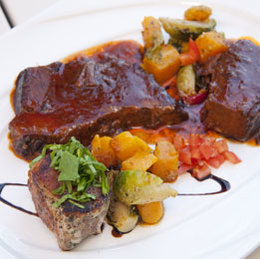 Table 8 Bistro
…A Dining Review from the pages of South Jersey Magazine…
New Kid on the Block: Table 8 Bistro
8 Powell Lane
Collingswood
(856) 854-0458
2 and half forks
With the holidays upon us, a stroll along Collingswood's main drag is a truly enchanting way to embrace the season. Finding a reservation on a weekend at any of the area's popular eateries can be next to impossible, especially when you're stuck battling Main Street shoppers on top of local foodies. But take a quick turn and you'll find Table 8 Bistro, an American-style with plenty of charm.
Tucked just off Haddon Avenue in Collingswood's newly opened Lumberyard, Table 8 is an intimate space with just a few tables, lots of low lights and a partially-open kitchen. With the Collingswood construction finally wrapping up and residents settling into the new condos that have been a topic of discussion for years, this spot is more inviting than ever, with a seasonal menu to match.
New American is still difficult to find in Collingswood, where Italian reigns supreme, so Table 8's classic options are a nice break from the norm. Like their brisket flatbread, which pairs slow cooked brisket with both caramelized and fried onions and drizzles it with a spicy horseradish cream and Parmesan cheese. It was a nice balance of flavors, and a dish that warmed up what seemed like the chilliest evening of the fall thus far.
Stuffed mushroom caps—filled with crab imperial and topped with a Parmesan breading and scampi sauce—could have used more filling to make it a really successful dish, but the addition of fresh garlic contributed a hearty and fresh bite that helped make up for a lack of crab. The promised scampi sauce didn't really match the overall dish, and probably would have been better with another pairing.
While I was originally excited about trying a New American menu, I found that the entrée selection tended to lean in an Italian direction. There were more than enough pasta dishes, like lobster ravioli and papardelle, and the seafood fra diavolo. Shrimp, scallops, clams, calamari and mussels were tossed in a red sauce and served over penne. While the shrimp and scallops were quite nice, the shellfish and calamari were dreadfully overcooked, as was the pasta that was actually falling apart on the fork. Luckily the fra diavolo sauce had a nice hit of heat, not too overpowering but just enough to create a hearty and toasty red sauce.
A "trio" entrée of short rib, brisket and pork tenderloin was a creative idea that gives particularly picky diners plenty of options. Served with diced and roasted butternut squash and Brussels sprouts, the short rib and brisket were particularly memorable. The short rib was hearty but also soft and tender, with a veal demi glace that added a robust, smooth flavor. And the brisket, when coated in the same veal demi glace as the short rib, was still as flavorful as the flatbread, but stood out on its own as an entrée. But the pork tenderloin looked ominous before the first bite, so dry that it was borderline inedible and lacking any sauces or really noticeable spices to save it.
Dessert options were fairly uninspiring—nothing that really stood out and seemed worth filling up on. Chocolate cake, bread pudding and ice cream are regulars that you can find almost anywhere, and rarely stand out. Overall, this entire menu could benefit from some conditioning and a closer eye to detail. But the restaurant itself was a cozy getaway from the busier street it breaks away from, and in the midst of holiday shopping it's nice to know that there are still a few hidden gems within walking distance.
Published (and copyrighted) in South Jersey Magazine, Volume 11, Issue 9 (December, 2014).
For more info on South Jersey Magazine, click here.
To subscribe to South Jersey Magazine, click here.
To advertise in South Jersey Magazine, click here.