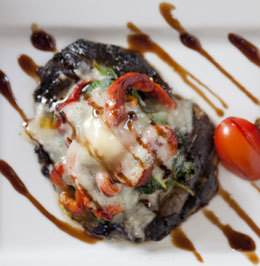 Side Dish
Quick Bite: Portobello Mushrooms
Il Villaggio
Cherry Hill
Large, earthy portobellos get topped with sweet and sharp roasted red pepper, wilted spinach and tangy gorgonzola cheese and drizzled with fig balsamic reduction for a meaty appetizer that is an easy way to kick-start Il Villaggio's selection of hearty Italian entrees.
Tasting: Become a Potluck Pro
The holiday season and potluck parties tend to go hand-in-hand. But how can you guarantee that your potluck dish stands out as the star of the night? We talked to experts from South Jersey who offered their best tips for preparing and throwing the perfect holiday potluck.
Make what you know. When you're a guest, it's best to stick with the dish that you know wows the crowd. "Everybody should bring one dish—their favorite dish that they're best at making," says Patricia DeGeorge, coordinator of culinary arts at The Culinary Arts Center at BCC.
Embrace labels. "In most cases, you won't know what everything is," says sales and marketing director at Sensational Host Caterers, Keegan Gosik. "Without somebody standing behind their dish the whole night, which is unrealistic, having accurate signage would enhance the knowledge of the people consuming the items."
Know the guest list. Remember that not everyone has your eating habits. "Always have a vegetarian option, a gluten-free option, and things of that nature, but also always check the guest list," says DeGeorge. "Call and ask your guests about any allergies or dietary restrictions. Never be unaware."
Plan ahead. When planning your own party, the more organized you are, the better. "Have a dictated quantity of each type of course, and then when people are signing up to participate, they get to choose one of the courses to make something," says Gosik. "People who have signed up can write down the items they're going to bring so there's not any duplication."
Extra Plate: Marie's Sandwich Bar
Haddonfield's Kings Highway has earned a reputation for some heavy hitters in South Jersey fine dining, but what do you do when you're looking for a quick lunch or a meal on the go? For us, it's a trip to Marie's Sandwich Bar, a still-young eatery tucked away just off the main drag.
This sandwich spot was opened by brothers Nick and Brandon Capaldi in August of 2013, after they made the decision to leave behind their father's Mama Marie's Italian Market in Pitman and venture out on their own in Camden County. Since then, the young brothers have earned a reputation for artisan hoagies, paninis, salads and a rotating soup menu that is worth sampling. Keep an eye out for the Santa Fe chicken variety, which blends shredded chicken with roasted onions, peppers and tomatoes in a broth that packs just enough heat and more than enough homemade flavor.
But you can't ignore the sandwiches, especially with a sprawling variety that goes well beyond traditional Italian hoagies and thin-pressed paninis. The Marco variety comes on a fluffy and flavorful focaccia bread, with chicken, prosciutto, house-roasted red peppers and tomatoes and plenty of fried eggplant for extra crunch.
Then there's the selection of pretzel sandwiches, like the shredded barbecue chicken topped with a slice of melted provolone cheese and super-thin onions, served on a round pretzel roll that is just the right balance of soft and chewy. It's a messy plate, but worth the extra napkins.
With a menu that has yet to leave us bored and a pretty impressive catering menu that is getting attention, the young brothers behind Marie's Sandwich Bar seem to be making a name for themselves on Kings Highway. Next to other local and unforgettable dishes, this is one sandwich that really stacks up.
Published (and copyrighted) in South Jersey Magazine, Volume 11, Issue 9 (December, 2014).
For more info on South Jersey Magazine, click here.
To subscribe to South Jersey Magazine, click here.
To advertise in South Jersey Magazine, click here.