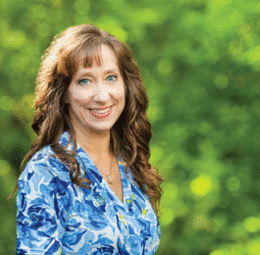 Super Women
Take one look around South Jersey and you'll notice that there are many who give of themselves to help make the world a better place.
Whether it's notable business leaders making philanthropic donations or determined volunteers, our area is full of selfless people who often forego their own needs in favor of helping others.
Never is this more evident than with this year's collection of Super Women, our annual roundup of leading ladies in our community that are making a difference and inspiring change. After combing through a staggering amount of online nominations, we are happy to present you with 27 truly fabulous females. It starts with our Woman of the Year, Ceri Galati (pictured), a person so dedicated to shining a light on others, we thought it was only right to put the spotlight on her for once.
Galati and the rest of our Super Women don't do things for the recognition; they are doing what simply makes them feel good. It's just further evidence of what makes these ladies so special and precisely the reason why they didn't have to ask for the attention: We were more than happy to give it to them.
2014 Woman of the Year: Ceri Galati
At one point, Ceri Galati thought she would serve her community by becoming a police officer. Though legal classes would ultimately inspire her to pursue a career in law, she still found herself deeply rooted in the South Jersey world of volunteerism.
While she keeps a day job as a paralegal with Mattioni, Ltd. in Swedesboro, Galati doesn't keep regular hours. In fact, you could say the mother of six works around the clock, accomplishing what she sets out to do from 7 a.m. until she finally puts her head down on the pillow around 3 a.m. the following morning. To say she is tirelessly dedicated would be an understatement. But Galati doesn't take all the credit for her success.
"I am honored every day because of the people that are in my business and personal life," she says.
Along with a partner, Galati started the business networking group New Visions three years ago. With more than 65 industries now represented in the group, they have not only helped to strengthen the business community, but collectively raised funds for local animal shelters, the Alzheimer's Association and the March of Dimes; not to mention collecting coats and hats for those in need come winter.
In honor of one of her children that passed away 13 years ago, Galati founded Cardinal and Billy Bird Creations. The group crochets blankets and hats for babies who might not be coming home from the hospital right away, giving parents and siblings something tangible to bring home while the baby gets well.
In 2013, Galati helped organize a children's singing group that has so far raised close to $10,000 for area charities. More recently she was one of four women asked to join The Heart of Gloucester County panel created to help mentor and guide others through challenging life situations.
Her countless other causes include serving as a trustee with the Chapel of Four Chaplains, raising money for the Greater Swedesboro Business Association Golf Tournament, working with Swedesboro's economic development committee, working with the People for People Foundation, involvement with several veterans events, and serving as a mentor and motivational speaker for troubled and pregnant teens for almost three decades.
One of Galati's most admirable qualities is that she gives of herself for the internal reward, not the external recognition. Some would call her selfless, but she doesn't see it quite that way. "When I do things in life, I try to keep my name out of the mix," she says. "I don't do things for accolades or awards. In fact, they embarrass me. I do things for others because it makes me feel good. That, I suppose, makes me selfish."
That "selfish" approach has rubbed off on those close to Galati. Her children have all gone on to give back to society, working with inner-city children, kids with cancer, inmates who cannot read and those suffering from Asperger's syndrome. "I am most proud of my family," Galati boasts.
No doubt they are equally proud of her.
Marissa Hacker
Though she is only 18, Marissa Hacker has already made a name for herself in her community. Just over three years ago, the Voorhees resident founded Fantastic Friends Special Needs Social Group, a nonprofit that provides children with special needs opportunities to socialize with their typically developing peers—a group that has grown from seven members to nearly 50 teen members and 60 teen volunteers since its inception. For the past two years, she has also coordinated a special needs prom. Recognized regionally and nationally for her efforts, Hacker—who is currently a student at Richard Stockton College, and was inspired to start Fantastic Friends by her twin brother, Matthew, who has autism—hopes to expand the group onto the college campus and into other communities.
Joanie Balderstone and Rebecca McIntire
Joanie Balderstone and Rebecca McIntire know how important dignity is —in fact, that was the basis of their Cherry Hill-based non-profit, Distributing Dignity, which gives new bras and feminine hygiene products to women in need by partnering with shelters, foster care agencies, and other charities. The two started the non-profit in honor of Joanie's late mother, after the women made a trip to a homeless center in Camden in 2009 to donate some business clothing, and realized the women often didn't have a bra to wear—and were rationing or didn't have feminine hygiene products. Since Distributing Dignity officially launched in March of 2014, the volunteer-run non-profit has helped more than 400 women in the South Jersey and Philadelphia area, and are on target to help another 100 by year's end.
Lita Abele
A former nanny and Catholic school teacher, it's difficult to envision 4-foot-11-inch Lita Abele as the head of a lumber company, but that's exactly where she's positioned herself after immigrating to the United States from the Philippines in 1981. She has also become a known philanthropist, assisting with the successful immigration of other Filipinos and offering a helping hand to organizations that support minorities and women. Having received various local and national awards for both her business sense and her community service, Abele says she believes in sharing her knowledge with others to help them work toward their own American Dream.
Judith Charny
A successful attorney with her own firm, Charny has also recently been appointed the first female judge in Cherry Hill. However, it's not Charny's professional accomplishments that caught our eye. Despite her busy workload, Charny is actively involved in community service, working to help raise funds and volunteer her time for organizations like the American Cancer Society, the American Heart Association's Go Red for Women, the Juvenile Diabetes Research Foundation and The Cooper Foundation, to name a few. She also regularly works with the Samost Jewish Family & Children's Service of Southern New Jersey, providing free legal consultations. Charny is currently developing a foundation in honor of her late sister who passed away from glioblastoma earlier this year.
Lisa Carney
An insurance agency owner by day and philanthropist by night, Carney has been a fixture in the community since 1992, working with several local groups. The March of Dimes, The Kiwanis Club of Woodbury and The Interfaith Hospitality Network of Gloucester County are just some of the organizations she has helped. She's also been involved with the United Way of Gloucester County for two decades and currently serves as a cabinet member on its Community Initiatives Panel. An active member of the Gloucester County Chamber of Commerce, Carney is currently working with an organization that is planning to build a green energy plant in the county. A married mother of four, she and her family make time to volunteer at St. Stephen's Lutheran Church in Woodbury, including working on their Share the Warmth programs for the homeless. In addition to her volunteerism, Carney is a founding board member of 4Epilepsy, an organization that assists children and young adults with a primary diagnosis of epilepsy.
CJ DiRoma
CJ DiRoma isn't just successful in the entertainment industry—she also shares her expertise with local young professionals. She is the founder and CEO of Asterism Group, a creative services boutique including Station Avenue Productions and two new divisions, Consumption Marketing and Little Flower Creative, and was named the 2014 Trailblazer of the Year for National Association of Women Business Owners South Jersey. Through Little Flower Creative, DiRoma has helped spearhead local fund raising events for art and creative grant programs. She also serves as a mentor to young professionals in the South Jersey area, helping them to launch their own successful careers in the marketing field, as well as the events and entertainment production industries.
Michelle S. Gollapalli
As the new vice president of development and executive director for the Kennedy Healthcare Foundation, it's understandable that Gollapalli would have her hands full acclimating to her new position. But as a fundraising professional, she understands the importance of staying involved in her community, so she makes sure to find ways to make a difference where she can. An active contributor to the Asian Mosaic Fund Giving Circle, a small, diverse group of multi-generational individuals committed to advancing the well-being of the Greater Philadelphia Asian community, she is also involved with Children's Village, a nonprofit organization serving the early educational needs of low-income families in the Philadelphia area, and teaches Sunday school at her local church.
Dr. Esther Deblinger
A professor at Rowan University School of Osteopathic Medicine, Deblinger is also the co-founder and co-director of the CARES (Child Abuse Research Education and Service) Institute. Inspired by her parents' resiliency despite the childhood adversities they experienced, she developed a passion for making sure children who experience trauma don't suffer for the rest of their lives. Having conducted extensive research on the impact of childhood trauma, Deblinger was able to publish the first evidence-based treatment manual for children and families impacted by child sexual abuse. Since then, in collaboration with her colleagues, she's developed Trauma-Focused Cognitive-Behavioral Therapy—a treatment program that has evolved into the standard of care and is utilized with children all over the world. Her work has been recognized with an Exemplary Program Award by the U.S. Department of Health and Human Services. She's also received awards from the state's Office of the Child Advocate, the New Jersey General Assembly and the American Professional Society on the Abuse of Children. "The most rewarding aspect is working with children and their families," Deblinger says. "It really comes down to helping one child and his or her family and the reward is really immeasurable. For me, it still comes down to that."
Renee Pinardo
Renee Pinardo freely admits that she had a bit of a troubled childhood, but she's determined to steer others into a positive direction. It was a Tuesday night in 1979 that changed her life forever. That is when she met Sister Helen Owens. Owens had created a youth outreach and empowerment program for kids like Pinardo. Thirty-five years later, Pinardo remains with the program, serving as director of The Bridge, a United Way of Camden County Partner associated with Lourdes Health System. The Bridge is a peer-driven support program designed to give adolescents the skills they need to succeed in life while also serving as a safe haven for them to let down their guard and share their struggles amongst their peers without judgment. Pinardo not only helps mentor the children, she cares for them as if they were her own. "One of the things about social work is you're not supposed to get personally involved. That was out the window on day one," she says. "These people are my family."
Kelly Pustizzi
Pustizzi is not the type of person to say she would like to be involved with a number of charities and then not follow through. Instead, she says she "contributes to a variety of charities in support of different causes that are close to my heart or to support family and friends." She does extend herself out most often to the Ronald McDonald House in Camden, and even served on the Ronald McDonald 30th Anniversary Gala Committee, which was one of the organization's most successful events. She also participated in the Susan G. Komen three-day walk for three years, raising more than $10,000 in total for breast cancer research. Currently on maternity leave with her second child from Corporate Synergies, Pustizzi is busy finding new ways she can continue to help out in her community.
Nicole Morgan-Lewis
Nicole Morgan-Lewis knows what it's like to put her family's needs ahead of her own. Morgan-Lewis spent 10 years teaching in the Newark Public School System before deciding to resign in favor of a job closer to home when she found out her husband would be deployed for the second time with the New Jersey National Guard. Finding employment during a recession and district layoffs wasn't easy, but Morgan-Lewis didn't lose faith—and in 2010, landed her current position as the Child and Youth Program Coordinator for the New Jersey National Guard, an unexpected career change. Through this position, Morgan-Lewis has helped develop several programs and community resources for New Jersey National Guard families, such as revamping the Guard Teen Panel, a speaker's bureau for teens, developing and implementing state teen symposiums, holiday and spring break camps. She also teaches military youth leadership skills, resilience and connects them with community resources. Morgan-Lewis is also the activities director of the New Jersey National Guard Youth Camp, a certified facilitator for the Seven Habits of Highly Effective Teens, a resiliency training assistant, and is trained in the Army's Applied Suicide Intervention Skills Training. And all her hard work rubbed off on her three kids, as well— as all are very involved within the New Jersey National Guard Child and Youth Program; and this summer her daughter enrolled in Virginia Tech Corp of Cadets as a freshman.
Veronica Armstead-Williams
Packing up your life and moving is a scary thought for most people, but for Veronica Armstead-Williams, the decision was a no-brainer. The Moorestown native first got the travel bug while working in Guatemala as a Habitat for Humanity volunteer during her time at Fordham University. It was that sense of accomplishment that brought her to volunteer at the Peace Corps, and eventually join ranks herself for a two-year stint in Mozambique, Africa, a term she's recently added an additional year to. The 24-year-old has dedicated the last two years of her life to helping up the locals in Mozambique, working as a secondary English instructor, learning Portuguese and immersing herself in the local culture. But her plan took a turn when she was appointed a position as an Information and Communications Technology (ICT) teacher for 10th grade students. It was then that she saw just what she and her students were up against. Her computer lab had three machines that were supposed to help 4,000 students understand modern technology. Armstead-Williams set to work to renovate the lab, obtaining Smart Board technology and two more computers. And she's proud to say that all of her students can now successfully turn on and type on a computer. Now she's teaching students Microsoft Excel, and is helping grow the community's youth activist group, JUNTOS. The Peace Corps program helps educate young Mozambicans on leadership and healthy gender stereotypes, with the goal of reducing HIV/AIDS in the community.
Devon Bell
Devon Bell knows the importance of sports in a child's life. The founder of Power Forward—an organization that helps fund the cost of AAU and club sports for New Jersey kids in need, in order for them to have the chance to get recruited by colleges—was a nine varsity letter winner at Cherokee High School for lacrosse and field hockey, won the Joel Ferrell Sportsmanship Award at the 2006 Junior Olympics, and received a college scholarship to play field hockey at Ball State University. Bell launched Power Forward in the spring of 2014, and has held several fund raising events so far. "Being a club coach, I realize how expensive yet important travel sports are and the impact they can have. With this non-profit organization I am just trying to help a young athlete change their life for the better and push them to be the best person they can be. Money should never be a factor," Bell says. And she's still involved in sports herself, serving as a volunteer coach for the Cherokee High School field hockey team, and coaching the Spirit of USA field hockey club team.
Jenna Evans
Jenna Evans, of Haddonfield, has always lived a life centered around helping others. Evans is founder and executive director of Victims of Catastrophe Foundation (VOCF,) a local 501c3 that helps middle class families bounce back after life-altering, catastrophic events, including disaster relief. Evans' foundation also helps prevent situational poverty; and she is currently working on setting up a free-standing donation site and training center locally to help those in need have easier access to donations and training—including training to educate and provide job placement for underprivileged populations and the handicapped. Through VOCF, Evans has helped countless families, including some right here in South Jersey. Evans also lives out this philanthropic mindset in her own life—last year, she adopted a special-needs, blind senior dog named Snuggles from a high-kill shelter. Evans has helped Snuggles regain her health, and some of her eyesight. She also has two undergraduate degrees, a master's degree in Health Administration from Saint Joseph's Unniversity, and is currently working on her PhD in Health Sciences.
Sandra Lynch Massi
Everybody knows a woman who seems to have more projects than hours in the day, but Sandra Lynch Massi leaves us speechless. That's because when she isn't working as a full-time firefighter and EMT for the Marlton Fire and Rescue Squad, she's using her talents to help shape the South Jersey community. Lynch Massi has helped raise money in the area through Relay for Life, the Muscular Dystrophy Fill the Boot fundraiser, and the International Association of Fire Fighters' Fitness Team. Lynch Massi also educates other prospective firefighters and EMTs, teaching at the Burlington County Fire Academy, and also serves as a certified fire inspector. Wait, there's more. This serious Super Woman is also a part of the Athletic Trainers Society of New Jersey, the Burlington County Technical Rescue Team and the Mercury Critical Incident Response team and also finds the hours in the day to work with the Cooper Hospital Critical Incident Response Team. She's also a mother to a toddler and wife, and still finds the time to train with the Mullica Hill Women's Triathlon Club. With so much going on we naturally weren't the first to hear about this unstoppable life-saver, and Lynch Massi was rightfully named one of Burlington County Advisory Council on Women's Outstanding Women of Burlington County for 2013 under the category of Public Service. A triathlete, teacher, firefighter and mom? Her next step might actually be towards real superhero status.
Susan Rose
Losing a child is an unimaginable tragedy, but Susan Rose is using her loss to help countless other mothers across South Jersey. Washington Township's Rose started the Lauren Rose Albert Foundation in 2000 to honor her oldest daughter, a mother of three who was killed in a road accident. Rose wanted to celebrate her daughter's familial bond, and acknowledge what a strong mother she was until the end. It began with the foundation's Mothers Matter program, which was designed to provide impoverished and homeless women with personal health and beauty products that they would otherwise go without. The first donation of just $100 blossomed into 265 gift baskets, which Rose and her team of volunteers distributed to mothers at Camden-based daycares and women's shelters on Mother's Day in 2001. From then, under Rose's watchful eye, the Lauren Rose Albert Foundation blossomed into a year-round program in 2010, providing help for women of all walks of life in the area. Rose has overseen the start of the Lauren Rose Albert Scholarship Program, an Emergency Grant Assistance program for women in need of urgent care, and a program called Suited for Work, which provides disadvantaged women with interview or employment apparel. Rose's group remains an all-volunteer organization, working off fundraisers and donations. Their biggest fundraiser, the 4th Annual Mothers Matter 5K Run & Walk, will be held on Oct. 19 at Washington Lake Park in Sewell.
Michelle Nocito
Michelle Nocito seems to do it all. A mother of two, she works as a financial advisor at Ameriprise Financial in Gibbsboro, is a member of Interconnections for Women, a networking group for local women business owners, and also recently obtained her certified divorce financial analyst designation to better help clients deal with the financial effects of divorce. But her duties don't end there. Nocito is the current Co-President of the Hamilton Parent Faculty Association at her daughter's elementary school in Voorhees, and last year, she helped organize the school's first Dance-A-Thon, which raised $12,000 for the purchase of iPads for the school. The first person in her immediate family to graduate from college, she is also pursuing her MBA in Finance and Marketing at Drexel University. On top of all of that, she still finds time to run at least two half marathons a year, will run her first full marathon next year, practices Bikram yoga, and helps train two fellow working mothers from Voorhees to compete in their first half marathons. Nocito and her business partner Beverly Neal are also working on their first book on behavioral finance.
Mary Carter
There are few things more Americana than the local Main Street, a spot where residents can stroll and local artisans can embrace. It provides jobs to small business owners and space that makes each town its own. But for Woodbury, their Broad Street was crumbling, until Carter and her team at Main Street Woodbury stepped in. For Carter, it all started with an earthquake; the surprising 2011 quake that shook up most of South Jersey, to be exact. Before that, the Woodbury native sat on the Main Street Board and served as president, helping organize various projects and even earning the organization Main Street New Jersey's Volunteer of the Year in 2010. But when the earthquake hit, Woodbury was struck hard, and the town's iconic GG Green Building looked like it would need to be demolished due to damage. But Carter wouldn't let the street's history fall, and campaigned to have Main Street New Jersey and the Woodbury Olde City Restoration Committee bring in architects from the National Trust to restore the town's precious piece of history. Most recently, Carter took over as interim executive director of Main Street Woodbury, but as of this fall is now the acting executive director. And Main Street Woodbury is only getting started, with new projects and even more shops and restaurants in the works.
Pam Collins
Pam Collins knew from her first day working with Twin Oaks Community Services that a non-profit was the place for her. Nine years later, as Twin Oaks' chief development officer, she continues to make a difference in the lives of individuals with mental illness and developmental disabilities. Collins manages fundraising, public relations, marketing and special events for Twin Oaks, and works with two food pantries in Mount Holly and Berlin and the Twin Oaks Thrift Shop in Collingswood. In the past year, she has helped to collect 900 Thanksgiving meals, 10,000 holiday gifts, 18,000 diapers, 800 stuffed backpacks and 500 prom dresses for community members in need. "I have learned along the way that motivation comes not only from working on the things we care about, but also from working with people we care about," she says. She's also a founding member and current chair of the Burlington County Regional Chamber of Commerce Young Professionals Network and is in her second year as the Partner Agencies Chair for the United Way of Greater Philadelphia and Southern New Jersey in Burlington County's Campaign Cabinet. And when she's not running around South Jersey helping others, you can find Collins running around her neighborhood. She recently ran the New York City Marathon to raise money for Back on My Feet, an organization that helps the homeless gain self esteem through running.
Peggy Morgan
When Morgan began volunteering her time with Samaritan Healthcare & Hospice in 2003, no one could have expected what a huge impact she would make on her community. But once the Marlton resident began assisting the local health care company, there was no stopping her. Morgan is an integral member of the Samaritan team, serving as a patient visitor volunteer and making calls to help with Samaritan's Transitions program, which provides emotional support to those who are not yet ready for hospice treatment but are in need of support. She also volunteers with the marketing department and works with her husband of 35 years to promote Samaritan's not-for-profit charitable programs, and has raised funds for their sister hospice, Kawempe Home Care in Kampala, Uganda. Morgan has even made the trip overseas to visit the hospice, and has helped raise more than $30,000 to help provide Kawempe with additional resources. A volunteer like Morgan is hard to find, and Samaritan was quick to thank her, recently recognizing her after she clocked 2,000 hours of volunteer service. But that number keeps climbing. Currently, Morgan has surpassed 2,300 hours and keeps going.
Nina Stack
For Nina Stack, being involved with her community through philanthropic endeavors is something that comes naturally. She has always had a penchant for helping others and improving her community; and fortunately for her, philanthropy is not just something she gets to partake in once she leaves a traditional 9-5 job. As president of the Council of New Jersey Grantmakers (CNJG) since 2005, philanthropy is her job. Under her direction, the CNJG has organized a number of initiatives, including the creation of the Community Foundation of South Jersey, the Newark Philanthropic Liaison, and Facing Our Future, a landmark effort looking at the systemic, long-term fiscal challenges facing all levels of government in New Jersey. She also recently stepped down as Chair of the Board of the Regional Association of Grantmakers, a national organization serving more than 5,000 philanthropies through a network of 35 regional associations similar to CNJG.
Sammi-Jo Danze and Julianna F. Furfari
Sammi-Jo Danze and Julianna F. Fufari may be in very different stages of life right now—Danze owns and operates The Royal Court Gown and Dress Shoppe in Marlton, while Furfari is a 2014 graduate of Bishop Eustace Preparatory School spending her freshman year of college studying in Paris—but they have one important thing in common: their non-profit Tiaras Loving Children. TLC began after Danze was crowned Miss New Jersey United States 2012 and Furfari was crowned Miss Teen New Jersey United States 2012. Hoping to use their crowns to make a difference, the duo created TLC, with a goal to "give special needs children the opportunity to walk on a stage, play dress up and feel like princesses in a pageant system without any burden of money," in a Miss Belle of the Ball pageant, Furfari explains. The inaugural pageant was held last October, and it was so successful that such pageants will now be held nationwide.
Lisa Cimino
For Lisa Cimino and her family, being gluten-free isn't a choice, or a fad—it's a necessity. Lisa and her husband Tom are the creators and founders of the Gluten Free Digest, a widely recognized blog centered on living a gluten-free lifestyle. It began in 2010, when Cimino's daughter Giulia began having serious health issues. After 18 months of tests, worry and frustration, the family finally had a diagnosis: Giulia had Celiac disease. This diagnosis meant a complete change in lifestyle for the entire Cherry Hill family; thus, their blog Gluten Free Digest was born. It has since become a smashing success. In September 2013, the blog was chosen as a representative at the National Gluten and Allergy Free Expo, the nation's largest gluten-free expo. Lisa was asked to speak at the National Convention in 2015; and Lisa and Tom have also done two podcasts for both Gluten Free School and GFree and Happy. In the aftermath of Hurricane Sandy, Lisa even arranged to have food delivered to gluten-intolerant New Jerseyans. Cimino's giving spirit is evident in her career choice, as well, as she is currently the director of public relations at Lourdes Specialty Hospital in Willingboro, where she has worked for the last 18 years.
Stacy Holland
Like many in South Jersey, Mount Laurel's Stacy Holland has strong ties to Philadelphia. But Holland also has a passion for academics, and wanted to use her love for learning (she has a master's degree from Columbia University) to benefit students across the bridge. Holland co-founded the Philadelphia Youth Network in 1999, a non-profit aimed at helping Philadelphia teens gain career exposure while providing dropouts with the tools to reclaim their education. The organization—which started with just two employees—has helped more than 17,000 Philadelphia youths receive more than $51 million in workforce wages since its start. Its popularity spread down to Washington D.C., and Holland was recently honored by the White House as a Champion of Change, which acknowledges Americans who are working to build a brighter future in their community. After 14 years with the Philadelphia Youth Network, Holland decided it was time to make her mark in the Philadelphia schools, and stepped into a position as chief of strategic partnerships for the Philadelphia School District last fall. Since leaving her post at the Philadelphia School District this summer, Holland has taken over as the executive director of the Lenfest Foundation, which works to provide disadvantaged students with scholarships and extracurricular education programs around the city.
Published (and copyrighted) in South Jersey Magazine, Volume 11, Issue 7 (October, 2014).
For more info on South Jersey Magazine, click here.
To subscribe to South Jersey Magazine, click here.
To advertise in South Jersey Magazine, click here.