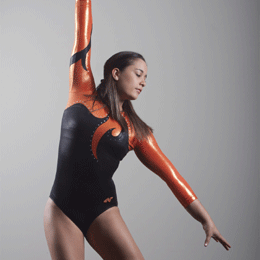 Peak Performers
These eight amazing high school student athletes are ready for the spotlight.
Kennedy Ilagan, Cherokee gymnastics
In just two seasons, Ilagan (pictured) has already established herself as one of the top high school gymnasts in the area. The junior took fourth at sectionals in the floor exercise last year, earning all-South Jersey honors in the event for the second straight year. She also placed fourth in the all-around at the Olympic Conference Championships.
SJM: What was your outlook coming into the season for the team?
KI: Well, this year we had two freshmen and a junior join us. They're all doing really well and I knew they'd help us do better this year. I knew some of the other teams had a lot of seniors graduate from last year, so I think we'll pull out some more wins.
SJM: Now that some of your seniors have moved on and you're one of the veterans, are you taking on a different role?
KI: Yeah, it's a little different going from a sophomore to a junior. You are an upperclassman now, and since we don't have any seniors this year, me and my co-captain Lauren [Stevens] have to take charge and really lead the team.
SJM: You've had individual success your first two years, as you were all-South Jersey in floor both seasons. Is that your best event?
KI: Definitely for Cherokee, I like to do floor. I guess score-wise, it is my best event. Floor makes me happy; I like to smile, I like to dance around.
SJM: What are the keys to scoring well at the big meets?
KI: I think the keys are to be confident in yourself, know your tumbling, be calm and not overstressed, and just have fun on the floor.
SJM: Do you set personal goals for the sectional and conference meets?
KI: Yeah, of course. I'd love to make it to states again for floor, it would be nice to make it three years in a row. I'd like to get my floor scores up a little bit and I'd love to place high.
SJM: How did you get into gymnastics in the first place?
KI: I was about 5 years old and I remember my mom taking me to gyms in the area and asking me if I liked it. Of course I told her I loved it, so I started out with classes and when the classes stopped, I told my mom I wanted to do it all year round. So she put me into competition levels and I've been competing ever since, for 11 years now.
SJM: Did you realize right away you were a natural in gymnastics?
KI: I remember my mom telling me all the time I'd be jumping around and doing cartwheels. I definitely had a lot of fun or else I wouldn't still be doing it. I think it's the sport I was meant to do.
SJM: Did you ever try any other sports?
KI: When I was really little, probably 3 or 4, I started soccer and I did that up until fifth grade. Then I chose gymnastics [all year], because I knew that's what I wanted to do.
SJM: Where do you train when you're not with your high school team?
KI: Cherry Hill Gymnastics Academy. When I was little I started out at Voorhees Gymnastics Academy. That's for classes and the lower level, and once you get better and you want to keep going, you go to Cherry Hill. They're connected; it's the same organization.
SJM: In a typical week, how many hours are you in the gym?
KI: Every day, I train with Cherokee from 3 to 3:30, and then I drive over to my gym and go from 3:45 to 7:30 or 7:45. It's about 23 hours per week.
SJM: Do you ever feel like it's too much?
KI: I love gymnastics, but it does get a little stressful at times, especially during competing season. You get sore, your muscles ache, but I think the best time to get better is when you are tired and you push to get through it.
SJM: If one of your friends were looking to get involved in gymnastics, what would you say she'd love about the sport, and what would you warn her about?
KI: I'd say it is a lot of fun getting to know other people. When you're with your friends that long, you really do form a close relationship that you can never tear apart. I would warn them that it's a mentally and physically demanding sport. You need to be in it for the long run. You can't just give half your effort.
SJM: Do you get to know the people you're competing with in high school?
KI: Yeah. You have these four-hour meets and you really learn to bond with each other and find out what you have in common and what you don't have in common.
SJM: You have another year of high school after this, but do you have aspirations of doing gymnastics in college?
KI: One of my all-time dreams is definitely to do college gymnastics. I love watching their meets and how friendly they are with each other and how much they love the sport.
SJM: Any idea of where you'd like to go?
KI: I'm not exactly sure what college, but I'd love to stay on the East Coast.
SJM: Do you have any idea of what you'd like to study in college?
KI: I'm definitely thinking about the sports medicine and physical therapy field.
SJM: Obviously you spend a lot of time in the gym, but when you do get some time off, what do you like to do?
KI: I like to spend time with my friends, hang out around the house and go to movies. Anything that's not gymnastics-related.
SJM: I also wanted to ask about your unique first name. Is there a story behind it?
KI: I've always been told that my mom just really liked it and my dad liked it as well. I remember when I was little, I didn't like my name because it was too weird; I liked the common names. But now I love my name. I like being different and unique.
SJM: Are you a big fan of Olympic gymnastics?
KI: Oh yes, of course. I love watching the Olympics. Me and my friends usually get together to watch. We love rooting for them and seeing the skills they do. We find different things that maybe we can try one day. I think it's really fun to watch, and it gets people from outside gymnastics to watch and see what our world is like and what we go through.
SJM: Did you have a favorite gymnast from the last Olympics?
KI: I definitely liked Aly Raisman, she's always such a great gymnast. I really liked McKayla Maroney, too, her vault was just amazing.
SJM: She was the one who made the funny face, right?
KI: Yeah, that's her.
Curtis Corley, Shawnee football
A senior linebacker, Corley is a major piece of a dominant defense that led the Renegades to the South Jersey Group IV title last fall. He also contributes to the Shawnee offense at tight end and fullback. This is his final season of football, as he will attend the University of Maryland on a lacrosse scholarship next year.
SJM: After the way last season ended, with six straight wins and the Group IV championship, were you even more excited than usual to get this season started?
CC: Yes. We're really senior-heavy this year. I think we have three juniors playing and the rest are seniors. So we were really excited to get back out there.
SJM: The defense played a big role in last year's run and it looks to be solid again this season. Do you consider that the key to the team's success?
CC: Yeah, we take pride in our defense. We spend at least half of our practices on defense, sometimes more. We work on it every day and get better every day.
SJM: How much of good defense is scheme or personnel, and how much is attitude?
CC: I would say it's 25 percent scheme and 75 percent attitude. There are some things the coaches can't ask you to do, you just have to go out and make plays. That's how you win the big games.
SJM: You also play tight end and fullback on offense. Do you prefer one side of the ball over the other?
CC: I prefer defense, because you can do the hitting instead of getting hit.
SJM: What is your strength as a linebacker?
CC: I'm much better against the run [than dropping into pass coverage]. Then on our third down package, I become a defensive lineman and I basically rush the quarterback.
SJM: You're also a standout lacrosse player at Shawnee and will focus on that sport in college. Was it tough to choose one sport to play at the next level?
CC: It wasn't tough at all; my heart was in lacrosse the whole time. I just played football to stay in shape and have fun with my friends.
SJM: Maryland is a hotbed for lacrosse. What made you want to go there for college?
CC: I was looking at Penn, Delaware, Duke and Denver. I settled on Maryland because I went down for a visit and I just loved the coaching staff and everything about it.
SJM: Do you think you'll have an opportunity to play right away there?
CC: I'm not going to say yes or no to that, I'll just say I have to take practice seriously and I have to train harder if I want to play in college.
SJM: Getting back to football, is it weird that this is your last year in the sport?
CC: I started playing football in fifth grade I think. I don't think it's that weird, but it might be when I come back and watch the football games. I just have to make this last year a great year; go out and play hard every game.
SJM: Last year's winning streak started after a 31-0 loss to Cherokee. Is that a team that you're anxious to play again considering how it went last year?
CC: I'm anxious to play that game because we have not beaten them since I've been in high school. I played varsity my freshman year and I got in for one play against Cherokee and got jacked up. So I just want to go out there and beat Cherokee.
SJM: Being part of a big program, what's it like on Friday nights to play in front of huge crowds under the lights?
CC: It's really special to play on Friday nights. Not only do we have our parents and a big crowd from the school, but all of the little kids from the MYAA [Medford Youth Athletic Association] program come to watch us. They basically look at us like college football players or big NFL guys. We're basically role models, so we have to lead by example on and off the field.
SJM: Is that something you did when you were younger, come and watch the high school team?
CC: Yeah. I have a brother who played for the '07-'08 repeat title team, so I always went to his games and it was a lot of fun.
SJM: So you're trying to join him as a repeat champion?
CC: Yeah, we have three rings in our family, so if we can get a fourth, it would be pretty cool.
SJM: Is that your only brother?
CC: I have three brothers and a sister. My sister is below me and my three brothers are all older.
SJM: What was it like growing up with three older brothers? Did they pick on you a lot?
CC: I guess they picked on me because I was the fat kid when I was younger. They always picked on me for being fat. But we went out and had fun together; it was a good time.
SJM: What else did you like about growing up in South Jersey?
CC: I live in Medford Lakes, and I like that all the houses are close together. All of my friends are in walking distance. That's something I'll miss [when I go to college].
Derek MacKinnon, Washington Township soccer
One of the most dangerous scorers in South Jersey, MacKinnon netted 27 goals last season and was named an All-American by the National Soccer Coaches Association of America. He helped the Minutemen go undefeated in the regular season but suffered a dislocated kneecap in the playoffs, and could only watch as they lost to Clearview in the South Jersey Group IV final. He has his sights set on a state title in his senior season before heading to St. Joseph's University.
SJM: Last year was really special for you guys as a team, but of course it ended with a tough loss to Clearview. Are you motivated by that loss?
DM: I think all of us have a very bitter taste in our mouth after that loss. As a team, we very well could've won that game. We actually beat Clearview by a few goals earlier in the season. So that one was rough on us, and to not win the South Jersey title or the state title was very disappointing. That's something we're looking to build off for this season.
SJM: Obviously that was disappointing, but as a team you went undefeated in the regular season and were ranked first in the state for most of the year. Do you still have good memories overall from 2013?
DM: Absolutely. I thought we came together as a team and we all had the same goal: to win. We came out prepared each and every game, we worked hard throughout the year. Unfortunately, it was a tough end to the season, but there's a lot to take away from last year and there's a lot to look forward to this year. We have a really good team and we can do just as well if not better if we all put the work in. Our schedule is going to be just as tough, but I think we can be successful again.
SJM: Was it extra difficult to lose that game against Clearview because you were hurt and couldn't help your teammates?
DM: At any point during the season, if you're not out on the field it's tough watching. We have a very good team, and we can all step up and win games together. That was just a tough loss. Clearview played to their best potential, and their goalie Ricky Nelson—who's a friend of mine—he stepped it up and played really well. Our team could've have won that game, but their team should've won. I would love to have made a difference, but Clearview played very well.
SJM: You have a lot of potential again this year as a team. Do you think one of the keys to your success is the fact that so many of you have been playing together for many years, going back to youth soccer?
DM: I absolutely believe so. I think that our team chemistry is very high. A lot of us know each other's tendencies, especially the seniors. We've been playing together since we were 8. We know each other very well, we're best friends off the field, and we know how each other reacts in certain situations.
SJM: Do you play with that same group in club ball, too?
DM: Yeah, we actually won a national championship together in the spring. That was pretty cool. We have fun each and every day, and we know to push each other to get better. Me, Lou Vilotti and Ed McCusker are going to St. Joe's together, and we definitely push each other really hard. They're great guys to have beside me because it helps me grow as a player.
SJM: Was the college decision a group one or did you all come to it on your own?
DM: It's funny, all of us came to the decision at completely different times. Ed was the first to commit, then Lou committed. For me, I saw it as a great opportunity to make an impact on an up-and-coming program. The coaching staff there is great and it's a great business school, which is what I'm looking to further my education in. It's not too far from home, it's a city school. It was just the perfect choice for me, financially and academically, as well as athletically.
SJM: What are your individual and team goals for your final year?
DM: Everybody's mindset is just to win a state championship. As a senior class, we really have had great success over the years. Two years ago, we won the South Jersey championship against Absegami, and last year we had the opportunity to win our first South Jersey Coaches Cup title. The only thing that is on all of our minds is winning the state championship now. But it's important to take each game as it comes. Every team this year is going to come at us with everything they have, and it's going to be tough. But I think if we all stay focused and put the work in, a state title is a good goal for us.
SJM: What's been the highlight of your soccer career so far?
DM: I think the Coaches Cup last year was incredible. That's really where most of us shined as players under the spotlight. During the high school season you don't get many chances to play under the lights in front of large crowds. That was a great opportunity for us to do so, and we all stepped up and played great.
SJM: Was scoring always your thing? Could you tell from a young age that you had a talent for finishing?
DM: To be honest, I've always played forward, but the people I've played with are just unreal. They put the ball right on my foot, and I'm just happy to be in the right spots to put it away. That's something I've been working on the last couple of years, moving off the ball, because in college that's a very important aspect of the game. As a striker, it just comes natural to put the ball in the back of the net. I guess you can say I've always aspired to score goals, because that's my job. A [mail carrier's] job is to put mail in the mailbox. My job is to score goals because I'm a forward.
SJM: Are there any goals you've scored that stand out as your favorite?
DM: I'd have to say the Coaches Cup final again. That was a tough game against Timber Creek. I was in the right place at the right time on the first goal, and the second goal was pure luck, I suppose. I had to chip it over the goalie from 25, 30 yards out, so it was pretty incredible. I will remember that for a long, long time.
SJM: Are you a big fan of the game? Did you follow the World Cup closely this summer?
DM: Oh yeah, I follow it regularly. It's great to stay up to date with the professional game because you can learn from a lot of these guys. You can take aspects of their game and translate it to yours. A big guy that I've been watching over the last couple years is Robert Lewandowski, who plays for Bayern Munich now. Sometimes I sit in front of the TV and take notes. For every soccer player who aspires to be great, I think you have to learn from the greats.
SJM: That's an interesting answer. I guess the easy answer would've been to say that you follow Lionel Messi, especially since you're a goal scorer.
DM: Well, what I've learned is that you shouldn't aspire to be guys like Messi or Ronaldo, because they're on a different level. They're special, and it's very hard to translate their game to yours. I think I can learn from players like Daniel Sturridge or Diego Costa. They're the type of players I can play similarly to. Lionel Messi is magic, and it's very difficult to play like him. It's important to follow the types of players whose game I can translate to mine.
SJM: Washington Township is obviously a big school. Do you mainly hang out with guys from the team, or do you take a break from each other off the field?
DM: It's funny, you'd think we'd get sick of each other, but we're together every day. I just came from Lou Vilotti's house, having pasta with his family. Most teams you don't see people together all the time; they just work out together and go off and hang out with different friends. But I'm fortunate to have six of my best friends play soccer with me. It's a blessing.
SJM: Are there any players or teams in South Jersey that you really respect?
DM: I respect all the teams that we play, especially in our conference. It's a difficult conference, and last year we were fortunate to win every game in our conference, which is almost unheard of. I follow everybody, but there's not really a specific guy I can pick out.
SJM: What about goalie-wise? Are there types of goalies that you have a hard time scoring against?
DM: A lot of the goalies in our conference have played for quality teams outside of high school. I don't know if he's still there, but Shawnee's goalie last year was phenomenal. It was very difficult for us to get some goals past him, but fortunately we did. Another one of my friends, Ricky Nelson from Clearview, he's phenomenal. Last year in the South Jersey final, he played out of his mind. It was difficult for us to adjust to his style of play.
SJM: You've gone undefeated in the regular season before. If you lose a couple along the way but come out with the state championship this year, would that be OK with you?
DM: I would not mind at all if we lost a couple of games through the course of the season if I got to say we were No. 1 at the end of the year. Last year, it was tough. We were No. 1 for the longest time, starting in October and lasting until we lost that game. It's going to be very difficult this year, especially with all of the preseason rankings, which don't matter to us. A lot of teams are going to be hyped to play us, but we've done a great job getting fit and building a bond as a team and working technically and tactically to be superior to our opponents.
Kenie Wright, Lenape soccer
A varsity player since her freshman year—when she was part of a state championship team—Wright helped Lenape go 67-8-3 with three South Jersey titles in her first three seasons. Last year, the midfielder had 10 goals and 18 assists and was named first-team all-state. She's expecting more of the same this season before heading off to Rutgers University.
SJM: Lenape girls soccer has been on such a terrific run with seven straight sectional and South Jersey Coaches Tournament championships coming into this season. Aside from talent, what do you think is the biggest reason for that success?
KW: Everyone works so hard in practice, and every game that we go into, we treat it the same way—like a state championship game. I think everybody on the team wants to win a state championship and wants to win South Jersey, and I think that helps a lot.
SJM: Is it tough to be in a program where that's expected every year?
KW: I wouldn't say it's hard. It's really fun, because it's different from most high schools. It's not just a high school team; we're a family, and we all want to win together, we all want to win for each other.
SJM: When you came in as a freshman who were the older girls who taught you what it was like to be part of this program?
KW: I would say Katie Rigby, Morgan McDivitt and Tori Prager. They were all huge leaders and they took me and Lizzie [Kinkler] under their wing, because we were scared as freshmen. They taught us about the family atmosphere at Lenape.
SJM: Do you find yourself in that role of mentor now that you're a senior?
KW: Yeah, we have so many seniors this year, and we all have to show the young ones what it's like to be on this team. Once we leave, we still want them to win, we still want Lenape to have that winning mentality.
SJM: You've played in so many big games and been a part of many championships. When you look back, what's the highlight so far?
KW: My freshman year when we won states. That was the best feeling in the world. We knew we were the best in the state and we knew we had accomplished our main goal.
SJM: Obviously, it would be nice to cap your career with another state title. Is that a realistic goal?
KW: I would definitely say it's a realistic goal. Right now we're focusing on one game at a time, but in the back of our minds that's one of the goals we want to achieve at the end of the year.
SJM: Lenape's rivalry with Eastern in soccer is one of the best in the state. What's it like being part of that?
KW: It's really exciting whenever we play them, because we know they're going to give their best and we're going to give our best. Every time we play them, we know it's going to be a really good game and a really fun atmosphere to play in. There's usually a lot of fans—a lot of family and friends, but also other people that just come to watch the game.
SJM: Is it a friendly rivalry?
KW: We're really competitive on the field. It kind of gets heated, but we respect them and they respect us. We both know we're the best in South Jersey.
SJM: Have you always been a midfielder?
KW: Junior year and this year I've been center midfielder, and before that I was outside mid. I've always played in the midfield my whole life.
SJM: What do you see as the important aspects of that position? What is your role?
KW: I'm kind of like the distributor. You have to find everybody, but you also have to score yourself. And you have to get back on defense and help your defenders, too.
SJM: Is it more gratifying to score yourself or assist on one of your teammates' goals?
KW: Honestly, I would say setting up my teammates. I get a good feeling for myself and I get a good feeling for my teammate who scored the goal.
SJM: You seem to have great chemistry with fellow seniors Lizzie Kinkler and Marissa Topolski, but I know that you all play for different club teams. How does it fit so nicely when you get back to the high school season?
KW: When we get back together, I know if Lizzie or Marissa has the ball, they're going to find me, and vice versa. We trust each other. I know they're going to get me the ball if I make a run in the box or something.
SJM: Do you think it will be weird at this time next year when you're all playing for different college programs?
KW: It's going to be really weird, because we've been together for four years now, and it seems longer than that.
SJM: What went into your college decision?
KW: Ever since I visited Rutgers, I knew I wanted to go there. The campus is so nice, I like the Big Ten atmosphere, I love all the coaches. There's a couple Lenape girls at Rutgers right now, so that's also comforting knowing I'll know people there.
SJM: Is the Big Ten a strong conference for women's soccer?
KW: Yeah, the Big Ten is really competitive. They just added more teams, so I like that competitive atmosphere. Each game is going to be just as big as the next one.
SJM: When you're not playing, do you enjoy watching the game?
KW: Yeah, I like watching the U.S women's national team and the men's national team and the World Cup.
SJM: Is there a player in particular that you like to borrow things from and apply to your own game?
KW: Yeah, I like watching Carli Lloyd and Alex Morgan. Carli Lloyd plays midfield, so I watch what she does and see if I can apply it to my game. It's really cool to see her doing so well, knowing that she is from South Jersey and Rutgers.
SJM: Have you met her?
KW: Briefly. I didn't really have a conversation with her but I met her at a meet and greet.
SJM: What do you like to do away from the soccer field? Do you hang out a lot with the girls on the team?
KW: Yeah, the girls on the team are all my best friends. Even when we're not at practice, we try to get together as much as possible.
SJM: As far as school, do you know what you want to study at Rutgers?
KW: I don't really have a favorite subject, but I want to be an athletic trainer or a physical therapist. A high school would be good to work as an athletic trainer.
SJM: What else do you like about growing up in South Jersey and going to Lenape?
KW: Lenape is an amazing school. Everyone there is always so supportive. On game days, you go down the hallway and people you don't even know are saying good luck, and teachers are always asking how soccer is going. They actually care how you do.
SJM: Getting back to soccer, what do you want to accomplish in your final season at Lenape?
KW: We have four main goals, and that's to win the conference, win the Coaches Cup, win South Jersey and win states. That's always been our four main goals every year. Eastern and Shawnee are probably our biggest competition in South Jersey right now.
SJM: What about your individual goals?
KW: I don't really set personal goals. I just want to do my best to help my team out as much as possible. Whether that's scoring goals or getting assists, it doesn't really matter. As long as I achieve my team goals, I'll be happy.
Aaron Groff, Cherry Hill East cross country
As a sophomore last fall, Groff consistently placed near the top at all of the big meets, including a third-place finish at sectionals and sixth-place effort at states. He leads a terrific group of returners for the Cougars, the defending South Jersey Group IV champions.
SJM: Was last season really special to you because of all you accomplished as a team and individually?
AG: It really was. It was a big jump for myself and the team. I was good freshman year and that season was a big improvement. But last year just blew everything else out of the water compared to what I had done before. For the team, we made an even bigger jump. The goal we formed in the middle of the season was to win states. That didn't end up happening, but we won sectionals, and our whole mindset changed throughout the year. Not just the top runners, but everyone on the team. … I think that's setting us up for a great year this year.
SJM: By the mindset changing, do you mean you felt like you belonged among the best teams?
AG: Yeah. We each set individual and team goals, and that's a big part of our training. When it gets tough, the goals kind of drive us. We want to be good; we want to be an elite team in South Jersey and the state.
SJM: The mental aspect seems like it's such a big part of distance running, because you have to will yourself to keep going even when you're in pain or tired. How much of running is the mental aspect?
AG: Some people say it's 50-50 mental and physical, some people say 80-20. I can't really give a percentage, but it's definitely huge—not just during the race, but even during training when you're months away from your first race. It's huge to have goals, and it helps to push through the pain.
SJM: What kinds of things did you learn from being around Ben Dillon, your former teammate who graduated last year?
AG: I give him a lot of credit for getting me to the next level. He was a great runner, and last summer it was him and me [training together] all summer. He was much better than me at that point, and I didn't have any idea of the season I was going to have. He really pushed me every day and got me to the next level.
SJM: Now that you're older, are you starting to take that mentor role for your younger teammates?
AG: Yeah, there's always seniors to fill that role, but a big part of it is leading by example. I feel that I can definitely mentor the freshmen and sophomores and tell them the things I learned. We pretty much reserve the captain term for seniors, but I think we've helped the team grow a lot, just leading by example.
SJM: With most of last year's team back aside from Ben, do you think you have a good chance at defending your sectional title and making a run at a state championship?
AG: That's definitely what we're hoping. There are some phenomenal teams, in Group IV especially. Kingsway is returning a lot and we expect them to be a lot better than they were last year. West Windsor-Plainsboro South and South Brunswick are both right behind us. A lot of people are picking us as favorites, but it's so close that you can pick any team. But a state title is the goal. We've talked about it since we took third at the meet last year. It drove us a lot over the summer.
SJM: As far as your individual goals, do you shoot for certain times or certain places when you compete in the big meets?
AG: I think especially in cross country, I go more for place. This year, I'd like to win a lot of the big races. Setting a place goal is something I learned during spring track last year. If you achieve that place goal, you can't be upset with your time.
SJM: You had a lot of success in spring track, too. What did taking second in the state in the 3,200 mean to you?
AG: I was right behind Nikhil Pulimood of West Windsor-Plainsboro South, and he's back this year. I didn't make it a goal in early spring to go and win states, but I did want to win sectionals, which I accomplished. But I realized I was in the first heat going into states, and I thought about it all week that I wanted to win states. He definitely had control of the race most of the time. He'll be there all three seasons this year, along with some other really good returners, and I'm excited to race him. It's definitely a goal to win Group IV individually and as a team.
SJM: Last fall at the Meet of Champions, you placed 28th, but only five of the kids ahead of you are back this year. Does that give you confidence for this year?
AG: I did beat Nikhil during cross country. Blaise Ferro [from Christian Brothers Academy] was up there, Noah Culbreath from Kingsway was ahead of me. There's a really good group of kids up front. It could be anybody's day at Meet of Champs, but I'd really like to give it a go and try to win. But Blaise Ferro and Craig Corti of Wallkill Valley are definitely the co-favorites right now.
SJM: Not every kid would be able to rattle off names from around the state. Do you really pay close attention to your competition?
AG: Yeah, it's pretty much been that way throughout my whole high school career. NJMileSplit.com is a really great site, it keeps track of everything. Especially this year, I've learned to love running as a hobby. I like to watch races, I like the Olympics and World Championship stuff. I'll go online and look at results from all over.
SJM: How old were you when you got into distance running?
AG: I'm not entirely sure. My parents were runners. They always tell me they weren't very good; they're not sure where I got it from. But they did run a lot of marathons and they've always raced. I ran track and cross country [in middle school], but we didn't train that much. I was still a huge swimmer at that point, but I had a good enough year in eighth grade to want to run in high school. My first race on varsity, I really didn't know what was going on, but I was our sixth runner. That was a huge race, because if that didn't go as well, I don't know if I would've gone on and I don't know if I'd be where I am today.
SJM: You said your parents have run marathons. Would you ever want to do that?
AG: It's a long way away. People say you aren't supposed to do one until you lose natural speed. But I definitely want to. My parents both did them. It's something I want to do in the future.
SJM: A lot of people remain passionate about running into their 30s, 40s and beyond. Do you see it being a big part of your future?
AG: Yeah. It's something I'll always do, even if it's not competitively. I'd definitely like to run in college, and we'll see after that. I've loved it thus far.
SJM: Where do you train in the summer?
AG: We had captains' practices in the morning, we met at East. At night, we met at Croft Farm, which is on the Haddonfield-Cherry Hill border, it's near Pennypacker Park. Then on Wednesday nights, we would try to take trips to Gloucester County College or Holmdel Park to get some hill runs in. Obviously, there are a lot of huge meets at Holmdel (such as the Meet of Champions), and our conference meets are at Gloucester County.
SJM: Do you like running at Holmdel?
AG: I like it a lot. Freshman year, the first time I raced there, it was my best race by far. Ever since then, I've really liked it. It's a true cross country course—it's not flat, it's tough. No one is going to say it's easy, but I've had good races there and I like it. It's a fun course to race on.
SJM: When you're competing, does your mind wander, or must you focus on the race the whole time?
AG: I try to stay focused, but not too intensely. You have to be able to react immediately if someone makes a move, but you can't think too intensely. Sometimes if you think about other things it will help you maintain a little bit, but you can't wander too far from the race itself, especially if you're planning on winning. You can't get to the point where you're running mindlessly.
SJM: How about when you're training?
AG: My mind definitely wanders when we're training. Talking helps, and the guys on the team are really good friends of mine, so we talk when we're training.
SJM: What do you like to do for fun when you're not running?
AG: One of the things I like about Cherry Hill East is there are so many different types of people, so I like to just spend time with my different friends. My family and I take vacations a lot, and spending time with my family is also important to me.
SJM: You mentioned wanting to run in college. Do you know what you'd like to study?
AG: I'd like to be a doctor. I've really enjoyed science so far; this is my first year of biology and I'm also in chemistry. I don't know what I'd like to major in, but after college I'd like to go to medical school to become a doctor, or at least do something involved in science.
SJM: Have you thought about what college you'd like to attend?
AG: It's early on in the recruiting process, but I want to go to a school with a good reputation academically, and I also want to be on a good team. It will be tough to do a hard major, but even now it's hard. East is really competitive and the classes are tough. I've heard kids are really prepared going to college from East.
Mark Walker, Haddonfield football
A senior linebacker, Walker was named to the all-state third team last year, when the Bulldawgs beat three undefeated teams in the playoffs on their way to the South Jersey Group II title. He is also a dangerous runner and receiver at fullback for the Haddonfield offense.
SJM: Now that you've had time to reflect on last year's playoff run, has it sunk in what a big deal it was?
MW: Yeah. The more I think about it, it really was big. But I think more about how we treated it and I can actually take a lot away from how we approached it. We went into the playoffs and the whole time we were just saying, "Take it week by week." That's what we did and that's what we're going to try to do this year with the tough games on our schedule. You can't think past anyone.
SJM: It's hard to look ahead when you're facing an undefeated team each week like you were in the playoffs.
MW: Exactly. All the newspapers were pointing out who was next, but we were focused on West Deptford first, then Camden, and finally Woodstown. It was hard to look past anyone because we had to be on our "A" game for every game. All of those teams were so good.
SJM: Is playing high school football and winning championships even more special because a lot of you guys have been playing together since midgets?
MW: Yeah, last year was pretty special. They are my best friends, and we won a championship together in eighth grade, too, but this one was a lot bigger.
SJM: You contribute on both sides of the ball and you don't come off the field very often. How tough is it to play almost the whole game?
MW: I train all offseason because I know we run a high-tempo offense and I have to be all over the place on defense. I can't say I don't get tired, but I try to give all of my effort every week. I try not to leave anything out there.
SJM: Do you prefer one side of the ball over the other?
MW: No. I like scoring the ball and I like making big hits.
SJM: Haddonfield has an attacking defense with a number of guys who can sack the quarterback or make tackles in the backfield. Do you feel like anyone can make a big stop on any given play?
MW: Yeah. I really don't think anyone is stronger than anyone else on our defense. I can count on anybody to play. It's really fun to play on a defense where you can count on every single person to make plays.
SJM: Scheme and personnel are obviously important on defense, but how important is attitude?
MW: I think it all starts with an attitude. Our defensive coordinator does a really good job, but you need kids who are going to be tenacious and nasty on defense to carry out that scheme. When we were little we used to make goals of not allowing a single first down the entire game. That's how we play; we don't settle for anything less.
SJM: Offensively, you also have a lot of options. Is the approach to spread the ball around and not let the defense focus on stopping one particular player?
MW: Yeah, we have a ton of kids who can run the ball and catch the ball. It makes it easy on our coach, but he does a really good job. We have a diverse playbook because we have a lot of diverse kids who can do a lot of different things. If something is working on one day, we might stick with that, but we know how to switch it up. We know how to break tendencies.
SJM: The biggest question mark coming into the season was breaking in a new quarterback. How do you feel about having Mike Alberto lead the way now?
MW: I think Mike is doing a great job. Last year, Mike McLaughlin had a really strong season, but there's no reason why Mike can't follow in his footsteps and maybe even have a better year.
SJM: Your head coach, Frank DeLano, was a quarterback in high school and college. What's it like playing for him?
MW: You can't stop him from playing quarterback [with the scout team]. He's always out there during scrimmages and he's probably having more fun than us. It's incredible what he's done. I've been on the team since freshman year, so I've seen all the work that he and the coaching staff put in. It's really cool.
SJM: Can he still throw it?
MW: Yeah, he can. He's actually getting better. We can't hit him, but he's still got an arm. At least he thinks he does.
SJM: Frank also has some of his teammates from high school on the coaching staff. Do you think it's similar to how close you are with your teammates?
MW: Coach DeLano always talks about how lucky we are to be playing with our best friends every day. He says the same thing about him and the coaching staff, coming to work and being with all his friends. It makes it a lot more fun for everyone.
SJM: Haddonfield is known for a lot of its sports teams, and football normally wouldn't be at the top of the list. But that seems to be changing—do you think this group is making a name for the program?
MW: Definitely. Coach DeLano has really built the program. I went to his youth camps when I was 6 and 7 years old, and I remember the team back then being a .500 team and getting really excited about that. The expectations have gotten a lot higher since Coach has been here. It's just getting better and better every year.
SJM: Who is the big rival for you? Is it still Haddon Heights?
MW: Yeah, the Thanksgiving game is always going to be a huge game. But every game of our season is just as important as the next. That's how I try to treat it. Every time we step on the field this year, I know we're going to get the best out of every other team.
SJM: How's the recruiting process going for you?
MW: It's good. I'm talking to a few D-I-AA schools, some Division III schools. I'm looking for a good academic school. It just depends on how I perform this year, I guess. It's stressful, but it's also fun. It's like and up-and-down roller coaster, that's how I would explain it.
SJM: With everyone recruiting you for defense, is it going to be hard to give up offense?
MW: I haven't really thought about that. I would just love to play college football. It would be pretty rare to play both ways, so I'm willing to give up one side.
SJM: Has it been a dream for a long time to play college football?
MW: Yeah, college sports in general. I never want to stop playing competitive sports. I play baseball too, but I definitely have more of a shot in football.
SJM: Haddonfield seems like a tight-knit community. What do you like about going to school there?
MW: I think it's the teachers and the coaches. I don't think you'll get the same experience anywhere else. Everyone in the town is just hoping for your success and trying to help you out. There's no greater feeling than going to school at Haddonfield and playing for all the coaches.
SJM: Even though you're taking it one week at a time, is it a realistic goal to repeat as sectional champs?
MW: That's the goal every year. You can't want anything less than that, but you have to take it one game at a time. You can't lose sight of detail and trying to focus on the next win, because that's when a loss slips by you.
Alex O'Donnell, Moorestown field hockey
A four-year varsity player and three-year starter, O'Donnell had 16 goals and 11 assists last year to help the Quakers reach the Central Jersey Group III final. Also a standout on the powerhouse Moorestown lacrosse team, she will focus on lacrosse next year at Brown University.
SJM: I understand you're from a big field hockey family, is that right?
AO: Yeah, my mom played at Bishop Eustace and then went to Rutgers and played. My older sister played for the high school for three years, and I have a younger sister who's in eighth grade and she plays.
SJM: Were you encouraged to play the sport at a young age?
AO: Yeah, definitely. I started in kindergarten. My mom actually owns a fitness business [Balanced Athletics] that also specializes in field hockey, so she runs lots of clinics in the offseason and camps in the summer, and I grew up going to them. I also played with my parents a lot.
SJM: Was it your favorite sport right away?
AO: Well, from a young age, I played all sports. I also played soccer, softball, lacrosse, basketball, I even played flag football. I was always playing different sports, and I realized field hockey was in my blood, but at the same time I didn't know where I was going. I tried a year of serious soccer in seventh grade, and then I had to decide between hockey and soccer. I realized hockey was where I was supposed to be.
SJM: Is your mom a tough critic when it comes to hockey, or does she give you a lot of helpful tips?
AO: I feel like both my parents help me out a lot. My dad is very into the game and he's learned it since I started playing. After games, we come home and analyze the game and talk about it. My dad takes me to the turf on Sundays and we'll practice what I need help on. They're both very helpful.
SJM: What's it been like to be part of a strong varsity program for four years now?
AO: A lot of teams have one or two stars, but I feel like on our team, everybody always plays so well together and we're on the same page. That's what our program is about; we're not about superstars, we're more of a family.
SJM: Despite losing some key players to graduation, this year started off really well. Is that what you expected?
AO: Yeah, I definitely think that's what we expected and that's what we expect the entire season. We have a hard schedule, so we'll have a ton of close games against the top-ranked teams, and we hope to pull out some wins.
SJM: You end the regular season against Eastern, and they're the measuring stick for every team in the state. What is the experience like going against them?
AO: We're working toward that game and it will prepare us for the teams we face in the playoffs. We know they're always the top-ranked team in the state, but we have to try to control the game and not let them take over.
SJM: You can relate to being part of a nationally known program, because you're part of one in the spring with the Moorestown lacrosse team. Is there a lot of pressure?
AO: There's a little bit of pressure, but it's an amazing experience. People are always asking about your team. Just like the field hockey team, we're a family in lacrosse, too. The dynasty has grown so much, and since I've been in the program, we haven't lost a game. I think we're 77-0 now for the last three years, and we hope to continue that my senior year.
SJM: Are there a lot of similarities between field hockey and lacrosse?
AO: They're both very fast-paced sports, which is what I really like about them. The speed of the game is so fast and you have to be in great athletic shape. I think that any girl who's attracted to that in field hockey is also attracted to that in lacrosse. I try to use things that I learn in each sport to better myself in the other one, too.
SJM: Obviously, you've been part of state championship teams in lacrosse. How badly do you want one in field hockey?
AO: That's exactly what I've been hoping for since my freshman year. We made [the state final] my freshman year and that was one of the best experiences. That's where I want to get to now, but this time end up with the "W" at the end of the year. That's what our whole team has been working for, we just want that state championship.
SJM: Did you use that as motivation in the offseason?
AO: Definitely. We talked about it a lot. It's hard to think all the way to November when we're playing in the summer, but we talked about if you're slacking off in the beginning, you're going to regret it in the end.
SJM: Was it tough to choose between field hockey and lacrosse for college?
AO: It was definitely tough to pick, but I ended up not playing club field hockey like I did for lacrosse. That's what makes it so amazing that I'm competing on this level with so many great players who play year-round. It's kind of tough because I play three sports. But the door opened for me for lacrosse, and I couldn't turn down the opportunity when I got offered from Brown.
SJM: What other schools were you looking at?
AO: Rutgers, Penn and Duke were my other schools.
SJM: So your mom didn't push for Rutgers?
AO: My dad actually went there too, and that's where they met, and my mom's parents went there. I think there was definitely a push for Rutgers, but in the end they told me I can't turn down an opportunity like Brown.
SJM: So your finalists included two Ivy League schools and Duke, also a great academic school.
AO: Yeah, we talked about that a lot. The reason I'm going to college is for my education. Sports have always been there for me, but in the end the things are going to get me through life are where I go to school and my academics. So that's always one of my top priorities.
SJM: Do you know what you want to study?
AO: I think I'm going to study business, which both my parents did.
SJM: Are you looking forward to going away for school?
AO: Yeah, I think it's a pretty good distance for me. My sister goes to Maryland, which is a little bit closer. I didn't want to go too far, because my family is really close. I'm going the opposite direction of my sister, but it will be nice to get away and open up my horizons to other things and other opportunities that I'm not used to every day here.
SJM: What was it like growing up as the middle of three sisters?
AO: I always looked up to my older sister. She actually never played lacrosse or basketball like I did, but she played field hockey and I saw how much she loved the team. And I love having a little sister who plays the same sport as me, because I'm always out there mentoring her and teaching her things I learned in high school. I love having someone who's looking up to me and wants to accomplish what I've accomplished and even do more.
SJM: Other than family, when you go away to school what are you going to miss about South Jersey?
AO: I just love South Jersey in general. Growing up in a town like Moorestown, it's such a privilege. It's such a nice town, and so are all the towns around it; they're all very welcoming and it's just a homey place to be. So I'll definitely miss that.
Austyn Cuneo, Eastern field hockey
One of the best players in the state since her freshman year, Cuneo set two national records last year as a junior: most goals in a season with 96, and most goals in a career with 233. She continues to add to the career total as a senior and is looking to end her time at Eastern without a loss and with four straight state championships.
SJM: The Eastern program has had so much success and is known around the country. What's it mean to you to be part of it?
AC: It really means a lot. When I was growing up, I would go to Coach [Danyle] Heilig's camps, and I remember one day my mom asking me how camp was. And I said, "Mom, I really want to play on this field one day." That was about 10 years ago now, and it's a great feeling to know that I wanted that when I was younger, and now I've been able to live that.
SJM: It seems like just yesterday you were a freshman phenom. Has it gone by fast for you, too?
AC: It's gone by so fast. Every year we have our end-of-season meetings and I remember last year Coach Heilig saying, "You're going to be a senior." … It really hasn't hit me yet, because I'm so used to having someone above me. Now I'm with the top dogs in our school, it feels weird. But I've done my time and after the season it will be time to move on.
SJM: Looking back, did you surprise yourself by having a huge impact on varsity right away?
AC: I think so, because I knew coming in that it was a tough program and nothing was guaranteed. You have to earn everything you get, so I had to work as hard as I possibly could. The main goal was just to get varsity time. I remember the first game was against Bishop Eustace, and it was a big game. I didn't know how to do much yet, because we only had a few weeks of preseason. I never would've imagined what I did freshman year, scoring 69 goals. I don't think anyone imagined that.
SJM: Who were some of the girls who took you under their wing and taught you how to be part of the Eastern program?
AC: It was Julia Osisek, she was a senior when I was a freshman. We do a big sister-little sister program within our team, and she was my big sister. She really took me under her wing and helped me through everything. She taught me the ways of Eastern field hockey. Even to this day, she'll text me [things like] "Good luck today," or "Go out and get a big win." After four years, she's still communicating with me, even though she's not here.
SJM: Are you doing that now for someone?
AC: Yeah. We have a lot of freshmen who came in this year, and we have one in particular, Izzy Sinibaldi, who plays JV and gets into some varsity games for us. With all the freshmen, I think it's a good idea if everyone is a complete team, instead of saying, "Oh, they're the freshmen and we shouldn't include them." We're all one team working toward the same goal at the end. As a senior class, we all took everyone under our wing, no matter how great their skill level was, to make them into a team and not a clique, which I feel you see at a lot of other schools.
SJM: Coach Heilig seems like someone who can be very challenging but also draws a lot out of you. What's it like to play for her?
AC: I don't think there's pressure to play for her; the pressure comes from keeping the tradition alive. We put more pressure on ourselves than Coach puts on us. We don't want to be the team that ends the great tradition of Eastern field hockey. I think we push ourselves harder than anybody out there. She can be tough sometimes, but she's only going to make us better. She clearly knows what she's talking about.
SJM: You win a lot of your games during the regular season by large margins. Is it tough when you're not getting challenged often?
AC: We know who our tougher competition is throughout the year, and I think our schedule separates it a little bit. We don't play some of the weaker teams and some of the tougher teams back to back. We have a different mindset for every game and set different goals. Even if we are up by a couple goals, we can work on a certain skill that we might not do in a tougher game. When it comes back to the big games, we have to keep it simple.
SJM: Were you always a natural scorer?
AC: I think so. When I was younger, one of my coaches pulled me aside during a rec game because we weren't playing very well. She said, "Your job is to score, that's what you do." So I went out and I was able to score. Just hearing those words, that scoring was my job, it just kind of stuck with me. I feel deep down a drive that makes me want to score. … I knew that if I was going to play forward for Eastern, my job was to score.
SJM: Do you still get the same feeling when you score a goal as you did earlier in your career?
AC: I think I do. Every goal is different. You don't score the same way every time, a different person gets the assist. Every single goal that happens is created with a different team or teammate. It still excites me, especially in big games. Like against Bishop Eustace [this season], scoring in the first three minutes, I think it gets the whole team excited. And when the whole team is excited, we're all ready to play.
SJM: When did you start thinking that the national career scoring record was a possibility?
AC: Honestly, not until after sophomore year when we knew that Lexi Smith [from Florence] had set it and we knew what the number was. Junior year was kind of the chase to get there. I honestly didn't even know there was a record until Lexi Smith broke it, so I never really imagined it.
SJM: Did you know about the single-season record?
AC: No, I didn't find out about that until they actually made an announcement at the game. I think everyone wanted to keep that one a surprise.
SJM: What kind of things do you like to do away from hockey?
AC: I'm really close with my family and I love doing things with them. I love hanging out with my cousins and my friends doing the usual teenage stuff. I play lacrosse, as well, and I love to golf, that's something I enjoy doing in the summer or when I have some free time, which isn't that often. I actually started coaching little kids in field hockey this summer, and I've learned to enjoy that.
SJM: How did you get into golf?
AC: Every year, my family has a scholarship golf outing for family members who have passed away, and we give a scholarship to a kid at Winslow who is going into education, because our family is really big on education. I always asked my parents if I could golf in the outing, and I wasn't able to until a certain age. Ever since then, I hope and pray that I don't have lacrosse the day of the outing, and I haven't yet. I realized I was pretty good at it, and ever since then I've always asked my parents to go to the driving range or go play, even if it's just nine holes.
SJM: You talked about education. Are you excited to get to college, and why did you pick North Carolina?
AC: There wasn't really one specific reason. My main focus was to see who's going to give me the best education, because the education is what you're really going for. Field hockey is a plus, but education is why you're really going. I knew they had a really good program for what I wanted to go into, and I love the coach and all the players. They made me feel at home when I was there, and I have family that's not too far from campus. … It all just fell into place.
SJM: What is the program you want to go into?
AC: I'm going to do sports and exercise science. I want to become a physical therapist. I shadowed a guy I know who owns a physical therapy place, and I just fell in love with it. That's what I want to do, help athletes get back on track to go and play again. I knew I wanted to do something medical, but I also wanted to stay in sports, so it's the perfect match.
SJM: What else would you like to do in field hockey? Is it a dream to one day play for the national team?
AC: Absolutely. That's definitely always a dream, to play for the national team and represent this country.
SJM: And what about your final year of high school? You have championships and records, is your senior year just about adding one more title to your collection?
AC: I think this year is all about getting our sweet 16, our 16th straight state title. There's no real records I have to go after that will put stress on me. This year is more of a free
Click here for Star watch, more of the area's best high school athletes.
Published (and copyrighted) in South Jersey Magazine, Volume 11, Issue 7 (October, 2014).
For more info on South Jersey Magazine, click here.
To subscribe to South Jersey Magazine, click here.
To advertise in South Jersey Magazine, click here.