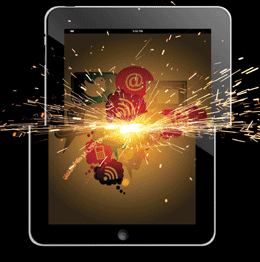 Social Issues
Social media is responsible for forming many relationships, but what about when it tears a couple apart?
Dave and Mary have been married for 15 years. As most couples do, they've had their ups and downs, but Dave says he never questioned the solidity of their relationship. That is, until what he calls the "X Factor"—otherwise known as social media—entered their lives four years ago.
"Everything was really fine, but social media has kind of thrown an X factor into the relationship that really doesn't need to be there," he says. "Sure, you go on to stay in touch with friends and see what's going on—I often use Facebook for news instead of sites like Yahoo News—but it's when you wonder, every once in a while, what [your spouse] is saying to others, that it can cause an issue."
Dave, whose name, along with his wife's, has been changed to protect their privacy, says the influence Facebook has on their relationship truly became apparent during a recent trip to Maryland. "We were in Baltimore, going out to celebrate our anniversary, and I just happened to receive a Facebook message from a female friend," he says. "I didn't think it was an issue, because I know she's just a friend. But my wife became very upset that I was taking time out of our private time to communicate with someone else.
"Of course, I didn't see the big deal in it," he continues, "but she didn't feel the same way." Dave and Mary, of Mount Laurel, have entered relationship counseling to help them develop a healthy relationship again. While even 10 years ago such circumstances may have been unheard of, the truth is, more and more couples are facing such realities.
"[Social media] is a part of every single session that I have with couples today," says Robin Bilazarian, LCSW, who owns her own practice in Mount Laurel and has spent the last 30 years counseling couples—including Dave and Mary. "People will say, 'My spouse has more interest in his or her phone.' It doesn't come up so much in individual sessions I have, but every time I work with a couple, it's there."
The reasons people have come to rely so much on social media vary. From the ability to stay in touch with family and friends to the convenience of making new social and business connections, many people find a lot of good in its use. In fact, for as many people who have had their relationships negatively affected by social media, just as many have turned to the Internet to find true love.
"I started using [online dating site] OkCupid because I wasn't much of a 'bar person,' which is where you would usually go to meet people," says Cole Jennings, of Shamong. "I wasn't a fan of that whole scene and it's hard to meet people and form a good connection in day-to-day interactions, so I figured why not try it?"
Jennings actually ending up having a great connection with the first person he met through the site, and has been exclusively seeing Heather Caporaso, of Voorhees, over the past few weeks.
Caporaso didn't have quite the beginner's luck Jennings did—she's been using OkCupid for roughly 10 years—but she is happy in the place she has ended up.
"Generally, using social media to meet someone for romance is awful. I am a terrible liar but apparently most others are not. A guy who says he's 5 foot 10 is usually 5 foot 7. People post pictures from eight years ago that don't look like them anymore. And people project a personality that they don't actually have," she says. "While it took me a very long time to find a quality person, I think one of the reasons it worked this time is because neither me nor my boyfriend misrepresented ourselves. For a very long time I thought there was something wrong with who I am and it turned out I hadn't found the right person yet."
While the effects of social media on relationships vary, there are some precautions people should take when it comes to sharing their lives on the Internet. For instance, problems can arise when relationships are taken from a private level to a more public level, and interactions are put on display for everyone to see. If a relationship has been on the rocks and a woman posts a picture of herself with another man on social media, it can create trouble, especially if the relationship starts to unravel and the law gets involved.
Divorce attorney Howard Mendelson, of Davis & Mendelson, LLC, in Voorhees, says he has seen social media impact his practice on many levels, and it's even been the reason many marriages dissolve. He also notes that if social media was not the reason for one of the divorces he's handled, it has often been a part of the follow-up.
"I had a post-judgment matter involving support … where the husband had moved up to Maine and we thought he was doing better than he was saying," he says, "and the [husband's new] girlfriend led to evidence that was successful to the client. [The girlfriend] was showing off to all her friends, her social media friends, all the beautiful new things she had, and the evidence was derived that way."
Attorney Bruce Matez, of Cherry Hill's Borger Matez, P.A., points out that such evidence would not come into play if more people were conscious of what they post online.
"When you put things out there for the world to see on social media, they are fair game to be used in these situations," he says. "Without Facebook, much of the evidence I presented in [a recent trial] may not have been admissible or even attainable.
"Text messaging and emails are also excellent sources of material for evidence on all kinds of issues," he continues. "I use them in many cases. I tell my clients to be careful what they put in writing and to assume that everything they write in a text or email, instant message, etc., will be presented to the court at some point in the future. … I also tell people to be very careful about what they post on social media."
Of course, there are the people who say that they do not allow social media to interfere with their personal relationships, and that they do not obsess over things the way other people do. But it may be affecting their relationships without them even realizing it.
"Just generally speaking, in the evening time, when we're winding down and the kids are in bed, and we sit down to watch TV, if there's a commercial or I'm not interested in a show she's watching, I'll pick up my phone and look at Facebook," says Dave of a habit he, like many of us, have acquired. "If she asks me what I'm doing and I say I'm on Facebook, it annoys her."
Dave says meeting with Bilazarian has put everything into perspective for him and Mary; and Bilazarian has helped them set some social media guidelines to live by. "Establishing boundaries has really helped us with Facebook," he says. "For example, hypothetically, if my wife's old boyfriend contacted her, she would have to ignore the friend request, because it was part of our boundaries.
"You'd like to think as adults you'd be able to work it out on your own, but I know from talking to Robin that these social media variables that have come up are also prevalent with other couples," he says.
In fact, this is so true that some couples have gone so far as to create prenuptial agreements revolving around social media. "There is this emergent trend … where people are creating technology prenups that say what can't be posted about them on social media," says Shira Katz Scanlon, Esq., a partner at Martine & Katz Scanlon, P.A., in Voorhees. "If they do, they're subject to whatever the consequence is. It really seems to be high-end clients who are doing this sort of thing. I remember reading an article where the penalty for posting was $50,000."
For the average couple, while a prenuptial agreement may not be the answer, Bilazarian suggests setting expectations for each other regarding social media is a good idea. "With couples, a good rule of thumb is, if it's OK with your partner, it's OK to do," she says. "They have to decide, is it OK to be out to dinner and be on your cell phone 5 percent of the time? Or 100 percent of the time? Each couple and family has to set rules and boundaries on what they think is acceptable and talk about that. Technology has advanced faster than the morals on how to do this stuff, so people have to make up their own."
Paula Susan, a relationship and trauma specialist based in Marlton, agrees, and adds that people need to step back from social media and realize it's not as "real" as we think it is.
"I think our culture is changing dramatically because we're losing the essence of connection," she says. "We call these conversations we're having [on social media] intimate, but they're not intimate because they're not real. You're creating a persona of yourself because you're not sitting with that person or really interacting with them. You're not taking care of your children or dealing with the plumbing issues you have in real life. Of course it feels perfect. It's not real."
Published (and copyrighted) in South Jersey Magazine, Volume 11, Issue 7 (October, 2014).
For more info on South Jersey Magazine, click here.
To subscribe to South Jersey Magazine, click here.
To advertise in South Jersey Magazine, click here.