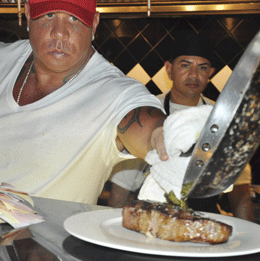 Doing Things His Way
Steve Martorano on his local roots, serving up authentic Italian fare, and his new Atlantic City spot
Name: Steve Martorano
Birthplace: South Philly
Occupation: Chef/Restaurateur
Fun fact: Has penned two books
Hobby: DJing
Favorite food: Meatballs
Steve Martorano knows a thing or two about what it takes to run a successful restaurant. In fact, the South Philly native has four successful eateries–in locations from Florida to Las Vegas to the newest eatery, Martorano's in Atlantic City. A fifth restaurant in Las Vegas is slated for this fall. But his story isn't just about food. Martorano tells us about leaving behind the gangster role models he had as a kid, starting as a one-man sandwich shop in Philly, losing everything when the economy went downhill and eventually finding his success again. He also talked about his celeb following, what he cooks on his nights off, his days DJing at Valentino's in Cherry Hill and competing with some major culinary giants at his new spot in Atlantic City.
Growing up in Philly…
The truth was I was a street guy, that's where I'm from. My role models used to be all gangsters but I realized that was a dead-end road. So I became a DJ, then started selling Italian sandwiches door to door.
DJing at Valentino's in Cherry Hill…
It was a great time. I really learned how to move the crowd. No one ever showed me how to spin music, like no one ever told me how to cook. I learned how to spin music and matched beats myself. So I created my own style. It was known around town that if Steve Martorano was DJing, you'd have a great time, because I could feel the soul of the crowd and make everyone move. Just in general, bringing people up and down, making them scream, and making them fall in love is memorable. I'd play for as many as 1,200 people. In terms of the worst song request, well I got bad songs requested all the time but once some guy gave me a $100 bill to play "Isn't She Lovely" by Stevie Wonder. It's a nice song but you can't really dance to it. But I played it. Then he handed me another hundred dollar bill and said, "Play it again," but I told him I wouldn't. So he offered me another hundred! And this was in the early '80s, so $300 was a lot of money. But you can't buy me off!
From Philly to Florida…
It's a long story but… I lost everything in Philly with the economy being bad and people I knew went to jail or were killed. So I took a trip to an area right outside of Fort Lauderdale to see if I wanted to move there. But I didn't like it. The day I planned to board my plane back to South Philly and never come back, a very dear friend of mine said to check out a vacant restaurant space near where he lived in Fort Lauderdale. It had an open kitchen, which was what did it for me; it was rare back then. And so Café Martorano was born. But if I didn't make that stop before I went on the plane, I don't know where I would be today.
On his celebrity following…
Real is real–people can read when you're real and when you're not. My food is real, my concept is real, my music is real. There are no gimmicks and celebrities see that. Many of my famous customers come from hard times like me so they are comforted when they eat my food.
Favorite dish to make at home…
I don't cook at home! I work seven days a week, 17 hours a day, and haven't had a vacation in 14 years. But if you are asking me the one thing I'd make if I did get a night at home, I'd order Chinese, ha.
On catering to different markets…
When I opened up in Vegas at the Rio, I expected a lot more but there were a lot of people from Middle America who just didn't get or weren't used to the kind of food I was serving. They were used to those chain Italian restaurants and it was a hurdle for me in the beginning to explain things like why we don't put grated cheese on linguine and clams. But I eventually found my niche, and people started to appreciate what I was doing.
But later this year I'll open Martorano's at Paris Las Vegas right on the Strip, where I'll get a whole different clientele who can appreciate the food right away. It's the big leagues and a big audience. And Atlantic City is my backyard! I can sell things here I can't sell in Vegas–pig's feet and pork skin braciole, sausage and broccoli rabe. People on the East Coast will order this kind of Italian food.
On his A.C. competition:
Bobby Flay, Wolfgang Puck and Jose Garces…I'm not in their league. I'm a neighborhood cook from South Philadelphia doing what he does, each and every day. Those guys are way ahead of me, but I'm not about being in their league, I'm about making Italian-American food and simply making people happy.
His cooking style…
I'm South Philly through and through and people love this honest, Italian-American food with big flavors.
On his second book…
It comes out in the fall and it's called It Ain't Sauce, It's Gravy. The first book I had, Yo Cuz! My Life, My Food, My Way, was self-published, because not enough people knew who I was and what I was trying to do, so publishing companies turned it down. But Random House read it, loved it and wanted to make it twice as big, with twice as many recipes and stories. It's a cookbook/ autobiography.
His recipe for success…To never give up!
Published (and copyrighted) in South Jersey Magazine, Volume 11, Issue 7 (October, 2014).
For more info on South Jersey Magazine, click here.
To subscribe to South Jersey Magazine, click here.
To advertise in South Jersey Magazine, click here.