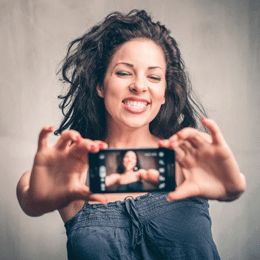 Show Your Teeth
Recent advances in dentistry are making it easier to smile wide.
There have been a number of exciting advances in the dentistry fields recently. Like so many other areas of health care, dentistry has been revolutionized by technology, making many things possible that seemed like science fiction only a decade ago. The braces of yesteryear are a thing of the past, as the field has moved toward lower maintenance, less-show appliances that make the entire experience easier. For those that need new teeth, the options have advanced far from just dentures, as the field of prosthodontics has also benefitted from the latest technology.
Brace yourself
The field of orthodontics has changed dramatically in recent years. Unfortunately, many adults remember all too well what it was like getting braces in the '60s or '70s, says Richard A. Kaye, DDS, MSD, of Morrone & Kaye Orthodontics. Dr. Kaye says as a baby boomer, he can also remember trying to wear that awkward headgear to bed.
"Braces in 'our day' were mostly made of stainless steel bands or rings, wrapping around each and every tooth, oftentimes leaving gaps between teeth when removed," Dr. Kaye says. "As the wires connecting the braces were less flexible, braces were frequently 'tightened' every month which might have even kept the patient on soft foods."
But Dr. Kaye says the field has come a far way from wearing uncomfortable headgear to bed or eating only soft foods. "Brackets" or small-cubed metal braces are now attached to teeth with bonding material and braces are more aesthetically pleasing than ever before—and are much less noticeable. Appointments have also gone from every four weeks to every six to eight weeks; and old headgears have been replaced with newer appliances mostly confined within the inside of the mouth, Dr. Kaye notes.
Invisalign has also been an exciting development. This technology uses clear plastic "aligners" that look like bleaching trays and can be removed for eating and cleaning, explains Dr. Kaye. For many, the barely-there look is a huge benefit. They also typically work faster, adding to the allure of forgoing metal braces altogether.
"With Invisalign, we are able to orchestrate not only which teeth move but also the timing and extent of movement," Dr. Kaye says. "We are able to view the projected finished product in a virtual movie showing all tooth movements. And the Invisalign Teen product has enabled us to use the same technology on teenagers. With the predictability and minor invasiveness of this technique, I believe 50 percent of all orthodontic cases will be treated by Invisalign within the next 10 years."
Digital revolution
Another major advance in orthodontics is the trend in going digital, reports Thomas Kadar, DDS, of Kadar Orthodontics. That allows for a lot of benefits including quicker results and more customized options.
"We can do things online utilizing a digital scanner and digital impressions," Dr. Kadar says. "These can be used to make a model for Invisalign or even other appliances like retainers. Many patients are uncomfortable or even scared of the old way of making impressions so this eliminates all of the anxiety associated with it and makes things easier for everyone."
Dr. Kaye agrees that this has been a favorable advance. The use of traditional "gooey" materials has been one of the most disliked parts of orthodontic therapy for ages. "Within the last few years, intraoral scanners have been brought into the field of orthodontics," Dr. Kaye says. "We now take a 3-D scan of the teeth and send that over the Internet. We find this new technology has not only helped those patients who tend to gag on impressions but also special needs patients who have sensory issues."
These advances in technology are also allowing doctors to be more precise and to do more customized work. Dr. Kadar says that he's now offering custom braces, with his son being his first patient. Working with Insignia, a fully interactive software and custom appliance system, Dr. Kadar is able to install brackets and wires that are 100 percent customized to the patient.
"The digital scan is sent to the company and brackets and wires are adjusted for the best possible result for that patient," Dr. Kadar explains. "It minimizes wear time and decreases the number of appointments a patient needs. And because we no longer have to mail impressions, the turnaround time is so much faster. The company gets the scan instantaneously. It's accurate, it's fast, and it eliminates a lot of hassle."
Dr. Kadar's office is also making use of cone-beam imaging which is a special type of X-ray machine that produces 3-D images. "In the time it takes to do a traditional 2-D scan, we can do 3-D scanning and locate impacted teeth, tumors, or other dental abnormalities we couldn't see," he says.
When new teeth are in order
While orthodontics can fix a lot of issues, sometimes new teeth are simply the answer. In the younger population this could simply be a congenital issue where the person was born with missing teeth. In those cases, a prosthodontist would work closely with the patient's orthodontist. A prosthodontist is a dentist who has specialized in treating and handling dental and facial problems that involve restoring missing tooth and jaw structures. For the younger crowd, this could also be due to an injury in which a tooth was knocked out.
But for many prosthodontists, the typical patient is the older adult who has lost teeth to disease or other issues. While dentures have traditionally been an option, many patients are now pursuing dental implants that are surgically implanted into the jawbone and replace the roots of natural teeth, explains Jack Piermatti, DMD, FACP, director of Dental Arts of South Jersey. Like other areas of dentistry, Dr. Piermatti says that the field of prosthodontics has also evolved.
"When I came out of dental school, most people were just willing to accept dentures and didn't want to spend a lot of money on implant dentistry," Dr. Piermatti says.
"But now the baby boomers are much more interested in their quality of life and they want to take advantage of any opportunity that would improve it. Why have plastic teeth that get removed at night when they can have dental implants and no restrictions on what they eat or ever have to remove them."
On top of the trends
Like so many other areas of health care, dentistry will continue to benefit from the latest advances and newest technologies. And keeping up with those is important. "We always aim to keep up with the latest technology and keep our patients abreast of those opportunities," Dr. Kadar says. "The field continues to evolve."
Published (and copyrighted) in South Jersey Magazine, Volume 11, Issue 7 (October, 2014).
For more info on South Jersey Magazine, click here.
To subscribe to South Jersey Magazine, click here.
To advertise in South Jersey Magazine, click here.