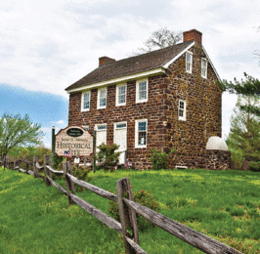 Developing the Future
In the Neighborhood: Developing the Future
A look at what's new around Gloucester County
From its open space to sense of community, to industry-friendly infrastructure and skilled workforce, there are many reasons why more than 288,000 South Jerseyans call Gloucester County home. South Jersey Magazine hit some of the local towns, talking to leaders from Deptford to West Deptford to Swedesboro to Woolwich and beyond. While everyone had a different story, they all shared one common sentiment: There's a lot of development with­in Gloucester County's 329 square miles.
"Gloucester County's geographical location, its infrastructure including a new deep-water port, access to major highways, air and rail are one of the secrets to [its] success," says Gloucester County Freeholder Director Robert M. Damminger. "The quality of life, open spaces, farmland, educational institutions, recreation opportunities and stable government are all other reasons both industry and Gloucester County residents call our county home."
And there have been some major econ­omic wins for the county lately, he says.
"One of the major developments that came about this summer in Gloucester County was the announcement of the first tenant for the new Port of Paulsboro. Holt Logistics Corp. will partner with the South Jersey Port Corp. for the construction of a new $170 million terminal at the Paulsboro Port which will bring hundreds of new jobs to the area," Damminger says. Gloucester County has also been working to keep K-Tron from relocating to Virginia, he says; and the company recently announced that not only will they be staying, they will also be expanding, having been approved for a 10-year, $5.2 million Grow NJ award to renovate the existing facility in Pitman.
"The project involves the creation of 20 new jobs and 152 retained positions, yielding an estimated net benefit to the state of $30.8 million over 20 years," Damminger notes. He also cites the Employment Opportunity Act sponsored by Sen. Donald Norcross as a major economic driver in South Jersey, as well as the recent partnership between Gloucester County College and Rowan University to create Rowan College at Gloucester County (RCGC).
"Industry and business seek an educated and skilled workforce, and this collaboration between RCGC and Rowan University gives students an opportunity to attend college at a nationally ranked school at a discount. The partnership gives students more opportunities for seeking affordable higher education options and allows the county to retain the best and brightest students," he says. "Since Gloucester County is home to Rowan University, only the second school in the nation to have both osteopathic and allopathic medical schools within the same institution, its designation brings a lot of attention. This development, added to the recent construction of the Cooper Medical School at Rowan University, has bolstered Rowan's standing as a research institution and will contribute to its expansion of academic programs, research activity and overall enrollment."
Along with health care, technology and the food industry are other economic drivers within the county, he says. But it's not just on a county level that these new economic developments are cropping up; many of Gloucester County's municipalities are enjoying some economic development on a local level.
Deptford
Another township in Gloucester County has some big commercial developments coming down the pike.
"We just had a developer purchase one of our shopping centers and Burlington Coat Factory is coming to Deptford, right on Almonesson Road, in the Deptford Town Center shopping center," says Deptford Mayor Paul Medany, noting that this new store will be located on the site of the former Sports Authority and Sam's Club. The 60,000-square-foot store is expected to open its doors this fall.
A new Bed, Bath and Beyond complex also recently opened on Deptford Center Road—housing not just Bed, Bath and Beyond, but Christmas Tree Shops, Harmon Face Values and Buy Buy Baby. "This is the first time in their chain that they have put all four of their stores in one complex," Medany says of the brand. A new 2,000-seat movie theater is on the horizon as well, to be developed by Bonus Ball Enterprises.
As expected, the Deptford Mall is a major economic driver for the area. "The Deptford Mall is pretty much 100 percent occupied, which is really great for an indoor mall," Medany says. "First of all, it's jobs. There are lots of jobs at the mall for the local residents. With the mall being that successful, it draws people and people use those businesses. The restaurants in the mall area are crowded seven days a week. They are doing tremendously."
Deptford is really a hub of retail, Medany points out.
"We're a retail center. We know that. That's the gift we've been handed. We are trying to expand that," he says. "Deptford's population is between 30,000 and 31,000. But on any given day, we grow to 80,000 or 90,000 people. That's the base of people that comes into Deptford on an average day to go shopping, use [local] services." During the holiday season, that number grows to more than 200,000 visitors daily, he says.
Glassboro
There's no doubt Rowan University is a major economic driver for Glassboro.
In fact, the borough has teamed up with both the university and developers for the $300 million Rowan Boulevard Project, which will link Glassboro's downtown retail district with the university's campus with a 1/3-mile long retail corridor. The project will consist of several mixed-use buildings, including residential, academic and retail uses. The project includes the Barnes & Noble Collegiate Superstore; the Courtyard by Marriott Hotel and Conference Center; the Whitney Center – a mixed-used residential and retail center; the Enterprise Center, the new home of the College of Graduate and Continuing Education, with ground floor retail space and a seven-story, 1,194-space parking garage; and a 1.5-acre town square.
The next phase of the project is the development of a major section of Rowan Boulevard, to begin this year. It will contain 25,000 square feet of medical offices, and 30,000 square feet of retail. It's expected to be finished in summer 2015.
"What we wanted to do with this $300 million [development] is to bring Rowan University closer to downtown Glassboro," says Glassboro Mayor Leo J. McCabe. "We found at the time that [local college students] had discretionary spending at about $20 million per year, and they were going outside of Glassboro to spend it. We wanted to reverse that, along with the Glassboro retailers. It's been pretty successful that way."
Glassboro is also working to redevelop High Street, once a main retail destination for the borough. There have been several new restaurants cropping up along the street.
Mullica Hill/Harrison Township
Harrison Township is on the cusp of a major development, says Mayor Louis Manzo. The Richwood Redevelopment Plan is finally on the road to completion. And it's massive—boasting the development of more than a million square feet of office and commercial retail space, including two major commercial centers, as well as a residential development phase with upwards of 2,000 new homes.
The two Promenade-style shopping centers will be about 400,000 square feet apiece and will sit on either side of the interchange of Route 55 and Route 322, Manzo says. One will be anchored by a Costco, and Walmart is in negotiation for the other, he says.
There will also be other, smaller-box retail stores in each development, he notes, as well as restaurants and drug stores that will set up shop near the shopping centers. "You are going to have on each side probably 20 different retailers," he says.
The Richwood Redevelopment Plan will sit on 388 acres of farmland that the township has slowly been purchasing, he says, at a total purchase price of about $45 million, but Manzo declined to say how much the entire project would cost.
"As the farmers were selling off property, we kind of put into place this master plan, as opposed to the [suburban] sprawl thing, which happens everywhere," Manzo says. "This was kind of just happening on its own. We weren't actively seeking the purchase of property. Once one farmer sells off a large parcel, many of the adjacent areas follow suit. … You have this pinnacle point at [Routes] 322 and 55. You knew these farms were going to be sold."
Groundbreaking will most likely be in spring 2015, and the next phases, including the development of between 1,600 and 2,000 residential homes, will probably come in 2016 or later, Manzo says.
The project will garner some major positives for the area.
"[We] are going to bring some balance to our residential versus commercial tax ratable base," he says. "There will [also] be a huge amount of jobs created based on this retail [development.] You can hardly think of anything else, where there is 800,000 square feet of commercial space [where before there was] nothing. Every single job [created by this development] is a brand-new job in Gloucester County and Harrison Township."
But downtown Mullica Hill will still retain its old-world charm, he says.
In fact, the township just spent upwards of $700,000 on aesthetic improvements to the town's historic Main Street. "That's the focus of our development, not to build anything more, but to further enhance what it looks like, and bring in desirables like BYOB restaurants, [and] other boutique shops," he explains. "There are going to be two different feels—the Promenade-ish Richwood development with restaurants and stores, whereas Main Street in Mullica Hill is going to continue to maintain this old-world feel, with walking, cool little shops, BYOB restaurants. There are two different vibes there."
Pitman
The Broadway Theatre of Pitman, built in the 1920s, is one of Pitman's most notable landmarks. It boasts old fashioned balconies, seating boxes, elaborate chandeliers, and has hosted the likes of Abbott and Costello, Johnny Cash, Kenny Rogers, and American Idol alum Taylor Hicks. But there are some new developments in Pitman, says Mayor Russell C. Johnson III.
"There have been many restaurants that have opened since the theatre came alive again in 2004. Pitman has a thriving uptown business district with shops, restaurants and entertainment," Johnson says of the borough's business section that runs along Broadway, which has delis, clothing stores, antique shops, bookstores and convenience stores, as well as the theatre.
Pitman is also pursuing some new developments. "The two areas of development that we are continuing to pursue is the closed Sony [plant] that covers 72 acres of land with 500,000 square feet of building space. We hope to attract a buyer that will bring life back to that property," Johnson says. He also names the Pitman Armory site, the old Pitman Hotel site and an old historic bank that sits in the middle of the town as targets for future development.
Swedesboro
Swedesboro has become a destination for historic character, great food, shopping, and community events, officials say. "We have a number of new businesses opening in the near future that we are excited about," says Mayor Thomas W. Fromm.
"Over the last four to five years, we have had over 35 new businesses choose Swedesboro as the place to open their business," Fromm says. "Swedesboro has definitely been experiencing a rebirth over the last 10 years. The downtown area has been transformed into a pedestrian-friendly location where you can find great food and entertainment, cool shops that offer everything from high end women's clothes at reasonable prices, beauty shops, a cigar shop, excellent small restaurants and other attractions. Our town has really positioned itself to be a force as the overall economy continues to recover."
Another project in the works, Fromm says, is the recent purchase of the area between Kings Highway to Second Street right in the center of downtown between Botto's and the Red Hen/Tavro 13.
"With the assistance of a well-known marketing strategy firm that we were able to hire with grant money, a concept plan for the area has been developed that will define the downtown of Swedesboro for decades to come," he says. "We are currently looking for the right developer who will help us transform this area into a mix of commercial and residential development that is going to be amazing."
West Deptford
West Deptford has also enjoyed several large companies moving into the township in recent years, says Mayor Raymond Chintall.
"Zoo Printing, a large off-set printing company from California, moved to West Deptford Township because of the reasonable tax structure and the great location to the Mid-Atlantic customer," he says. About 50 employees work at the 50,000 square-foot facility, located in one of the township's industrial parks near I-295, he says.
"Similarly, National Oak Distributors, a car parts distributor, with approximately 25 employees; Aramark, its beverage distribution center; and most recently, Medical Specialties Distributors, with over 20 employees in a 70,000 square-foot facility, all have made West Deptford their home due to the township's fiscal control of its tax base and the great location to a major metropolitan area like Philadelphia and the Delaware Valley area," he says.
A natural gas energy plant, LS Power/West Deptford Energy, will go also online in the township in the coming weeks, Chintall says, while a refinery near the power plant, Axeon, is looking to expand its facility. Another local company, Gofer, a floor cleaning material distributor, currently employs 35 employees and is looking to expand its business, he says.
Another main driver for West Deptford is the RiverWinds Community Center.
"I have worked hard to seek out developers to reenergize the RiverWinds Redevelopment area, where our RiverWinds Community Center is located," Chintall says. "RiverWinds Community Center is the high point for this town and there is no other facility in this area."
Woodbury
Before the end of 2014, Woodbury will have had nine more grand openings in addition to those that have already occurred, says Woodbury Mayor William J. Volk. Patient First, Studio 240, Del Buono's Bakery, a new elder care facility on the site of the old Woodbury Country Club and a new Excess Reinsurance in the old Masonic Lodge are some of these new developments.
And Woodbury has a few more developments up its sleeve.
"We are in the process of moving the police station from its current location at 200 N. Broad St. to its new location on 220 S. Broad St. This building should be finished by April 2015," Volk explains. "Along with that move, we are looking for additional businesses, [like] restaurants, to occupy the lakefront property of 200 North Broad. We are also preparing for the new light rail system that will be makings its way from Glassboro to Camden. We will have two stops in Woodbury (one behind the CVS on Redbank Avenue and another at the Railroad station on Cooper Street)."
But Volk doesn't call it a rebirth. "I like to call this resurgence. When I became mayor of the city, most of our efforts were to bring businesses back to the city. Over the past 15 years, businesses [had] been relocating out of the city at an alarming rate. We realized that we have very restrictive ordinances for new businesses. We have changed our commercial ordinance to include many businesses that were prohibited from opening in the downtown area. Now, doctors, lawyers and tattoo shops, just to name a few, are able to open on the first floor of the Broad Street district."
Woolwich
Recent openings in Woolwich include the Woolwich Center, located along Center Square and Auburn Roads, as well as a soon-to-open butcher shop/delicatessen and Dunkin' Donuts.
The Woolwich Regional Center—the only undeveloped Turnpike Interchange remaining in the state—also presents enormous opportunity for the township, says Mayor Samuel Maccarone.
"[It] offers enormous opportunities for highway and destination-based growth. That helps explain why the Wolfson Group has obtained a GDP approval for 1.5 million square feet of retail/commercial for three major projects," Maccarone says. The first of these projects is Woolwich Commons, a 550,000 square foot, big-box type development that received final plan approval in the fall and will begin construction later this year, he says. The center will feature several tenants, including a Walmart Supercenter. "It is anticipated that this project will stimulate much growth … including residential growth," he says.
The township will also re-examine its master plan later this year, taking into account recent growth opportunities, as well the perseveration of local farmland and open space, a priority for the township, Maccarone says.
"Despite all the growth that put Woolwich in national headlines as the fastest growing town in the Northeast just prior to the recession, the town has truly embraced smart growth and a dogged determination to preserve its best-remaining farmland and open space," he notes. "Over the past seven years we've preserved nearly 1,500 acres of farmland and open space, which retired development approvals for over 500 residential units in the [township]."
Gloucester County by the numbers
* 7 chosen freeholders govern the county
* Incorporated in 1686
* 24 municipalities
* 329 square miles
* 2,032 total miles of road
* 410 miles of county highway
* 288,288 population
* $220,400 median house value
Events Calendar
Close out 2014 at one of these events
Oct. 11
18th Annual Glassboro Unity Day, 10 a.m. – 4 p.m., College Avenue. This year, the annual event is pairing up with the Gloucester County Boys and Girls Club for a day of sun, fitness and community involvement, perfect for the whole family. Visit GlassboroOnline.com for more information.
Oct. 11
Mullica Hill Ghost Walk, 6:30 p.m., Main Street, Mullica Hill, visit HarrisonHistorical.com/events for tour and ticket information.
Oct. 11
Washington Township 11th Annual Community Clean Up Day, 9 a.m. to 12 p.m., visit TownshipNJ.com to register.
Oct. 13-18
Whether you're an alumnus or not, you can enjoy your pick of Rowan University Homecoming celebrations. Events range from field hockey, volleyball and soccer games to take in, a lip syncing contest, a campus-wide beautifying project, a Homecoming reception, as well as the classic Homecoming events – a parade, tailgates and of course, the football game – Rowan takes on SUNY Morrisville at 2 p.m. Visit Rowan.edu for more information and for a complete list of events.
Oct. 18
Swedesboro Olde Kings Jazz Festival, 4 p.m. to midnight, visit HistoricSwedesboro.com/events for tickets and information.
Oct. 19
Washington Township Mothers Matter 5K Run and Walk, 9 a.m., Washington Lake Park, Sewell, register at Runsignup.com. All proceeds benefit Lauren Rose Albert Foundation Mothers Matter Programs.
Oct. 19-24
SJ Hot Chefs Fall Restaurant Week, various locations. Visit SJHotChefs.com for more information.
Oct. 24
Woodbury Ghost Tours, 5 p.m., Main Street, downtown Woodbury.
Oct. 25
Harrison Township Halloween Parade and 5k Trick/Trot Fun Run, 8:30 a.m., registration 7:45-8:30 a.m., Ella Harris Park, 155 Commissioners Rd., Mullica Hill, $15 per participant, $20 the day of the race.
Oct. 30
West Deptford Spooky-Palooza, 5:30-8 p.m. Riverwinds, 1000 Riverwinds Dr., West Deptford,
Oct. 31
Pitman Halloween Parade in Ballard Park, 4-5 p.m., Ballard Park, Pitman.
Oct. 31-Nov. 23
Take a trip with the Pirates of Penzance at The Broadway Theatre of Pitman and enjoy this long-running Broadway classic, complete with seven pirates, seven maidens, even a pair of star-crossed lovers. Visit TheBroadwayTheatre.org for tickets and more information.
Nov. 1
Woolwich Township 12th Annual Kingsway Education Foundation Holiday Craft Show, 9 a.m. – 3 p.m., Kingsway High School, 203 Kings Hwy, Woolwich Township.
Nov. 2
Harrison Township Run the Hill 5 Miler Run, 7:30 a.m., Heritage Winery, 480 Mullica Hill Rd., Harrison Township.
Nov. 8
Woolwich Township Clean Communities Day, 8 a.m., visit WoolwichTwp.org for more information.
Nov. 24
Pitman Santa Parade and Ballard Park Holiday Lighting, 6 p.m., Broadway, Pitman. Santa officially makes his debut in Pitman at this holiday extravaganza. Ballard Park's holiday decorations are also lighted up at the close of the parade.
Nov. 27
Williamstown will face off against Washington Township on Turkey Day this year at 10 a.m. at Washington Township High School.
Nov. 27
The oldest Thanksgiving rivalry in Gloucester County, Pitman will once again take on Clayton for the big game. This year, the game will be played on Thanksgiving morning, time TBA, at Pitman High School.
Nov. 28
Another major local rivalry, Paulsboro will play West Deptford at 7 p.m. the day after Thanksgiving at West Deptford High School. The two teams are among the best in the South Jersey area and are long-time rivals from the Colonial Conference, so this is one game you don't want to miss.
Nov. 29
Mullica Hill Lights on Main, 7 p.m., Old Town Hall, 62 South Main Street, Mullica Hill. Christmas in this town officially begins when Mayor Manzo lights the 60-foot tree. Get into the spirit with Christmas carols, refreshments, even a visit from Santa.
Nov. 29-Dec. 22
Christmas in Uptown Pitman, every Thursday, Friday and Saturday. Uptown shops in Pitman will offer extended store hours and specials, free trolley rides, and photos with Santa. Santa will be available from Nov. 29 through Dec. 22, every Thursday and Friday, 5:30-8 p.m., every Saturday, 12-3 p.m. and 6-8 p.m. and a special event Dec. 1 from 5:30-8 p.m. You can even bring your pet for a photo with Santa.
Nov. 30
Kick off your holiday season in style at the Annual Swedesboro Christmas Parade and Tree Lighting. The parade begins at 1 p.m. and runs down Kings Highway, from the Walter Hill School, ending at Church Street, with special guests Elmo and the Grinch. Santa and Mrs. Claus will also make a special stop after the parade, at the Woolwich Fire House until 4 p.m. Cap off the festive day with the Swedesboro Christmas Tree Lighting, 6:30 p.m. at Borough Hall.
Dec. 3
West Deptford Samaritan Tree Lighting, 7 p.m., the Municipal Building, 400 Crown Point Rd., West Deptford.
Dec. 4
Mantua Christmas Tree Lighting, 6 p.m., Chestnut Branch Park, Sewell.
Dec. 5
Deptford Township Annual Tree Lighting, 6 p.m., visit Deptford-NJ.org for more information
Dec. 6
Wenonah Annual Holiday Tree lighting, 6:30 p.m., Wenonah Park, free. Kick off the holiday season right in Wenonah with a visit from Santa, holiday songs from the Wenonah Elementary School, coffee, hot chocolate and cookies.
Dec. 6
Candlelight Shopping, Mullica Hill Historic District, 12-8 p.m., along North and South Main streets, Mullica Hill Historic District; free with free parking.
Dec. 13
Mullica Hill Christmas House Tours, 11 a.m. – 8 p.m., homes open for viewing 2-7 p.m., call (856) 223-5440 for tickets, $8 in advance, $10 day of, free parking.
Published (and copyrighted) in South Jersey Magazine, Volume 11, Issue 7 (October, 2014).
For more info on South Jersey Magazine, click here.
To subscribe to South Jersey Magazine, click here.
To advertise in South Jersey Magazine, click here.