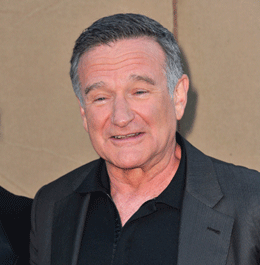 Big Words: All Jokes Aside
Big Daddy Graham is a renowned stand-up comedian and overnight personality on SportsRadio 94WIP. Check out his new podcast, Big Daddy's Classic Rock Throwdown, at BigDaddyGraham.com.
As a standup comic of 30 years, I actually have something positive to say about the passing of Robin Williams and Joan Rivers. Just allow me to set it up.
I have been saying on my 94WIP talk show for years that Joan Rivers is "the funniest woman who ever lived." While Catherine O'Hara, Tina Fey, Carol Burnett, Gilda Radner, Phyllis Diller, Nora Ephron, Kristen Wiig and Amy Schumer (among many others) are extremely talented and hilarious, no one broke me up as long or as consistently.
I've been seeing her perform for decades. This past March, my wife and I took my daughter Ava and her friend Nikki to see her at the Borgata because I figured that she was 80 and that, well, you know.
And she was amazing. As a standup who has performed on that very stage many times myself, I was now in the audience marveling at her energy level and alarming quick wit. She worked it—at 80.
I also consider Rivers, and I'm dead serious when I say this, to be one of the most inspirational women this country has ever produced. She not only was a major female pioneer breaking into an almost completely male field, she didn't do it the safe way, either.
Now look, I know everyone thought she looked like a mannequin on steroids at the end of her life, but I thought she was inspiring to women on that level also. Here was an 81-year-old woman who refused to walk out the door without the boas, the jewelry, her hair looking perfect, the leopard jackets and God knows what else. She was shouting out to the world, "Yeah, I'm 81, but I'm going out fighting." Is there a husband reading this who wouldn't want his wife to have that attitude?
Not to mention that when her husband committed suicide, I read that he left her almost $30 million in debt. That's right, $30 million. So she reinvented herself through QVC and not only ended up paying off that debt but when she died her estate was worth $150 million. Now that's inspiration.
As for Robin Williams, he was a brilliant actor, and believe it or not I leaned more to his dramatic work than I did his comedic. The first film performance of his that blew me away was Moscow on the Hudson. The loneliness he captured of a Russian defector trying to make it in America was startling to me. I remember saying to myself, "Geez, I knew he was hilarious, but I didn't know he had this range."
Awakenings, Good Will Hunting, World's Greatest Dad, and One Hour Photo were just a few of his other flicks that moved me.
However, the title that Robin arguably owns is "The Greatest Talk Show Guest of All Time." That's where he truly excelled. I have been recording the late night shows on my VCR (remember those?) and later TIVO and DVR for decades and I never fast-forwarded through a Williams appearance. You absolutely never knew what he was going to spring on the host and audience or, for that matter, who he was even going to be.
I met him once. It's 1988 and I'm sitting in a restaurant called The Greenery in Wilmington, Del. It's about 11:15 on a Saturday night. There's a comedy club above the restaurant called the Comedy Cabaret. The Saturday night dinner crowd has emptied and I'm hanging with the bartender when in walks Robin. He's in town filming Dead Poets Society.
He's with the woman who was a nanny to his son at the time that he ended up marrying later. Since I'm practically the only soul on the first floor he walks up to me and in a very calm and low voice asks me if I know where the comedy club is. I jokingly reply, "I hope so. I'm closing the show." He smiles and I take them through the kitchen and up these rickety stairs into the service bar.
Now the middle act has just gone on and anyone who has been in a service bar knows how insane they are. It's just servers screaming out orders and barkeeps filling them as quickly, so no one even notices him. I ask him if he wants anything to drink and I get him two Cokes myself from the soda gun. He's peeking though the service bar doorway watching the very funny Chris Coccia. The whole time I'm thinking if he goes on before me and I have to go on after him, I'm gonna die a thousand deaths.
But after 10 minutes, he turns and says to me that something has come up and he has to go. I take him back down the same kitchen steps, and out into the Wilmington night he goes. The audience never even knew he was there. On one hand I'm relieved, on the other it would have been tremendously exciting to see him work on a show I was on, regardless of how small potatoes I would have come off as going on stage after Robin Stinkin' Willliams.
Why did he leave? I believe he did not know what time the show was starting and on a whim just decided to find the club. After he arrived I suspect his internal comedy club body clock went into effect and he realized that he was going to have to wait about an hour until Chris and I wrapped up. He had a generous reputation of never going on until the show was over because he didn't want to show anyone up. He was very aware of the uproar his appearance would cause and was actually kind to his fellow comics. How cool is that?
Both Joan and Robin's deaths affected me tremendously. So let's revisit the first sentence of this column and how am I getting something positive out of their passing? The incredible attention that their deaths garnered moved me. Robin made the cover of Time and Joan dominated the TV airwaves for days. But beyond that, folks like you and I could not stop talking about it. My wife actually cried over Joan's death as did many over Robin's. The public was genuinely moved. Why?
Because the nuttier this world gets, the more we rely on people to make us laugh. Humor still comes in at No. 1 on every Cosmopolitan poll when women are asked what trait do they look for in a man the most. We crave laughter like our bodies crave oxygen. We just might die without it. It was righteous and just that their deaths were discussed as much as any politician or world leader. They were properly and deservingly honored the way they should have been.
So here's to Joan and Robin and your Uncle Irving and your best friend Tiny and that funny teacher you had in school or the hilarious nurse that cracked you up when you were at your worst. Thank you for giving us the greatest gift of all. Laughter. By the way, did you hear the one about this guy who walks into a bar with a parrot on his shoulder?
TWO FUNNY PHILLY GUYS starring Big Daddy Graham and Joe Conklin returns to the Broadway Theatre in Pitman for its sixth-straight Valentine's Day weekend on Saturday, Feb. 15. Visit BigDaddyGraham.com for tickets. And check out Big Daddy's Classic Rock Throwdown podcast at WildfireRadio.com every Thursday at 8 p.m.
Published (and copyrighted) in South Jersey Magazine, Volume 11, Issue 7 (October, 2014).
For more info on South Jersey Magazine, click here.
To subscribe to South Jersey Magazine, click here.
To advertise in South Jersey Magazine, click here.