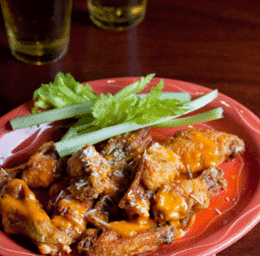 Side Dish
Quick Bite: Garlic Parmesan Wings
Rode's Fireside Restaurant
Woolwich Township
Rode's stellar wing reputation has our attention, especially with football season in full force. Our favorite variety? The garlic Parmesan, which takes juicy wings and drumsticks and coats them in a rich sauce that delivers on the promise of both flavors.
Key Ingredient: Pumpkin
Pumpkin flavors have reached obsessive status this fall. But what do you do when you're tired of the standard pumpkin spice latte or pumpkin pie? We suggest trying these pumpkin-packed dishes from local restaurants.
Sauteed pumpkin topped with yogurt and Afghan sauce
Ariana, Voorhees
Pumpkin Ravioli
Matteo's Italian Food, Sewell
OMG French Toast with pumpkin cinnamon mascarpone
The Turning Point, Marlton
Extra Plate: El Azteca
When it comes to truly authentic Mexican fare, it doesn't get much better than this Mount Laurel standby. Everything—from the tight-knit family running the front and back of the house to the artwork on the walls and the music quietly coming through the speakers—screams autentica in its purest sense.
And then there's the food. Entrees have a familiar ring to them, with lots of burritos, enchiladas, quesadillas, and more topping several pages of options. But it's the preparation that makes these plates truly special.
For proof look no further than the carnitas tacos: seasoned and slow-cooked pork shoulder gets flash fried before being served alongside tortillas and housemade refried beans, rice, pico de gallo and guacamole. The kitchen skips more familiar toppings—like cheese and sour cream—instead choosing to highlight super fresh ingredients that make the juicy, tender pork really sing.
If you're looking to skip the tortilla, go for the pollo con mole. The restaurant's specialty mole sauce—made on the premises daily using whole nuts, raisins and dried pepper—rivals any in the area, especially when it drowns a simple-but-succulent chicken breast and creates the perfect earthy and savory bite. Mole is one of the most complex sauces in the culinary world and El Azteca doesn't cut any corners in their preparation or execution.
While this spot may not exactly be a hidden gem, one could argue it's a bit underrated. Quality fast casual dishes in a pleasant atmosphere keep those in the know loyal, and newcomers itching to come back.
Fast Food
Collingswood's Stella Pizza has moved into the former Little Louie's BBQ, just across the street from their current location.
Haddonfield's Jersey Java and Tea has become the first eatery in the borough to sell wine as part of the state's new partnership with the Garden State Wine Growers Association.
Camden County has been named to the newly formed Vintage Atlantic Wine Region, which has become the first multi-state wine region on the East Coast.
Tiffin has opened their first South Jersey location in Voorhees. The 70-seat Indian restaurant is one of two local locations, with a Cherry Hill spot set to open its doors in October.
Botto's will mark the end of 2014 by celebrating 50 years in business. The family-owned company owns Swedesboro eatery Botto's Italian Line and a sausage and meat distribution company.
Collingswood is preparing for its own Restaurant Week, set for Oct. 19-24. The week will be based around the theme "The Root of it All," celebrating root vegetables and seasonal ingredients.
Da Soli Trattoria Rustica owner and head chef Mark Berenato has announced plans to open a second location at the former La Posata in Marlton. In addition to an expanded menu, expect a focus on the lunch crowd and meals to go.
International chef and television personality Gordon Ramsay has announced plans to open a British-style eatery at Caesars in Atlantic City.
Forgotten Boardwalk Brewing Company, which has taken over the former Flying Fish location in Cherry Hill, has announced they will officially open to the public on Oct. 11.
Wellness: Healthy Choice
Now more than ever, healthy eating has been placed at a premium in the lives of Americans and particularly South Jerseyans. But what do you do when you want to make a fresh start? With that question in mind we talked with Hope Cohen, chef and author of the Fast, Fresh + Simple, to get her expert outlook on healthy eating. Cohen has teamed up with the Cooper Heart Institute for the month-long fall nutrition series called "Cooking Up Good Health," which will take place at noon every Tuesday in October at Cooper's Ripa Center for Women's Health & Wellness. Check out Events.CooperHealth.org for more information.
How can someone tackle a healthy diet in a realistic way?
In my recipes, I like to make food that is flavor forward and focus on healthy cooking, not diets. People try to exclude things from their food and meals for a diet and the food becomes tasteless. There are ways you can flavor food so that it becomes vibrant and healthy to eat.
Is there a way to get healthy foods into a child's diet that doesn't end in a nightly battle over dinner?
Sometimes parents are their child's worst enemies because they have their own issues with certain foods and won't let their child eat them. It's important to allow your kids to have their own palettes. I gave my kids everything that I ate, and nine times out of 10, they liked it. Their taste buds are constantly changing, so reintroduce foods at a later time that they may not have liked before. Offer them everything.
What do you hope to bring to the table during the "Cooking Up Good Health" Cooper Heart Institute series?
I hope to open people's eyes to new concepts to flavor foods in a way that's not unhealthy. I want to introduce people to really great ingredients that are really fresh so that we don't have to manipulate our food just for the sake of a diet.
Published (and copyrighted) in South Jersey Magazine, Volume 11, Issue 7 (October, 2014).
For more info on South Jersey Magazine, click here.
To subscribe to South Jersey Magazine, click here.
To advertise in South Jersey Magazine, click here.