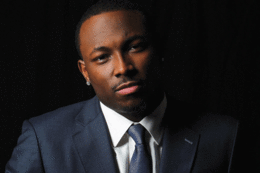 The Real McCoy
Eagles running back and Marlton resident LeSean McCoy is a star in the NFL, but he does some of his best work off the field.
Another grueling practice has just ended and most of the Philadelphia Eagles are running off the field, eager to hit the showers, get some food and relax. Training camp isn't much fun for the players, especially established veterans with little to prove.
LeSean McCoy isn't your typical football player, though. The reigning NFL rushing champion is in no hurry to go anywhere on this beautiful Sunday afternoon. He spots a group of youth football players from Clearview Regional lined up along the side of the field where players pass by on their way into the practice facility.
The self-proclaimed best running back in the National Football League—and McCoy has the stats to support this claim—walks over to the kids and spends several minutes signing autographs, posing for selfies and chatting, giving them memories they'll never forget.
A week later, he's at it again. McCoy sees a group of youth football players waiting outside the fan tent after practice. He goes over to them, signs, chats and takes more pictures.
One of the boys doesn't want to be part of a group shot because he wants his own picture alone with McCoy. No problem. McCoy politely accommodates the request and smiles for the camera.
"When you ask my teammates who is the most all-around people person, they'd say me," McCoy says. "I love doing this for kids. I love seeing smiles on their faces. I enjoy being involved in charities, raising money, helping people, just giving back, man."
Many athletes have charity foundations for various reasons. McCoy started his "Shades of Greatness" foundation to honor his late grandmother, Mary Branch. The charity helps to raise money for amyotrophic lateral sclerosis (ALS), a muscular disease that is usually fatal within two to five years of diagnosis. McCoy's grandmother died due to ALS in September 2010.
"It's crazy, man," McCoy says. "To take a woman like that who was so special, who did all the right things, who was very spiritual, intelligent, loving, a family woman who took care of her husband, never heard her cuss even once and she gets diagnosed with ALS. It's just crazy.
"I wanted to do something to honor her, to have something in her name, knowing the kind of person she was. This cause is for her. She was a great woman. Everybody is doing the ice bucket challenge now and that's great, but I've been involved with ALS for a long time because of my grandma," he says of the mega-viral sensation that's taken over various social media platforms, raising millions for the ALS Association.
McCoy grew up in Harrisburg, Pa., starred at Bishop McDevitt High School and attended the University of Pittsburgh before the Eagles selected him in the second round of the 2009 NFL draft. The affable, 26-year-old running back set a franchise record with 1,607 yards rushing in 2013 and is closing in on breaking Wilbert Montgomery's career rushing mark. McCoy needs just 1,066 yards to pass Montgomery. McCoy is a two-time All-Pro, two-time Pro Bowl pick and he's widely considered one of the NFL's best players.
Off the field, McCoy is as much of a game-changer. He credits his parents, Ron and Daphne McCoy, for "raising me the right way." But it was his grandmother who motivated him to do more.
"Sometimes when I'm facing adversity, I look back at how she fought and struggled," he says. "There are times that I'll be complaining about different things that aren't close to as serious as the things she fought, the disease she fought and that helps me get over my adversity at times. Nana, she was just a special woman."
Ironically, sports didn't matter much to McCoy's grandmother. She cared more about him being a good person, doing the right things, and going to church on Sundays, he remembers.
"As a kid, I'd go out and run for all these touchdowns and then I'd go home and brag to my grandma," McCoy says. "'Nana, I had five touchdowns. You should've seen me.' She'd say: 'Great job, great job.' And the next day, she would see me all dressed up for church and she'd be so proud and happy, much happier than hearing about me scoring all those touchdowns."
McCoy recalls having conversations as a youngster with his grandmother that left him wondering if something was wrong with her. He didn't know about ALS or the serious nature of the illness.
"The weird thing is I remember I would say, 'Nana is slurring her words.' And people would say, 'Are you sure?' If we talked for 30 minutes, maybe she slurred for five minutes, but kids pick up on small stuff and I did," McCoy says. "She was already diagnosed and I didn't know it. They didn't want me to know. When I was at Pitt, she was sick, in a wheelchair and she couldn't get to the games and that started a snowball effect."
McCoy was only in his second season with the Eagles when his grandmother passed away. He ran for three touchdowns in the next game, a 35-32 win at Detroit. No doubt he did it for her. He knows she would be proud of his many accomplishments. She would also be thrilled to know he goes to Bible study with several of his teammates.
McCoy holds an annual charity event to raise money for his foundation and to benefit ALS. He hosted a celebrity softball game in Lancaster, Pa., in 2012 and 2013. This summer, he held a celebrity basketball game at Neumann University.
Perhaps all that time he spends on his charity work, along with all those offseason practices, might explain why McCoy, who lives in Marlton, has never been to the Jersey Shore.
"I've been meaning to go," McCoy says. "I spend a lot of time with my family in the summer."
Though he hasn't been to Avalon or Margate or Cape May, McCoy is glad he moved to South Jersey from Media, Pa. "I wanted more space, more privacy," he says. "But Media is way closer to Philly than Marlton."
Still, living in Marlton is worth the extra few minutes on the road it takes McCoy to get to work.
"A Beautiful Mind"
LeSean McCoy was just a kid when his mother nicknamed him Shady. "She said I was a shady baby. One minute I'd be smiling, the next I'd be shy," he says. Eagles coach Chip Kelly probably wishes McCoy was still shy now.
McCoy often says whatever is on his mind, a quality endearing to reporters, but not so much to coaches, who prefer players keep quiet, avoiding controversy. But McCoy still speaks his mind. He has fun on Twitter, offering up opinions on a variety of subjects. But, as McCoy has certainly learned, there's no privacy on social media, and comments easily get blown out of proportion.
McCoy once called former New York Giants defensive end Osi Umenyiora "soft" and "overrated," comparing him to a ballerina. He tweeted "Knowshon sucks" last October after running back Knowshon Moreno—drafted before McCoy in the 2009 NFL draft—helped Denver beat Dallas 51-48.
McCoy was also busy expressing his views during the past offseason. In April, he said his 2-year-old son, LeSean Jr., is a better quarterback than Tim Tebow. In May, he declared that he is the best running back in the league, not Minnesota Vikings star Adrian Peterson.
In June, McCoy said the abrupt release of three-time Pro Bowl wide receiver DeSean Jackson seemed like a message from Kelly that any player could be cut if they don't "buy in" to the coach's philosophy. That prompted a comical response from Kelly.
"LeSean has a beautiful mind, so sometimes trying to analyze that mind, I don't wrap myself around that too much or bother myself too much with that," Kelly says. "However LeSean interprets things is how LeSean interprets things. He'll give you a lot about every subject. He can tell you who's going to start on other teams in the league and he can tell you a lot of things."
But Kelly still touts McCoy's likeability. "I enjoy talking to LeSean. He's the best," he says.
And he's right. McCoy is a popular guy in the locker room. Coaches and teammates gravitate toward him. He's usually smiling, joking around and enjoying the moment. McCoy keeps the mood light—and his coach appreciates that.
"LeSean is a guy that has great energy, and I think people feed off of that energy in terms of what he brings here every day to the building," Kelly says. "He doesn't really ever seem like he has a bad day. He's always up; he's always positive. One thing I love about him is he takes responsibility for everything he does, so if he doesn't have a good day, he doesn't make excuses about it, he learns from it and moves forward."
When Kelly arrived from Oregon with an impressive résumé and a reputation as an offensive wizard, McCoy needed time to buy into his new coach's new system. Sure, the up-tempo offense is dynamic, but Kelly changed the way the Eagles do everything off the field, too. They have a new, healthy-eating diet program; they wear special bracelets to monitor their sleep; they practice fast and on Tuesdays, the day most teams around the league are off.
McCoy wasn't sure Kelly's college approach would work in the NFL, but the Eagles started winning and he started piling up rushing yards at a record-setting pace.
Now, he seems on board with what Kelly is doing.
"Coach Kelly, man, he's a genius," McCoy says.
No More Doritos
There was a noticeable difference in McCoy's appearance when he arrived for training camp in July. He was leaner, more muscular. It's not that McCoy was flabby before, but he had wanted to lose a few pounds.
"The two guys that looked the most different when they got here were LeSean and then Matt (Barkley)," offensive coordinator Pat Shurmur said. "They got themselves ready to go."
McCoy had a simple way to shed five pounds. "Everything is about portions," he says. "I'm not eating Doritos with the sauce at midnight. [I'm eating] small portions, a lot more meals."
The team's fitness staff didn't tell McCoy he needed to lose any weight, especially not after his record-shattering season. But he felt dropping from 215 pounds to 210 would make him quicker and help him have an even better season this year. His goal is 2,000 yards.
"I felt like last year, even with the year I did have, it was based on guys up front really blocking well and me just going off God-given talent," McCoy says. "At a lighter weight, I feel like I'm so much more effective. I looked at all my old film and saw how much quicker I was when I was 210 [or] 209. It's a big difference. And I'm feeling like that again. Nowadays, obviously you've got to be strong, but the quicker you are, the faster you are, the better you are. Big guys can't get on you."
McCoy remembers that the last time he had an All-Pro season in 2011—1,309 yards rushing and team-record 17 rushing touchdowns—he followed it up with a down year. McCoy ran for just 840 yards and two TDs in 2012, and missed four games because of a concussion. He's determined to improve after his latest big year; not regress.
"I'm trying to capitalize off that, have a real dominant year, come back with another one," McCoy says. "I have the teammates and most importantly, I have the linemen to do it. So just trying to stay in shape, stay lean, and stay aggressive. I feel like I'm 23 years old again."
Fantasy King
Ask LeSean McCoy who the No. 1 pick in your fantasy football draft should be and he'll tell you to take him. After all, plenty of old ladies draft him.
"Anytime you see an older lady in the store and she looks like she's never heard of football and she says, 'Hey, McCoy, I have you on my fantasy team,' it's something funny. It's something pretty cool," McCoy says. "I never want to disappoint anybody, so I pay a little bit of attention to it. It's fun.
"It's a different way of getting the fans more involved in the game," he says. "I think fantasy is actually the closest thing to actually being part of the NFL. They have their own team. They sit players. They bench players. They start them. They trade players. I think it's something to actually get the fans more involved with the NFL, and they're actually doing a good job."
If any fans out there win championships because McCoy is on their teams, he'd gladly accept some of their prize money.
"They haven't (sent anything). They should have. There's some big bucks," he quips.
Bound For Canton
He has a long way to go, but opponents already say McCoy will end up in the Pro Football Hall of Fame. That's high praise.
"He's a modern-day Barry Sanders," says Tampa Bay Buccaneers All-Pro defensive tackle Gerald McCoy, no relation to LeSean. "I haven't seen a guy like that probably since him. He just stands in one spot and moves his feet to slide and everybody's just falling off him, and he'll go. You've seen your Marshall Faulks, and those guys, these Hall of Famers. That's who he is on his way to be."
And McCoy has done things no other back ever has—he has seven career rushing touchdowns of 40 yards or more in the fourth quarter. No one else has more than four.
"He's tremendous player and a tremendous teammate," quarterback Nick Foles says. "He's hungry for more and I know he is going to continue to work to get better."
McCoy certainly benefits from Kelly's run-oriented offense, but he was also excellent when Andy Reid was the coach—and everyone in Philadelphia knows how much Big Red loved the pass.
"I don't think it would matter what offensive system he plays in because he is just a great back," Chicago Bears coach Marc Trestman says of McCoy. "He is a back who can play in anybody's offense and be great. He is great in space. He has great hands. He makes people miss. He is a very dynamic, elite player in our league, no doubt about it."
There's also no doubt that Eagles fans in both South Jersey and the surrounding areas will be on the edge of their seats this season waiting to see what McCoy will do next—both on and off the field.
Published (and copyrighted) in South Jersey Magazine, Volume 11, Issue 6 September, 2014).
For more info on South Jersey Magazine, click here.
To subscribe to South Jersey Magazine, click here.
To advertise in South Jersey Magazine, click here.