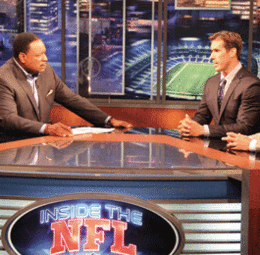 A New Field
Mount Laurel's NFL Films is helping former players kick off broadcasting careers.
Ross Tucker lasted for seven years in the NFL with five different teams, a long time for anyone in such a brutal sport, but especially for an undrafted free agent from the Ivy League. Since Tucker never knew when the end would come, he thought often about life after football, a topic that came up with dozens of teammates in locker rooms from Dallas to New England.
While some guys talked about going into coaching and others just wanted to hit the golf course, Tucker found that many of his teammates had the exact same post-career plans as he did: to become broadcasters. As a journeyman offensive lineman with no name recognition beyond the diehard sports fan, Tucker realized that the road to his second dream job might be even harder than making it to the NFL. So he thought about giving up football and falling back on his degree from Princeton to pursue a career in finance.
"I actually grew up always wanting to be a writer and a broadcaster," says Tucker, a native of Wyomissing, Pa., who still lives in the Philadelphia area. "My father is 5-9, 170 pounds, so I never thought I'd be 6-5, 320 and be an NFL player. So that was always a dream of mine, and I became a much better player than I ever thought I'd be.
"But I kind of got turned off to broadcasting when I was a player. No. 1, it just seemed like the best jobs always went to the perennial Pro Bowler and Hall of Fame players, which is still true to some extent. And No. 2, it seemed like that's what every guy wanted to do and was going to do. So I thought I had some other interests and there were other things that I could do."
It turns out Tucker never did enter the world of finance, because six years after his NFL career ended, he's still in football—just not on the field. Today he is perhaps the hardest-working man in sports broadcasting, and he got his start right here in South Jersey.
Tucker was part of the inaugural class in 2007 at "Broadcast Boot Camp," a program sponsored by the NFL for current and former players and held at NFL Films in Mount Laurel each summer. The program, which completed its eighth season in June, is designed to spark players' interest in broadcasting, and Tucker is one of the many graduates who have gone on to a career in the field. He works year-round as a host on SiriusXM NFL Radio and conducts and offers three football podcasts from his website, RossTucker.com. He also is a studio analyst on the NBC Sports Network and the YES Network, calls college and pro games on radio and TV, and is the lead NFL columnist for The Sporting News.
"When the Broadcast Boot Camp first came up, I thought, 'I love football so much, and even if I'm just doing the Princeton games on radio on Saturdays, I have to do something to fill that void,'" says Tucker, who is now an instructor at the camp. "So that's why I went. I showed up with very low expectations, but I was able to get a couple of things out of it. It was kind of like a part-time gig that became a full-time one.
"It was eye-opening on several different levels. The best part about it is: A, the experience of learning all that stuff and seeing how it works behind the scenes; and B, the main executives and some of the real decision-makers at all of the different networks are there, and they really give you outstanding feedback and you're able to get in front of them. I still have relationships with people that I met at that very first Broadcast Boot Camp, and I still talk to them to this day."
Broadcast Boot Camp was created to help its participants make plans for the end of their playing days, and falls under the auspices of the NFL's Player Engagement department. Dick Maxwell, the former Senior Director of Broadcasting for the league, was nearing the end of a 36-year career in the NFL when he helped bring the program to life with a team that also included Howard Katz and Glenn Adamo. "The whole idea, and the league has put emphasis on this for many, many years, was to help players transition [into life after football]," says Maxwell, who still participates in Broadcast Boot Camp every year as a consultant. "Life in the NFL is not long from a comparative standpoint, so they have different programs to help players transition. The broadcasting end of it just seemed like an attractive avenue for a lot of players to stay involved in the game and use their knowledge and experience to transition into a second career."
The program was a hit with players from the start, with close to 50 applying for 24 spots in the first year. For the last few years, that number has grown to over 100 applicants.
"It's one of our most popular programs," says Samantha Kleinman, manager of player engagement at the NFL. "The broadcasting program and the coaching program I would say are the two most popular—they're two careers that seem like a natural fit for a lot of players. It's a way for them to stay closely involved with the game, and they are careers that they have come into contact with a lot while they were playing."
Kleinman says that applicants must submit a résumé, a personal statement explaining their expectations for the program, a critical statement giving their thoughts on the industry, and an audio or visual clip of a past interview they were involved in. Since so many players have expressed interest—and there are only so many spots available each year—the league has added a Sports Journalism Boot Camp held at Bowling Green State University that focuses more on writing, and encourages players to seek broadcasting opportunities on their own.
"It is tough to have to turn some people down, but we always try to provide them some feedback on what they can work on independently to boost up their résumé and better prepare themselves to reapply the next year," Kleinman says. "With technology now, it's so easy for people to just create their own YouTube channel and gain some experience there."
Those who do get selected are in for three full days of training under the guidance of Maxwell, Adamo and representatives from the NFL's broadcast partners, including CBS, Fox and ESPN. James Brown, the studio host for the NFL coverage on CBS, is also the host for the week at Broadcast Boot Camp.
According to Maxwell, who helps develop the content for the camp each year, the first day is divided between radio exercises and training in a television studio setting, with Brown and Curt Menefee of Fox leading the drills. "That night, we have our rendition of American Idol, where the players go up one by one in front of the group and are critiqued by network executives who have been there all day, on the good and bad," Maxwell says. "These are players and they've been coached all of their lives, and they want to hear the bad almost more than the good, because they can't improve unless they hear what they need to improve on."
On the second day, the focus is on local television opportunities, and the players must write their own commentary and read it off a teleprompter. They also go out to a local sporting goods store and conduct on-camera interviews with each other.
On the third day, camp concludes with an emphasis on game analysis, as players call about 10 minutes of action from an NFL game from the previous season.
"It's a great program. It's just rigorous," says ESPN Senior Coordinating Producer Gerry Matalon, an instructor at the boot camp the last six years. "I look forward to it every year. It's like an intense three-day college course."
Matalon has been at ESPN for 26 years, during which time the network has grown from a small cable company into a sports broadcasting behemoth. He has worked with some of the biggest names in on-air talent, many of them former players or coaches, and hopes to convey the same message at boot camp that he regularly tells his analysts: You have to put in the work.
"I was sitting with a pretty notable college football analyst many years ago during bowl season," Matalon says. "During the conversation, and this was his first year in the media, he said, 'If I would've known how much work it took to be good at this, I would've gone back to the NFL and been a backup for another year.' And I told that guy, 'Well, I'm sorry that nobody told you that. But I promise you that from this moment forward, that's the first thing I'm going to do.' So when I do my presentation [at boot camp], that is the very first thing I say, that this is a job.
"The guys learn when they get to the boot camp, and I think all of the guys on the faculty do a good job of expressing this, that it's work. Many guys just think you go on TV and talk. No, that's not what it is. You have to prepare, certainly, you have to have something to say, you have to know how to say it in an effective way, and you've got to be able to have the ability to educate people."
Anthony "Booger" McFarland, a two-time Super Bowl champion during an eight-year career with the Buccaneers and Colts, was known for having the gift of gab as a player. He parlayed that into a career as the drive-time host on a sports radio station in the Tampa area—a job he still holds. But he had some help along the way. McFarland attended Broadcast Boot Camp in 2013 and went on to get hired as a football studio analyst for the recently launched SEC Network.
"It was an absolutely unbelievable experience," he says of boot camp. "I learned so much from James Brown, John Saunders, Gerry Matalon. There were so many people who took the time to invest in me and [explain] different things about broadcasting, different nuances. That kind of gave me the springboard to go on and do the things that I'm doing now. There's nothing like people who have done something for a long time, and they see something in you and have confidence in you. I learned a lot, but more importantly I got the confidence from seasoned professionals that I can do this job."
While Maxwell and Matalon both point out that one of the benefits of boot camp is that some players realize that broadcasting isn't for them, many more are like McFarland and Tucker, who have been able to use the experience to jump start new careers. The network producers and executives who participate as instructors also use the camp to recruit or identify talent for their companies.
The unquestioned star of this year's camp was former Notre Dame quarterback Brady Quinn, who has bounced around several teams in the NFL. He used the experience to land a gig with Fox, although he later put his broadcasting career on hold to sign with the Miami Dolphins.
"One of the key components in making this a successful program are the NFL's broadcast partners," Maxwell says. "Without them, it would not be effective. The network executives not only give their time to help the players, but they also use the time to scout and see what players to keep an eye on. There are probably several examples of players whose first exposure to the networks was through the Broadcast Boot Camp, and they ultimately got a job with them."
Big-name football stars will always be the first choice for networks and will be able to go straight from the field to the broadcast booth. Ray Lewis did so last year, and Peyton Manning will certainly be able to do the same whenever his career is over.
But for those players who aren't as well known, devotion to the craft goes a long way. And Broadcast Boot Camp is a great place to start.
"It's something you really have to work on, because everyone is different," Matalon says. "You really want to make an emotional connection, and that's what the best do. [ESPN's] Herman Edwards does a great job of that with his analysis. He looks to find ways to bring points to life, and I always think that's what differentiates guys, if you can relate personal experiences that the viewer can appreciate.
"Some guys have bigger profiles and that might get them through the door, but if they don't have anything to say or know how to say it, it's not going to keep them in the building. Guys who have lower profiles and have to fight their way through the door, if they have the work ethic and the ability to communicate and educate, they'll find a place in the building. We've had some pretty good success coming out of the boot camp, and I think more and more guys are learning that that kind of education is really valuable."
Notable Broadcast Boot Camp Graduates
Tim Hasselbeck
The one-time Eagles backup quarterback and husband of television personality Elisabeth Hasselbeck has been an NFL analyst at ESPN since 2008.
Shaun O'Hara
A New Jersey native who played college ball at Rutgers, he was a Super Bowl champion with the Giants and now works for NFL Network.
Torry Holt
A star wide receiver who spent most of his career in St. Louis, Holt recently completed his second straight summer in the broadcast booth for the Rams' preseason games.
Jeff Saturday
This six-time Pro Bowler at center spent most of his career snapping the ball to Peyton Manning and joined ESPN in 2013 as an NFL analyst.
Anthony "Booger" McFarland
A defensive lineman who won two Super Bowls, McFarland is a sports radio host in the Tampa area and also works as a studio analyst for the SEC Network.
Damien Woody
This offensive lineman won two Super Bowl rings with the Patriots and can now be found on ESPN. He will also appear on the upcoming 16th season of The Biggest Loser on NBC.
Amani Toomer
A long-time Giants wide receiver who won a Super Bowl in New York, Toomer co-hosts an NFL show on SiriusXM Radio and also does work for NBC Sports.
Ross Tucker
This former Academic All-American at Princeton and seven-year veteran in the NFL covers college and professional football in television, radio and print.
Published (and copyrighted) in South Jersey Magazine, Volume 11, Issue 6 September, 2014).
For more info on South Jersey Magazine, click here.
To subscribe to South Jersey Magazine, click here.
To advertise in South Jersey Magazine, click here.