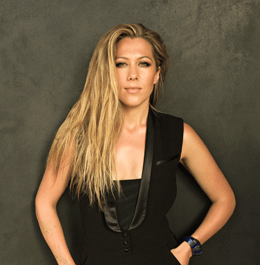 Tried & True
Grammy-winning songwriter and musician Colbie Caillat brings her inspirational message and musical hits to the Atlantic City stage.
Singer and songwriter Colbie Caillat burst onto the music scene in 2007 with her bubbly and energetic album Coco. Since then, she's continued to top the charts with hit after hit, releasing an additional three albums and selling more than 6 million albums internationally.
With two Grammys to her name—one for her duet with Jason Mraz, Lucky, and one for work she did on Taylor Swift's Fearless—the 29-year-old Malibu, Ca., native has spent the summer prepping for a new national tour while promoting her latest album Gypsy Heart. The album is being divided into two EPs, the first of which, called Side A, was released in June. One song off that album, Try, is already making waves internationally, climbing the charts and reaching viral status on the Internet.
The motivational song and accompanying video features a bare-faced Caillat and other young girls and women wiping away their make-up, to coincide with a song that was made to inspire people to strip away their insecurities.
Caillat stopped by Atlantic City's Harrah's Resort this month, in anticipation of her upcoming Sept. 30 release of the Side B release of Gypsy Heart. We caught up with her on her career thus far, her new tour and the song that created a motivational movement.
SOUTH JERSEY MAGAZINE: What did you want to accomplish with Gypsy Heart?
COLBIE CAILLAT: This is my fourth record and it's been a long time coming; it will have been three years. I'm basically a year overdue, but I wrote too many songs, and I wrote different styles and genres of songs. I wrote and recorded two full records and they sounded nothing alike. So I had to decide what to do, and I decided to combine the two. That's why I called it Gypsy Heart, because I combined songs that were more acoustic, summery, fun and classic, with things that were more current, like pop that people could dance to. I didn't want to choose just one so I split it up and played them both.
SJM: And from that album came Try, which has become more like a movement than just a song. Your message was clear, but was it intimidating to be a voice for such a sensitive topic?
CC: The whole process was liberating. Some of it was a little scary [but] writing it was fun. I was going through such a difficult time of knowing who I was; knowing what to say 'yes' to and 'no' to when people asked things of me. So we decided to write about what women say yes to every day in their lives. I got to tell [Gypsy Heart producer] Babyface what I was going through, and he inspired the sentiment of the song.
SJM: The music video has gone viral, with more than 20 million views on YouTube right now. What was the process like?
CC: Immediately I thought that I wanted the video to be the reverse process of how women want to be seen in public. It was my favorite video to make because I didn't do any prep for it: there was no dieting, working out, hair or makeup. I didn't go and get my hair dyed or my nails done, I just got to be me. It was straight up me as I am. It was a little scary, though, because when I was making the video I was under these lights with no makeup on, in front of these people who were used to covering up people's flaws. And I thought, 'Oh God, what are they thinking of me?' I thought, 'My blemishes need to be covered and my eyebrows need to be tinted,' all those dumb things that people think.
SJM: It sounds like your song helped you as much as it's helped other people.
CC: Sending out this message is so important. Fashion and makeup are an industry, and I didn't want people to think I don't support that. I'm not going to say I'm not going to wear makeup or have a stylist help me put together a gorgeous outfit. But this message is about doing things because I want to, not because I have to. It was a small little glimpse into how vain you can become. And now I make my own calls. Like today I feel like having my hair and makeup done, and wearing some gorgeous heels, and maybe the next day I want to show up with jeans and a little moisturizer. It's up to me now.
SJM: It's easy to become jaded by social media, but you used it to help inspire your video. What has the response been like from fans on Instagram and Twitter?
CC: It's been so awesome. Inspiring people to show themselves as they are is so great. It's about being comfortable in your own skin, and feeling OK that people can see you like that. I know plenty of women and men that have been inspired by that. I know guys in my band will wear a hat to cover their bald spot, or cover their pot belly, or worry about their height, but these are little things that people yell at themselves for when it's really not that big of a deal. The fact that people have been telling me that this is making them feel good about themselves and are helping them learn to love themselves, it's so awesome. I wrote Try for myself, but now it's freed men and women and it's been so rewarding.
SJM: How have you seen your voice change since your first album?
CC: It's been different because the first album was written entirely with my friend Jason Reeves, and we wrote those songs as a hobby. Like, we'd ride to the beach and write a song because it's fun, and then go and record it with our friend. And then those fun demos took off. And since that record it's turned to a new process; I get calls to work with other producers and musicians, and now we actually schedule times to go into studios, write songs and create. It's a job, but when I get stressed I like to think, 'This is a rad thing.' I used to work at Home Depot cutting blinds, so it's important for me to take a breath and realize that this is pretty great.
SJM: So what do you want to bring to this new tour?
CC: That's a very exciting question, because I have so much planned for this tour. I'm doing something I've never done before. It's a 90-minute set with a full stage production, playing new songs and songs from my other records. I have shiny things hanging from the stage, and video and lighting and surprise guests. It's an actual show now; it's not just people going to hear me perform live. It's an actual stage performance, and I'm on my own.
SJM: So what else do you have on your plate?
CC: The record is coming out and I've got the tour starting and on top of that I'm moving, so I'm keeping really busy. But besides that, Try is just making it to the radio, so I'm excited for that to get rolling. I can't wait for the moment when I get to sing that song live on tour and hear the audience sing with me.
Published (and copyrighted) in South Jersey Magazine, Volume 11, Issue 6 September, 2014).
For more info on South Jersey Magazine, click here.
To subscribe to South Jersey Magazine, click here.
To advertise in South Jersey Magazine, click here.