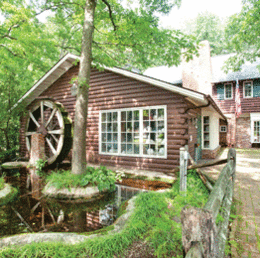 In the Neighborhood: Mount Laurel
A Place to Grow: Mount Laurel has been, and continues to be, a place for people to put down roots.
If Mount Laurel Township had a motto, it would be, "Slow and steady wins the race." The area has enjoyed steady growth over the years, says Mayor David D'Antonio. "It's a vibrant town, and has a lot of [good] things that are happening," he says. "Nothing huge, but it's a constant upgrading that's going on."
The area—which has about 41,000 residents—has also experienced development in recent years, D'Antonio says. "I think in the last five years, we have kind of built out. The township has matured a bit more in terms of the base of people," he says. Within the township, there's a lot of turnover, but in a good way—as in, people upgrading into larger homes, he says.
The community itself is also maturing. "I'd say 10 or 15 years ago, it was really a lot of young couples, a lot of new developments," D'Antonio says. "Now, all these people are sending their kids to high school or college, so I guess there's a bit of graying in the community. We have a lot of over-55 housing, which is good." The township's three retirement communities, one assisted living center and one nursing home certainly speak to that trend.
As far as commercial developments go, while Mount Laurel is 80 percent built out, D'Antonio says, there is one major development on the horizon—a new, 94,000-square foot Walmart at Fellowship Road and Route 73. But this development has been a slow process, he says.
"It's been a long, drawn-out process. It's a very big piece of land that they are trying to develop," he says of the site, which sits between Interstate 295 and the New Jersey Turnpike. "It's been contentious. It's a big development and there are a lot of neighborhoods around there. It's on the drawing board and will be coming soon."
But how soon, he can't say. "Last year, I would have told you within the year, but they haven't broken ground yet," he says of the supercenter, which he notes is expected to create between 150 and 300 jobs. He also says there will be other stores in the development, including a health club.
And what is a main contributor to Mount Laurel's continual growth? Location, location, location.
"We live in a tremendous location," D'Antonio says. "We have I-295, Route 73, the [New Jersey] Turnpike entrance. ... We have all the major roads that flow through this township. … And in terms of getting to Philly, getting to sporting events, getting to the airport and back, you're a half hour from everything right here, and you're 45 minutes from the beach in what I would call an upscale community." Being in the hub of South Jersey has also helped Mount Laurel's tourism industry.
There are 22 hotels in Mount Laurel, and more than 2,600 rooms, according to information provided by the township. These local hotels boast a year-round average of 65 percent occupancy.
"We have a large number of hotels; we're up there in the state," D'Antonio says, "[in part] because of the location of all the roads." Mount Laurel has the third-most hotels in the state, after Atlantic City and Newark.
A WALK IN THE PARK
Another major positive mark for the township is its sheer amount of green space. Within Mount Laurel's 26 parks and recreational areas are 23 tennis courts, 26 baseball fields, 14 tot lots, 17 basketball courts, 21 soccer fields, three volleyball courts, two football fields and four street hockey courts.
"In the last 12 years, the township purchased over 741 acres of land for open space purposes," says Jerry Mascia, Director of Municipal Services for Mount Laurel. Today, the township has an estimated 1,350 acres of parks and open space, all managed by the Mount Laurel Parks and Recreation Division, he says.
The township's largest park, Laurel Acres Park, is about 98 acres, Mascia says, and has six soccer fields, five baseball fields, walking/biking paths, two fenced-in dog runs, a pavilion, barbecue areas, a lake, volleyball courts, and playground equipment.
Laurel Acres Park is also the site of Mount Laurel's treasured flagship event, the Fall Festival. This year, the event is slated for Sept. 20, from 11 a.m. to 4 p.m. "It is a huge event that has been attracting nearly 20,000 people every year," Mascia says. "[There are] 125 vendors present, selling everything from cheesesteaks to ice cream to arts and crafts. Many local businesses that provide a service also are there to get their name out to the local community."
The festival also features various bands, singers, and performers from Mount Laurel for entertainment, as well as a 5K run in the morning. Local police, fire and EMS also attend the event, to meet and talk with community members. Paws Farm even brings out some of their animals for a meet-and-greet. "It is an incredible event that involves Mount Laurel staff, mayor, and council coming together, providing a wonderful experience for the community," Mascia says.
Other large parks in the township are the PAWS Sports Complex, which is 34 acres and boasts two football/soccer fields, two baseball fields, a sand volleyball court and a basketball court; and the Conrow Multi-Sport facility, which has a turf field used by various sports, including football, lacrosse, field hockey and soccer.
A STORIED HISTORY
In addition to historic sites such as Jacob's Chapel and the Alice Paul Institute, Mount Laurel is also the birthplace of the eponymous Mount Laurel Decisions, a series of New Jersey Supreme Court cases that requires municipalities to provide low and moderate income housing.
"We were the original town that established [these regulations,]" D'Antonio says. "We were sued when we were having a lot of development going on. Basically, the state didn't think we were responsive enough in developing housing for people that couldn't afford to live in our community."
Today, things are much different.
"Everyone has to, as they develop their towns, put aside housing for people that can't afford to live in that community, so we have a balanced community," D'Antonio says. "That is kind of our claim to fame. …That is one of the things that is different in our community, and we now set the benchmark for everyone else."
Meet the Mayor
David D'Antonio was appointed mayor of Mount Laurel in January of this year. Prior to his tenure as mayor, D'Antonio served on council for three years, and also served as deputy mayor.
D'Antonio, who has lived in Mount Laurel for 20 years, is also the founder and managing director of Diversity Capital, LLC, in Riverton. He now manages EverBank's Mount Laurel office. He and his wife, Linda, have three sons, ages 18, 15 and 13.
D'Antonio, a Republican, has decided not to seek re-election come November, for both family and professional reasons, he says. But the longtime resident touts everything the township has to offer, from the perks of raising a family there, to local sports programs, to the plethora of options when it comes to dining out. When it comes down to it, D'Antonio isn't just a proud Mount Laurel leader—he's a proud resident, too.
Raising a family in Mt. Laurel
My parents and (my wife's) parents are both in the area, so we wanted to pick somewhere where they could come to our community. And our brothers and sister are here so when we have events, it's easy for our families to get here and we have enough space and facilities to kind of enjoying growing up here. Picking this spot was kind of like throwing a dart at a circle—we have family in Voorhees, Cherry Hill, Wayne—it's just an easy place for everyone to get to. All my kids grew up here. I have three boys, so we enjoy going to baseball. They are all active in the Mount Laurel Baseball Association. At Laurel Acres Park, they have at least eight fields of all different sizes. Your life kind of revolves around these kids and their sports and activities—for us, it's baseball, football and basketball.
A perfect Mount Laurel day
We'd probably go to Laurel Acres Park. There's a series of musical events that are also in the park. You can always go and sit and listen to music on a Friday or Saturday night. There's also [the Fall Festival]. They have crafts, music, performances by the Lenape Band. It's a really nice event. That's a nice day out if your kids are smaller.
Dining out
There are a ton of really, really nice, mostly family-style restaurants in town. The nice thing about Mount Laurel is we have a very diverse community. … There's a lot of demand for ethnic food. You can walk in off the street and find a really nice sushi place, an Indian place, a Chinese place. We (also) have a couple of really nice Mexican restaurants. We have more than 40,000 people in the area, so you do get that mixing of communities. And for me, I grew up overseas; I thoroughly enjoy that not only as a leader in the township, but as a consumer. You just have so much choice.
By the Numbers
6,500 local kids enrolled in sports programs
22 square miles size of the township
141 miles of road
26 parks and other various recreational areas
8 public, K-8 schools
7,000 children bused to township schools and the high school
41,000 residents
Where to go
Founded in 1840, Jacob's Chapel stands today as a truly historical site in Mount Laurel. Jacob's Chapel was one of many stops of the Underground Railroad, where Quakers in the town assisted refugee African-American slaves to freedom. The cemetery includes African-American soldiers who lost their lives in the Civil War.
Built in 1866, the Mount Laurel Farmer's Hall was originally a local meeting place for farmers. Long after turning into the town hall and police station in 1904, the structure underwent a multi-million dollar renovation and is now a historic museum available for tours.
The Alice Paul Institute allows you to step back in time, traveling to the birthplace and family home of women's rights activist Alice Paul. The farmhouse sits on six acres of the original property, and boasts both a library and archives, where curious visitors can read rare volumes on Alice Paul and the American women's suffrage movement, or browse Paul's personal library. Paulsdale, as it's also known, is also available for corporate events, wedding receptions, luncheons, business meetings, and other functions.
Paws Farm Nature Center was established on land owned by William Penn in 1676. In dire need of people residing on his land, he invited the Quakers from England to join him, and they remained for the next 100 years. The facility is located in the heart of Mount Laurel, and offers story hours, classes and animal programs, with more than 53,000 annual visitors.
Published (and copyrighted) in South Jersey Magazine, Volume 11, Issue 6 September, 2014).
For more info on South Jersey Magazine, click here.
To subscribe to South Jersey Magazine, click here.
To advertise in South Jersey Magazine, click here.