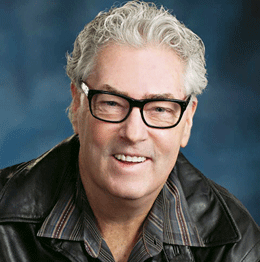 Big Words: From Heels to Helmets
Big Daddy Graham is a renowned stand-up comedian and overnight personality on SportsRadio 94WIP. Check out his new podcast, Big Daddy's Classic Rock Throwdown, at BigDaddyGraham.com.
Although I have worked for Sportsradio 94WIP for 17 years now, I have resisted using this column as a sports forum. In the back of my mind, I always worried I would lose a lot of my female readers who aren't as passionate about sports as men are. But I don't think that's as true as it once was, particularly when you're talking about football. This is the September issue and last year I wrote my "going back to school" article, which makes sense. But, to be honest, when I think of September, it's football that comes to mind first.
In the same way that pitchers and catchers reporting to Clearwater, Fla., means spring is on its way, the start of football signals that fall is here.
On that same note, the notion that baseball is our national pastime is long gone. It's officially football. For decades, nothing could score higher ratings than the final episode of MASH. If you would look at the 10 highest rated shows of all time, it would be MASH followed by nine Super Bowls. Now the last three Super Bowls have beaten it. And a lot of that has to do with the growing amount of women who love the sport.
I don't have to look any further than my own living room for proof. My wife loves her Eagles. Only a pair of front-row Bruce Springsteen tickets would pry her away from her big screen when the Birds are on.
One of my favorite questions when I host trivia nights is, "What once-a-year television event gets the most female viewers?" Most people will yell out the Oscars and some even cling to Miss America, but the correct answer is the Super Bowl.
Now I realize that a lot of that answer has to do with the parties that surround that day. Some men will claim that the women are only interested in the halftime show. But I disagree. When this year's Super Bowl reaches the fourth quarter (if it's a close game), take a look around your living room, or the sports bar you may be at. You'll see a lot of women watching just as intensely as the men.
And it's not like the World Series or the Stanley Cup didn't have their chance. They've actually been around longer than the Super Bowl. So why didn't they turn into "the big event?" I simply believe that women like football more.
I started asking around, and women offered various answers to why they liked football more. More action. Every game means something. It's faster. It's the only sport where a man as fat as my husband can play. These were just a few of the things women told me regarding their growing interest in the sport.
Maybe it's simply that more women have grown up watching great football. South Jersey has had some tremendous high school football programs—like Cherokee, Washington Township, Holy Cross, Timber Creek, Williamstown, Florence, Shawnee and West Deptford, to name just a few. Not to mention Rowan University's football program, which has contended for many a championship. The love between South Jersey women and football begins early. I know a tremendous percentage of Eagles fans come from South Jersey. Just take a look at the Walt Whitman Bridge on game day.
Another interesting fact: Today, 20 percent of fantasy football players are women. And that number grows by leaps and bounds every year. Geez, if you had told me two decades ago that I'd be using the word "fantasy" and "women" in a story about football, you would have won yourself a bottle of MD 20/20 from Roger Wilco.
There was a time, hence the immense popularity of the Dallas Cowboy cheerleaders, when cheerleading was the main connection between football and women, but those days are long over. (Not that I exactly turn the channel when they appear.)
Here's another oddity. There are many baseball songs such as John Fogerty's Centerfield and tunes with baseball references like Meat Loaf's Paradise by the Dashboard Light, but virtually none about football. You have to go way back to 1969 to find a hit record about football.
"Backfield in motion, baby
I'm gonna have to penalize you
Backfield in motion,
You know that's against the rules"
Those lyrics are from an old song recorded by Mel and Tim, Mississippi's answer to Memphis's Sam and Dave. It was titled Backfield In Motion and those lyrics are actually referring to Mel's (or maybe Tim's) girlfriend's derriere, but it's as close to a song about football as I can get. As lame and old school as that gets, the only hit record ever about football connects the sport to women.
What I'm saying is the days of women losing their husbands on Sunday afternoons are pretty much over. They're in front of the big screen TV's right alongside them. I used to judge Eagles tailgate parties for WIP, and you know what? The best parties were the ones with the most women at them.
To find out where Big Daddy Graham is appearing and performing in your area, visit BigDaddyGraham.com, follow him on Twitter @BigDaddyGraham and like him on Facebook at the same address.
Published (and copyrighted) in South Jersey Magazine, Volume 11, Issue 6 September, 2014).
For more info on South Jersey Magazine, click here.
To subscribe to South Jersey Magazine, click here.
To advertise in South Jersey Magazine, click here.