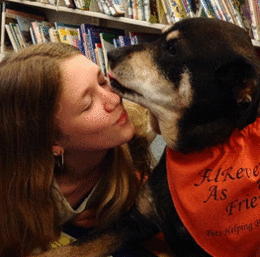 A Different Breed of Therapy
Pets in South Jersey provide a special kind of health care.
We're fortunate to live in a time when medicine and health care are constantly advancing, providing relief for millions of people suffering from various ailments or illnesses. But sometimes people might be suffering from something that can't quite be treated with a medication, such as loneliness or anxiety. A pill might not be the answer, but perhaps something as simple as petting an animal can bring that sense of relief.
That's the goal of FURever As Friends, a Gloucester County-based nonprofit offering pet-assisted therapy in a variety of settings across South Jersey. Founded by Sharon and John Bednar earlier this year, FURever As Friends (FAF) brings their certified pet therapy animals and volunteers to libraries, nursing homes, hospitals, schools and special needs adult centers.
"I've been volunteering in pet therapy for over seven years and I felt that our area could benefit from a local organization like this," says Sharon Bednar. "With my husband's help, we started in January 2014 and we now have over 50 volunteer members."
Bednar has always been an animal lover. She regularly volunteers at the Salem County Humane Society and fosters animals with special needs. For Bednar, a 2012 Gloucester County Citizen of the Year award winner, pet therapy is a way for her to combine her love of animals with her dedication to the community. "When you see a person and pet interacting, there is an immediate sense of delight they get," she says. "It's almost like a high for me when I see how a person's mood can change just from sitting there petting one of my animals."
But it's the person petting the animal who is truly getting a "high" from it. Studies have shown that a few minutes of petting a dog or cat releases feel-good hormones like oxytocin, serotonin and prolactin. And many nursing homes and assisted living facilities took note, welcoming pet therapy programs with open arms.
Bednar says seniors and elderly living in these facilities may not have a lot of family coming in to visit; and if they do, it's not usually on a daily basis. More often than not, she sees those suffering from dementia or Alzheimer's. "I saw one woman with Alzheimer's sit there petting a cat and she started talking about the cats she had in her life," says Bednar. "She started calling the cat by another name, but that's OK because it got her wheels turning and brought back memories. You can really see the pure enjoyment they are getting from the animal."
In recent years, a new population of people—many of whom are not sick—have been benefitting from pet therapy. Across the country, children battling with reading challenges are turning to animals to improve literacy.
Many children struggle with literacy due to a fear of reading aloud and making a mistake. This can lead to low self-esteem and withdrawing from classroom activities. A 2012 study by The University of California, Davis showed that students who read out loud to dogs improved their reading skills by 12 percent over the course of a 10-week program, while children in the same program who didn't read to dogs showed no improvement. One of the biggest factors contributing to this is the lack of judgment on the animal's behalf. If a student messes up while reading, the animal doesn't correct them or laugh.
FURever As Friends has implemented a program called S.M.I.L.E., or Silent Mentors in Literacy Education. Aimed toward children who need to build up their confidence in reading, S.M.I.L.E. allows children to have one-on-one time with a pet (the handler is present as well).
FAF is currently offering this program in six libraries and four schools, including the Kingsway Regional School District. Bednar reached out to bring the program to the district, and according to Dr. Shanna Hoffman, supervisor of child studies for Kingsway, it was an intriguing offer.
"I was only familiar with pet therapy being used in hospital settings, not with students," says Hoffman. The program was introduced approximately six months ago to disabled students as well as those with emotional or behavioral needs. Hoffman says students were immediately receptive.
"The students were put at ease right away, smiling and wanting to pet the animals," she says. "It's incredible to watch the immediate bond they have with each other. It's kind of unique to have an animal in a school setting, but it brings a positive opportunity into the school day for students who are able to practice reading without being judged. Some might not love being in school, but this is something they look forward to."
Bednar says the S.M.I.L.E. program has touched the lives of various children, some who are shy, some suffering from Tourette Syndrome or autism. It's even helped high school age students. "The difference with our program from a typical school reading lesson is that we're not there to teach them to read; we're there for encouragement. If they make a mistake, it's fine, we're not correcting them," says Bednar. "If we want to help build their confidence, we might tell them that the dog needs them to speak louder so she can hear. And if a child can't read yet, we want them to describe the pictures on the pages to the animals."
They have even launched a series of collectible bookmarks showing which animals the children have read to. With each visit, children can collect another bookmark and Bednar says it adds another level of fun for them as they want to collect them all.
Of course, Bednar points out, not all animals are cut out for pet therapy. They need the right temperament and should enjoy being held and petted. Dogs in FAF must pass the AKC's Canine Good Citizen Test, which Bednar says is a well-known and trusted program.
Bednar looks forward to FURever As Friends expanding its services and reaching more people. "There is just something about holding a soft, furry, warm body and hearing the purrs or getting the kisses," she says. "It has such a calming effect on people."
For more information or to volunteer with FURever As Friends, call (856) 975-6710 or visit FureverAsFriends.org.
Published (and copyrighted) in South Jersey Magazine, Volume 11, Issue 6 September, 2014).
For more info on South Jersey Magazine, click here.
To subscribe to South Jersey Magazine, click here.
To advertise in South Jersey Magazine, click here.