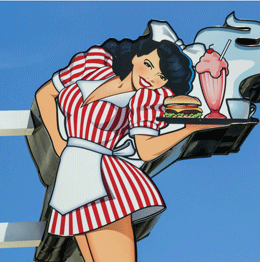 Finer Diners
Across South Jersey's varied culinary landscape, one institution still holds a special place in our hearts.
For Connie Correia, it was the Diamond Diner in Cherry Hill.
"It was our diner growing up when I was a kid," says Correia, who grew up near the diner that sat at Route 70 and Grove Street for nearly 40 years. "I always loved the Pac-Man machine at the diner. I was allowed to walk up there, and it was one of the first places I had some freedom to go to with my quarters. And I loved the salad bar." Today, Correia owns The Pop Shop, a retro-style diner in Collingswood.
For Petro Kontos, co-owner of the Phily Diner in Runnemede, it was the now-shuttered Olga's Diner on Route 73 in Marlton.
"When I came here from Greece, that was the first place I went; and I had never seen anything like it," Kontos says of his first diner experience back in 1972. "I had a cheesesteak with fried onions. And I loved it."
Along highways small and large across South Jersey, the old-fashioned greasy spoon is far from dead. The stereotypical Jersey diners that have inspired books, blogs and countless imitators remain institutions where memories are made and loyalty is fierce.
There are an estimated 600 diners in New Jersey—more than any other state in the country. Hundreds of them sit right here in South Jersey, many going back 50 years or more.
"Everyone has a favorite story about going to a diner at some particular time," says Michael Gabriele, author of The History of Diners in New Jersey.
"It's so immersed in Jersey culture, I think," Gabriele says. "We almost take it for granted. Diners—especially the old-fashioned ones—there's really nothing else like them. It's the ambience, the nice, basic food and all the cliché things—the waitress who calls you 'honey' and all that." The allure lies in the simplicity, he says. The menu is vast, yet simple, and the atmosphere is welcoming to anyone at any time of day or night.
"On one side could be a truck driver, the other, a million-dollar lawyer," Gabriele says. "That's part of the fun of a diner. You never know who is going to be there or who is going to walk in. It's a unique experience."
Jose Ortiz, manager of the Silver Diner in Cherry Hill, already knew New Jersey was a diner mecca when he moved from Maryland to open his Cherry Hill location. Still, he was surprised by the reverence some have for the stainless steel or white rock-clad institutions.
"New Jersey is a diner [state]," Ortiz says. "On the weekends, it's nice to see a line at the door and the people who just love it."
The diner as we have come to know it in New Jersey started out quite differently. On July 3, 1912, Michael J. Griffin purchased a lunch wagon—the horse-drawn precursor to the modern diner—for $800 from Jerry O'Mahony, who built the wagon in the backyard of his Bayonne home.
O'Mahony, Gabriele says, became the grand inventor of the modern Jersey diner.
"That's when we had our first home-grown diner manufacturer," Gabriele says. "So, New Jersey, we became the center of the business."
"Everybody knows New Jersey is the diner capital, and that's true, but what they don't know is that in the 20th century, New Jersey was the place where all the major diner manufacturers were based. These guys were turning out iconic American-industrial structures here."
The diner industry took off quickly in the Garden State for a number of reasons, he says.
"The diner business, it just grew organically here," Gabriele says. "Way back when, they realized this was a place where the market was for diners ... in part, because of our dense population and our dense road structure. Once you get outside of Maryland, Pennsylvania, you don't really see [many] diners."
But as the decades passed, the railcar-size structures became more cramped than cute. The once-exotic, stainless-steel-facade diners became known as an eyesore, and were replaced or refaced.
"In the '40s and '50s, the whole thing about a stainless steel diner had a bad connotation – like an East Coast truck stop," Gabriele says. "There were other business models, especially the drive-in, that became popular."
Diners, Gabriele says, had to adapt. They began to grow in size. The stainless steel was replaced by stone, evolving into the structures many still find on the roads today.
"That [old] business model, that worked for a long time," Gabriele says. "But then, in the 1960s, diners kept getting bigger and bigger. It was no longer feasible to build a diner in a factory anymore. It didn't make sense. So that whole sector is now extinct."
The 1960s were boom years for diners in South Jersey, particularly in Camden and Burlington counties. As new highways made their way through towns like Marlton and Cherry Hill, diners sprung up to meet the demand.
"I think people have a lot of history with diners," says John Fifis, a second generation co-owner of Ponzio's Diner in Cherry Hill, which celebrates 50 years in business this year. "As children, people grow up with their families, their grandparents. There are a lot of memories at diners. It's affordable, it's a value. Everything is inclusive at a diner. You go to a diner, you're getting it all; and I think your portion sizes are still consistent."
But as the decades wore on, there were new struggles.
The Diamond Diner, for example, began first as an old-fashioned, stainless steel diner, purchased by the Diamantis brothers in 1967 and later expanded. But the Diamond, for all its loveable quirks, just couldn't keep up with the changing landscape along the highway, and soon became a relic. The landmark, like the Garden State Racetrack it sat across from, closed a few years ago. It is now replaced by a Walgreens drug store.
Others closures have followed. Golden Dawn in Maple Shade, Crystal Lake in Collingswood and Olga's have all shuttered for various reasons in recent years. The diners that wanted to survive had to change gears—starting with their menus.
"Back in 2010, we realized that people are looking for more healthy options," Ortiz says. "That's when we launched 'fresh and local.' We partner with local farmers and try to get the freshest products out there. By creating those dishes for our guests, it makes a difference."
Ortiz says the move was inspired by customers who were coming in with more and more special requests and food sensitivities as more options became available elsewhere. Today, a customer at Silver Diner can enjoy unexpected "diner" fare like quinoa pancakes and goat cheese and basil omelets.
"Everybody has some type of diet," Ortiz says. "So we came up with the flexitarian menu. Anyone—gluten-free, vegan, vegetarian—we have [something] for them."
Correia employs a similar tactic at The Pop Shop, offering "amped-up diner food," she says, like 31 varieties of grilled cheese, one for every day of the month, and an equally impressive milkshake and burger menu.
"Diners in general are probably one of the first experiences many people have going out to dinner," Correia says. "It's casual, and it's family-like, and they take you as you are. You can come off the beach or dressed up after a prom."
Other diners have simply pared down their notorious supersize menus to allow for more focus.
"Things are changing," Kontos says. "The habits of people are changing and the new generation likes quality over variety."
Today, many diners have morphed into larger hybrid establishments, offering patrons both the traditional diner fare and atmosphere alongside a trendy sports bar with big screen TVs and a hip nightlife scene.
The Phily Diner, Hollywood Cafe in Woodbury Heights and Geets Diner in Williamstown are just a few area establishments that now boast of sports bars attached to their diners.
"We realized, we have the property, why not just combine everything so we don't have to build separately?" Kontos says. "I've been to all the sports bars, and the quality is not there. Here, the wings are fresh, the pizza is fresh, and the appetizers are unique."
All of those changes make perfect sense, Gabriele says. "They have to do that," he says. "It's what the market demands and what the market bears. The other interesting dynamic that's been happening in the last 20 years is a lot of the old diner cars, which for whatever reason shut down or were abandoned, they're now being reclaimed, restored and resurrected."
As Ponzio's prepares to celebrate 50 years in business, Fifis says he can only hope to carry on the great diner traditions. But he knows it won't be easy.
"My brother Nick and I, our cousin John, we're second generation," Fifis says. "We're going to keep the legacy going, but we have a lot on our plates. We have a lot of pressure on us to continue that legacy. We work hard, continue putting quality product out and giving the customer value, and I think we do a good job. This is our passion and this is what we love to do."
Fifis says local diner owners are constantly working to adapt to what big chain restaurants are offering. "They have the money to remodel, and their restaurants are beautiful," Fifis says, speaking of big chain restaurants. "But we're hands-on owners. We run the restaurant, we're cooking the food, we created the menus, we're maintaining the quality, and that's what we have on them. We plan on being here many, many more years."
That attitude, Gabriele says, it why the local diner continues to survive.
"Every once in a while, you find a little joint, and it's doing OK, it's hanging in there," Gabriele says. "It's a piece of Jersey pride. It's something we should be very proud of, and rightly so."
Published (and copyrighted) in South Jersey Magazine, Volume 11, Issue 6 September, 2014).
For more info on South Jersey Magazine, click here.
To subscribe to South Jersey Magazine, click here.
To advertise in South Jersey Magazine, click here.