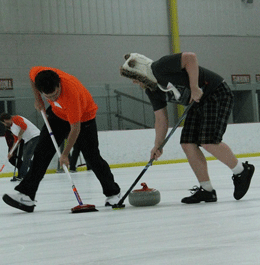 Southern Exposure
Go Figure
900: Number of employees that will lose their jobs if Atlantic City's Trump Plaza closes in September.
30,000: Number of peanut butter and jelly sandwiches made by the Pease family of Haddonfield to benefit the homeless at Camden's Cathedral Kitchen since 2009.
$15,000,000: The cost of the newly rebuilt Moorestown Library, which opened at the start of July.
26,000: The size, in square footage, of the new library, which will feature a soundproof TV and gaming room, ultraviolet-blocking windows and a specialty mobile app.
$325: The average amount New Jersey residents spend on energy costs each month—including $156 in fuel—according to a study by WalletHub.
11: New Jersey's ranking as one of the lowest spending states in the country for energy. Colorado came in as the lowest, spending just $301 per month.
Ten: Number of autopsies from 2011 under review in Camden County, after former state pathologist Hisham Hashish was found to have his credentials barred for negligence. At least one case has a controversial ruling.
Eight: New Jersey's ranking as one of the best states in the country to raise a child, according to KIDS COUNT, a report by the nonprofit Annie E. Casey Foundation. The numbers are based on education records, unemployment, teen birth rate and more.
85,000: Estimated number of guests at this year's Burlington County Farm Fair, up by 35,000 attendees from last year.
Datebook
8/16
Take a look at exhibits featuring impressive crafts made by local artisans at Moorestown's Artisan Show and Marketplace, where you'll also learn step-by-step how to make your own dazzling designs. Aug. 16, 10 a.m. at Perkins Center for the Arts, 395 Kings Highway, Moorestown, (856) 235-6488, PerkinsCenter.org, prices vary
8/17
Join dozens of artists, singers and authors from up and down the East Coast as they present their work and perform at the 3rd Annual Arts and Authors Extravaganza in Voorhees. Aug. 17, 4 p.m. at The Mansion Voorhees, 3000 Main Street, Voorhees, Bit.ly/ArtsAndAuthors, prices vary
8/21
Cap off your child's summer the right way with face painting, a moon bounce, free food and more at the End of Summer Carnival in Cherry Hill. Aug. 21, 4 p.m. at the Cherry Hill Public Library, 1100 Kings Highway N., Cherry Hill, CHPLNJ.org, free
Hit or Miss
Millville native and Los Angeles Angels outfielder Mike Trout was named the 85th MLB All-Star Game MVP. The 22-year-old received a new Corvette for his prize.
Wildwood, Atlantic City and Ocean City boardwalks were named as three of the 31 Best Boardwalks for Food in America by TheDailyMeal.com.
The Evesham Police Department recently became the second station in the state to require their officers to wear body cameras while on patrol. Riverton was the first station to do so in 2012.
Former West Deptford financial advisor John Montague has pled guilty to defrauding his clients out of an estimated $900,000. He pled guilty to wire fraud in court at the end of July and awaits sentencing.
South Philadelphia residents have traced the lingering smell of sulfuric cat urine that has infested a local neighborhood to combustion issues at New York LS Power's new plant in West Deptford. The state Department of Environmental Protection is conducting more tests to find a definitive source.
Two masked robbers stole $181,200 from Caesar's Atlantic City in late July, holding an employee at gunpoint and taking off with two plastic bins full of cash.
3 Things You'll Learn
Channel 6 meteorologist and Sewell resident Chris Sowers once tried to pose as his twin brother in a high school class.
Page 22
At least one local congressman sees South Jersey's role in drone research as key to the biggest innovation in aviation since its inception.
Page 36
Burlington Township's Dante Foggy has made it to the Aug. 12 finale of Food Network's Chopped Teen Tournament.
Page 125
Street Level
Burlington County
Mount Laurel
A man was shot during a gunfight against police outside the Aloft Mount Laurel. The man, who was shot in the arm, was arrested, and several injured state troopers were treated for minor injuries.
Camden County
Clementon
A local man and his two friends were arrested after leaving a local restaurant without paying the bill. When police approached the suspect about the bill he released his dog on the officers, one of whom was bitten prior to the arrest.
Gloucester County
Franklin Township
Police are looking for a suspect who held up a local bank at gunpoint, then shot at a witness who tried to chase him as he ran from the bank.
Did You Hear?
"I wanted her to become a vampire-werewolf hybrid, because I think that would then immediately bump me up to the coolest character on the show, but that didn't happen. I'll just have to stick with being a normal person."
–Pitman's Madeline Brewer on her new role as Miranda Cates on Netflix's Hemlock Grove
Voice & Vent
THIS MONTH, on Page 78, we take a look at Camden and how it's working to counterbalance a rough reputation with the desire to once again become a thriving hub of South Jersey. Share your opinion by visiting SouthJersey.com's Voice and Vent section and answering:
"Do you think Camden is heading in the right direction?"
Click on "Submit" to make your vote count. Next month, we'll report back on what our readers are thinking.
Last month, we asked:
"Would you consider proton therapy for yourself or a loved one if given the option to treat cancer?"
54% of you said No
46% of you said Yes
Interview: Friendly Competition
Coming off a Winter Olympic year, the sport of curling is growing throughout the U.S., and South Jersey is no exception. The area is now beginning to catch up on what the rest of the world has already known, thanks to curling clubs like the Jersey Pinelands Curling Club, created by local couple Jane and Frank Sharp.
Located at The Igloo Ice Rink in Mount Laurel, the Sharps have hosted "learn to curl" clinics throughout the summer in preparation for their fall season, where team members can take part in league play, participating in curling games against other teams across the area. The club's final class will available to the public on Aug. 12 at 6 p.m.
We talked to the woman behind the Jersey Pinelands Curling Club, Jane Sharp, to hear more about her unique club.
What about the sport of curling piqued your interest the most?
My husband and I were watching a curling competition during the 2010 Winter Olympics together and were mesmerized as we watched it. We tried curling and when we moved to the South Jersey area last year, we noticed that there were no signs of curling in the area. So, in association with Curls South Jersey, we started the Jersey Pinelands Curling Club.
Have you received a lot of support from South Jersey residents?
We currently have about 40 members. … Every member in the club contributes in some way. Half of our members help to set up the ice before and after sessions while the other half bring snacks and food for "broom stacking," which is when we come together after sessions and hang out together, [and] helps build camaraderie.
Would you say curling is more of a physical or mental sport?
Both. It's physical because it takes a lot of core strength and balance when pushing the 42-pound rock down the ice, as well as a good amount of aerobics when sweeping. It's mental because the skip, or team captain, has to figure out the exact positioning of the broom to get the rock into the house, and the sweepers have to be in tune with the skip. Curling is like a game of chess and you always have to be thinking ahead. There's a lot of strategy involved and adjusting to a two-hour physical and mental challenge is tough.
Names to Know
Local people making a difference in South Jersey and beyond
Gary Mirone, an Inspira physician from Mullica Hill, became board certified for urogynecology by the American College of Osteopathic Obstetricians and Gynecologists. He is now one of only five doctors nationwide to become board certified in this specialty, which focuses on pelvic disorders and specialty bladder issues in women.
Stephanie Masapollo, 11, of Sicklerville was awarded a $1,000 scholarship by the Kohl's Cares Scholarship Program for her organization, Costumes for Kids. She formed her organization after Hurricane Sandy, in order to provide costumes to children personally affected by the storm. Since that time, Masapollo has donated more than 500 costumes to disadvantaged kids so that they may enjoy Halloween.
Moorestown's John Marcelli was named the Skyline Conference Scholar-Athlete of the year at Kean University for the second year in a row in men's lacrosse. On the field, he scored 29 goals, including four game-winning tallies, and was selected first-team all-conference. In the classroom, Marcelli was honored for his high GPA in his major of industrial design.
The U.S. Senate has named Haddonfield's Cheryl Krause to the United States Court of Appeals for the Third Circuit. Krause, a partner with the Philadelphia-based firm Dechert, was nominated by President Barack Obama in the winter. She formerly served as an Assistant U.S. Attorney in New York and currently works in litigation.
Samaritan Healthcare & Hospice has named Lee Sheilds of Marlton to their Board of Trustees. Sheilds, an accountant, also serves as a member of the American Institute of Certified Public Accountants, the New Jersey Society of Certified Public Accountants, and is a board member with the American Red Cross.
Moorestown's Jennifer A. MacMillan has been named the new assistant principal at Chestnut Ridge Middle School. MacMillan, who previously served as guidance counselor at West Deptford Middle School and the language arts teacher at Pitman Middle School, will oversee the administration, assume responsibilities for school services and maintain and support the advancement of educational objectives.
Do you know a local person who is doing great things? Let us know by e-mailing Erica@SouthJersey.com.
Published (and copyrighted) in South Jersey Magazine, Volume 11, Issue 5 August, 2014).
For more info on South Jersey Magazine, click here.
To subscribe to South Jersey Magazine, click here.
To advertise in South Jersey Magazine, click here.