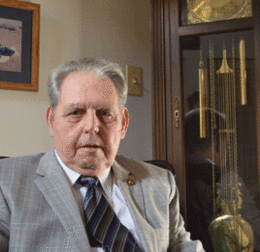 Revisiting a Dark Past
Local author recalls his father's ties to local criminal underworld.
For Marlton resident Sam Valenza Jr., the phrase "Truth is stranger than fiction" is something he understands all too well. After all, it's not an everyday thing to grow up the child of a bonafide gangster, but that was Valenza's reality. His father was a career gangster—and a South Jersey one, to boot.
But the life the younger Valenza experienced has none of the Hollywood or Boardwalk Empire glamour you might expect. No, the story Valenza tells in his newly released 512-page memoir, "The Secret Casino at Red Men's Hall," is much bleaker than that.
The story's cast of characters is fascinating: there's his ultra-charming, ne'er-do-well dad, Sam Valenza Sr. (called Sal Falconetti in the book); his long-suffering mother; and a cast of other players—some well-known, like Enoch "Nucky" Johnson (the character Nucky Thompson is based on in Boardwalk Empire) —others, less known; and still others, composites. Running through the book's narrative is a tale of criminal activities, poverty and violence that Valenza has taken nearly a lifetime to come to terms with.
"The thing people need to understand is that my dad was an absolutely charming person; I never saw him in anything but a suit and a tie, and he'd fit right in talking to senators or generals," the author, now 80, says. "But he was a gangster, and the things he did put our family in danger repeatedly and left us broke and hungry. It was a hard way to grow up."
The elder Valenza—who grew up in Trenton and got involved in Prohibition-era crime when still a teenager—ended up running a secret, illegal gambling hall in the center of historic Mount Holly for several years beginning in 1938. Located in Red Men's Hall on Mill Street, a massive, circa-1886 building that still stands, the casino had 36 slot machines, two craps tables, two roulette tables—and plenty of booze.
In addition to running the Mount Holly casino, Valenza oversaw other gambling halls around the country, hob-knobbing with mob members and powerful politicos alike. He drove a flashy car, flaunted a showgirl girlfriend, and appeared to have no real interest in his wife and four children (of which Valenza Jr. was the youngest).
"He was in trouble always when I was growing up—in and out of jail," Valenza recalls. "We were living in abandoned houses, people's sheds, moving around all the time. I lived in 27 different places before I even got to high school."
But Valenza's mother stood by her man—in fact, he says, she knew his dad was involved in shady activities even before she married him.
"They met at a club where he was running craps games," Valenza recalled. "He charmed her; he was Mr. Cool and everyone looked up to him. She was only 17. She fell in love, and back then, no matter what, you stayed married."
But his mother's frustrations often spilled out to her son, whom she frequently—and viciously—beat. "The beatings ruined my back; I had to get spinal fusions at age 35 because the damage was so severe," he says. "But now, I can look at it different; now I understand that she was beating up on him when she took it out on me."
Valenza says he hopes the book's story will "open people's eyes" to the reality of how a life of crime impacts those closest to the criminal. "There's a myth, perpetrated by Hollywood, that gangsters and their families are all fat and happy and eating pasta. We lived on oatmeal and canned milk. I saw a lot of things that no child should be exposed to, including witnessing a knife fight between two guys when I was 3. It was an awful way to grow up."
So much so that, even today, Valenza found he couldn't tell the story in the first person. "It was cathartic writing it, but it was traumatic, too," as he puts it. So, instead, he becomes Tuck Falconetti, telling his story from childhood on.
"I often looked at my life as an outsider watching events unfold before me, unable to change or affect the outcomes," Valenza writes in the book's introduction, adding that writing in the third person became "a useful and productive way to relate painful memories." One of those memories—perhaps the most vivid—marked the beginning of the end of the secret casino. One night in 1943, it was raided by a mobster who wanted in on the action; patrons were robbed; Valenza Sr.'s right-hand man had his face bashed in by a Tommy gun; and an elderly man who served as the casino's gofer was murdered.
"I was only 6, but I still remember all the stuff going on in our house; mom crying her eyes out; dad being there," Valenza recalls. Soon after, the gaming hall was closed for good after undercover state police staked the place out. But Valenza's dad continued to be involved in crime for years. "There were so many stories to tell and so many feelings involved, I figured I should start writing them down."
"The Secret Casino at Red Men's Hall" was originally written for Valenza Jr.'s son, who had been separated from the family for years.
"I thought he should know about his grandfather and what my life had been like growing up," Valenza said. "Once I got started, I kept writing. There was a lot to tell."
Looking back, Valenza—a retired magazine publisher and owner whose career also included working as a photo retoucher—knows that his childhood experiences deeply affected his life choices, including the desire to lead a "totally respectable life." Valenza notes that when he joined the Marines at age 18, it was "primarily so I could learn how to kill the bastard"—meaning his father—but stresses that he'd made his peace with his dad by the time of his death. "I didn't hate him at the end," Valenza says. "Life's too short. I forgave him; it wasn't easy, but I did."
"The Secret Casino at Red Men's Hall: Big Time Gambling in a Small New Jersey Town" is available at Amazon, IUniverse, and Barnes & Noble online bookstores.
Published (and copyrighted) in South Jersey Magazine, Volume 11, Issue 5 August, 2014).
For more info on South Jersey Magazine, click here.
To subscribe to South Jersey Magazine, click here.
To advertise in South Jersey Magazine, click here.