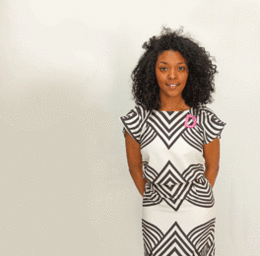 Designing Woman
Fresh off her Project Runway win, area fashion phenom Dom Streater has designs on a new goal: becoming a household name.
After winning a hit reality TV show, life can get a little hectic. Just ask West Philadelphia native and burgeoning fashion talent Dom Streater, who skyrocketed to fame after taking top honors on Season 12 of Lifetime's Project Runway, which concluded in late 2013.
"It's been a spectacular, life-changing opportunity for me, and I'm just very happy that my life's completely different now," says Streater, who earned the coveted title of Project Runway winner by utilizing bold prints and a quirky aesthetic—elements that continue to set her fashions apart. "I have the ability to wake up and do what I love every day."
It's been a whirlwind year for Streater, and not just because of her reality TV credentials. Her fashions have been featured in an exhibition at the Louisiana Art & Science Museum in Baton Rouge, La., as well as on the runways of events held during New York Fashion Week and Atlantic City Fashion Week earlier this year.
A graduate of Philadelphia's Moore College of Art & Design, the down-to-earth Streater still calls Philadelphia home. In fact, she showed a ballet-inspired collection—heavy on prints and featuring, as she says, "lots of pinks and blush colors and hot pink and raspberry and deep purple and black and white," as well as a distinct air of femininity—at Philly Fashion Week in March.
She spoke to us about her inspiration, how life has changed since the end of Project Runway, her time at Moore and, well, more.
A lifelong pursuit…
This is something that I've been interested in since I was a child. I've always been an artist. … I was naturally always strong in art, able to draw and paint and sketch and things like that, and I started sketching garments and things when I was a kid. It just took off from there. It's something that I never really gave up or stopped doing, so it's kind of just been something that has grown with me as I've gotten older, and I actually got a chance to do it for real when I was in college.
The first garment she designed…
I actually still have it. It's a really funny story. When I was a kid, I went to Catholic school, so I wore a lot of uniforms and I only really had, like, two pairs of jeans because we never really wore play clothes a lot; we were always in our uniforms. One day, I decided I was going to take the plunge and make a shirt—I think I was 11 or 12—and I cut up these two pairs of jeans that I had and I made this one-shouldered, denim-top thing with bell sleeves. And I still have it—it's hilarious; it's the funniest thing—but my mom almost killed me.
How mom feels now…
I don't think she minds that much [laughs]. She is very supportive. My mom is awesome; she's an incredible person. She is my biggest fan. She's always there for me no matter what, so yeah, I think she's cooler with it now than she was when I was a kid.
Applying a love for science to fashion…
I've been a huge science and science-fiction freak since I was a kid. It's something that I always loved. I used to love watching Star Trek and Star Wars and things like that, and it definitely affects how I look at print and pattern because I do see things more scientifically and I approach it on a more … I don't want to say molecular, because that sounds weird, but a more thought-out and analytical process than artistic [one] when I'm designing prints. It really does affect a lot about how I see things, and it changes my aesthetic. It makes my aesthetic a lot different than other print designers, and that's kind of what sets me apart.
Wearing the signature pink "D"…
That actually started with Project Runway. The day before I left for filming I went to a store here in Philly called Verde, and they were selling … acrylic pink letters, like alphabet initial pins, so I just decided to buy it. I was like, "I have to buy that and wear it on the show; I love it." It was completely my personality, and I love the color hot pink. … That started with something that I just had to have with me because it was a little token from home, so I could remember Philly and not get homesick. I started wearing it on the show and it's kind of like become my good luck charm.
How life has changed since the show…
It's been insane. ... I just never realized until ... literally the day after it was initially announced that I won, how far the show reached and how many people it reached and the support that I have gotten has been so crazy incredible. It has connected me with thousands and thousands of fans, and it has really helped put me on the map, so to speak. And it's nice, that I don't have to do the legwork of trying to establish myself officially … because the show really did that for me and it's nice to be able to have that. Every day I get to wake up and just be a fashion designer, which is just really nice because that rarely happens—it rarely happens—so it's pretty awesome.
Approach to fashion…
My view of fashion has always been that fashion should be fun. I think that a lot of designers take it very seriously. … They don't like to have fun or find that quirkiness in it. And, you know, it's not for every designer, but I do think that it's something that fashion has kind of lost. A lot of designers don't like to be playful with their clothing anymore, and that's something that I always try to incorporate when I design. I like to be feminine, but I like to be flirty, too. I think clothing should be romantic and mature, but there should be a "fun-ness" about it; it shouldn't be so serious. … Fashion's all about what's new, what's next, and how you approach that and how you incorporate that into your current life, and I think that the easiest way to do that is when the garments are fun and quirky.
Capitalizing on the success of the show…
Well, I just finished my collection with Belk [a department-store chain and online retailer with more than 300 locations], so that will be out in September, and I'm kind of straddling this line between mass market and more personalized design, just to see which one I prefer more. It's nice to be able to have something be mass market because … I get lots of requests for clothing and if [customers] want something they can go and buy it and it's usually accessible. There is something that I do love about creating custom pieces; it's a different kind of bonding experience with the customer and you get to work with them one on one with something. The experience with it is more fun and it's more quirky, and that's kind of what I'm about when it comes to fashion. It should be more of an experience than anything.
Building a brand…
In terms of business, I want to focus on growing this brand into something that's recognizable and more of a household name. For women that want a really great printed skirt or a great printed dress, I want my name to be one of the first names that they think of, that they go to; that's kind of my goal for the next few years—to build more brand awareness and build a more involved relationship with my customer, and hopefully grow from there and become more established and branch out into other areas. Even though I love ready-to-wear, I really love all parts of fashion, all aspects of the industry, and I want to be able to have experience with designing for men and designing for children or designing for the home, because I feel like my brand and my ideals about textiles can definitely reach and relate to all those areas. Hopefully I'll be able to do all those things once I'm super established with my women's ready-to-wear [line].
Published (and copyrighted) in South Jersey Magazine, Volume 11, Issue 5 August, 2014).
For more info on South Jersey Magazine, click here.
To subscribe to South Jersey Magazine, click here.
To advertise in South Jersey Magazine, click here.