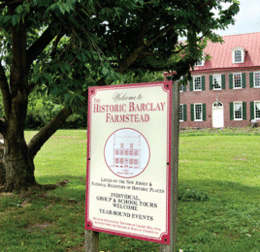 In the Neighborhood: Cherry Hill
"A Lot to Offer" As business booms and residents see sustained improvements, Cherry Hill continues to evolve.
Even if someone has never visited the South Jersey area, it's likely they know the name Cherry Hill. The city has made a name for itself in New Jersey, and even in other parts of the country, as the hub of South Jersey. Though local residents know there is much more to the region than this one city, Cherry Hill deserves the recognition it receives.
"On any given day, we have over a quarter-million people come through Cherry Hill for many different reasons," says Cherry Hill Mayor Chuck Cahn. "Whether they come for the shopping, or for the food at our various restaurants, or for business, we have a lot to offer."
No matter how you look at it, Cherry Hill is attractive to all types of people. Whether it's business owners, residents or visitors just passing through, there seems to be something for everyone.
"We're always opening new businesses," Cahn says. "We open between 10 and 15 new businesses every month, both small and large. The largest opening we had recently was for Whole Foods [located in the Ellisburg Shopping Center]. The Cherry Hill Mall is always opening new businesses, which is great. We're doing grand openings and ribbon cuttings two to three times a week."
Cahn says the Whole Foods opening was especially important to the township, as it not only offers a new shopping venue for residents to take advantage of, but it also provided the catalyst to revamp a shopping center that was not performing up to par.
"The developer took an underperforming shopping center and invested a lot of money into it and upgraded the entire center, which can be utilized by so many," he says. "The shopping center was one of our more dated centers, and it's vastly improved."
While this opening was huge for the town—"I don't think we've ever seen people so anxious for an opening, and there were 300 people at the grand opening," says Bridget Palmer, director of communications—with so many businesses opening every month, Cherry Hill has become a hub for commerce.
Cahn says the next big opening he's anticipating is Costco. Plans are still in the design phases, but the store is expected to open in 2015.
Conversation is also buzzing around Cherry Hill regarding the possibility of Subaru of America, Inc., moving out of the city. Having called Cherry Hill home for nearly 40 years, the car manufacturer has been looking in recent months for more space to move into, but Cahn says he is hopeful the company will keep their roots local. "We're very optimistic—cautiously optimistic—that they'll choose to remain in Cherry Hill," he says.
Business aside, the township also has several landmarks that have garnered national attention, namely Barclay Farmstead and Croft Farm, both of which are on the New Jersey and National Register of Historic Places.
"Barclay Farmstead is really a piece of history that exists in Cherry Hill the same way it did back in the late 1800s," Cahn says. "It's a beautiful farmstead where they offer tours, and you can walk through the building, which is recreated to look like it was back then. It's a real piece of history, right in the middle of Cherry Hill, and you wouldn't even know it."
Croft Farm also has its own bit of history, Palmer says, noting what was once part of the Underground Railroad is now 80 acres of family-friendly space that offers many cultural opportunities for residents and visitors.
Other family-friendly points of interest in Cherry Hill include the Garden State Discovery Museum and Springdale Farms, a working farm offering seasonal produce, hayrides and bonfires.
While Cherry Hill has made a name for itself in terms of business development, the neighborhoods really make it a great place to raise a family, Cahn says. "Cherry Hill is really known for its major highways and shopping centers, but once you get inside our neighborhoods, they're really special. Each one is unique."
There's a reason Cherry Hill has gained both local and national notoriety. The area appeals not only to businesses and large corporations, but also those looking to raise a family right here in South Jersey. Cahn puts it simply: "Cherry Hill is a great place." It's clear he's not the only one who thinks so.
Meet the Mayor
It is with obvious pride that Chuck Cahn says he has lived in Cherry Hill for his entire life. In fact, there was never any question he'd end up anywhere else, he says, because "everybody stays in Cherry Hill." While he always knew he'd stay in Cherry Hill, a career in politics was not something he'd anticipated. After selling the business he owned for 30 years, he decided to further his community involvement and give back the best way he knew how—by becoming mayor. He took office in January 2012, and believes his business experience has helped him lead Cherry Hill's government in a more productive way. We spoke with Cahn about his favorite town, raising a family in the heart of Cherry Hill, and what it is about the area that he thinks is so special.
Raising a Family: "My wife and I decided we would raise a family here because it's a great place to live. It's ideally located, between New York and Philly, and it is just a really great community that has great schools."
Hidden gems: "There are so many great things, like the Cherry Hill Library, which is like a community center and has so much to offer. There are always events there, whether it's for seniors or students. It offers an abundance of activities that all residents can partake in."
Historic places: "I think our Croft Farm is really important. ... You can experience the cultural arts at Croft Farm but there are trails there and parks and it gets utilized by so many and there are so many who still don't know about it. It's a great facility that is worth a visit for anyone who comes through Cherry Hill."
Unique quality: "I think what makes Cherry Hill different, because it's so large, is its diversity. There are 52 churches and over 40 languages spoken here, so it really is a melting pot of so many different religions and cultural backgrounds of people coming together and celebrating a community in so many ways. This makes Cherry Hill very special."
Events
Cherry Hill Restaurant Week, Aug. 10-16
Recreation Open House, Sept. 11
National Public Lands Day, Sept. 27
Harvest Festival, Sunday, Oct. 19
Fall into the Arts, Oct. 11-26
By the Numbers
Number of public parks/playgrounds: 60
Number of Public Schools: 19
Acres of open space: 1,364
Miles of trails: approx. 13
Number of people who attend the Earth Festival and Harvest Festival each year: 100
Number of swim clubs: 13
Number of residents: 72,000
Number of Working Farms (Springdale Farms): 1
Published (and copyrighted) in South Jersey Magazine, Volume 11, Issue 5 August, 2014).
For more info on South Jersey Magazine, click here.
To subscribe to South Jersey Magazine, click here.
To advertise in South Jersey Magazine, click here.