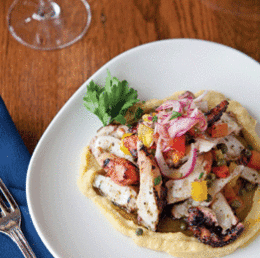 Estia Greek Taverna
…A Dining Review from the pages of South Jersey Magazine…
Modern Family: Estia Greek Taverna 140 W. Route 70 Marlton (856) 596-5500 4 Forks
The South Jersey Magazine offices are just a stone's throw from the former Pietro's Coal Oven Pizzeria, so when we saw that owners Pete and Nick Pashalis, along with partner John Lois, made the switch from Italian to Greek, we couldn't help but raise an eyebrow. Estia Restaurant in Philadelphia has been a well-known spot for more than seven years, serving up authentic Greek dishes to the metropolitan masses, but could that concept translate to Route 70 in South Jersey?
The Pashalis brothers did much more than switch signs, gutting the entire restaurant and resurrecting their take on modern Greek style. Think lots of light stone, white linens and rich woods, with a jaw-dropping, arched wooden ceiling. With the light bursting into dozens of glass doors, there's a delicate beauty to it, rustic and timeless but still elegant enough for a high-end dinner and a few glasses of wine.
The entry wall features a fully stocked bar with a sprawling marble bar top and its own private booths for the after-work or lunch crowd. The bar itself is stocked with all-Greek wines, which our waiter guided us through with ease. He also walked us through the extensive menu, steering us towards the octopus appetizer.
And what arrived was unforgettable, in both appearance and taste. I have tried octopus before, on the Greek island of Mykonos no less, where the tough meat was softened by being pulled from the sea and thrown against the nearest rock a few times. Estia's preparation was a bit less brutal, as the eatery's chefs use a specialty tenderizing machine to turn the octopus tentacles into smooth, soft little bites of meat, salty with just a mild bite from the charcoal grill they're cooked on. It arrived on a purée of fava bean, a mild but creamy addition.
While there were more than enough seafood starters to pick from, the vegetarian cheese saganaki was calling my name. Squares of Kefalograviera cheese—a sheep's milk cheese similar to mozzarella but saltier with a bit more chew—gets lightly pan-fried until there's a crispy outer shell, housing gooey and hearty cheese, served only with a fresh lemon for a bit of acid. I could have eaten this for an appetizer, entrée and dessert, it was so good. Sometimes, the simplest plates are the most addicting.
Simplicity benefited the lavraki, as well. The Mediterranean sea bass arrived in two filets (though you can have it served whole on the bone), lightly grilled and topped with lemon, herbs and briny capers. The buttery meat needed little more than the capers to really shine, while the extra bit of lemon helped freshen the dish and really give it the Mediterranean feel it was going for. But the accompanying side of horta, a sautéed mix of rainbow chard and other seasonal greens, was bitter and bland, and distracted from the light, fresh fish it came alongside.
When I walked into Estia, I was craving some really good Greek lamb. And while I was disappointed by the limited number of "turf" or non-seafood options, the lamb chops that were served were juicy and well-prepared. Available in a choice of three or four cuts, they were served with a crispy salty exterior and still had a light gaminess. It tasted especially good when dipped in house-made tzatziki sauce, a creamy blend of yogurt, cucumber and spice. The lamb's side offering of smashed and fried potatoes was a step above the fish's side, and went well with the rest of the plate.
Dessert brought along its own unique experiences to the meal. First came the Greek coffee, without a doubt the most unusual cup of coffee I've ever tried. Picture a bitter, unfiltered espresso, with a thick layer of grounds at the bottom and strong, creamy coffee at the top. Our waiter explained the traditional drink, which was definitely off-putting for a first-timer like me. Some Greeks even use the remaining grounds to tell fortunes, though I just stared at mine with apprehension.
But the galaktoboureko—don't worry, I still have trouble pronouncing it—was a much more pleasant experience. Layers of crunchy phyllo dough sandwiched a thick semolina custard filling, all baked together to form a cake and drizzled with a lemon and orange syrup. This is what I look for when I want to end a meal, not too overpowering but certainly not forgettable, either. It had a mild sweetness, but was creamy and fragrant enough to help wrap up a dinner packed with flavor.
There's a familiar, family feel to Estia Greek Taverna. Maybe it's the way that the servers and chefs talk about the food they're serving with such pride, or maybe it's because they are creating old-school, classic Greek plates. But at the same time, nothing seems stuffy or overworked, and the space might be one of the most beautiful dining rooms in South Jersey. They've managed to find a happy medium that could please anyone looking for a break from average local fare. And they've managed to do that with tasty results.
Photo: The Octopus appetizer at Estia
Published (and copyrighted) in South Jersey Magazine, Volume 11, Issue 5 August, 2014).
For more info on South Jersey Magazine, click here.
To subscribe to South Jersey Magazine, click here.
To advertise in South Jersey Magazine, click here.