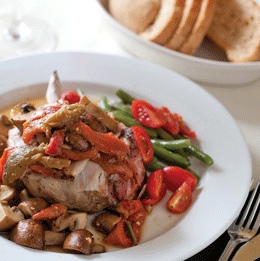 MiaMare Ristorante
…A Dining Review from the pages of South Jersey Magazine…
A Familiar Feeling: MiaMare Ristorante
18 Tanner St.
Haddonfield
(856) 433-8765
3 Forks
A few small steps off Haddonfield's Kings Highway sits MiaMare, an unassuming storefront that I would have never known about had I not been directed toward it, touting South Jersey's next great bite. A former East Passyunk eatery, chef and owner Walt Ziejewski made the move to the area to serve his fresh and familiar Italian fare.
On this particular night the beautiful summer weather brought us to MiaMare's enchanting back patio, a romantic space set under a pergola that provided just enough shade from the setting sun. As nearby tables packed with families and regulars sipped on wine and enjoyed the scenery, I scoped out the menu, featuring a selection of easily recognizable and popular Italian plates.
First up was an appetizer of beef meatballs, which arrived in a pool of house-made marinara with a dollop of ricotta cheese on each. While the meatballs were very dense, they were packed with a ton of flavor and were seasoned just right. The marinara didn't disappoint, either. It blended the sweetness of the tomatoes with plenty of herbs and a bit of red pepper heat that was mellowed by the ricotta.
The mussels in white wine—also available in a red variety—were sautéed in a broth that was luscious and garlicky, with a bit of freshness from minced parsley sprinkled over top. I could have sat dipping their house-made oregano bread into that broth all evening, which I've always considered one of the main signs of a really well-done bowl of mussels.
What separates MiaMare from any other standard Italian joint is their attention to detail and their respect for fresh, handmade products. Take their primi selection as an example. Every pasta selection on the menu was hand-crafted by Chef Ziejewski and was altered to pay respect to the current seasonal selection, like the tomato basil gnocchi, which featured puréed red pepper blended into the potato dough for just a hint of sweetness. The hand-rolled pillows of light and fluffy pasta came tossed in a mild tomato and basil sauce that would have benefitted from some more salt and seasoning, but when sprinkled with some Parmesan cheese the craftsmanship really shined.
Another star was the sprawling list of specials that the server presented us with, each dish sounding better than the last. I ended up settling on a grilled pork chop, a mammoth-sized cut that came wrapped in thick-cut prosciutto, grilled, topped with sautéed green peppers and mushrooms and served with sautéed kale and potatoes. The pork was cooked to perfection, with a great smoky flavor from the grill. It blended nicely with the accompanying toppings, especially the salty, crispy prosciutto and earthy mushrooms.
The menu itself had more classic entrées, like the Chicken Florentine, which was also offered in a veal variety. Small cutlets of chicken breast were breaded, pan-fried and broiled with sautéed spinach and mozzarella cheese, then topped with halved cherry tomatoes. The spinach was the highlight of the plate; garlicky and fresh and a stellar accompaniment to the gooey mozzarella. It was hard to pick between the desserts made in house, especially as neighboring tables gushed over a particularly enticing chocolate lava cake. But we settled on the panna cotta with a mixed berry, red wine and balsamic reduction. The panna cotta itself was a bit too loose and had turned to a puddle on the plate, but what was intact was creamy and smooth with just the right amount of vanilla. And though the balsamic was hard to find, the red wine mixed well with the seasonal blueberries and strawberries to create a sauce that didn't overpower, but rather enhanced the mild flavors it was plated with.
In my years as a South Jersey resident I have had a lot of Italian food. In all honesty, it's pretty hard to avoid. When considering the restaurants around the area there is an overwhelming supply of Italian joints serving up dishes I have become quite familiar with.
But that's not necessarily a bad thing, especially when you find a real gem serving up those recognizable dishes with extra care. I found that attention to detail in MiaMare's food, and while the dishes may not stray from the ordinary, the love and care that go into each bite make all the difference.
Photo: Miamare's Grilled pork chop with prosciutto, green peppers and mushrooms
Published (and copyrighted) in South Jersey Magazine, Volume 11, Issue 5 August, 2014).
For more info on South Jersey Magazine, click here.
To subscribe to South Jersey Magazine, click here.
To advertise in South Jersey Magazine, click here.