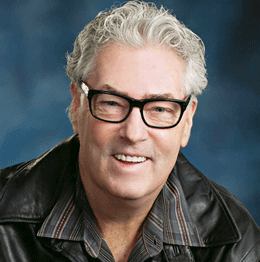 Big Words: Here to Stay
I have often said that it's the events that occur in your life between the ages of 15 and 25 that influence you the rest of your life more than any other time period. How much do you remember between the ages of 37 and 41? Not much, eh?
Yet you can recall nearly every minute, every detail of your four years in high school, can't you? Every triumphant moment, every rejection, every party, every humiliating situation. It's uncanny.
I spent the first 30 years of my life in Southwest Philadelphia, so it was very difficult for me to leave because nearly all my memories were rooted to that place. Most of my enduring friendships began there in high school, and I still have some close friends that date back to St. Clement's Grade School. I would not have traded my upbringing at 7025 Elmwood for anything in the world.
But times change. Neighborhoods change. The next thing you know, one of my best friends moved to Mullica Hill in South Jersey. Then another of my buddies moved around the corner from him and then my family and I followed suit.
A lot of people don't even know where Mullica Hill is. My compadre at 94 WIP, Al Morganti, constantly refers to the town as "Mulligan Hill." In fact, I would bet a lot of folks who have been living in Mullica Hill for decades don't even want people to know where it is.
It was one hell of an adjustment, but now, I have been in Mullica Hill for 20 years. What's kept me here? It's not like I don't have any friends who left Philadelphia and then eventually moved back to the city. But here are some reasons why I stayed in South Jersey:
Not having to pump your own gas: This is the No. 1 answer folks gave me when I asked them what they liked about living in South Jersey. It's just awesome. I travel a lot and people in other states just don't believe it. (Did you know Oregon is the only other state in the United States that pumps your gas for you?) And it's cheaper too! Who reading this doesn't go to great lengths to make sure they don't end up stuck in Pennsylvania having to get—and pump—their own gas?
Convenience: When I asked most South Jerseyans what they liked best about living in the Garden State, the second most popular answer was "It's close to the Shore." We love the Shore. I am fortunate to own a home in Sea Isle City and I get from driveway to driveway in about 58 minutes, and that's without driving 90 MPH. I have never gotten a ticket driving down the Shore. (Geez, I just jinxed myself!) I get to the stadiums in under a half hour. I live five minutes from the Turnpike entrance and often get to the Lincoln Tunnel in an hour and a half. (Getting through the tunnel to my destination in Manhattan sometimes takes longer than that.) I get to the Blue Route, Delaware and various other points south in no time. It really is amazing.
Parking: There is something to be said about knowing you can just pull up in your driveway and park. It's hard enough fighting traffic getting home sometimes, but it sure is nice knowing that you won't have the additional hassle of finding a spot.
Playgrounds: The first time I visited Ella Harris Park in Harrison Township, I couldn't get over how clean and safe it was. Most of the playgrounds I had hung around before I moved to South Jersey were full of broken glass and had turned violent. Nets on a basketball rim would last for about a day before someone would tear them down just for the heck of it. Playgrounds are so vital to a community, and while I'm sure there's plenty of rundown playgrounds in South Jersey, I sure didn't encounter any when my daughters were growing up.
Heritage's: They are just so uniquely South Jersey. They are not Wawas. (And I love Wawa.) They are not 7-Elevens. Why does a Cow Tail always seem so much fresher at a Heritage's? I love Cow Tails—and I'm sure they are very nutritional.
Friday night football: There is nothing more American than football on a Friday night. South Jersey football programs are vital to the area—and still draw large crowds. So many of the football programs I grew up with are long gone and never played on Friday nights. As a matter of fact, the grade school I grew up with is not even open anymore, neither are many of the high schools I played ball against. So this is another great aspect of South Jersey.
The schools: I obviously can't speak for every South Jersey elementary and high school, but Clearview Regional High School and Harrison Township Elementary were both incredible schools. The drama department of Clearview alone was worth every cent of the taxes I pay. Whoops! I better not bring up taxes, since this is an article about what I love about South Jersey, not hate.
Diners: I have three terrific diners within 15 minutes of my house: the Harrison House, the Hollywood, and the Colonial. Three! I love a good diner, don't you? They're so unpretentious and inexpensive and best of all, always open. While I'm speaking of food, let me add that the Shop-Rite on Route 45 is tremendous. The best supermarket I have ever shopped at. And speaking of shopping . . .
Malls: Everybody has malls now. But when I was growing up, the Cherry Hill Mall was legendary. It just feels like South Jersey perfected the idea of a good mall. Now I have daughters, so I realize the mall in King of Prussia is considered the Taj Mahal of malls, but you try driving there. It's a mess even if you live next door to it. And there was no better Santa than the Cherry Hill Mall Santa, was there?
The Flyers: There is this incredibly strong connection between the Flyers and South Jersey. It all started 40 years ago with a South Jersey club called Rexy's. The Flyers were making their Stanley Cup run and word got out, even amongst Flyer fans in Philly where I was living at the time, that you could just walk into Rexy's and actually brush elbows with a real Philadelphia Flyer. There was no VIP section. No red velvet rope. It was tremendous, and it made me feel that South Jersey had something really special. And speaking of clubs, it was also neat that you could get your cases of beer and liquor in the same place unlike the stupid "state store" system of Philadelphia.
You know what? I think someday I'm going to write a part two for this topic. There are many aspects of South Jersey I didn't even cover. What did I miss? Write to me at BigDaddy295@aol.com, tweet me @BigDaddyGraham or like me on Facebook under BigDaddyGraham. I'm looking forward to hearing from you.
Big Daddy Graham is a renowned stand-up comedian and overnight personality on SportsRadio 94WIP. Check out his new podcast, Big Daddy's Classic Rock Throwdown, at BigDaddyGraham.com.
TWO FUNNY PHILLY GUYS starring Big Daddy Graham and Joe Conklin is returning to Strathmere's Deauviile Inn Saturday, Aug. 9 at 8 p.m. with special guest host, NFL Hall of Famer Ray Didinger. Visit BigDaddyGraham.com for tickets and more information.
Published (and copyrighted) in South Jersey Magazine, Volume 11, Issue 5 August, 2014).
For more info on South Jersey Magazine, click here.
To subscribe to South Jersey Magazine, click here.
To advertise in South Jersey Magazine, click here.