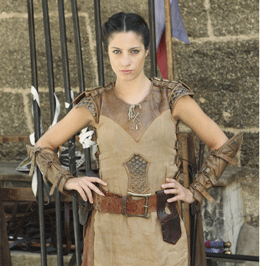 Living in a Fantasy World
For one South Jersey woman, the land of make believe just got a whole lot more interesting.
Lina Carollo was admittedly very introverted growing up and realized early in life that she was a bit different from her peers. She hated wearing dresses and bows in her hair and preferred playing with G.I. Joe over Barbie. And since her three brothers were much older than her and didn't exactly want to pal around with baby sis, she turned to her vivid imagination and the fantasy world as her escape. She would invent worlds for her toys to get lost in, and as she grew older she became a hardcore video gamer, ultimately challenging her brothers and spending more time in front of a television than outside.
Today, Carollo works with kids as a school counselor and helps out at Casa Carollo, her parents' restaurant in Marlton. She's also one of the 12 contestants on The Quest, ABC's new reality show from the executive producer of The Lord of the Rings and the creators and producers of The Amazing Race. In the show, Carollo and the others compete in a series of challenges while navigating a land of make believe. We spoke with Carollo about the show, assuming an alternate identity, and how hard it was to go back to everyday life in South Jersey.
SOUTH JERSEY MAGAZINE: How'd you hear about The Quest and what about it intrigued you to want to get involved?
LINA CAROLLO: Ironically enough, I heard about The Quest while auditioning for a different television game show. Since The Quest was so brand new, when I went home and did research on it I couldn't find any info. All I came across was a posting that mentioned it was being produced by the same producers of The Lord of the Rings and The Amazing Race and they were looking for people with heroic qualities with a passion for fantasy. That was enough to get me involved!
SJM: Since it's such a unique reality show, was there anything special you had to do to prepare?
LC: The only instructions received for how to prepare for this show was a packing list which actually proved to be useless since we were given "Everealm" clothes when we arrived. Everything was very discreet. I didn't even know I was flying to Austria for filming until I arrived at the airport and the customer service agent told me to have a nice time in Austria. It cracks me up when I look back at this because I really didn't have the slightest clue for what I was in for.
SJM: What can viewers expect to see when they tune in?
LC: The Paladins are real people that get brought into "Everealm," a world we didn't know existed because we were prophesied to be there. We begin to learn Everealm little by little just as the viewers will learn through each episode. The cool thing is that even though this portion of the show is reality, it's intertwined with a scripted plot. As the plot progresses, the Paladins must face challenges to test their heroic strengths and weaknesses. These challenges continue until the one true hero remains.
SJM: A lot of times when people think of the fantasy stuff, they immediately associate it with nerds, and mostly males. Yet the show has 12 contestants and seven of them are women. Do you feel that females are breaking that stereotype and how do you feel about the "nerd" connotation?
LC: Females have always been a big part of the fantasy genre, but I do think we've gotten more recognition recently due to the "nerd" connotation evolving all together. Sure, when one thinks of a nerd they automatically assume a male with glasses, suspenders and a socially awkward personality. Fortunately, we are in an era where technology and even fashion have allowed this stereotype to dissolve. It's now cool to be a nerd!
SJM: What are some of your favorite books, shows or movies from the genre?
LC: Currently, I am addicted to Game of Thrones. I watched season three all in one sitting. I'm also a fan of Lord of the Rings and really enjoyed "The Hobbit" by J.R.R. Tolkien. Tolkien is a legendary god in the world of fantasy.
SJM: How excited are your family and friends to see you on screen? Are you setting up any big viewing parties?
LC: After nonstop bombarding everyone via Facebook and Twitter, I think people are more curious than anything. I also think they're looking forward to getting a good laugh at me. You have to remember that I am the Jersey girl who has rarely gone camping, never rode a horse or shot a bow and arrow, and never, ever chased mythical creatures!
SJM: Do you look at the fantasy world as a good way to escape from time to time?
LC: I look at the fantasy world as a great way to escape when need be. I tend to do this most when I am stressed out. Escaping into the fantasy world gives me a break from the hardships of real life and allows me to be influenced by the lessons learned in fantasy, such as the common concept of good versus evil.
SJM: You're a school counselor. What do you like most about working with the kids?
LC: It's so amazing to make a difference in anyone's life, but the reason I chose to work with children is because of how open-minded they are, especially the elementary school kids. They say the most imaginative things, which really can symbolize how they are feeling in real life. Even the way they play with toys or draw pictures tells an internal story. To have a child in my office able to confide in me things they have never felt comfortable confiding in anyone else before is an unexplainable feeling.
SJM: Was it hard leaving that world and going back to being Lina from South Jersey?
LC: It was much harder than I thought it would be. All forms of technology were taken away from us when we arrived in Everealm. Even our normal clothes were taken. I was so immersed in this new world that going back to South Jersey seemed more of a fantasy than Everealm itself. Escaping reality and living in a fantasy world with no clue as to what was going on in the real world was refreshing.
SJM: Knowing that you can't divulge too much about the show's outcome, what was the overall experience like?
LC: The overall experience of being on The Quest was life changing. I was able to meet 11 other "Paladins" who shared similar interests that came from all different places and life experiences. The environment we were placed in was just as immersive as if the producers had dropped us in our own little country that no one knew existed. Even when cameras were off, the actors didn't break character. I mean, we lived in a friggin' castle! Come on now!
Published (and copyrighted) in South Jersey Magazine, Volume 11, Issue 5 August, 2014).
For more info on South Jersey Magazine, click here.
To subscribe to South Jersey Magazine, click here.
To advertise in South Jersey Magazine, click here.