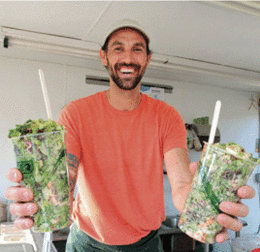 Roadside Service
Once regarded as a city trend, the food truck movement has gained momentum in South Jersey.
Kevin Stanton is pretty used to making an impression. At 6-foot-9, it's hard not to notice the towering chef when he passes by. But in the last few years, the Burlington man has started to become a new kind of presence in South Jersey, with the help of his custom-built food trailer.
"We started out at the Columbus Market with coolers and picnic tables," says Stanton of his hand-crafted vegan and vegetarian fare. "And after two years it really picked up, so I bought and built a totally original trailer."
Serving only New Jersey, Kevin's Salad Station is easily one of the most recognizable local food trucks around, frequenting farmers markets, fairs and festivals since 2010.
Stanton isn't the only food truck entrepreneur seeing success. In fact, the last two years have seen a boom in the food truck trend, with chefs forgoing brick-and-mortar restaurants for a kitchen on wheels. "I have more times than I can tell you stopped at Starbucks to get a drink and come out to find people waiting at the truck to buy cupcakes," laughs Ginny Moles, the owner of Cupcakes2GoGo, which hit the roads in 2012. Moles sticks to South Jersey, and business has been booming. She's on track to double her business for the second year in a row. "It's definitely a viable business," she says.
Restaurants on the Road
One of South Jersey's newest trends was born from some of our favorite restaurants. Local eateries have taken to the streets with their own food trucks to appeal to catering crowds while also feeding into the food truck frenzy.
P.J. Whelihan's Wing Truck is no stranger to the area, serving up their signature chicken wings, burgers and sandwiches from their mobile flat top grill and fryers. And Cherry Hill's The Kibitz Room hit the road in 2013 with their truck Reuben on Rye.
"It was no secret that food trucks were getting hot and growing," says The Kibitz Room and Reuben on Rye owner Neil Parish. "But we started to see people that wanted catering who also decided they didn't want deli trays or plates anymore. What they wanted was a food truck."
So Parish made the move and purchased his own truck, equipped with a massive steam table, deep fryer, flat top grill, oven, four-burner stove and refrigeration station. It's allowed him to treat his catering customers to the plates that have made The Kibitz Room a local icon.
Another new restaurant-to-truck convert is Carolina Blue in Pitman, which opened up a food trailer at the start of this summer. "It allows us to go all over the place, because all our resources are right where we need them," says co-owner Brad Cook, of the truck he lovingly calls Baby Blue. "It's like a new toy."
Since opening up shop on the super-sized food trailer, which includes its own smoker for their specialty barbeque, Cook and his team have been traveling the tri-state area serving up custom menus for catering events and public festivals alike. They've even been called upon to feed a few weddings.
"People love that it's really economical and it creates a more laid-back atmosphere," says Cook. "Now we can just roll up and cook anything in this mobile kitchen."
Outdoor Seating
While catering may be a growing part of the industry, it's the festivals and street-side service that continue to convert new customers into food truck foodies. With summer in full swing, it's not hard to find an outdoor event with at least one or two trucks parked outside.
One of the area's most regular food truck spots is the Westmont Farmers Market, held every Wednesday night from May through October. Walk around a festival, and thanks to the food trucks stationed there, you can find anything from barbeque to pizza to tacos, even sandwiches and desserts—all ready to feed the masses.
Stanton says that his healthy choice translates well to local fairs and festivals, especially when matched against the typical deep-fried fare he shares a space with. "Everybody appreciates the healthy option," says Stanton.
"Personally, I have a restricted diet and I wanted to be able to cater to people like me who struggle to find something to eat at a big event." Another way the food truck trend is capitalizing is through local companies treating their employees to lunch, paying a flat fee for a few hours of food.
"South Jersey in particular may not have that many public venues, but there's a lot of industrial parks and businesses that are looking for new and creative lunch options for their employees," says Cook.
And for people like Stanton, who have made his truck and trailer his full-time career, the mobility is a priceless commodity. "If you own a space then you're stuck at that restaurant," Stanton says. "We can move from place to place and find where our food works. We just shut down the generator, close the doors and find somewhere else to sell. And now we have a following from Facebook and from people who come out to the events and want to find where we're going to be next."
The Flat Tire
But operating your own food truck isn't all fun and games.
"People think it's easy, but they don't see us gathering the paperwork, fire permits, town permits, groceries and prepping to be at an event from 11 a.m. to 3 p.m. for lunch. Then we go home and get ready for the night events. It can easily get to be a 12-hour day. In fact it's almost always a 12-hour day," explains Mary Hilbert of Mary's Mobile Diner. "And on the days we do have off we're prepping and getting ready for the next day."
Issues like zoning permits, landlord contracts and private company regulations can be the biggest part of the battle to operate a food truck full-time in South Jersey, operators say.
Take the Camden waterfront's former Food Truck Fridays, for example. The event, launched in the summer of 2013, was aimed at reaching the tourists, Rutgers-Camden students and local employees that crowd the waterfront every summer. And food trucks from South Jersey and even over the bridge showed up en masse to feed the crowds.
"We had a great turnout; it was phenomenal," says Parish. But as the second year approached, permit and parking laws got in the way. "Camden wanted $600 for an annual permit but won't let you vend on the streets," explains Moles. "We had to be on a private lot, paying the lot, paying the Camden permit. Then you had to take a gamble and hope you would make enough to earn anything. It got to be too much to keep up with."
And with that, South Jersey's only food-truck focused event came to an end. Since then, Parish has stopped day-to-day vending in South Jersey, as the cost doesn't meet the demand. "The amount of trucks has increased, but the places to go for day-to-day vending have not increased," he says.
But local trucks haven't stopped fighting, which is where Johnathan Grzybowski, founder of Dino Enterprise, a Cherry Hill online marketing firm, comes in. A longtime foodie, he developed a relationship with local vendors with the hopes of developing a South Jersey Night Market, similar to ones seen in Philadelphia.
"People are more interested in something that's easy, a place where they can hang out with friends and get something quick," he says. "I think that's where we're heading. I can see this being a long-term thing. I just think that there is a community aspect in South Jersey that can rival Philadelphia, and I don't think it's being tapped into," Grzybowski says.
For now, he's fighting for more access to area food trucks, with plans in the works for the night market sometime in September. "My biggest struggle is finding people and sponsors to get behind this new idea," he says. "Uncertainty is the biggest problem in this young market."
A Team Effort
While the fight for food truck rights continues, food truck owners have come together to create a united front in South Jersey. "We want to get some of the laws changed so that we can do some more vending, so we work together a lot to help each other," says Parish.
"We really have formed a group. I call them my food truck buddies," Moles says of the sprawling list of food truck owners she now considers close friends. "We'll call each other to split events, and we band together and give each other tips and advice."
It's a big change for Parish, who has grown used to store-front competition in his years owning The Kibitz Room. "There's no great love amongst competitors in the deli business," he says. "The trucks are so much different. If I can't make it to a gig I can reach out to other trucks to help me out. There's a really great relationship amongst truck owners, because the more you have the better it is."
"We all live the same life; we're on-the-go people who work hard," says Stanton. "It's like a brother or sisterhood almost."
Others are simply happy to be able to do what they love.
"It's funny how many people that are tied to a desk all day say they wish they were out driving the truck," says Moles. "I spent my entire life doing cerebral work and now here I am driving a truck."
Published (and copyrighted) in South Jersey Magazine, Volume 11, Issue 5 August, 2014).
For more info on South Jersey Magazine, click here.
To subscribe to South Jersey Magazine, click here.
To advertise in South Jersey Magazine, click here.