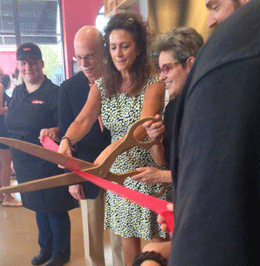 Scene
Click here for this month's scene photos.
Rowan College at Gloucester County's "Everybody Loves Elwood" Scholarship Endowment Signing
Photo 1. Rowan College Director of Development Raymond Page, Elwood's owner Karen Quigley, Vice President of Academics Dr. Linda Martin, Rowan College President Dr. Frederick Keating and Executive Director of Financial Services Elizabeth Hall
NJ WAVE Hosts Ventilator-Dependent Children From the Voorhees Pediatric Facility at the Jersey Shore
Photo 2. Chip Powell, Kevin Jackson and Tiko Patel
Photo 3. Ashawn Brewer on the boardwalk
Scotts Miracle-Gro Donates 500 Seedlings to Camden Community Garden
Photo 4. Salvation Army volunteers and local children with Salvation Army in Camden Major Paul Cain, The Scotts Miracle-Gro Company's Brian Patrick and Salvation Army in Camden Major Sue Dunigan
Flaster Greenberg at the 42nd Annual American Cancer Society's Bike-A-Thon
Photo 5. Flaster Greenberg team members Doug Stanger, Allen Fineberg, Captain Tom Durling, Christin Deacon, Joe Bebey, Michael Homans and Justin Brown
b.good at the Promenade in Sagemore Grand Opening
Photo 6. b.good general manager Jackie Neal, Sandy Student, Evesham's Monica Vandenberg and b.good owner Deb Lutz
Marlton Sons of Italy in America Lodge 2315 Scholarship Awards Ceremony
Photo 7. Scholarship recipients Lauren Muccilli, Mackenzi Canavan, Shea McGree and Stephanie D'Andrea
Riverton Country Club Donates Golf Carts to Camden Kroc Center
Photo 8. Riverton Board of Trustees' John Dorsey, Kroc Center administrator Major Paul Cain, Riverton Superintendent Doug Davis, and Turf Equipment and Supply Company's Louis Bosco
Durand Foundation's First Annual Gourmet on the Runway Food Truck Fete
Photo 9. Durand Foundation Board Chairman and event co-chair Dennis Rivell, Durand Chairman Rich Hoffman and Durand CEO Raymond Cristofoletti
Photo 10. Durand Foundation Board Treasurer Bob Pantaliano, Gina LaPlaca and Durand Foundation Board Chairman Dennis Rivell
Photo 11. Durand Board Member Dr. Jacqueline Kaari, Durand Adult Training Services Director Sue Sedlack, Durand Director of Residential Services Tonya Faggins and Durand Business Manager Paula Pine
Published (and copyrighted) in South Jersey Magazine, Volume 11, Issue 5 August, 2014).
For more info on South Jersey Magazine, click here.
To subscribe to South Jersey Magazine, click here.
To advertise in South Jersey Magazine, click here.