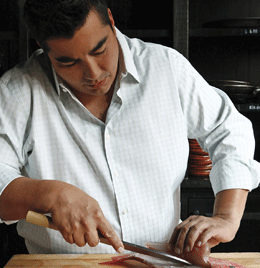 Open Kitchen
Since acclaimed chef Jose Garces announced plans to open a restaurant at the Moorestown Mall, South Jersey diners have been eagerly anticipating his arrival. Well, the wait is finally over.
As the owner and operator of more than a dozen restaurants from Philadelphia to Palm Springs, Jose Garces has been down this road many times before. Yet, this time things are different.
A James Beard Award winner and Food Network Iron Chef, Garces has opened eateries in buzzing city neighborhoods, swanky hotels and, more recently, the Kimmel Center. But come this month, he'll launch his first restaurant at a mall, the Moorestown Mall to be exact, following in fellow chef and good friend Marc Vetri's footsteps, who opened an offshoot of his Osteria last November. The two highly respected chefs are challenged with helping breathe new life into the property that has long played second fiddle to nearby Cherry Hill Mall with its high-end storefronts and polished chain restaurants.
One may look at this as a daunting task, but for Garces, it's an opportunity to further establish his brand in the marketplace after achieving success with his four concepts at Revel in Atlantic City, where he regularly has a full reservation book. He'll look to continue the momentum with the opening of Distrito adjacent to Vetri's Osteria. But the question remains: Is Moorestown ready for an upscale take on Mexican street food and a heavy dose of margaritas? To hear Garces tell it, he feels the quality of the South Jersey dining scene is too easily dismissed by outsiders.
"If Revel is any indication on how South Jersey eats, it's a really good indicator for us," says Garces, fresh from a morning yoga session. "South Jersey likes good food, and we serve premium product and they haven't blinked at it."
Distrito is not a new concept for Garces; in fact, it's a proven winner. The first one opened in West Philly in 2008, followed by locations in Palm Springs, Atlantic City and Scottsdale, Ariz. A celebration of Mexico City's vibrant surroundings, the menu consists of shared plates that may sound familiar to the average diner (tacos, ceviche, guacamole), but there's nothing average about them, from the ingredients to the preparation.
Garces admits that Vetri's decision to make the leap to the Moorestown Mall encouraged him to follow suit. "I would say he definitely had some influence on our decision," he says. "And I like the symmetry between what he does and what we do. Marc was doing Italian, so I wouldn't want to do Spanish tapas as Osteria has a similar feel to my Amada. Distrito has a big margarita and bar program and with the limited liquor licenses in the area, we felt we could benefit from a robust bar program. You can eat at the bar; you can drink. It just made a lot of sense.
"Marc is a big draw, and we are going to be there and should be another draw. As the mall gets reprogrammed and enhanced, we are going to benefit from that by bringing our boutique brand to this place. Things are cyclical; [the mall] was outdated and they are making it feel fresh."
Despite sharing the same name as some of his restaurants in other locations, each Distrito is very much its own space with tweaks and nuances to help differentiate the experiences. Moorestown will be no different. Working with Dash Design out of New York, Garces decided to take the look and feel of Distrito in a different direction. "There's some of the touches, but it's definitely an evolution," he says.
Raised in Chicago, Garces was inspired by family recipes prepared by both his mother and grandmother. After leaving culinary school, he made his bones cooking in kitchens both in Europe and the U.S. He found a home in New York City working with mentor Douglas Rodriguez, which led him to Philadelphia in 2001 where he ran the show at Stephen Starr's Alma de Cuba before transitioning to El Vez. The El Vez concept of elevated contemporary Mexican cuisine was actually Garces' idea, but when he left from under Starr's umbrella in 2005 to open his first restaurant, Amada, he had to leave it behind. In many ways, Distrito is the rebirth of the El Vez concept.
As Garces built his name and added more restaurants, he began to gain recognition outside the local landscape. That notoriety helped him penetrate other markets and afforded him the opportunity to compete on Food Network's Next Iron Chef in 2009. All he did in front of a national TV audience was defeat a chef named Bobby Flay. Suddenly, Garces had become a household name outside of the Delaware Valley.
The success has helped Garces achieve tremendous culinary freedom, allowing him to expand his reach while exploring new avenues. For instance, he is now able to supply a good portion of his protein and produce thanks to the 40-acre Bucks County farm where he lives with his wife Beatriz and their two children. He grows his own vegetables, raises his own livestock, and has found a certain amount of Zen-like tranquility being his own farmer.
"I was looking for a retreat for me and my family and I ended up farming," Garces says of his decision to move to the suburban spot a few years back. "[Farming] wasn't important [to me] four years ago, but as I learn about agriculture, it's something I've become passionate about. It's great to be able to grow your own vegetables and eat them. It's a great thing to teach my children. For years, I used to get deliveries of food to the back door of my restaurants and I never really appreciated how that product got to my back door."
Another big passion for Garces is giving back. He's a regular at local philanthropic happenings like the annual Great Chefs Event benefiting Alex's Lemonade Stand, but he's also very hands on with his own Garces Foundation. The organization created with the help of his wife was devised to provide assistance to the underserved immigrant community, mostly restaurant workers and their families. That could mean anything from having local doctors and dentists volunteer to give health screenings to English-as-a-second-language programs. It's given the Garces family the chance to make a direct impact on a cause that's so near and dear to them. "For years I've been asked to do charitable events, and I would do them, but to be actually able to drive our mission has been really rewarding," he says.
With so much on his plate, Garces tries not to spread himself too thin. That's where he relies on his staff, who are crucial for not only getting his vision, but executing it properly. And it's not only his standards in the kitchen, his front of house staff is known for providing a high level of hospitality as well. "I wish I could get everywhere, but I can't. So, I have to trust the chefs and general managers and folks who have been with me for a long time," he says of finding the right balance between being a restaurateur and chef.
When he's not busy overseeing his many ventures, Garces can usually be found toiling away on the farm or out on his road bike chewing up some nearby terrain. He regularly takes part in the City to Shore bike ride, making the trek from Cherry Hill to Ocean City to benefit multiple sclerosis. Garces is also an avid golfer, making time to get in as many rounds as he can, though admittedly his game still needs some work. "I'm not really good, but I enjoy the game," he quips.
For now, though, he's focusing all his energy on the Moorestown opening. Never one to sit idly by, when one Garces restaurant opens, it's not long after you'll hear about his next plans. Despite his rapid expansion, the excitement and nerves still surround him as the clock ticks ever closer to opening day.
"Oh yeah, definitely [the excitement] doesn't ever end. That's a big part of the fun, that moment when you are getting ready to launch and there's that anticipation of what could be."
Published (and copyrighted) in South Jersey Magazine, Volume 11, Issue 4 July, 2014).
For more info on South Jersey Magazine, click here.
To subscribe to South Jersey Magazine, click here.
To advertise in South Jersey Magazine, click here.