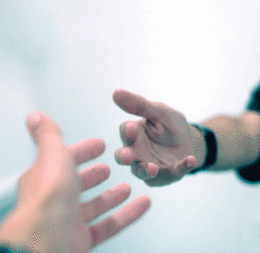 Support System
Thanks to state programs, first responders experiencing PTSD no longer have to suffer in silence.
For many, happy hour or a relaxing soak in the tub is enough to shed themselves of the stress of the workday. But for those whose jobs entail saving lives and stopping crimes, unplugging can be a much more difficult endeavor.
It used to be that police officers, firefighters and other first responders couldn't really admit the stress of the job was getting to them, lest they risk being perceived as weak or unfit for duty.
"People think that people in emergency services are Superman," says former police dispatcher Diana Brunell. "People don't realize they're human."
While working dispatch in Wildwood Crest in 1995, one of Brunell's officers was killed during a traffic stop. The incident so deeply affected Brunell, she had to retire four years later after being diagnosed with post-traumatic stress disorder (PTSD). Soon after, she became involved with the New Jersey Critical Incident Stress Management (CISM) Team.
The team, one of many of its kind across the state, is a peer support group—made up of more than 200 volunteers, all current or former emergency personnel—for first responders coping with the aftermath of a traumatic incident. Though it's not a prerequisite for membership, Brunell says most of the volunteers have been through some kind of trauma themselves, helping change the notion that PTSD is typically only associated with soldiers returning from combat. It's happening at home too.
"It's kind of 'been there, done that,'" she explains. "They let them know it's OK to feel bad if something bad happens. We feel like we're not supposed to feel bad, like it's part of our job. … It's very hard to ask for help. You do things for other people. You don't ask for help for yourself."
'You think you're normal, but you don't know'
Haddon Heights Police Chief Richard Kinkler had only been on the force a couple years back in April 1995 when two of his brethren—John McLaughlin, an investigator with the Camden County Prosecutor's Office, and Haddon Heights Officer John Norcross—were killed during a standoff. The chief at the time, Ted Taylor, mandated counseling sessions for every officer following the incident. At the time, Kinkler's reaction was similar to that of his colleagues: "'What's this about?' Cops put up a wall … Looking at it through a chief's eyes, it was a good idea.
"The nice thing about that, you had somebody to talk to, even if you didn't think it was getting to you. It's one of those things—a fish doesn't analyze the water it's swimming in. You think you're normal, but you don't know."
Cherry Hill Fire Director Patrick Kelly says even when emergency personnel aren't seeking support from outside sources, they're working through things among themselves, which is its own form of therapy.
"You always talk to people on the job," he says. "Talking to your peers is probably as good as anything, unless it's really, really traumatic. You get it in the open. You realize you're not the only one who goes through these same things."
It's impossible to predict what will lead a first responder to seek support. For some, it could be a single catalyst—the death of a child, a gruesome accident—and for others, a buildup of traumatic incidents.
Kim Berdine, captain of the Magnolia EMS, says she referred one of her crew members to the Cooper University Hospital Critical Incident Response Team (CIRT) after a series of cardiac arrest calls, a number of which involved young people who had overdosed on heroin. "We're trained to save a life, and when you can't, it preys on you," says Berdine.
Dave Groves, coordinator for the Cooper CIRT, says the team's job mainly consists of listening and reassuring. "We just let them open up," he says. "They'll say, 'I feel I should have done more.' We tell them, 'You can't save everyone.' We reassure them they did their job."
Fran Roberts, clinical director for the Delran-based Mercury CIRT, describes the team's job as "helping normal people have normal reactions to abnormal events." If the services they provide aren't enough, CISM and CIRT teams can also refer first responders to counseling or other resources for support.
A sign of strength
Though there is still occasionally a stigma around the idea of a first responder seeking help—a "suck it up" attitude, Brunell says—most in the field agree that it's much more accepted now than it used to be.
Nowhere is this more evident than in the array of options available to emergency services personnel. In addition to the New Jersey CISM team, there are a number of other CISM and Critical Incident Response Teams (CIRT) in South Jersey alone, as well as Cop2Cop, a 24-hour helpline for law enforcement officers throughout the state.
Cop2Cop was the first program of its kind in the country, created in 2000 as the result of legislation designed to focus on suicide prevention and mental health support for law enforcement following a spike in suicides in the late '90s.
Director Cherie Castellano, a mental health professional who helped found Cop2Cop, says in its 14-year existence, the service has fielded more than 30,000 calls and helped avert roughly 200 suicides. The program has expanded to include a separate helpline for other emergency services personnel, as well as a peer-based hotline for veterans.
"New Jersey is sort of leading the country in a lot of these areas," says Castellano, who believes the key to giving first responders the support they need is awareness.
New Jersey is also one of the few states where workers' compensation covers PTSD, with no statute of limitations—a precedent set by Brunell, who fought for eight years to have her own PTSD covered by insurance. In some cases, there's also PTSD coverage in employer health plans. Others around the country are slow to the punch, citing concerns of inflated budgets and the difficulty in determining which claims are serious and which ones may be attempts to game the system.
Another sign of progress: The International Association of Chiefs of Police has deemed emotional well-being an "officer safety issue," according to Roberts. That's key because it means it's "something departments have to address."
Of course, the benefits of providing support to first responders are multi-faceted. Besides the obvious public interest in having emotionally and mentally sound emergency personnel on the streets, research has also shown that first responders who get support are less likely to miss work, according to Groves.
"Our measure of success is making sure people don't go out on disability with PTSD," explains Roberts. "We want first responders to retire when they want to, not because the job has twisted them up so much that they have to."
Because of programs like Cop2Cop and the Cooper CIRT and the various other CISM teams throughout the state, the stigmas that held previous generations of police, firefighters and EMTs back—a "male, macho" attitude, says Kelly—are relegated to the past.
"It's not a sign of weakness," says Groves. "It's a sign of strength to say, 'I can't handle this on my own.'"
Published (and copyrighted) in South Jersey Magazine, Volume 11, Issue 4 July, 2014).
For more info on South Jersey Magazine, click here.
To subscribe to South Jersey Magazine, click here.
To advertise in South Jersey Magazine, click here.