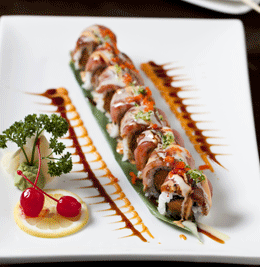 Palate: Ocean Asian Cuisine
The Balancing Act: Ocean Asian Cuisine
288 Egg Harbor Road
Sewell
(856) 863-3688
3 and half forks
Hiding away in an unassuming strip mall off Egg Harbor Road sits Ocean Asian Cuisine. It's an eatery that I might never have noticed had I not heard praises for its innovative dishes and sushi rolls. Inside you'll find a fairly ordinary restaurant, with a small dining room and accompanying sushi bar on the back wall, where a small team of chefs showcase their skills for a fairly packed dinner crowd.
One of the most impressive points of the evening was the preparation. Everything, from starters to entrées, came artfully arranged with extra care. Like the avocado salad, which came with a whole, ripe avocado sliced thin and fanned over chopped greens, tomatoes and cucumbers, then lightly sprinkled with sesame seeds. For such a simple dish the flavors were surprisingly cohesive; the smooth avocado blended with the crisp iceberg lettuce, all of which was accented by Ocean's house-made ginger dressing.
Then came the sushi: a colorful plate of creative rolls with equally creative names. The Perfect Match roll, for example, was bursting with freshly cut yellowtail, lobster, and salmon, then rolled with tobiko and topped with tuna and avocado. It was a well-planned bite, mixing the creamy texture of the salmon, avocado and tuna with the meatier lobster and yellowtail so that each individual component got its chance to shine.
The Crazy Tuna roll was much less complex—featuring spicy tuna and avocado, layered with more tuna on top of the roll. And though it didn't pack as much flavor as the Perfect Match, I had no complaints. The zing of the peppery piece of tuna on top melded nicely with the mellow, smooth filling of the roll, a perfect way to balance out the pepper's heat.
The menu took a more international twist with the entrées and kitchen appetizers. There was more than enough Thai, Chinese and Szechuan inspiration in the chef's specials, like the curry shrimp, which came tossed with string beans, onions and bell peppers. The whole dish was tossed in a spicy curry sauce and served with white rice, which overall needed a bit more seasoning and salt. The sauce itself went best with the briny shrimp and fresh snap peas, coating every bite with just enough spice and curry flavor to please.
The crispy shredded beef was another unique entrée option, featuring a heaping pile of thinly sliced beef fried until it was actually crispy, then tossed in a brown sauce with bell peppers, celery and rice. While the sauce was a tad too sweet, the celery and fresh pepper added a nice, clean flavor that made each forkful even crispier. It all came together when combined with the soft white rice.
The most disappointing part of the evening was the dessert menu. I've come to love Asian-inspired sweets, like bubble teas, mochi and fried green tea ice cream; end-of-dinner treats you can't find anywhere else. But instead of desserts that matched the restaurant, we were presented with a list of Italian options from a national packaged food chain. It didn't match the inventive dishes that were sitting on the table just minutes ago, and ended the night on a low note.
But I still find myself excited about that dinner. Sure, I've had sushi many times before, but the care and attention to details here made all the difference. Having food prepared and styled beautifully can totally transform a meal, and in this case it left a lasting impression that I won't soon forget.
Published (and copyrighted) in South Jersey Magazine, Volume 11, Issue 4 July, 2014).
For more info on South Jersey Magazine, click here.
To subscribe to South Jersey Magazine, click here.
To advertise in South Jersey Magazine, click here.