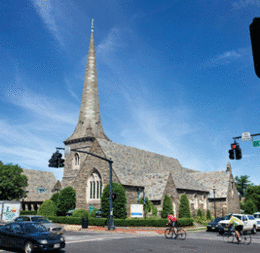 In the Neighborhood: Moorestown
A Slice of Americana: In historic Moorestown, community comes first.
Founded in 1682, Moorestown is one of those South Jersey towns that can blend its historic roots with modern-day values. It's a place where structures built hundreds of years ago are not only preserved, but repurposed and made useful; where there is room for not only a quaint Main Street but also a large shopping mall; and where residents take an active role in the town's success, pitching in wherever needed.
No matter how you look at it, Moorestown remains one of the most desirable communities to live in around South Jersey. It was ranked third on our 2014 list of Top Towns, determined by a combination of high property values, a solid school system and low crime rates. And many locals remember the town's 2005 designation from Money magazine as the Best Place to Live.
But it's the sense of community that is the town's most distinct feature. Mayor Chris Chiacchio says the friendliness of residents is unbelievable. "Whenever you're out and about around the town, people will say hello as you pass," he says. "Everyone seems to have that naturally instilled in them and it's one of the characteristics that makes Moorestown such a desirable place to live."
One might say this can be attributed to Moorestown's Quaker roots. Lenny Wagner, president of the Historic Society of Moorestown, says the Quakers were a dominant force in the town up until after the American Revolution.
"The community was really founded on those beliefs and the influence is still seen today in Moorestown in terms of the limits on alcohol sales, but even more so in the ways people get involved," he says. "The Quakers very much believed in being involved in and responsible for the community in which you live, and residents today really do remain true to that by being active in some form of public service."
Keeping in touch with its roots, Moorestown is home to several historic landmarks that serve a purpose in everyday modern life around town, such as Breidenhart. Built in 1894 by Samuel Allen, the inventor of the Flexible Flyer Sled, this mansion was later purchased and refurbished by Eldridge R. Johnson, founder and president of the Victor Talking Machine Company (later RCA). Today, this landmark is home to a senior care facility.
The Perkins Center for the Arts is another well-known building in Moorestown. The Tudor Revival-style home was built in 1910 as a wedding gift for Alice and Dudley Perkins and named Evergreen Lawn. After the members of the Perkins family passed, the property was bequeathed to the township. It was listed on the National Register of Historic Places in 1975 and in 1977 it became home to the Perkins Center for the Arts, a nonprofit community arts center serving all of South Jersey.
Another recognizable icon of Moorestown is Nipper, the famous trademark of the Victor Co. started by the aforementioned Johnson. The dog's image graced recordings and advertisements and statues of its likeness are commonplace in Moorestown. In 2005, there was a public art project in which 30 Nipper statues were painted, then auctioned off to benefit several organizations in town. Wagner says, "Eldridge Johnson gave a great deal of money to places like the Community House and the town has continued to celebrate its connection with him and the Nipper dog in various ways."
But as much as Moorestown appreciates its past, it's not stuck there. The town has seen several projects come to fruition in retail, dining, residential and even a brand new municipal complex. The new town hall and library is a 45,000-square-foot facility that replaces the former town hall, which was damaged in a 2007 fire.
Chiacchio says the building will be the centerpiece of Moorestown, especially the library, which is outfitted with the latest technology. "In my humble opinion, the library is the most beautiful and extraordinary in the county," he says. "The children's reading room needs to be experienced. ... It's like something out of Disney. We're so excited for it to open."
The Moorestown Mall is booming again thanks to a facelift and addition of new restaurants. A historically dry town, voters approved the sale of liquor licenses in Moorestown in 2012, and business followed. Firebirds Wood Fired Grill and Marc Vetri's Osteria were among the first to sign on, and this month Jose Garces' Distrito will debut. A Buffalo Wild Wings is also in the works for East Gate Center.
"We're continuing to grow with new business and the mall is experiencing a renaissance," says Chiacchio. "With the restaurants, the remodeled movie theater and the top-to-bottom renovation, it is a great place to go."
On the residential and community development side, Moorestown will see the addition of 122 age-restricted townhouse units called the Mews at Laurel Creek on Centerton Road. A new 124-bed skilled nursing facility is under construction on Matter Avenue, and a private lacrosse center is being built on Flynn Avenue.
Back on Main Street, Chiacchio says this summer there are plans to break ground on what will be Percheron Park. He refers to it as a "pocket park," built on the former site of a gas station. The park will celebrate Moorestown's agricultural heritage and the arrival of the first Percheron horse in the U.S. from France in 1839 by Moorestown native Edward Harris II. "We're going to turn around this corner and make it something to be enjoyed by residents," Chiacchio says.
It seems that the leaders in Moores­town are always putting residents first, finding programs, businesses and projects that will bring the community together. "Even though there are new things coming to town, it hasn't changed Moorestown," says Chiacchio. "It's still the same, close-knit community we fell in love with when we moved here. I think it really is representative of America."
Meet the Mayor
Chris Chiacchio served on Moorestown's town council for three years and stepped into the role of mayor this past January. Although eligible for re-election in November, Chiacchio has decided not to run, and will instead be focusing on spending time with his two young children, Grace, 7, and CJ, 3. In fact, the desire to raise a family is what attracted Chiacchio and his wife, Renee, to Moorestown more than nine years ago. Although he grew up in neighboring Cinnaminson, Moorestown was always a place where he enjoyed spending time. We spoke to Chiacchio about his favorite elements of the town he now calls home.
Raising a Family: "What attracted me to Moorestown was the sense of community. When my wife and I were looking for a town to raise our family, Moorestown was at the top of the list. We just fell in love with it."
A Day Well Spent: "My favorite way to spend the day is on a bike ride with the family. We make our way through the neighborhood, then up to Main Street. We'll grab a slice from Passariello's and usually end up at Zelley Park, where the kids love to play."
Neighborly Vibe: "A hidden gem in town is probably the friendliness of the other residents. People know Moorestown for its houses and Main Street, but when you live here, you really see how friendly the people are. The town's biggest asset is its residents. It might sound redundant, but I have really learned that you can rely on your neighbors here. It can be something as small as bringing the trash cans up from the curb for you, but it shows the incredible sense of community we all have."
Embracing Change: "The biggest change in the town recently was the decision to allow the sale of alcohol at the Moorestown Mall. It was significant, but it didn't change the tenor of the town."
By the Numbers
15.1: Number of square miles
102: Number of road miles
TWELVE: Number of parks
20,726: Population in 2010 census
810: Number of acres of open space owned by Moorestown and Burlington County combined
32: Number of Civil War battles fought by the Moorestown unit
650: Number of kids participating in township summer programs
46,000: Number of square feet of the largest private residence in N.J. located in town
45,000: Number of square feet of new municipal building
Published (and copyrighted) in South Jersey Magazine, Volume 11, Issue 4 July, 2014).
For more info on South Jersey Magazine, click here.
To subscribe to South Jersey Magazine, click here.
To advertise in South Jersey Magazine, click here.