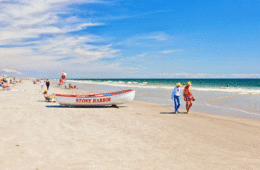 2014 Best of the Shore
Put on your swimsuit, grab a beach blanket and plenty of sunscreen as we take you on a town-by-town journey of what makes our summer playground such a special place.
Click here for the full article.
WHAT'S NEW
Avalon
Avalon has introduced a new event called Thursdays on Dune. Held from July 3 to Aug. 14, Dune Drive will open its doors for extended shopping hours, live music, crafts and games for kids and giveaways.
After a successful trial run in 2013 the city has reinstated the 7 Mile Jitney. For a price ranging between $2-4, the 14-passenger bus will run in the evenings between 6 p.m. to 2 a.m. through Avalon and Stone Harbor.
Dune Drive is welcoming three new boutiques this season, including clothier Happy in Avalon, Avalon Shops on Dune, and Serendipity Shops of Avalon.
Cape May
Red Oak Trading is the new companion store to Good Scents in Cape May. The store features clothing, handbags, books, jewelry and other accessories.
Margate/Ventnor
Bedazzled by the Sea opened a new location on Ventnor Avenue in Margate in January. Modeled after the New York City-style boutique, it offers high-end fashion for women that's both classic and trendy.
Ocean City
Boardwalk Bounce, a 5,000-square-foot play facility inside the historic Strand Theatre is ideal for kids ages 2 to 12. It features bounce houses, a rock-climbing wall, as well as full-service food for guests. Scott Griswold, who is past president of the Ocean City Arts Center, has opened his first studio. Located on Asbury Avenue, it will feature hundreds of photographs of the Jersey Shore.
Yoga Ginger, a new studio in downtown Ocean City offers Vinyasa, hot yoga and yoga for kids.
The Ocean City Boardwalk Merchants Association has added two more nights of fireworks this year, on Father's Day weekend and in the third week in July, for a total of five nights this summer.
Sea Isle City
An Ocean City staple, La Bottine Boutique is adding another location inside the Shops at Spinnaker.
This season, Sea Isle City has launched a new marketing campaign, complete with a revamped website, VisitSICNJ.com, mobile app, and a new tourism slogan: The Forecast is Fun.
Every Wednesday night, the Sea Isle City Chamber of Commerce will be hosting family fun nights at Excursion Park, featuring carnival-inspired games and events like balloon toss and three-legged race.
Stone Harbor
Hurricane Sandy left The Wetlands Institute with a walkway across the marsh that was virtually unusable. The institute debuts a new, 720-foot-long elevated marsh walkway this season that will provide even better access to the area for educational and research purposes.
Stone Harbor Celebrates its centennial this summer with a number of events, including the Centennial Celebration parade, lobster bake and concert, on Saturday, Sept. 6, at 2:30 p.m.
Wildwood
Wildwood will welcome five new tram cars this year, the first to hit the boards since 1949.
New businesses in Wildwood include ItsWell Yoga Studio, Stuey's Juice Bar and Bistro and Beach Bums, a clothing and souvenir shop.
WHAT'S NEW: FOOD
Avalon
The Diving Horse has a new executive chef in Palmer Marinelli. Marinelli has served as The Diving Horse's line cook and sous chef for the last four years, and plans to upgrade the menu to showcase the fare from local fishermen and farmers.
New to the dining scene is Turtle Crossing Café, which opened up at 27th and Dune Drive. The eatery serves up seasonally-inspired surf and turf, including their "Seven Mile Stew," which combines lobster, shrimp, lump crab, scallops and mussels with tomato, fresh basil, peas and shaved fennel.
Jim Boggs, the founder of the Philly Pigs Pro BBQ team, has announced the opening of the Avalon Barbecue Company. Located across from The Princeton at 212 21st Street, the take-out only shop will serve up traditional barbecue like pork, chicken, ribs and sides.
Lizanne Tracy and Scott Zurawski, the owners of The Sea Grill, have unveiled a brand new bar menu, featuring dishes like a prime rib sandwich, Peking duck dumplings and a steak pot pie.
Brigantine
This summer will mark the inaugural season of the Brigantine Farmers Market. The market will be open every Saturday from June 28-Aug. 16, from 8:30 a.m. until noon on Revere Boulevard between 15th and 16th streets. It will also mark the debut of the Downtown Wildwood Farmers Market, running from June 28-Aug. 30 from 8:30 a.m. until 1 p.m. at 3501 Pacific Avenue.
Cape May
Martini Beach in Cape May is now M'Ocean Coastal Cuisine and Raw Bar and features new owners and a new chef.
The Rusty Nail in Cape May will feature a pig roast every Monday from June 30 until Sept. 1, starting at 4 p.m.
Long Beach Island
The Arlington, a new Ship Bottom restaurant and bar features new-American cuisine crafted from fresh, locally sourced ingredients.
Serving gourmet gelato and sorbetto, POPularity offers traditional Italian flavors such as cherry, pistachio and coffee, as well as untraditional flavors such as blue cotton candy and s'mores.
The Point Pleasant Beach-based coastal, casual cuisine Surf Taco—the menu is heavy on "surf Mex," including burritos, tacos and salads—will open a new location in Ship Bottom this summer.
Tucker's Restaurant, which closed in the aftermath of Hurricane Sandy, is under new management and is expected to reopen in early summer. The tavern-style establishment will reportedly have a raw bar and large bar area with outdoor seating.
Margate/Ventnor
Johnny and Joanne Liccio, owners of Johnny's Café & Bar and John's Steaks, opened their third eatery on the same block on Ventnor Avenue in Margate last November. Shucker's Bar & Grille is a casual spot offering fresh seafood, affordable prices and a lively bar atmosphere.
Gilchrist Restaurant, a staple in Atlantic City for 70 years, opened a new location in April on Atlantic Avenue in Margate, just two blocks from Lucy the Elephant. They serve breakfast and lunch every day from 6 a.m. until 2 p.m.
Ocean City
The O.C. Boardwalk staple Monkey Bread has opened a second location, this one on Asbury Avenue.
The Port-O-Call Hotel's new restaurant, known as Adelene, will have its grand opening on July 10.
Under the leadership of new chef Drew Tuano, the restaurant will feature a new menu for breakfast, lunch and dinner, with highlights including cannoli-stuffed French toast, summer salads and crab cakes.
Sea Isle City
Sisters Sweet Shoppe, a candy boutique owned by four sisters, opened in the spring with a selection of fine chocolates, kettle fresh fudge, salt water taffy and more.
Stone Harbor
Chill, a new BYOB located above Rigi's Amusement Center (the former Tee Time Green Miniature Golf location) is expected to open in late June, offering an affordable, family-friendly menu. A small plates concept menu will debut at the Water Star Grille at The Reeds at Shelter Haven, offering patrons dishes and specialty drinks designed for sharing that are brought to the table throughout the evening.
The Cacios bring their beloved North Wildwood staple, Crab Cake Hotline, to Stone Harbor this summer.
Juice is taking over Stone Harbor, as the Smoothie Shack becomes Shore Juice and moves to a new location at Harbor Square, while Coffee Talk's new Juice Girl offers products with the tagline "Farm to cup."
Wildwood
Morey's Piers has been busy this offseason. They recently unveiled a new restaurant (The Taco Joint) and a new ride (Wave Swinger) at Mariner's Landing Pier on the Wildwood Boardwalk. And Adventure Pier is welcoming Tony Luke's, ALOHA Smoothie Company and Sweet Pea, a food truck scooping homemade ice cream.
Poppi's, a Neapolitan brick oven pizza restaurant, has opened in Wildwood. The menu is a mix of gourmet specialty pies, paninis, small plates, pastas and various salads.
Jake's Steaks will debut this summer at the Surfside Pier in North Wildwood, serving up Philly cheesesteaks, sausage sandwiches and more.
Keenan's Cabana Grill in North Wildwood welcomes an all-new sushi and wine bar.
BEST OF THE SHORE
Avalon
Best Before-the-Beach Sweets
The Shore certainly has its classic treats, like funnel cake and soft serve ice cream, but in Avalon our favorite sweets are the cream-filled doughnuts at Kohler's Bakery. People line up for this 65-year-old mainstay's cream-filled concoction, made daily and in-house, from opening until close. (609) 967-3694, KohlersBakery.com
Best Trendy Shopping
If you're like us, you're on the hunt for those summer trends like maxi dresses, skirts and boho-chic jewelry. Luckily, Summer Studio is the Avalon authority on what's hot this season, with looks that will help you embrace the trends with ease.
Best Way to Cool Off
People have praised the benefits of hot stone massage treatments for years, but with the summer providing enough heat Sunstone Massage & Wellness has given this treatment a relaxing boost via Cool Stone Facial Massage therapy. One 80-minute session leaves you feeling refreshed and calm, and ready to soak up the sun. (609) 368-0282, Sunstone.MassageTherapy.com
Best Opening Act
Starting off your meal on the right foot is important, and Fuze Restaurant and Lounge ensures that your first impression is as good as gold with solid offerings like tuna tartar and freshly made ricotta gnocchi Bolognese. Even the standard calamari dish is elevated with rock shrimp, nappa cabbage, pickled vegetables and a sweet eel sauce. (609) 368-1919, FuzeRestaurantAndLounge.com
Best Shore Style
When looking for beach staples—like that must-have cover-up, or a chic sarong—we set our sights on Tiger Lily, where you'll find everything from light and airy dresses and tops to beach bags and accessories, because bikinis and bathing suits aren't the only way to show off your shore style. (609) 967-4300, ShopTigerLily.com
Best Picture-Perfect Night
You may have heard of painting parties in the past, where friends can get together for a quick night-time art lesson, but The Princeton's Circle Tavern takes their class to the next level with Art Bar. A night of painting instruction comes complete with appetizers and drinks, alongside all your art supplies, so you can get the creative juices flowing and create your masterpiece. (609) 967-3456, PrincetonBar.com
Best Quesadilla at 9 a.m.
The Kudos American Grille serves up a breakfast that's anything but ordinary. A tortilla gets stuffed with scrambled eggs, diced sausage, peppers, onions and Cheddar cheese, then grilled and served with salsa and sour cream for a Southwest spin on your morning meal. (609) 368-7422, KudosAmericanGrille.com
Best Beer Blends
You may have had blended drinks and even wines before, but beers? The Whitebrier is turning the tables on their taps by mixing brews together to create blends like the Black and Yellow, which mixes Guinness with Goose Island's 312 Urban Wheat to form unique and original drinks. They also mix beer with liquor in drinks like the Brass Monkey, featuring Miller Lite, Amaretto, bourbon and orange juice. (609) 967-5225, TheWhitebrier.com
Best Reason to Ditch the Board Shorts
When it comes time for guys to put aside the flip flops and T-shirts we suggest stopping by Hassis Men's Shop where they stock designers like St. Croix and Jack Victor regularly. With everything from polos and sweaters to sport coat and full suits, this is Avalon's spot for sharp-dressed men. (609) 967-3234, HassisMensShop.com
Best Traditional Desserts
Tortilla Flats is known for an impressive Mexican menu—including an individual gluten-free list—but it's their homemade desserts that keep us coming back. Authentic desserts like flan, tres leches cake and fried ice cream are all made in house with plenty of fresh ingredients for a truly sweet ending to your journey through Mexico. (609) 967-5658, TortillaFlatsAvalon.com
Best Country Club Style
Check out The Preppy Palm when looking to mix and match for a day at the Avalon Yacht Club or a leisurely afternoon lunch dining al fresco. You'll find tons of fresh clothes and accessories from designers like Lilly Pulitzer and Jonathan Adler to keep your wardrobe fun and bright. (609) 368-7300, ThePreppyPalm.com
Best Polished Plates
At Café Loren, the upscale atmosphere fits its equally impressive menu, with savory dishes like macadamia-crusted mahi tuna, roasted rack of lamb and pan roasted halibut taking center stage. (609) 967-8228, CafeLoren.com
Best Use of the Local Catch
The Concord Café kicks shellfish up a notch with their Seafood Pesto Pizza. Lump crab meat and shrimp sit atop a white pie, along with diced tomatoes and mozzarella cheese, then gets drizzled with fresh pesto for an extra hit of flavor. (609) 368-5505, ConcordCafe.net
Cape May
Best Way to Watch the Sunset
The Virginia Hotel upped the ante in the summer romance department with their sunset serenade package. You get a picnic basket full of gourmet goodies from the Ebbitt Room and a golf cart ride to the beach where the hotel staff will arrange everything on a blanket so you can nestle and nibble with that special someone. (609) 884-5700, CapeResorts.com
Best Place to Take Your Dog for a Cold One
The Rusty Nail is a bar that's been attracting crowds since the '70s, but now the place has gone to the dogs—in a good way. Not only can Fido chow down on a special doggie menu here, including all-natural treats and low-fat options, but they also serve Boswer Beer, a non-alcoholic, non-carbonated beverage made from chicken and barley. (609) 884-0017, CapeResorts.com
Best Place to Spot a Celebrity
Have you ever wanted to sleep in a room where a president has slept? At Congress Hall, they've hosted the likes of Ulysses S. Grant, Franklin Pierce, James Buchanan and Benjamin Harrison during their summer retreats. These days the hotel has become the desired destination for the likes of Oprah Winfrey, Tina Fey and Alec Baldwin. (609) 884-8421, CongressHall.com
Best Fish Taco (You Never Thought Of)
At Tisha's Fine Dining, there seems to be an emphasis on making the ordinary extraordinary. That's certainly the case with this bite from their lunch menu, where instead of cod or mahi mahi, they use jumbo lump crab cakes. Finished off with a homemade slaw, tomato relish and a little avocado and we found our new summer obsession. (609) 884-9119, TishasFineDining.com
Best Reason to Forget About Swimsuit Season
The sweet treats at Ellie's Bakery are worth cheating on your diet. From oh-so-rich brownies and delectable pies to their quality bagels and quiches, this is the kind of place where you can taste the love with every delicious bite. (609) 884-4007
Best Early Bird Special
If ever there was an excuse to grab an early dinner, it's the wonderful prix fixe menu at Peter Shields Inn. Available from 5:30-6:30 p.m. (except on Saturday), this three-course, $40 menu is a stellar sampling of quality cuisine from a restaurant known for creating superb plates. (609) 884-9090, PeterShieldsInn.com
Best Way to Spread the Love
Forget the PB&Js your mom used to pack in your lunch; at Cape May Peanut Butter Co. they are bringing the pantry staple into the future. In addition to fan favorites like honey roasted and almond butter, there's also unique offerings like chocolate and cappuccino—they'll even make you a sandwich, but it's up to you whether or not to keep the crust. (609) 898-4444, CapeMayPeanutButterCo.com
Best Way to Dance the Night Away
With live entertainment starting in the late afternoon on Fridays, Cabanas Beach Bar and Grill is the place to be whether you're jamming at happy hour or cutting a rug well into the wee hours. There's a good mix of music on the calendar and the proximity to the beach is as attractive as the clientele. (609) 884-4800, CabanasontheBeach.com
Best Reason to Eat at the Counter
The Red Store is a tiny restaurant with a big reputation thanks to its James Beard-nominated chef, Lucas Manteca, so plan accordingly if you want to snag a seat. Want our advice? Reserve a spot at the "counter," a rustic take on the chef's table where six lucky guests can enjoy six courses handpicked by Manteca to enhance your dining experience. (609) 884-5757, CapeMayPointRedStore.com
Best Bag of Doughnuts
Axelsson's Blue Claw Restaurant doesn't seem like the place to order a bag of doughnuts, until they arrive and they aren't actually doughnuts at all, but rather meaty orbs of blue crab. Served with a choron sauce similar to a béarnaise, this is more than a satisfying snack, it's a taste of summer at the Shore. (609) 884-5878, BlueClawRestaurant.com
Best Reason to Draw a Bath
Admit it; you haven't sat down and soaked in a tub in years. We were the same way until we dipped our toes into Bath Time. From the one-of-a-kind soaps to scented candles, they have everything you'll need to settle in for a little relaxation. You can also craft your own scented lotion to help your skin recover from a day baking in the sun. (609) 884-9234
Best Alone Time
Those who work hard, tend to play hard, so it's natural to want to treat yourself when given the chance. At Cape May Day Spa, our favorite respite is the Ultimate Day package, a five-hour pampering marathon that starts with an aromatherapy salt scrub, mixes in a whirlpool, massage and facial before finishing off with a mani-pedi while you nosh on salad, fruit and cheese. (609) 898-1003, CapeMayDaySpa.com
Best Summer School
Parents looking for an escape from the little ones can feel good about turning the tikes over to EcoVentures. The daily program gives kids ages 4-13 hands-on experience in a variety of activities like fishing and snorkeling while incorporating educational elements like learning about tidal movements and identifying fish species into each session. (609) 742-5656, EcoVenturesUS.com
Best Cup of No Ordinary Joe
The next time you want to spice up your latte, get in line at Coffee Tyme where you'll find whimsical pours like Snickers and Almond Joy mochas. You ever dream about a bananas foster latte? You will after you taste it. (609) 898-9433
Best Way to Unwind on the Couch
The Brown Room is a sophisticated cocktail lounge dubbed "Cape May's Living Room." While it may be as warm and inviting as your living room at home, it's also the perfect place to sip a signature cocktail and enjoy a few small plates before a night out or linger with friends after dinner. (609) 884-8421, CapeResorts.com
Long Beach Island
Best Place to go "Soft"
There's a good reason why the institution known as Harvey Cedars Shellfish Co. is now celebrating its 40th year. Our best tip: Order up the jumbo soft-shell crabs, sautéed in garlic and white wine. This dish proves that the simplest preparation is also the best when using the freshest, locally harvested seafood possible. (609) 494-7112,HarveyCedarsShellfishCo.com
Best Way to Surf on Dry Land
At the Flow House within Thundering Surf Waterpark in Beach Haven, it's all surf and no sand (or sharks). Here, at the first Flow House in the United States, surfers of all ages can test—or even perfect—their bodyboarding or "flowboarding" skills in an environment that truly embraces the surfing lifestyle. (609) 492-4200, FlowHouseLBI.com
Best Reason to Eat Soup in the Summer
With its Manhattan clam chowder (11-time LBI Chowderfest grand champion) and New England clam chowder (2012-2013 Great Chowder Cook-Off world champ), Stefano's Restaurant in Long Beach Township is, quite literally, serving up some of the world's best. But that's just the beginning. The delicate crab cakes make a fine segue into dessert where you'll want to order the strawberry Napoleon; trust us. (609) 492-1100, StefanosLBI.com
Best Sundae Show
Enjoy the best sundaes in Beach Haven, served up by a cast of candy-striped entertainers, at the Show Place Ice Cream Parlour. This old-timey destination has become a rite of passage, offering summer's ultimate treat hand in hand with a healthy taste of vaudeville that welcomes audience members to get involved. (609) 492-9477, TheShowPlace.org
Best Reason to Skip Lunch at Wawa
One of the best lobster rolls outside of New England comes from Beach Haven, courtesy of the good folks at Panzone's. Served on a crusty hoagie roll, this sandwich stars generous pieces of lobster meat, along with provolone cheese, lettuce and tomato, with hints of basil, onion and pimento. Finished off with a drizzle of balsamic vinegar, it's a sandwich you will remember. (609) 492-5103, Panzones.com
Best Reason to Put on Shoes for Dinner
Hungry for some excellent Italian cuisine that qualifies as art on a plate? Make a reservation for Raimondo's in Ship Bottom. We suggest you start with the cheese and charcuterie plate. Wherever on the menu you venture next, you won't be disappointed. (609) 494-5391, RaimondosLBI.com
Best Way to End the Day
Send the day off in style on the waterfront deck of The Gazebo in Beach Haven. The sunset view is spectacular, and the diverse menu includes everything from made-to-order sushi, freshly caught local seafood and vegetarian delights. (609) 492-5811, GazeboLBI.com
Best Place to get the Scoop
It's impossible, as the saying goes, to not smile while eating an ice cream cone. You'll find you have too many reasons to smile at Barry's Do Me a Flavor in Beach Haven, known for its homemade "Artic" ice cream. Our cone of choice: the aptly named Jersey Shore (vanilla with a salted-caramel swirl) topped with wet walnuts. (609) 492-8259, BarrysDoMeAFlavor.com
Best Reason to Wake Up Hungry
Ship Bottom's Sandbox Café is an al fresco joint that does breakfast right, starting with the "Sizzler." This oversized, overstuffed, soufflé-like pancake brims with the likes of cream cheese, chocolate and the fruit of your choosing—everything from blueberries and peaches to coconut and mango. (609) 361-2425
Best Reason to Risk Heartburn
The Chicken or the Egg in Beach Haven is known for its piquantly flavored chicken wings such as the honey-spiked Killer Bee Sting and the delightfully fiery Ludicrous. Lucky for you, the "Chegg" bottles its hot sauces for take-home enjoyment … or masochism, depending on your outlook. (609) 492-3695, 492Fowl.com
Best Beach Scenes
Besides sand, sun and surf, the Jersey Shore also offers its share of culture. In Beach Haven, for example, the storied Surflight Theatre has been impressing audiences for 65 years. This season's moving main-stage productions include Monty Python's Spamalot, Fiddler on the Roof and Jekyll & Hyde: The Musical. (609) 492-9477, Surflight.org
Margate/Ventnor
Best Jersey Tomatoe's
Whether out for a romantic dinner or a casual night around the bar, Tomatoe's in Margate is sure to please every member of your party. The crab pasta, Cuban pork chop and extensive list of sushi options are just some of our favorites. (609) 822-7535, TomatoesMargate.com
Best Locally Inspired Dishes
The owners and chefs at Margate's Steve and Cookie's By the Bay strongly believe in using the freshest ingredients possible, no matter what time of year. In the summer that means lots of seafood and local produce, and be sure to save room for their famous Jersey blueberry pie. (609) 823-1163, SteveAndCookies.com
Best Reason to be Crabby in the Morning
Johnny's Café has quickly established itself as a go-to spot in Margate for dinner or happy hour, but don't overlook their breakfast. The crab omelet comes loaded with lump crab meat and Swiss cheese and pairs nicely with their Bloody Mary for the perfect hangover cure. (609) 822-1789, JohnnysCafeVentnor.com
Best Pedal Pushers
As much as we love hitting the beach as early as possible, sometimes a bike ride is a great way to start your day at the Shore. Margate Bike and Beach Shop has a great selection of bikes and friendly, knowledgeable service to send you on your way. (609) 822-9415
Best Way to Rock by the Bay
Take a walk down Margate's Amherst Avenue on a weekend night in the summer and you're sure to hear live music coming from the patio at Maynard's where live acts keep the crowd in a frenzy of excitement. (609) 822-8423, Maynards-Cafe.com
Best Place to Find a New Outfit for Memories
Knit Wit is where well-heeled women flock to for their haute looks thanks to their bevy of beautiful designer threads for any occasion. (609) 822-9442, KnitWitOnline.com
Best JOIN THE CLUB
OK, so the Breakfast Club of Margate, a quaint shop in the heart of town, has no affiliation with the classic '80s film. But it does have generous portions and reasonable pricing to give your family a hearty breakfast before hitting the beach. (609) 487-2190
Best Reason to Ditch the Beach
Located right on the beach next to Lucy the Elephant, Ventura's Greenhouse is the perfect spot to wind down a summer afternoon with an adult beverage. We recommend hitting the deck and grabbing a Rum Runner with a "loaded straw" that's filled with liquor. (609) 822-0140, VenturasGreenhouse.com
Best Festive Barbecue
Margate is one of the only Shore towns that allow you to barbecue on the beach on holidays, so make sure to bring your charcoal grill to liven up your Fourth of July or Labor Day beach party. MargateHasMore.com
Best Reason to Linger After Labor Day
Held on the last weekend of September every year, the Margate Fall Funfest is two full days of carnival rides, arts and crafts, live music and wonderful food options at the various stands by the bay. Admission is free. MargateHasMore.com
Best Break From the Waves
For those times when the kids are getting bored on the sand, spice up their day with a trip to the CSURE Children's Park. Located at Somerset Avenue and the Boardwalk in Ventnor, the park features a modern playground in a safe environment. CSURE.org
Best Place to Start Your Day
If you're one of those people who needs coffee in the morning, even on vacation, head on over to Ventnor Coffee for your favorite cup of joe, cappuccino or latte. If you're really daring, try one of their creative concoctions like Mocha Love or Peppermint Patty. (609) 992-3046, VentnorCoffee.com
Best Beach Sack
A Shore tradition since 1969, the Ventnor location of Sack O' Subs is known for making the best hoagies in the area. Our favorite is "The Regular," their version of an Italian hoagie, perfect for a beach lunch. Just watch out for sea gulls swooping in for a bite. (609) 823-2552, SackOSubs.com
Best Spot for a Choc-aholic
With locations in Ventnor and Margate, Jagielky's Homemade Candies has been making gourmet chocolate at the Shore for more than 40 years. The selection will impress you, with treats like chocolate Oreos or the Wynnewood—a mix of marshmallow, homemade caramel and roasted nuts smothered in chocolate. (609) 823-6501 (Ventnor), (609) 822-2204 (Margate), JagielkysCandy.com
Best Rocking Rolls
Some of the most ethereal sushi we've ever tasted has been at Yama Fusion Japanese Restaurant in Ventnor. Their specialty rolls are like an all-star team of high-quality ingredients, and the finished product almost looks too pretty to eat. So take a picture, take a bite and thank us later. YamaSushiNJ.com, (609) 822-8007
Ocean City
Best Reason to be a Morning Person
Colorful, laidback and a stone's throw from the Boardwalk, OC Surf Café also serves up some of Ocean City's most tempting omelets, with choices to suit any taste. You might also opt for the fruit-draped pancakes or, for more untraditional tastes, the "Old Salt," a heaping plate of cream chipped beef served atop a grilled Philadelphia soft pretzel. (609) 391-9555
Best Boardwalk Bookend
No Ocean City "best of" list would be complete without the "Almost Famous Donuts" from Browns Restaurant. Tucked away from the excitement of rides and amusements, Browns makes only six varieties, but each flavor is guaranteed to impress. What's our favorite, you ask? Clearly, it's the chocolate … or maybe the honey … or the vanilla … or the cinnamon … (609) 391-0677, BrownsOCNJ.com
Best Takeout Order
Now under new ownership, the big pink building on the corner of 9th and Central—the Chatterbox, of course—continues to make headlines. One of them has to do with its newly added seafood chowder, which features shrimp, crab and other treasures of the sea. It's available by the quart for enjoying at home, if you can wait that long. (609) 399-0113, ChatterboxRestaurant.com
Best Way to Fudge It
Window shopping at The Original Fudge Kitchen on the Boardwalk is nothing short of futile. After just a few seconds of watching the fudge makers craft their wares in those fancy copper kettles, you are practically assured of heading inside. Once that happens, you know you are going home with a box of chocolate, and probably more. FudgeKitchens.com
Best Taco Fix
In the world of tacos, you're either a hard-shell person or a soft-shell person. But why choose? That's what the folks at Rojo's Tacos suggest with their double-decker tacos—ground beef with pico, sour cream and cheese served in a crispy corn tortilla, then glued onto a soft flour tortilla with the aid of refried beans. Isn't freedom great? (609) 391-0970, OCTacos.com
Best Shore Décor
We confess: We're suckers for anything beach themed. Authentic fishnets, lighthouse wine toppers, "I Love Ocean City" memorabilia and seashells of every size, shape, color and etymology—you'll find all this and much more at Old Salt/Stingray. (609) 399-0660, OldSalt-Stingray.com
Best Way to Hang Ten
Whether it's for stand-up paddleboarding or traditional surfing, age 16 or 65, learn to ride waves with help from the instructors at 7th Street Surf Shop. Before you get started, the shop itself ensures that, no matter how uncoordinated you are, at least you look good in the process. (609) 398-7070, 7thStreetSurfShop.com
Best Rainy Day Retail
With dozens of distinctive shops offering unusual, eclectic and distinctive offerings of every make and model—jewelry, art, apparel, etc.—Stainton's Gallery of Shops enables you to find the perfect gift, either for you or for someone else, when the weather just doesn't want to cooperate. (609) 545-8688, Staintons.com
Best Pizza Not on the Boardwalk
When you're jonesing for a great piece of pie, there's simply no reason to head off the Boardwalk, right? Wrong. There's Piccini, a gourmet pizza shop (they have a lot more than just pizza, of course), with brick-oven pies crafted from impossibly fresh ingredients, including homemade mozzarella, hand-tossed dough and San Marzano tomatoes imported straight from the Boot. We like the Margherita—fresh, simple, light … in other words, perfect. (609) 525-0767, PicciniOCNJ.com
Best Place to Loosen Up
Great Italian food and generous drink specials, three breezy waterfront decks and a weekly roster of bands and DJs—you won't find a place with this kind of pedigree in Ocean City. You will, however, find it in Somers Point, at BAIA Restaurant. Any place offering "Reggae Sundays" has to have been put on this earth for a very good reason. (609) 926-9611, BaiaRestaurant.com
Best Reason to Load up on Fresh Lemon
With everything from live crabs and Maine lobsters, to steamed king crabs and crab cakes, Spadafora's Seafood Market offers a menu rich enough to make any at-home meal or off-site clambake into a seafood feast. And, of course, don't forget the Key lime pie. (609) 398-6703, SpadaforaSeafood.com
Sea Isle City
Best Al Fresco Atmosphere
Grab a bottle of your favorite wine and make a reservation to dine outside at La Fontana Coast, situated just a block from the beach. The Southern Italian menu features simple yet sophisticated classics—like linguini tossed with shrimp, mussels, calamari in your choice of a rich marinara or garlic and white wine sauce—that will turn you into a regular customer. (609) 486-6088, LaFontanaCoast.com
Best Grand Finale
You can't go wrong with the dinner choices at Andrea Trattoria Italiana II, where patrons enjoy homemade pastas and imported Italian seafood. But it's dessert that leaves an impression. Shareable portions of treats like banana chocolate soufflé or baked Alaska complete the meal and complimentary house-made limoncello is a sweet way to end the dining experience. (609) 263-5001, AndreaTrattoria.com
Best Reason to Spoil Your Appetite
Beat the crowds—and the heat—with a late afternoon, post-beach cone at Marita's Homemade Ice Cream. Between the classic soft serve and hand-dipped flavors like Cinnamon Bun and Pistachio Nut served in a variety of cones (try the cookie cone), you might not need those dinner reservations. (609) 263-6800
Best "I'm on Vacation" Food
Vacations were made for indulging and the treats at Maryanne Pastry Shoppe are well worth the calories. One taste of their fresh cream doughnuts and sticky buns and you'll forget all about counting those calories. (609) 263-3814
Best Retail Therapy
We all need a shopping fix now and then, and summer is no exception. Make Per Lei Boutique your first stop, where you'll find serious fashion, from Rachel Zoe to Diane von Furstenberg, to fit any fashionista's style. (609) 263-1717, PerLeiBoutique.com
Best Date-NightAccessory Shop
When you need a few new baubles to finish off an outfit, you can find unique and trendy accessories at White Lotus Boutique. Ranging from timeless silver and gold tones to contemporary colors, the looks are one-of-a-kind, and all priced below $50. (609) 287-7217, WhiteLotusBoutique.net
Best Lunch You Can't Finish
Grab a friend and bring your appetite because you'll need help if you plan on ordering a hoagie from Mrs. Brizzle's Buns. Piled high with Boar's Head meats and cheeses, these overstuffed hoagies have been known to best the hungriest of visitors. (609) 263-2773
Best Quick Bite
Hank Sauce is known for bottling some kicking signature sauces, but their restaurant is a local favorite for burgers, tacos and sandwiches with a Shore twist. Try the Ahi Tuna Burrito Roll: seared ahi tuna, mango salsa, lettuce, jack cheese and wasabi aioli wrapped up in a habanero tortilla and sliced like a sushi roll. (609) 602-4664, HankSauce.com
Best Live Entertainment
When the weekend rolls around and you want to listen to some live music in a laid-back atmosphere, the Lobster Loft is the spot. Add in a couple specialty martinis and you'll be dancing in no time. (609) 263-3000, TheLobsterLoft.com
Best Happy Hour for Your Hair
Before hitting the town on Friday night, wash the sand out of your hair and visit the blowdry bar at Salon Shannon Leigh. For only $20, your hair will look perfectly coiffed, leaving you with no excuse not to buy a round of drinks. (609) 263-8805, SalonShannonLeigh.com
Best Early Morning Exercise
If you're going to work out on vacation, you may as well do it by the waves just after sunrise. For those who like an intense calorie burn, Surfside Fitness offers Boot Camp on the Beach six days a week. If you prefer a more peaceful path to fitness, try Yoga on the Beach. (609) 263-9023, TrainWithCheryl.com; (609) 602-3398, NJBeachYoga.com
Best Trivial Pursuit
Test your trivia knowledge and get ready to laugh at Quizzo hosted by our very own columnist Big Daddy Graham at O'Donnell's Pour House on Monday nights. His brand of humor is best paired with any of their cold beers on tap. (609) 263-5600, ODonnellsPourHouse.com
Best Local Catch
If the line outside is any evidence, Sea Isle City regulars know the spot for fresh, delicious seafood—served without the fuss—is Mike's Seafood Market & Dock Raw Bar Restaurant. The raw bar is not to be overlooked, or indulge in their creamy lobster mac 'n cheese. Whatever you fancy, don't forget to BYOB. (609) 263-3458, MikesSeafood.com
Best Outdoor Venue
Bring your beach chairs and blankets and settle in for a summer's worth of free entertainment at The Band Shell at Excursion Park. Concerts, family-friendly movies and other events are the perfect end to any beach day. (609) 263-8687, VisitSICNJ.com
Stone Harbor
Best Artistic Expression
Proudly display, and re-live, your summer memories at home with a piece of pottery you paint yourself from Island Studio. Bring the whole family, or attend one of the adult evening sessions and pop the cork on a bottle of wine. While the employees there can't help you with your art skills, they can ensure you take home the perfect summer of 2014 memento. (609) 368-6500, IslandStudio.org
Best Gluten-Free Pancakes
Dining out can be difficult if you have special dietary needs, but not at Uncle Bill's Pancake House. Now offering gluten-free pancakes, which can be customized with the filling of your choice—we suggest banana—starting your day off on the right foot just got a whole lot easier. (609) 368-8129, UncleBillsPancakeHouse.com
Best Home Slice
Only in Stone Harbor, and only at Seven Mile Pies, will you find the Harbor Special, laden with mozzarella, asparagus, shrimp and bacon—a truly unique combination that leaves our mouths watering just writing about it. (609) 368-7645, SevenMilePies.com
Best Current Couture
If you haven't updated your summer wardrobe yet, a stop into Free Shop should be at the top of your to-do list. Carrying all the latest fashions, you will leave the unique shop content in the knowledge that your wardrobe has never been so fresh. (609) 368-5874
Best Stepping- Out Attire
A special night on the town requires the perfect outfit, and we've never gone wrong at Skirt. Whether you're heading to dinner or just out for drinks, you'll find that special look that's sure to turn a few heads. (609) 948-4912, Shop-Skirt.com
Best Way to Light Up the Night
There's no denying the bay in Stone Harbor is beautiful no matter when you visit, but it will take on an especially ethereal glow Saturday, Aug. 9, at 7:30 p.m., when the Festival of Lights returns, and people are invited to decorate their boats and bay front properties. (609) 368-1201
Best Mangia Mangia
There are Italian restaurants, and then there is Spiaggetta, a hidden gem in Stone Harbor specializing in handcrafted pasta and fresh fish that will transport you to the Mediterranean with your very first bite. We suggest the fettuccine, which is served with mussels, clams, calamari, shrimp and pomodoro sauce. Delizioso. (609) 368-9400, SpiaggettaNJ.com
Best Fresh Take on Old Classics
Jay's on Third has all the traditional restaurant dishes—think romaine salads and pork chops—but they elevate each dish leaving the kitchen by adding unique touches like grilling the romaine and serving the pork chop with green apple, farro grains, bacon jam, crispy kale and bourbon gravy. (609) 368-1000, JaysOnThird.com
Best Hometown Products
We love to support our local entrepreneurs, and at Blue Eden you can find a number of products produced in-state, including soap, jewelry, pottery and more, along with other items created throughout the United States. (609) 967-3336, BlueEdenStoneHarbor.com
Best Gourmet Gelato
We love a good ice cream cone, but nothing beats the unique flavors from Tutto Gelato in Stone Harbor. Yes, gelato is Italian for ice cream, but the concoction has a consistency all its own, and the flavors Tutto's produces—honey and fig, anyone?—can't be beat.
Best Midnight Snack
Though actually an appetizer, we set our clocks forward when we head to Sax at The Reeds at Shelter Haven for the Midnight Snack. The savory plate is made up of grilled prawns, poached egg, stone ground mustard, and a brioche crouton. (609) 368-0100, ReedsAtShelterHaven.com/Sax
Best Rise and Shine
Nothing tops a fresh bagel and a good cup of coffee in the morning, and Café Noir delivers. With bagels brought in from Brooklyn every morning and a slew of special coffee blends, we can't think of a better place to greet another day. (609) 553-7080
Best Health Kick
After a few days of the liquid diet, our bodies need some real substance to get back on track and Green Cuisine cures what ails us. With fresh juices, smoothies packed with fruit, and plenty of salad options, eating healthy is easy here. (609) 368-1616, GreenCuisineNJ.com
Wildwood
Best Way to Use a Surfboard as a Coaster
The 38-foot custom built surfboard bar at North End American Grill is where we hang loose for happy hour. Daily from 4-7 p.m. you can order $5 appetizers while beer, wine and well drinks are half price, and most nights feature live music. (609) 435-5691, NorthEndAmericanGrill.com
Best Cocktail with a View
Picture this: You're sipping one of more than 10 specialty martinis on the bar deck at Beach Creek gazing out at the water when the sun begins to set over the bay. It's like staring at the perfect postcard, only better because it's real life. (609) 522-1062, BeachCreek.net
Best Dog Days of Summer
We were afraid when Maui's Dog House popped up on The Food Network a few years ago that the national acclaim would change the place's no-frills charm. Thankfully, nothing's changed here, just more of the inventive if not unusual hot dog combinations that have us lining up with our tongues wagging. (609) 846-0444, MauisDogHouse.com
Best Reason to Walk the Plank
Next time you're looking for a family-friendly getaway, set sail with the Dark Star Pirate Cruise, a themed voyage aboard a 50-foot ship through some of Wildwood's most dangerous waters. Complete with characters in costume, this will be one swashbuckling affair you won't soon forget. (609) 729-3275, DarkStarPirateCruises.com
Best Sugar Rush
South Philly bakery Potito's has a loyal following that now extends all the way down the Shore. Their North Wildwood outpost is where we regularly stock up on their famous cookies and cakes, but you'd be hard pressed to find a finer cannoli on the island. (609) 729-2253, PotitosBakery.com
Best Reason to Drink Your Dessert
Marie Nicole's serves up a menu that is both flavorful and well executed, featuring a mix of surf and turf options that are as refreshing as the sea air. But, it's their dessert martinis that have us head over heels, especially the Cheese Quake—Stoli Vanilla with a slice of cheesecake, cream and a berry sauce. (609) 522-5425, MarieNicoles.com
Best TGIF
With two happy hours (from 4-7 p.m. and again from 11 p.m. til midnight) Fridays are a blast at Dogtooth Bar and Grill. It's also when patrons can show off their musical knowledge by competing for prizes while playing Name That Tune. There's lots of entertainment down the Shore, but the Dogtooth always seems more fun and that goes for Saturdays, too, when live music takes over the always festive bar. (609) 522-8383, DogtoothBar.com
Best Modern Menu
When The Establishment replaced Claude's last year, we were sad to see the former restaurant go. But this newcomer not only came out swinging, it packed quite the punch. With a mix of small, medium and larger plates, the restaurant has brought an updated dining approach (and stylish cocktails) to one of the oldest Shore towns and the results are mouth-watering. (609) 523-8100, TheEstablishmentAt100.com
Best Tail to Chase
Pacific Grill is a buttoned-up restaurant where food is composed like works of fine art. Each ingredient has purpose and is distinctive, while adding another dimension to the whole dish. This is evident up and down the menu, but we're quite fond of the lobster tail served over a bed of mascarpone risotto with pancetta. (609) 523-2333, PacificGrillWildwood.com
Best Way to Lose Your Marbles
A national marbles tournament may sound funny to you, but for 91 years scores have gathered on the beach to watch competitors try and shoot their way into Jersey Shore folklore. This year's event kicks off on June 16 with prizes, college scholarships and plenty of bragging rights on the line. NationalMarblesTournament.org
READER'S CHOICE
AMUSEMENT RIDES
Morey's Piers, Wildwood
WATERPARK
Raging Waters, Wildwood
MINIATURE GOLF
Pirate Island Golf, Avalon
BOARDWALK
Ocean City
FUDGE
Laura's Fudge, Cape May, Ocean City and Wildwood
BEACH
North Wildwood
ICE CREAM
Springer's, Stone Harbor
BED & BREAKFAST
The Queen Victoria, Cape May
SHOPPING
Stone Harbor
BAR SCENE
Windrift, Avalon
PIZZA
Sam's Pizza, Wildwood
SURF SHOP
Wild Ocean, Wildwood
APPETIZERS
Megu Sushi, Ventnor
SEAFOOD
The Lobster House, Cape May
WATERVIEW DINING
Steve and Cookie's, Margate
ROMANTIC SPOT
Washington Inn, Cape May
ITALIAN
Roberto's Dolce Vita, Beach Haven Terrace
FRENCH FRIES
Chickie's and Pete's, various locations
BYOB
The Diving Horse, Avalon
BREAKFAST
Samuel's Pancake House, North Wildwood
BOARDWALK FOOD
TJ's Funnel Cake, Ocean City
CASUAL DINING
Lucky Bones Backwater Grille, Cape May
Published (and copyrighted) in South Jersey Magazine, Volume 11, Issue 3 June, 2014).
For more info on South Jersey Magazine, click here.
To subscribe to South Jersey Magazine, click here.
To advertise in South Jersey Magazine, click here.