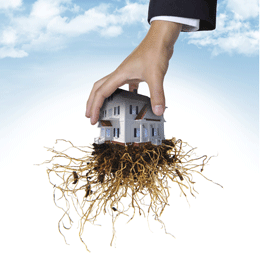 In the Name of Redevelopment
Confusion and mixed emotions on a touchy municipal subject lead residents to wonder how safe their property is.
Eminent domain: The words themselves carry such ominous power. Though it's considered a last resort right of the government—in use since the 1800s—it is often one of the first concerns to be raised when a municipality designates a new area in need of redevelopment: Could the government take my land?
It's used—in a technical sense—primarily to create parks, schools, hospitals and better routes of transportation, sometimes acting as a mechanism for improving blighted neighborhoods to increase quality of life for future generations.
The measure has been used before in South Jersey—examples include the Pennsauken Mart property that's to become a mixed-use destination; and the landmark Gallenthin vs. Paulsboro Supreme Court case that eventually led to Gloucester County acquiring land for its Paulsboro Port project.
But its use has many wary of what actually constitutes eminent domain and when it can be used. Rumors and misinformation have led to the belief that nearly all redevelopment projects involving private land and home purchases are eminent domain, such as the ambitious $300 million Rowan Boulevard project in Glassboro or the still-to-be-built mixed-use project in nearby Richwood, Harrison Township, which is slowly getting back on its feet after acquiring more than a dozen homes that were then left empty.
Officials stress that it is possible to build these types of redevelopment projects, essentially creating a new town in some instances, without invoking the drastic measure of forcing someone to give up their property.
But whether the compensation money comes from the government or a private developer, and if it leads to court or not, residents wonder if there's much of a difference.
A history of takeovers
That thin line is the reason the issue in South Jersey has attracted attention from prominent eminent domain attorneys and civil justice advocates. R. William Potter, a Princeton-based attorney who began focusing on eminent domain more than a decade ago when the affluent municipality wanted to invoke it to build a parking garage, says he views it as a civil rights issue.
There are hundreds of redevelopment zones declared across New Jersey, and once a government agency declares a parcel of land "blighted" or "in need of redevelopment," it is in constant risk of being seized, he says.
Potter's firm represented the Gallenthin family, owners of a large swath of land in Paulsboro, when the Gloucester County Improvement Authority tried to use eminent domain to acquire 63 acres for its Paulsboro Port project. After a Supreme Court decision declared they couldn't take the land simply because it was underutilized, a later decision approved their takeover of a three-acre patch to build a road and bridge.
"The Supreme Court cut back on being able to declare a property blighted just because it wasn't developed," Potter explains. "But the legislature has never adopted other reforms that have been proposed, including a real compensation package for relocating homes and businesses."
He stresses that in its original intent, he agrees with eminent domain use, for schools, roads, parks, "but the problem comes in when you're using it for a 'public purpose' broadly defined with municipal improvements and increasing tax ratables."
The Rowan Boulevard project, an entirely new road system connecting the campus to a sprouting downtown area complete with new student housing, retail and office space, is New Jersey's largest municipal redevelopment project and will bring in $1.2 million in new annual levies when complete. It required the development company, Sora Holdings, LLC, to acquire some 90 properties.
Freeholder Heather Simmons, liaison for economic development, stresses that of those student rentals, owner-occupied residences, businesses and vacant properties, none were taken by eminent domain.
But that's a statement that bothers Eric Morales.
"I think that's window dressing," he says. "They haven't used eminent domain per se, but the threat of using it is always there."
Morales was the organizer of Glassboro United, a group of citizens that banded together to protest possible eminent domain usage when the redevelopment plans were first being discussed in 2007. And, according to him, the threat of it is just as strong as the actual use. "When someone brings eminent domain to the table, maybe they didn't have to use it in court, but the idea of it was used in order to get what they want."
He says there were some property owners who were on board in the beginning, but for the rest, the uncertainty of what would happen if they stayed was enough pressure to comply. "For the most part, people tried to put up a fight, but because they were going up against the borough, they decided to sell."
Taking it to court
Where a substantial fight was seen was Mount Holly, where a decade-long lawsuit came as close to outright eminent domain as a town can get. The borough began acquiring property in the crime-ridden Mount Holly Gardens neighborhood, made up of more than 300 aging row homes, in early 2000. One by one, homes were bulldozed, leaving residents who chose not to leave in what resembled a war zone.
After trying various tactics to improve the area, such as neighborhood improvement grants and upping police presence, an official redevelopment plan was approved that included building a new retail center and luxury townhomes—and shortly after that, the borough was sued.
It's something Potter calls "one of the most egregious cases of eminent domain" he's ever seen. Though the borough says technically, it wasn't eminent domain. That's because last year, it settled with the 28 remaining homeowners who had refused to accept payments of $30,000-$50,000—agreeing just weeks before a Supreme Court hearing to a payout of some $690,000 for eight of the owners, and replacement housing for the rest in a new market-rate development now planned for the site specifically for them.
"What they always said was that they were building us a new community," says longtime resident Santos Cruz of the beginning of the neighborhood's turmoil. "But in their mindset, they were building a community we couldn't be a part of. … They were taking what's ours to give to someone else."
Many people sold without a fight at the start, but Cruz—president of the Mount Holly Gardens Citizens in Action group—says they were duped due to pressure. But he wants to keep that in the past now. "The happiness of [this settlement] is the closure and that people can now move on."
Mayor Richard DiFolco says while he is not a proponent of eminent domain, he does see it as a tool that can be used if necessary in certain situations. "Should it be used against homeowners that build families and maintain their properties or prospering businesses? Absolutely not," he says. "Might it be used against dilapidated properties for which owners have walked away from and banks do little to no upkeep to maintain the integrity and value of the property? To me, that is fair game."
DiFolco, who began serving on council in 2011, sees lessons learned in the case that any municipality could benefit from—namely open communication. "I believe the community understands that the current council was brought into a bad situation; we didn't create the debacle, we ended 11 years of litigation in 11 months. … But what they have to understand, and what we as the municipality have to do a better job of, is better communication. We are in the beginning stages of a seven-10 year plan. There will be plenty of community outreach sessions, receiving the input of everyone involved, making the owners of properties in the zone a part of the process. … If anything, we have firsthand knowledge of redevelopment gone wrong. As a community, we can't afford to repeat the mistakes of the past."
Douglas Gershuny, executive director of South Jersey Legal Services, which offers assistance to low-income communities, stresses that transparency is key. "There needs to be more protection to make eminent domain a last resort for municipalities to take someone's home away and there needs to be more efforts on the part of municipalities to include people in redevelopment."
Gershuny, whose organization represented Mount Holly Gardens residents, says that's all they wanted from the beginning—to be included in the redevelopment plan, rather than have their property replaced with luxury units they couldn't afford to stay in.
Fear of the threat
It's cases like Mount Holly and Gallenthin vs. Paulsboro that have the power to create high tension and concern for what "could be." Eminent domain was threatened in Westville back in 2006 when a developer wanted to build a condominium and retail complex along Big Timber Creek, where a family farm and homes stand, but a large citizen backlash caused the developer to back out.
In Richwood, a small section of Harrison Township in Gloucester County that is a main pathway for Route 322, a stalled redevelopment and home acquisition project has only fueled the fire. The section known largely for Shore traffic headed to the entrance for Route 55 now includes the view of more than a dozen boarded-up homes that sit in wait.
Slowly purchased by developer Madison Marquette/Canuso Communities from 2008 till 2012—with prices mostly falling in the $120,000 to $160,000 range—the plan is to create a new town center, Richwood Village, a mixed-use project of retail, office space and residential living.
But with the recession came a waiting game, Canuso left the project, and the properties that homeowners left behind became eyesores.
Township resident Karen Bigwood calls it a lack of responsibility. "My opinion is that it was eminent domain. It was just a manipulative way [around it]." That's why she was shocked last year to find out that her section of town—Mullica Hill—could potentially be next.
It was by chance that she discovered her property was being entered into a redevelopment zone. A resident of North Main Street for 25 years, she went to a Harrison Township meeting regarding a separate issue and picked up the agenda. In her hands, she saw Block 64 listed, a 50-acre plot between Route 322 and Woodland Avenue that includes a couple dozen homes backing up to open farmland, similar to Richwood.
"It was not my practice to watch agendas," she says. "I'm ashamed of that, but it's how most people live their life."
That changed last summer in Harrison Township. After organizing a local group similar to that seen in Glassboro and Mount Holly—Citizens Action Committee of Mullica Hill—residents banded together, even calling in a representative from the Institute for Justice in Virginia, to ensure their property would be protected against eminent domain. Potter, the Princeton-based lawyer whose firm was involved in Gallenthin vs. Paulsboro, also got involved.
Mayor Louis Manzo, a staunch advocate for redevelopment, tried to calm residents, saying the move was in the township's best interest. Their concern was that two of the parcels—open land—were for sale by their owners, and they wanted to ensure the township would have a say over what eventually gets built there.
But after months of protests and some vitriol at town meetings and on a citizens' website created, the township voted to remove the homes from the redevelopment area—leaving just those two open land sites and a township property involved—and changing the type of redevelopment to a "non-condemnation area," which was approved last month.
Lessons learned
If South Jerseyans look at these types of redevelopment proposals as something that won't happen in their town, they need not look much further than Harrison Township, where even Manzo says he understands why residents were so fearful it could happen in such an unlikely place—a quaint, sleepy town referred to as the antique capital of South Jersey.
He says that if anyone owns a home and sees their block/lot number referenced in a document that also references eminent domain, "it gets your attention." People have a hard time trusting the government to begin with, so it's easy to focus on that worst-case scenario, he says. "Those perceptions exist for a reason. Where there's smoke, there's fire. This wasn't the case [here], but I understand where they came from."
And the stalled Richwood project—which Manzo says is picking up steam again now that the recession has passed, with empty homes to be demolished this summer—didn't help those perceptions.
"In hindsight, I'm glad it happened the way it did because the governing body did learn lessons," he continues. "What we could have controlled better is the way the information was disseminated with what we were doing with Block 64."
That dialogue is what experts like Potter and Gershuny stress is key to approving fair redevelopment plans without a court battle.
But part of the responsibility is on residents to be vigilant. Gershuny says considering how many municipalities started looking into redevelopment plans in the last 10 years to increase their ratable base, it's something people should pay attention to.
"I think the Mullica Hill example is a good warning that no one is entirely safe of possible abuse and use of eminent domain laws," says Potter. "It's especially serious when Mullica Hill has redevelopment areas focused mostly in open space. There's a lot of open space in South Jersey. Unless someone is willing to say no and, if necessary, go to court, those rights will be lost."
"It's like watching a fire on the news," Bigwood explains. "You say, 'Oh poor them. It happened to them. It won't happen to me.' It's like human nature or something."
She can't deny the irony, though. One of her biggest focuses now is the need for citizens to get involved; pay attention to what's going on in your town to make sure it's what the citizens want and not just its leaders.
But then again, she says, she falls victim to that mentality. "I wouldn't have gotten involved if it didn't show up literally in my backyard."
Published (and copyrighted) in South Jersey Magazine, Volume 11, Issue 3 June, 2014).
For more info on South Jersey Magazine, click here.
To subscribe to South Jersey Magazine, click here.
To advertise in South Jersey Magazine, click here.