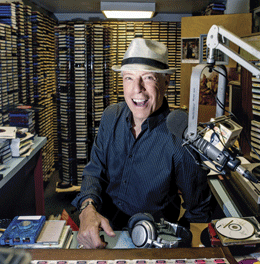 Keeping the Beat
Jerry Blavat has been a fixture from South Philly to Sea Isle for more than five decades and, despite turning 74 this summer, the iconic entertainer is still finding his groove.
Jerry Blavat has probably shared the tale of his start in show business a thousand times over the years, but when you're on the receiving end, it's hard to believe it's not the first time. Despite happening more than half a century ago, all of the details are fresh in his mind, and he speaks in the energetic, fast-paced style that he's known for. The man is just a natural-born story-teller—better yet, a natural-born entertainer—and he's been entertaining local audiences since 1960, when he took over his first radio show thanks to a lucky roll of the dice in a game of craps in his Philadelphia neighborhood. Now a member of the Rock and Roll Hall of Fame, Blavat can still be heard spinning classic tunes seven days a week on several radio stations in the Delaware Valley. His calendar is also filled with regular live appearances at the Jersey Shore, everywhere from Atlantic City to Sea Isle to Wildwood, and of course his own club in Margate, Memories.
We recently spoke with the Geator with the Heator, the Boss with the Hot Sauce, about his life in show business, including his improbable start, his friendships with the likes of Frank Sinatra and Sammy Davis Jr., his thoughts on the current state of radio, and why he has no plans to hang up his microphone any time soon.
SOUTH JERSEY MAGAZINE: You've been in the entertainment business for more than 50 years and you don't seem to be slowing down at all as you approach your 74th birthday this summer. What keeps you going with this busy schedule of yours?
JERRY BLAVAT: I've been doing this for 54 years professionally, but I began when I was 13 as a dancer on the original Bandstand. I'm probably one of the luckiest guys in America, because I'm able to do what I love to do, and that's play my music, dance and make people happy. The reward that I get is when I see these people of all ages dancing and smiling and having fun, even if it's just for a brief period of time when they come to the gigs, or to Memories in Margate, or when I'm in Wildwood or Sea Isle City. That's the thing that keeps me going.
I never intended to be a disc jockey; I just wanted to be in the world of entertainment and show business. I was Don Rickles' valet, I was road manager for Danny and the Juniors, I worked with Fats Domino and Chuck Berry and I became friends with Sammy Davis. All of these wonderful performers influenced me. Throughout my entire career, I never planned anything, I just did it. And by the grace of God, the audience has been there from the very beginning. The same people that started coming back then when they were teenagers—I called them "yon teens" —are now beyond teens. But the wonderful thing is that music is universal. When I play "Runaround Sue" or "Twist and Shout," young people that hear it for the first time love it. They get caught in the excitement and the energy that are part of what the Geator does.
SJM: What do you think it is that has allowed you to strike a chord with a tough town like Philadelphia and become an icon in this area?
JB: The reason is because, in all of the radio work and the TV work that I do, no one tells me what to play. … I don't have a program director dictating to me, and I never had a program director dictating to me. My philosophy is that I've been part of this area, Philadelphia and Jersey, all of my life. I know what my audience likes. My philosophy is, I play music from the heart, not from a researched chart.
SJM: What stands out when you look back on growing up in South Philly?
JB: I came from a broken home. My father was a Jewish racketeer, he was involved in the numbers and bootlegging and all of that stuff. My mother ran away and married him, and back in 1936 when you did that, you were disowned, especially if you married outside your faith. He was never around, so my mother had to get a job as a riveter in the Navy Yard. She would have to be at work at 7 o'clock, so my sister and I would have to be at St. Monica's Day Nursery at 6:30 in the morning. I remember the loneliness, and music making me feel good.
SJM: So that led you to getting involved in music at a young age?
JB: I remember turning on this show Bandstand, where my uncles were appearing, and I was 13 and I said, "Wow. Look at these kids dancing. I can do that." I was always a dancer from the Italian side of my family. So I snuck onto Bandstand, won a dance contest, then I won another dance contest. Because of that, [original host] Bob Horn brought me on … to be the head of the committee. My duties were to rotate the dancers and the kids in the stands, and to pick out records for "Rate a Record." … I also had to take care of the guests that were appearing: Tony Bennett, the McGuire Sisters, Joni James, Patti Page, and that's when I met Sammy Davis and we became lifelong friends. That was the beginning for me, and when Bob Horn lost Bandstand, I stayed with him; I didn't go with Dick Clark. So when Dick took over, I was hanging with Nat Segall, who was Bob Horn's manager and also managed Don Rickles and all of these wonderful comedians. He had a group called Danny and the Juniors and I became their road manager. I went on the road and I did TV with them. When I came back in December of 1959, I was shooting craps in the street—you know, dice—and one of the guys owned a club, the Venus Lounge. He said, "I'd like to do a radio show from here," and I told him I could do it. He said, "What do you know about radio?" I said, "I can do it, I've visited radio stations doing promotion, I know about all the records." So when I made my number, which was a six, he said, "OK, go do a radio show."
So I went to WCAM in Camden and I bought an hour's worth of time, and I sold the time to my sponsors, and I did the show from the Venus Lounge. But then a tremendous storm closed the club down, and I still had to do the show because I had an obligation to the sponsors. I couldn't do it from the club, so I shoveled out of the snow in South Philly and took all of my records—Fats Domino, Little Richard, Chuck Berry, Frankie Lymon—and I went to the studio and started to play oldies. The phone rang off the hook, because kids were surfing the dial to see if they were off from school, and this was the first time they were hearing this music. They were oldies to me, but to them it was new. And that's the way it began, 54 years ago. …
They called me the Pied Piper back then, because I had the freedom to play records. WIBG was a format station back then, so the disc jockeys were not allowed to play a record unless the program director put it on the list. But for me, if I heard something, I put it on the turntable right away. So all of a sudden I'm starting to play records that nobody else is playing, and Dick Clark is calling me and asking about records that I played [so he could play them on American Bandstand].
SJM: How much of that classic delivery that we know so well now was present in the beginning of your career? Did it come naturally or did it take a while to refine that?
JB: From the very beginning I developed a persona. I used to go to a 12:15 Mass in South Philadelphia and there was a priest there named Father Nelson who was the principal of Archbishop Prendergast. When you go to Mass, most of the priests go on and on and on with the sermon. But this was a little priest, he had a bad back, and he would get up on the pulpit, he'd do the Our Father, read the Gospel, and then he would crunch over and bring the microphone down … and do the sermon in two minutes [in a fast-paced style]. It mesmerized me, the technique he used to make a point. I use that technique, even to this day, when I do my radio show.
SJM: Can you tell us about the origins of your nickname, the Geator with the Heator?
JB: When I first went on the radio, they knew [the name] Jerry Blavat, but back in those days disc jockeys had handles. There was Jocko, the Ace from Outer Space; Georgie Woods, the Man with the Goods; and The Rockin' Man Joe Niagara. So I couldn't just be Jerry Blavat, and I was always rhyming, so I had to come up with something. I never went to school to be a disc jockey so I didn't know what made sense. So I thought, an alligator lives in the mud down in Florida, if you go near it when you think it's sleeping, it snatches you up and devours you. So I came up with Geator, which is derived from alligator, because when the kids heard me, I snatched them up. So what rhymes with Geator? The beater, the feeder, the heater? Where does that come from? When I was a kid on the corner in South Philly and it was freezing, your buddy would come up and we'd all jump in the car to go to the drive-in. And we'd say, "Turn on the heater." Then after five minutes it was too hot, so we'd say, "Turn the heater down." When I started playing this music on the radio, the parents were yelling at these kids, "Turn that guy down, he's too loud, that music is too loud." So that was it—The Geator with the Heator, the hot heater being the record player. So that's how it began.
SJM: Along the way you've befriended some of the legends in entertainment, including Frank Sinatra and Sammy Davis Jr., for whom you served as best man at his wedding. What was it like just hanging around the Rat Pack and other entertainment superstars?
JB: Sammy, before he died, said to me, "Did you ever wonder why we've been friends for so many years?" I said no and he said, "I saw something in you that was like me. You never asked for anything, you were just there if I ever needed anything." … All of these wonderful performers, who I am still friends with today, I don't want anything from them, and they know that. It's about friendship. … I hung out until 4 or 5 in the morning with Frank and Sammy, just laughing and drinking. They knew I didn't want anything and our friendship was sacred. They respected the fact that I respected them. Frankie Valli and I have been friends for over 54 years, because even before Frankie did "Sherry," when he was singing for the Four Lovers, we were still friends. Ronnie Isley, even before "Twist and Shout," was my friend.
SJM: You've also been very open about your relationships with several wiseguys. In your experience, how close do popular movies and shows like The Sopranos come to accurately depicting guys in that life?
JB: I grew up with all of these people in the neighborhoods and you never asked what anybody's business was. You just made sure they were a good neighbor. I knew the Bruno family all of my life, and I never saw or heard Angelo Bruno do one thing out of line. He was well-respected as a neighbor. So if somebody is my friend and I grew up with them, why can't I say hello to them? If they do something that is going to jeopardize my friendship, then I don't want to be friends with them. The movies and The Sopranos, for some reason the American public finds that romantic, even going back to Little Caesar and Public Enemy with James Cagney and Edward G. Robinson. This is the fictional way that Hollywood has captured these guys. But the guys I knew, they owned clubs and they came to the shows. I entertain anyone, whether it's a priest or banker or anyone else.
SJM: Getting back to music, what are some of your favorite spots in the area that you've worked through the years?
JB: In South Jersey, the great clubs were the Latin Casino in Cherry Hill, which I go back to in Philadelphia; Chubby's in Camden; and in Atlantic City you had the Harlem Club, the 500 Club, the Jockey Club, the Hialeah, and then you had the A.C. Coliseum on Arctic Avenue, which had all of the wonderful black shows coming in like Lloyd Price and James Brown. Atlantic City was Harlem; this was the height of our music back then. In Wildwood, you had the Stardust, the Beachcomber, the Hurricane, the Rainbow; in Somers Point you had Dunes Till Dawn and Tony Marts. I worked all of these places. Wildwood was the Las Vegas of the East Coast back in the '50s and '60s. Whenever a recording artist like Chubby Checker or the Flamingos would make a record, they would get booked in Wildwood, because it was summertime and they could get audiences from all over to see them. And by September, the record would be a hit.
SJM: Obviously, you've had your own spot at the Jersey Shore for many years, Memories in Margate. What can someone expect on a typical Saturday night in the summer at Memories?
JB: Memories represents people from all over the country, young and old, who feel comfortable in an environment that has never changed. That's why I called it Memories. When people come to the club and enjoy themselves, they're going to remember that and they're going to come back to relive those memories.
SJM: What are some of your favorite spots to hang out at down the Shore when you're not working?
JB: I'll tell you my man, I'm working constantly, so I drive in and I drive out. I'm working the Golden Nugget, which is fabulous; I'll be working in Sea Isle City at La Costa on Sunday afternoons; I'm working Wildwood. I just go in, make people happy and drive home. By the time I close Memories on Sunday morning at 6 o'clock, I drive back and I'm in Philly by 7:15. I jump in bed, wake up at 1 and then head back to Sea Isle.
SJM: Finally, the music and radio industries have obviously changed so much over the years. What are your thoughts on the current state of the business?
JB: Radio is not what it used to be, and they frown upon personalities. The only real personalities in radio are talk guys. [Howard] Stern, you may not like him, but good or bad he's a personality. My audience participates with the music, because they grew up with that music and they love it. Nobody is playing that music anymore. Everything is charted, and if it never made the charts, it doesn't get played. It's very frustrating, because the public is getting cheated. It's like Stevie Van Zandt said to me, "You are the last disc jockey."
Published (and copyrighted) in South Jersey Magazine, Volume 11, Issue 3 June, 2014).
For more info on South Jersey Magazine, click here.
To subscribe to South Jersey Magazine, click here.
To advertise in South Jersey Magazine, click here.